War Propaganda in ME and Eastern Europe: Israel Stockpiling Weapons for possible attack on Iran. US delivers rockets to Ukraine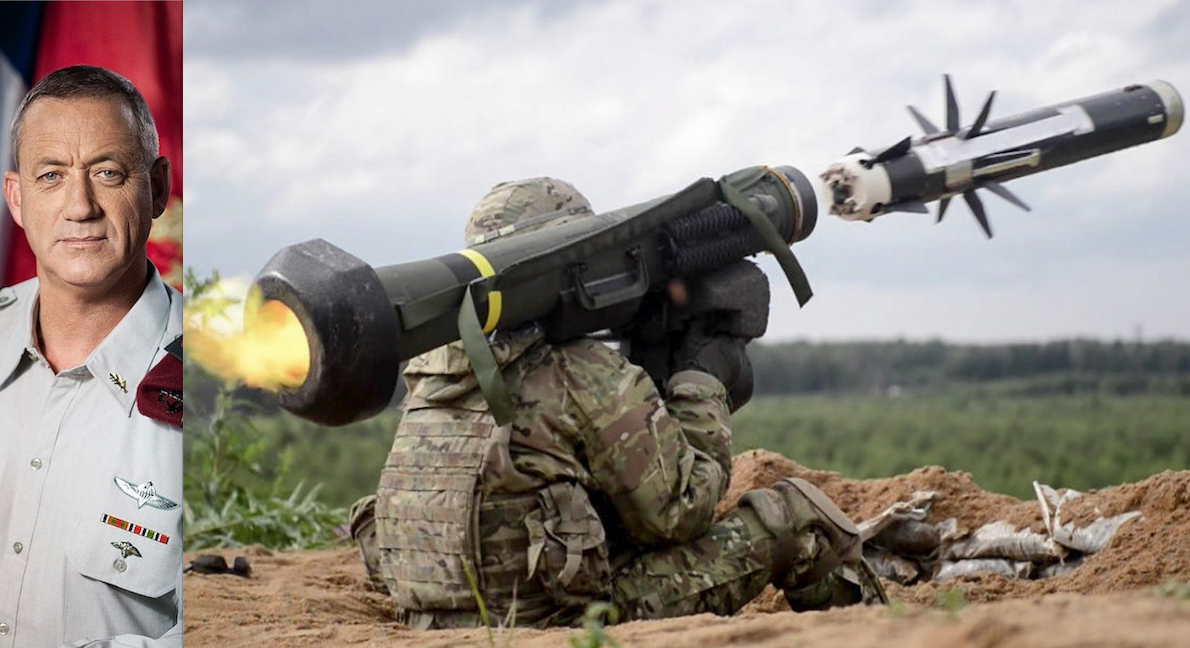 On the cover image Israeli Defense Minister Benny Gantz and a Javelin rocket delivered by US to Ukraine
by Fabio Giuseppe Carlo Carisio
According to Middle East Monitor, Israel's ministerial committee that oversees defence procurement on Sunday approved a deal that will allow the air force to purchase Lockheed Martin's CH-53k helicopters at a cost of $2.4 billion as part of preparations for an anticipated attack on Iran, Ynet News reported.

Israel's the Marker newspaper said the discussion surrounding the new helicopters lasted less than an hour before the purchase of 10-15 was approved along with the additional stocks for the Iron Dome missile defence system.
Iron Dome Israeli Air-Defence System received by US Army. Protests against Elbit in Balfour anniversary
Ynet News said Tel Aviv is very pessimistic about the outcome of the nuclear talks currently taking place between Tehran and the world powers in a bid to revive the 2015 nuclear deal, noting that things for Israel are leaning towards the possibility of striking Iran.
According to the site, the Israeli army has in recent months doubled its preparations for the possibility of carrying out a strike against Iran with more exercises by the Israeli Air Force and more intelligence.
Iran's revenge starts from Qom. Thanks to Fordow's nuclear bunker plant
Iran's chief negotiator in Vienna talks on the removal of anti-Iran sanctions says the Iranian side has not received any constructive initiative or proposal from the opposite side during the ongoing negotiations in the Austrian capital, according to Iranian Press TV.
Ali Bagheri Kani made the remarks in an exclusive interview with Press TV's correspondent in Vienna on Sunday, saying that the removal of the illegal and cruel US sanctions and Iran's nuclear activities are two main sticking points in the current talks over which there still remains a host of differences between the two sides.
Rogue Missions by Zionists in Syria. Benny "the American" continues Bibi's war. Three airstrikes in a Week around Damasco
Defense Minister Benny Gantz said Friday that he notified US officials during meetings this week in Washington that he had instructed the Israel Defense Forces to prepare for a strike against Iran. In a briefing with reporters on the sidelines of the Israeli American Council's national summit in Florida, Gantz said the order he gave was to "prepare for the Iranian challenge at the operational level."
A senior defense official, speaking on condition of anonymity, indicated that Gantz had presented a timeline for when such an attack might take place during his meetings with US Defense Secretary Lloyd Austin and Secretary of State Antony Blinken, but the source did not specify further.
LOBBY ARMI – 2: LOSCHI AFFARI SIONISTI CON NEONAZISTI, ISLAMISTI E L'INDIA NUCLEARE
TENSIONS ARE GROWING ALSO IN UKRAINE
Even in Eastern Europe is growing tension at the Russian borders. According to Russia Today, the Pentagon has disclosed details of the shipment of anti-tank missile systems and projectiles supplied to Kiev, as Moscow grows increasingly concerned about the prospect of a full-blown conflict in Ukraine's Donbass region. This happened after the Washington's think-tank CEPA developed a plan alongside NATO's headquarters an EU's defense chiefs against Russia.
WEAPONS LOBBY – 5. NWO's Warfare Plan against Russia and Counter-Information. CEPA Project from Washington with NATO-EU & Defense Corporations
In a statement received by Russian news outlet TASS on Thursday, Pentagon spokesman Lieutenant Colonel Anton Semelroth said that "the $60 million package… included 30 Javelin command and control launchers, as well as 180 missiles." According to him, the rocket launchers were delivered to Ukraine on October 23.
"In 2021, the US allocated more than $450 million in aid to Ukraine for security tasks as part of our continued commitment to support the country's ability to defend its sovereignty and territorial integrity," the spokesman added.
Western countries are transferring to Ukraine militants as instructors, Russian foreign ministry spokeswoman Maria Zakharova said on Sunday. "Ukraine is being pumped with armament, meaning, direct supplies, future contracts, and, as you see, these are multi-million, billion contracts as a whole. It is about dispatching there militants disguised as instructors," Zakharova told Russia's Krym 24 broadcaster.
Semelroth's comments come amid warnings from Moscow over tensions in the war-torn region close to Russia's borders. Last week, Russian Foreign Minister Sergey Lavrov said that "more and more forces and equipment are being accumulated on the line of contact in the Donbass, supported by an increasing number of Western instructors."
At the end of November, the top diplomat said that claims Ukraine's troops had deployed American-made Javelin rocket launchers were a matter of grave concern and could lead to a full-blown offensive in the war-torn region.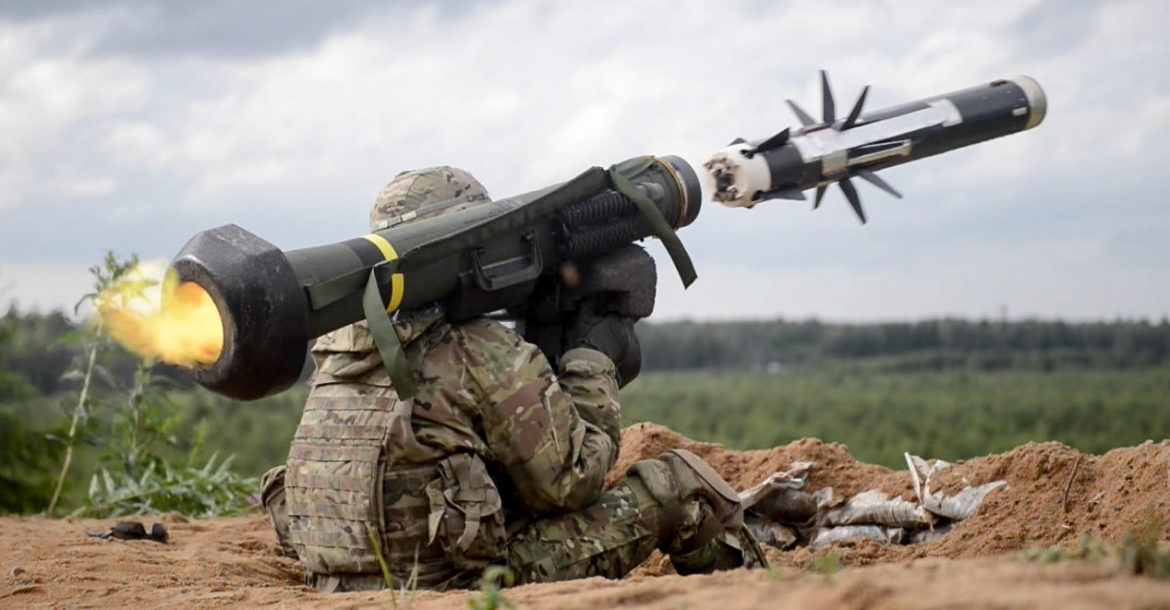 "In recent weeks, we have seen a stream of consciousness from the Ukrainian leadership – especially when it comes to the military – that is excessively inflamed and dangerous," Lavrov said.
«Just hours before, the head of Ukraine's military intelligence service, Kirill Budanov, revealed that advanced US-made Javelin systems had been tested by Ukraine's troops and were being used by soldiers in the Donbass» wrote Layla Guest in Russia Today's article.
Russia's ambassador in Washington, Anatoly Antonov, warned the White House earlier in November that supplying Ukraine with deadly armaments could diminish hopes for peace in the region, stating that Moscow believes "another opportunity to encourage Kiev to stop the war has been missed."
UkraineGate: islamic reporter funded by Obama-Biden and Soros in 2014 coup, now at the top of weapon's industry
The conflict in eastern Ukraine began following the events of the 2014 Maidan, which eventually led to the 'People's Republics' in Donetsk and Lugansk declaring their independence. However, neither Moscow nor Kiev officially recognize them, and the Kremlin has insisted that the onus is on Ukraine to strike a peace deal with the leaders of the breakaway regions.
In more recent days, military tensions have grown after a Bloomberg propaganda article based on a US intelligence dossier. It highlighted – without concrete evidence – that the Russian army was amassing 175,000 troops on the border with Ukraine, causing fear of an invasion in the Russian-backed area of Donbass, which has instead recently concluded a trade agreement with Moscow and could therefore increase its autonomy.
Over the past several weeks, Kiev and some Western countries have accused Moscow of amassing troops near its border with Ukraine. Moscow, for its part, has repeatedly rejected the accusations saying that the West wants to use them as an excuse to deploy NATO military equipment near the Russian border.
THE POPE ON UKRAINE: «WEAPONS ARE NOT THE WAY»
Even the Pope has spoken about Ukraine during the Angelus on Sunday, according to Vatican News.«I wish to assure my prayers for dear Ukraine, for all its Churches and religious communities and for all its people, so that the tensions around it may be resolved through serious international dialogue and not with arms. The statistic I read, the last one, pains me so much. More weapons were made this year than last year. Weapons are not the way. May this Christmas of the Lord bring peace to Ukraine!» pontiff Francis I said.
US Naval Presence Off Russia's Black Sea Coast 'Clearly a Provocation', EU Politician Says
«What is happening also worries the international community, at the G7 of foreign ministers underway in Liverpool, England, there was talk of "enormous consequences" in the event of a military threat from Russia. For days, Moscow has been concentrating the activities of its troops on the border with Kiev» wrote Vatican News.
So, thanks to American propaganda, a "potential risk" has become a certainty in the European mainstream media!
read more… on Pentagon's underskin microchip for Covid
Fabio Giuseppe Carlo Carisio
© COPYRIGHT GOSPA NEWS
no reproduction without authorization
---
MAIN SOURCES
MIDDLE EAST MONITOR – Report: Israel stockpiling weapons for possible attack on Iran
PRESS TV – Iran's top negotiator: We received no initiative, proposal from other side in Vienna talks so far
TIMES OF ISRAEL – Gantz: I told the US I've ordered the IDF to prepare a strike against Iran
RUSSIA TODAY – US delivers rockets to Ukraine
BLOOMBERG – U.S. Intel Shows Russia Plans for Potential Ukraine Invasion
VATICAN NEWS – Il Papa: in Ucraina le armi non sono la strada, il Natale porti la pace
(Visited 604 times, 1 visits today)