Bill Gates Farmland Purchase Comes Under Investigation by North Dakota AG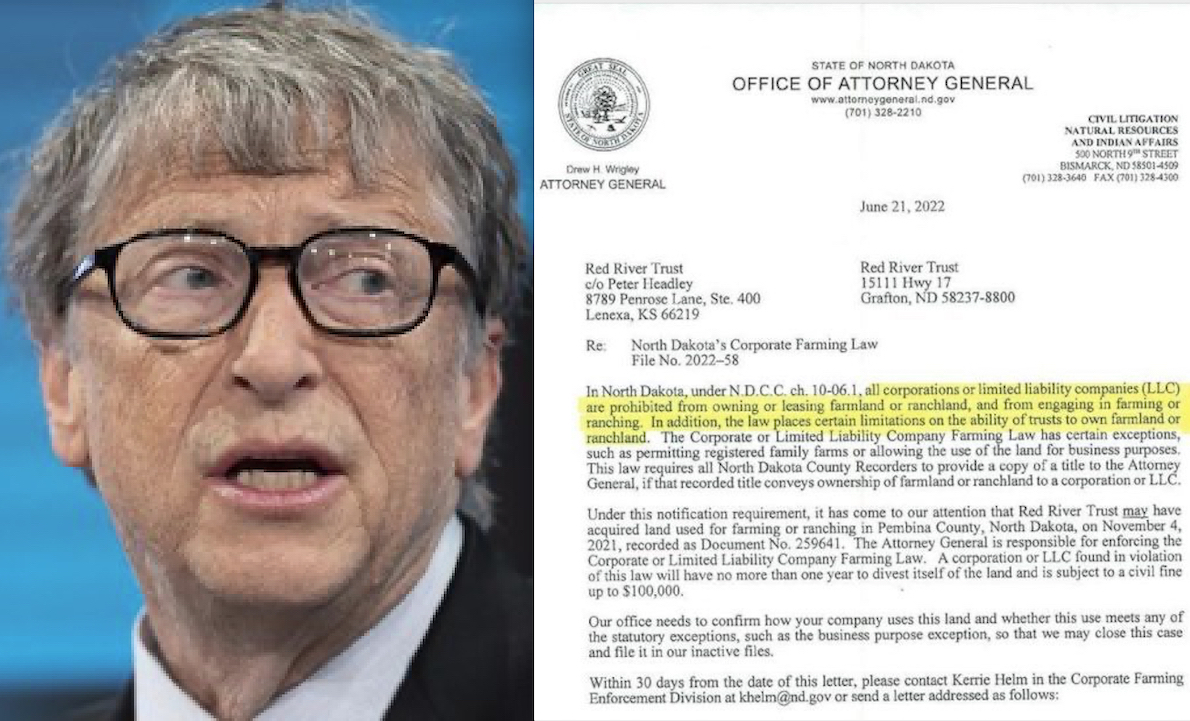 One of the biggest farmland owners in America, billionaire Bill Gates, is the subject of an investigation by the North Dakota Attorney General's office into a land deal.
According to local television station KFYR, the Red River Trust, an organization associated with Gates, was questioned by the office of Attorney General Drew Wrigley in a letter dated June 21 regarding the recent acquisition of a multi-thousand-acre potato farm.
The trust was warned by Wrigley's office that it is expressly forbidden for any corporations or limited liability companies to "own or lease farmland or ranchland in the state of North Dakota" and "engaging in farming or ranching."
WUHAN-GATES – 32. Bill III, Vaccines' Global Emperor. Crowned by Big Pharma's Cartel within Gates Foundation's Deal
"In addition, the law places certain limitations on the ability of trusts to own farmland or ranchland," the letter said.
In regards to the farm purchase, Red River Trust has 30 days starting on June 21 to answer to Kerrie Helm of the AG's Corporate Farming Enforcement Division.
"Our office needs to confirm how your company uses this land and whether this use meets any of the statutory exceptions, such as the business purpose exception, so that we may close this case and file it in our inactive files," the letter continued.
Gates, Most Dangerous Man on the Earth. After Funding Virus and Vaccines Will Play with Nuclear
A corporation or LLC "found in violation" of the anti-corporate farming regulations might be subject to severe fines of upto $100k and one year to sell the land, among other severe penalties.
AgWeek reported that in November 2021, the trust spent $13.5 million on a 2,100-acre potato farm in Pembina County.
According to Doug Goehring, the AG commissioner for North Dakota, many residents of the state are "upset" and "livid" over the billionaire buying farmland.
Although only a small portion of the nation's over 900 million farm acres, Gates has quietly acquired 270,000 acres of farmland over the years through personal investment vehicles.
Gates is not alone. Jeff Bezos of Amazon and other billionaires have recently increased their farming holdings.
Pentagon's TOP Secrets in the Bezos-Gates' Claws. DoD picks Amazon, Microsoft, Google and Oracle to replace JEDI Cloud
Could this be the reason so many billionaires are purchasing farmland?
A "massive, immediate food crisis" has been forecasted, according to the president of the Rockefeller Foundation.
UKRAINE BIOLABS – 7. "Illicit Ebola and Smallpox researches run by US". Alert by Russian Lawmaker. Intrigue between Gates, NATO, Soros, CIA on SARS-2
(Visited 353 times, 1 visits today)