Neverending WAR CRIMES in Syria under NATO's Shield! Israeli and US Airstrikes. Turkish Persecution on Rojava Population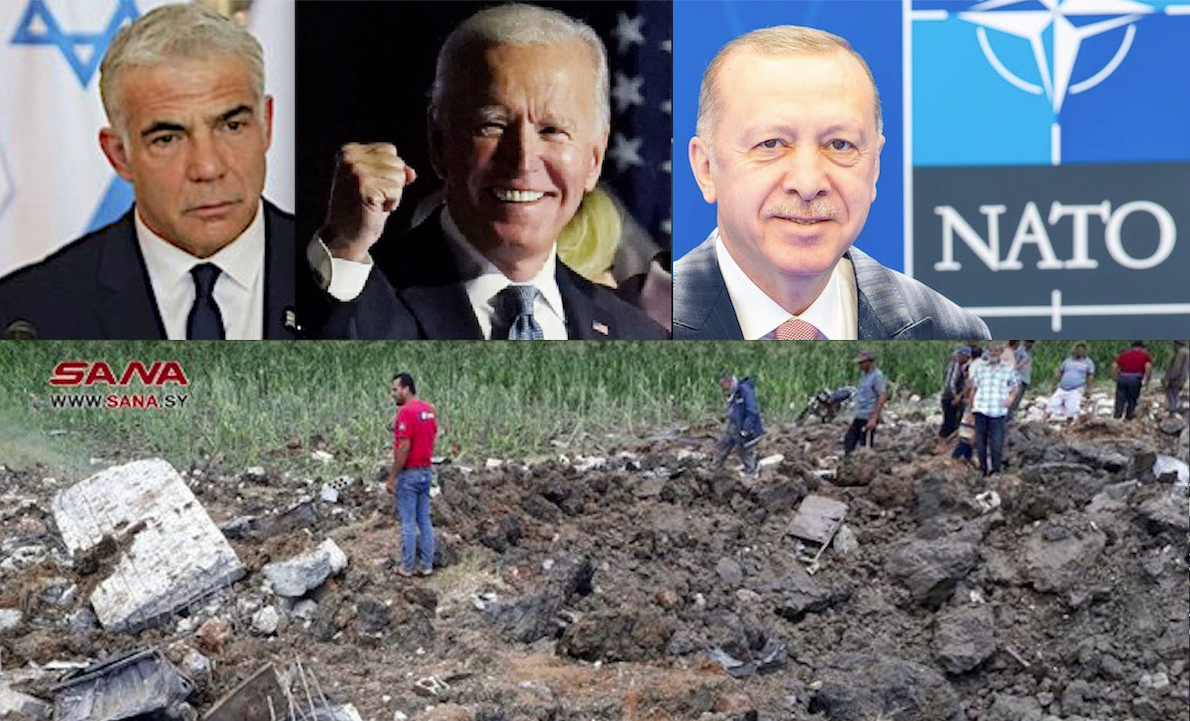 In the cover image new Israeli PM Lapid, US president Biden, Turkish dictator Erdogan and the last airstrikes in Syria which killed some civilians
by Fabio Giuseppe Carlo Carisio
Almost 4 years after my first investigation into the attempted regime-change in Syria planned by the American counterintelligence of the Central Intelligence Agency since 1983, I can safely say that the Syrian news agency SANA is much more reliable than any Western source. instead, committed to covering up the endless war crimes committed by various nations under the NATO shield.
Intel Reminder. CIA TOP SECRET FILE: US WAR IN SYRIA PLANNED SINCE 1983
This is why, while the governments of the European Union cries and shouts for revenge for the war in Ukraine caused by the coup of NATO countries orchestrated in Kiev in 2014, it seems right to summarize in a short investigation what happened in the battered Middle Eastern country in a single week, mainly relying on the reports published by SANA even if it is a media source controlled by President Bashar al Assad. This was anyway supported by many previous our investigations on the same topics.
WAR CRIMES & DECEITS. ICC against Putin! Unpunished NATO Allies: Ukrainian Nazis as Bosnian Butcher, Jihadists General
The main reason for the persecutions authorized by NATO against the Assad government is geopolitical but also religious.
The main allies of the West in the Middle East are in fact the Sunni Muslims of the Persian Gulf countries and the Muslim Brotherhood, a political and religious organization of the same confession, while Syria has been ruled for decades by the moderate Alawite Shiites of the Assad's Ba'at party who have always worked for a peaceful coexistence with the Sunnis, Christians and Kurds who populate the country.
WEAPONS LOBBY – 4. UK and Italy in the hands of Qatar's Muslim Brotherhood: Rothschild partner and Jihadists' funder
But since peace does not produce business for the Weapons Lobby, the US Obama-Biden administration, to export Democracy, broke out the Arab springs and civil war in the Damascus nation.
ISRAELI OCCUPATION IN GOLAN GROWS
The Israeli occupation authorities on Tuesday approved a new settlement scheme to set up two projects in Golan in continuation of their settlement expansionist policy.
«The enemy's media said that the so-called "Construction and Planning Committee" of the occupation entity announced a plan to establish two new settlement projects in an endeavor to make demographic changes» wrote Mazen Eyon on SANA, the Syrian Arab News Agency supported by Damasco government.
"Israel must leave the Golan". The UN's slap against Trump and Bibi-Briberies
Syria has always insisted that the occupied Golan is part and parcel of its territory and seeks to restore it completely to Homeland with all available means as it is an imprescriptible right.
So the Israeli occupation in Golan grows despite the UN resolution which intimated to Israel the leaving of the area.
ISRAELI AGGRESSION IN TARTOUS PROVINCE
Russia strongly condemned the recent Israeli aggression on the vicinity of Tartous Province, describing the Israeli aggression as "unacceptable."
"We strongly condemn such irresponsible acts that violate Syria's sovereignty and international law, and we demand their unconditional cessation," Russian Foreign Ministry spokeswoman Maria Zakharova said in a statement on Monday.
Rogue Missions by Zionists in Syria. Benny "the American" continues Bibi's war. Three airstrikes in a Week around Damasco
Zakharova stressed that the ongoing Israeli aggression on Syrian lands is "totally unacceptable".
«Two civilians were injured and some material losses occurred as a result of the Israeli aggression last Saturday on the vicinity of the town of Hamidiya, south of Tartous» according to report by Manar Salameh and Ruaa al-Jazaeri on SANA.
We have to remember that in Tartous city there is one of the most important Russian Navy headquarters in Syria and the only one in Mediterranean Sea.
"US protecting Israel in Journalist Killing Case". Easier to believe Palestine Official than Washington DOS
«Israeli strikes have continued in Syrian airspace, which is largely controlled by Russia, even as ties with Moscow have deteriorated in recent months. Israel has found itself at odds with Russia as it has increasingly supported Ukraine while seeking to maintain freedom of movement in Syria's skies» the Time of Israel wrote.
Saturday's strike marked the first such raid attributed to Israel under Prime Minister Yair Lapid, who entered the role on Friday morning.
TWO CIVILIANS MARTYRED DURING US AIRDROP
Two civilians were martyred during an airdrop by US occupation forces in al-Zir village, Deir Ezzor northeastern countryside.
"US occupation's helicopters carried out, on Monday at dawn, an airdrop in al-Zir village in Deir Ezzor northeastern countryside, supported by a group of QSD militiamen, causing the death of two civilians," local sources told SANA reporters Rafah al-Allouni and Shaza Qreima.
Italian Head of State and Pope Pay Homage to Blinken's Visit but Forget Biden's Bombs in Syria that Killed a Child
The sources noted that the airdrop operation was accompanied by intensive firing, as part of the US occupation policy to harass locals in the areas which it occupies in the Syrian al-Jazeera region. The American president Joseph Biden restarted the US Air Force airstrikes in Syria a few months after he entered in White House.
THE US SMUGGLING OF OIL
A convoy for the US occupation forces laden with tons of Syrian oil stolen from Hasaka countryside left Hasaka countryside through the illegitimate al-Mahmoudiya crossing in al-Yaroubiya area heading for Iraqi territory.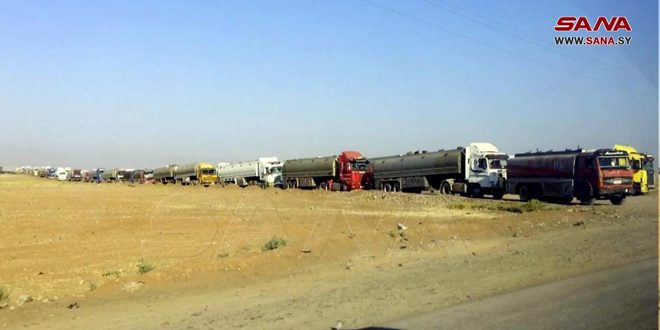 A convoy which consists of 55 oil tankers affiliated to the US occupation forces loaded with Syrian oil stolen from Hasaka countryside left through al-Mahmoudiya crossing in al-Yaroubiya area in Hasaka northeastern countryside heading for Iraqi territory, local sources told SANA reporter Hala Zain.
On 16th of June, the US occupation forces conveyed a convoy which consists of 42 oil tankers laden with Syrian oil stolen from Hasaka countryside to its bases in Iraq.
Despite so European Union maintains the harsh sanctions against Bashar al Assad legitimate government. Even if all Middle East Christian community accused the Western powers that these financial restrictions are causing many damages to Syrian population.
"SIRIA: DISASTRO DA SANZIONI CRIMINALI". Aiuti di Fondazioni Cristiane contro i Danni di UE, USA e NATO
DOZENS OF CIVILIANS FLEEING IDLEB AS A RESULT OF TERRORISTS' CRIMES
Humanitarian corridors adjacent to de-escalation zones in Idleb are witnessing a movement of displacement of dozens of civilians, mostly children and women, towards Aleppo city. Some civilians told SANA reporter Shaza Qreima a bout atrocities and crimes perpetrated against the civilians in terrorist-held areas.
"The situation is very bad in the terrorist-held areas as the terrorists steal our money and our homes with flimsy pretexts, and whoever objects to their actions could be imprisoned or killed at any moment," a woman said.
"Al Nusra (Al Qaeda) Terrorists Funded by Qatar". Scotland Yard Investigates. Syrian Refugees' and American Reporter's Lawsuits against Doha's banks
Another woman explained that the most dangerous thing in the matter is that the terrorists treat us as if we are not human beings. They kidnap our children and demand ransoms in exchange for their return. We used to live in camps and there we were beaten, tortured and humiliated.
The displaced people voiced the hope that the Syrian Army would establish full control over Idleb province because the Turkish, American occupation forces, and terrorists are looting everything. Aleppo province promised to provide the displaced with housing and food and to address all their problems.
TURKISH OCCUPATION DEPLOYS MORE FORCES IN AIN ISSA, RAQQA COUNTRYSIDE
A convoy of military and armored vehicles and trucks belonging to the Turkish occupation forces have entered Ain Issa area in Raqqa northern countryside.
Local sources told SANA reporters Manar Salameh and Ruaa al-Jazaeri that a number of military vehicles and armored vehicles and trucks loaded with logistical materials, ammunition and equipment belonging to the Turkish occupation have entered Ain Issa area in the northern countryside of Raqqa to reinforce the occupation's posts and support the terrorist groups that implement the aggressive expansionist scheme of the Turkish occupation in northern Syria.
Syria: NATO, UN are responsible for Turkish Use of Chemical Weapons. Swedish-Iranian Expert Dr. Mansoura Accuses
Turkish occupation mercenaries of terrorist organizations reattacked the residential areas in Raqqa northern countryside, causing material damage to the locals' properties.
TURKISH OCCUPATION MERCENARIES REATTACK RESIDENTIAL AREAS IN RAQQA COUNTRYSIDE
Local sources told SANA reporter Hala Zain that the terrorist mercenaries targeted, from the areas of their deployment along the borders with Turkey, with heavy artillery the vicinity of Aayoun village and the International Highway M4 in Raqqa northern countryside.
The sources pointed out that the aggression caused huge devastation in some houses caused by artillery shells exploding.
Fabio Giuseppe Carlo Carisio
© COPYRIGHT GOSPA NEWS
prohibition of reproduction without authorization
follow Gospa News on Telegram
In Syria ongoing War Crimes Allowed by NATO. Children Dead of Hunger and Disease. 400 Women Seized by Jihadists Turkish-backed
Afrin, Erdogan's Syrian Hell under NATO's Shield. 188 Tortured to Death, 127 Raped (among whom Disabled Minors) by Turkish-backed Jihadists
"Intel Meeting US-UK & ISIS leaders". Shocking news from Syria. OSINT dossier: "Al Hol Jihadist Radicalization's center". Turkey protects Terrorists, Russia silent
Turkish papers: 21 Erdogan's jihadist militias supported by Cia, Pentagon and armed with TOW missiles
L'ONU STA COI NEO-NAZISTI DEL DEMONE SOROS. Crimini di Guerra Ucraini Ignorati da Commissari NWO come quelli NATO in Siria
(Visited 1.139 times, 1 visits today)