CDC Adds Dangerous Bivalent COVID Shots to their Childhood Immunization Schedule despite Many Lethal Adverse Reactions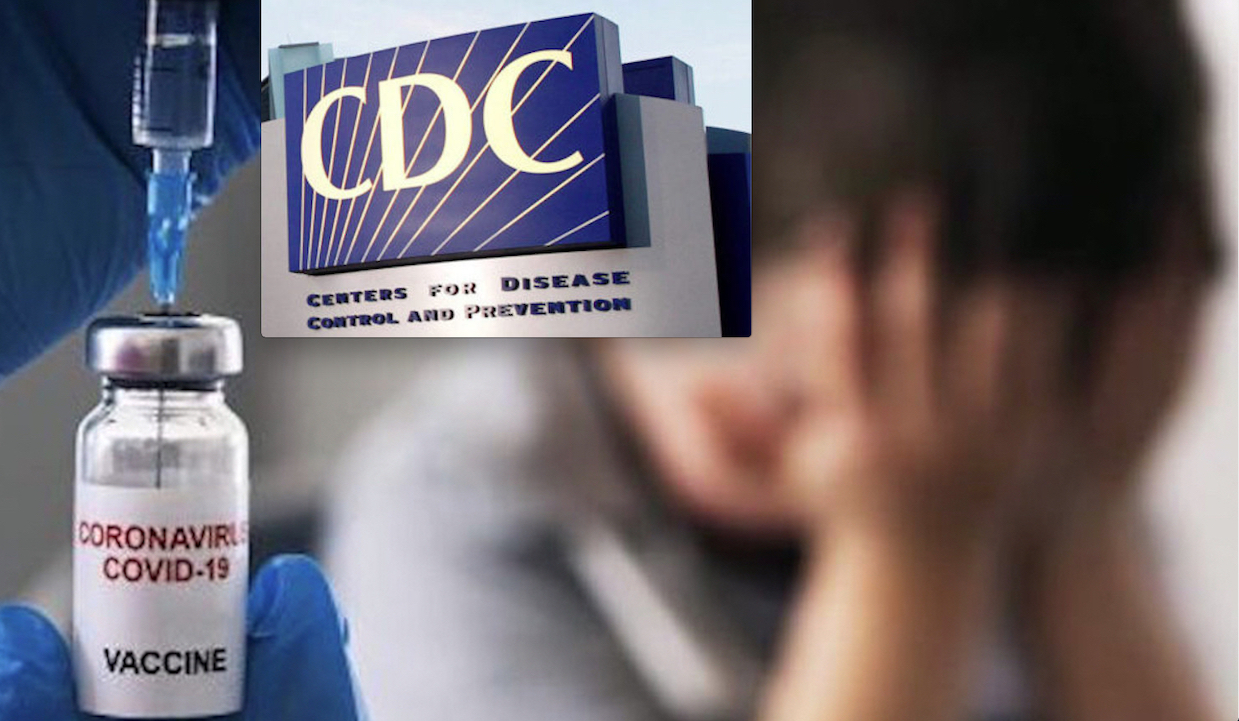 Introduction by Fabio Giuseppe Carlo Carisio
The Covid vaccines have also been included among those scheduled in immunization ordinary plan for 15-month-old children by the US CDC (Centers for Disease Control and Prevention). The news was highlighted with concern only by the counter-information media.
Mainstream American newspapers have welcomed it as an almost obvious brucratic step. Although huge unknowns about the real safety dangers hang over this risky decision.
The first is that the new bivalent vaccines have been marketed with an emergency use authorization despite not having had a regular period of specific clinical trials on children but having only been tested on mice and then administered to adults (without the rigorous follow-up required by clinical trials).
Very Dangerous Covid Boosters Authorized by FDA for Babies as 6 months. Despite a Disturbing Study on Bivalents
Although some alarming research already exists: that of the Wuerzburg University Hospital and that of the Cleveland Clinic which have found the adverse reactions of bivalents more serious and more frequent than monovalents.
And the findings of the same CDC and the FDA (Food and Drug Administration, regulatory body of medicines in the USA) which have highlighted warnings of risks of cerebral ischemia precisely from the new Pfizer-Biontech boosters. The alarm has so far been raised only for the over 65s because the elderly were the first to receive the third bivalent dose for the original SARS-CoV-2 strain and for the variants of Omicron BA.4 and BA.5 (BA.4 /BA.5) of SARS-CoV-2. Therefore only in this age group is there a statistically significant monitoring…
"Acute Psychosis after COVID-19 Vaccination". Croatian Study's Alert relaunched by the US Physician McCullough
Therefore, the programming of these vaccinations for children transforms them into human guinea pigs on which to test the effective efficacy and safety of these boosters.
It should also be noted that a general study of all mRNA vaccines conducted by the CDC reported that in just two years of inoculations they had a number of undesirable effects 5.5 higher than that of all other vaccines since 2009 and with as many as 770 types of adverse reactions, many of which are serious.
Vital CDC DATA: "Serious Adverse Events by mRNA COVID Vaccines 5.5 Times Higher than All Others in the US since 2009"
In addition to all this, it should be noted that the package insert for Pfizer's Comirnaty drug specifies this alarming note:
"The efficacy and safety of the vaccine have not been evaluated in immunocompromised individuals, including those on immunosuppressive therapy. The efficacy of Comirnaty Original/Omicron BA.4-5 may be less in immunocompromised individuals."
"BOOSTER COVID: EFFICACIA E SICUREZZA IGNOTE NEI FRAGILI". Scheda AIFA Smentisce il Ministero sui Bimbi. Ma Occulta Rischi Aborti (Dati Shock Pfizer) e Tumori
Added to this is another very serious concern intelligently highlighted by the editor Brian Shilhavy of the American Catholic site Health Impact News (article below), who has always been attentive above all to the repercussions on children of mRNA gene serums.
The one that the American government can link the inoculation of these scheduled pediatric anti-Covid vaccines to the granting of various forms of social and scholastic assistance for children.
THE BIVALENT COVID-19 VACCINES FOR KIDS TOO
The CDC confirmed below the use of bivalent vaccines for kids too:
The following COVID-19 vaccines, categorized into three vaccine types, are currently approved under a Biologics License Application (BLA) or authorized under an EUA by FDA (Table 1):
Janssen COVID-19 Vaccine is authorized for adults ages 18 years and older in certain limited situations due to safety considerations (see Appendix A).
COVID-19 vaccine products (see Table 1) are formulated as follows:
Monovalent vaccine: The vaccine product is based on the original (ancestral) strain of SARS-CoV-2
Bivalent vaccine: The vaccine product is based on the original (ancestral) strain of SARS-CoV-2 and the Omicron BA.4 and BA.5 (BA.4/BA.5) variants of SARS-CoV-2
---
CDC Adds EUA COVID Shots to their Childhood Immunization Schedule to Target Poor Families on Government Aid
by Brian Shilhavy – Editor, Health Impact News – originally published
The CDC has announced on February, 10, 2023 that they have added the COVID-19 "vaccines" to their childhood immunization schedule.
The COVID-19 "vaccines" now add another 2-3 doses of vaccines to the 25 doses of other vaccines already on the CDC schedule that can be injected into babies and toddlers during their first 15 months of life.
This seems to be the first time in the history of the CDC that vaccines that are not even FDA-approved but only have EUAs (emergency use authorizations) have been added to the CDC childhood immunization schedule.
Worrying German Study on Covid-19 Vaccination Boosters: "Pfizer Bivalent caused more Serious Adverse Reactions than Monovalent one"
How is this even legal? CDC Director Rochelle Walensky, while appearing before Congress yesterday, was asked why these shots were added to the Child Immunization schedule.
The Vaccines For Children (VFC) program is a U.S. Government program to provide vaccines to low-income families receiving government aid through the Medicaid program.
Could this be a path the U.S. Government is creating to require lower-income families to have their children vaccinated in order to receive other Government aid benefits, such as food stamps?
If Brazil is an example of what is to come here in the U.S., then it is most certainly possible, if not probable.
Social Credit Brazilian Style: All UBI Recipients Must Be Vaxxed

Anybody who seriously thinks that Universal Basic Income (UBI) programs of the future won't be full blown social credit systems need look no further than Brazil, where newly selected socialist / globalist Lula da Silva just decreed that the Bolsa Familia program will require family members to be vaccinated in order to continue receiving benefits.

The news comes via The Rio Times, which describes the Bolsa program as "a social welfare program for the poorest families in Brazil" and "a kind of Universal Basic Income". (Full article.)
Having the CDC add the EUA COVID shots to their childhood immunization schedule also opens the door for local health departments and school districts to now add these shots to the CDC list of already recommended vaccines as a requirement for school attendance.
US Study: "COVID Vaccine Mandates for College Students are Unethical, 98 Times Worse Than Virus"
At this point, my guess would be that the FDA will fully approve these "vaccines" before the next school year starts, and the Secretary of Heath and Human Services (HHS) will move the shots into the NVICP (National Vaccine Injury Compensation Program) giving the pharmaceutical companies legal immunity for any injuries and deaths, even after they are no longer covered by the PREP Act and the CounterMeasures Injury Compensation Program (CICP).
Thanks to Wayne Rhode, author of "The Vaccine Court", and his input into the reporting of this article. You can find him on Substack here.
by Brian Shilhavy – Editor, Health Impact News – originally published on February, 10, 2023
---
US Mother's Tragedy: "So My Newborn Alexander Died days after Receiving Unauthorized Vaxxed Blood in a Transfusion"
COVID: "STOP VACCINI mRNA! CAUSANO MIOCARDITI, DANNI IMMUNITARI E TUMORI". Allarmante Studio dall'Istituto Superiore della Sanità
Cleveland Clinic: "Higher Risk of COVID-19 Infection among Vaccinated". Israeli Study on SARS-Breakthrough, Killer according to CDC Data
Shock Warnings by Physicians inside the Florida Governor DeSantis' Investigation on Adverse Events of the mRNA Covid-19 Vaccines
Pfizer mRNA Vaccine: Risks of Pulmonary Embolism, Myocarditis, Blood Clots, Immune Thrombosis. Finally Released the FDA Surveillance Data
(Visited 334 times, 1 visits today)