Nicaragua: Bishop Álvarez sentenced to 26 years' Imprisonment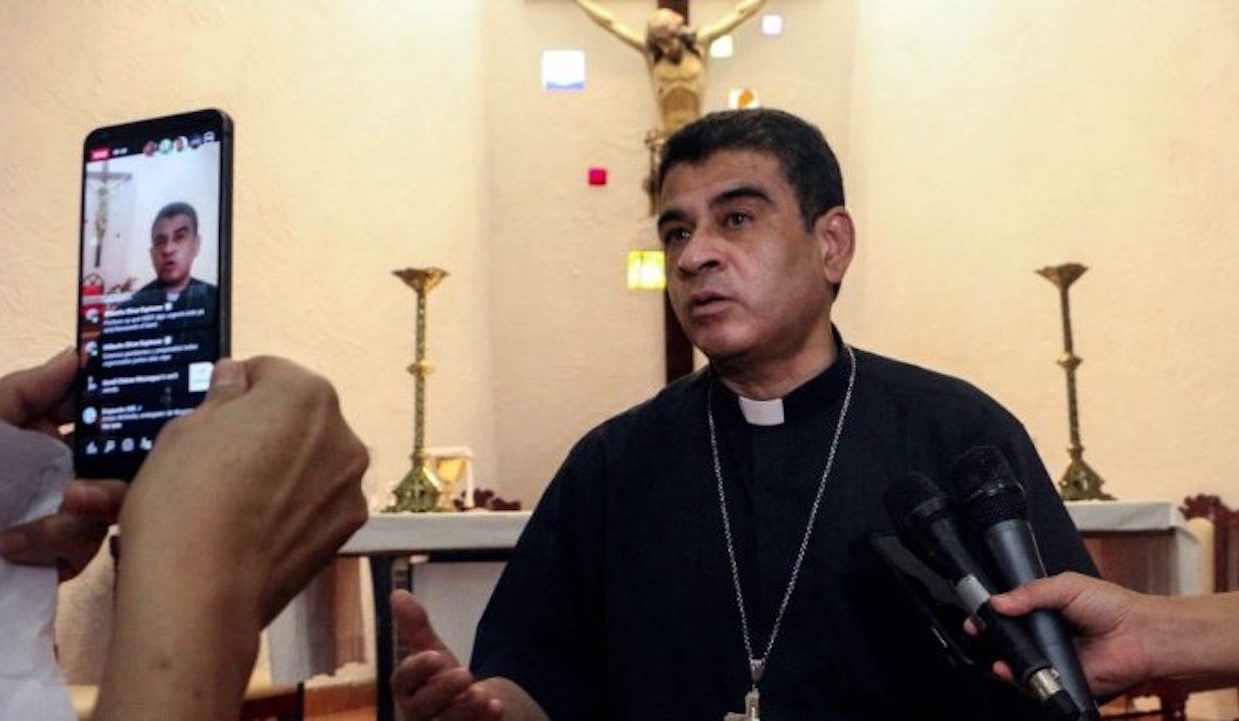 The Catholic religious has refused to be expelled to the US as happened to other priests
All links to Gospa News articles have been added aftermath for relevance to the topics covered. In particular those on the persecution of the Kiev regime against the Ukrainian Orthodox Church which has filed a formal complaint to the UN
---
by Lisa Zengarini – originally published on Vatican News
Following his refusal to leave Nicaragua, Bishop Rolando José Álvarez Lagos of Matagalpa was sentenced to more than 26 years in prison during a court hearing in Managua on Friday.
The Catholic bishop, was convicted of treason, undermining national integrity and spreading false news, among other charges. The judge of the Appeals Court of Managua also announced that he would be fined and stripped of his Nicaraguan citizenship.
"ZELENSKY's SATANISM!" Russian Spokeswoman on Orthodox Priests deprived of Citizenship on Christmas
Bishop Álvarez's refusal to be expelled from Nicaragua
The sentence, which was originally expected on 15 February, came the day after Bishop Álvarez declined to be expelled to the United States along with other 222 detained opponents to President Manuel Ortega, including five priests, a deacon and two seminarians condemned to 10 years imprisonment on charges of conspiring against the government.
The deportees were declared "traitors of the homeland" and, like Bishop Álvarez, were stripped of their Nicaraguan citizenship for "committing acts that undermine independence, sovereignty, and self-determination of the people, and for inciting violence, terrorism, and economic destabilization." They are now waiting for a residence permit in the U.S..
Other two priests, Frs. Manuel García e José Urbina, of the Diocese of Granada continue to be detained in a Nicaraguan prison with similar charges.
First bishop to be imprisoned since Ortega's return to power
A vocal critic of President Daniel Ortega's Sandinista regime, Álvarez who doubles as Apostolic Administrator of the Diocese of Estelí, is the first bishop to be imprisoned since Ortega returned to power in 2007.
He was taken into custody by police officers on August 19, 2022, along with priests, seminarians and lay people, after being forcibly imprisoned for two weeks in the Curia for allegedly having attempted to "organize violent groups" with "the aim of destabilizing the Nicaraguan State and attacking the constitutional authorities".
Jihadists and Nationalists are Driving Increased Persecution of Christians: 7.600 Murdered in Nigeria only
He was not charged until December, with prosecutors alleging he had committed "crimes of conspiracy to undermine national integrity and propagation of false news through information and communication technologies to the detriment of the Nicaraguan state and society."
In January a court in Managua admitted the evidence and ordered Bishop Álvarez to remain under house arrest. He has now been transferred to the high security prison.
Ongoing crackdown on Church in Nicaragua
The sentence comes as the crackdown on the Church in Nicaragua intensifies, with ongoing arrests of priests and closures of Church charities and agencies. In televised remarks following the verdict, Ortega reiterated his accusations of "terrorism" against Bishop Álvarez.
Ukrainian Lawmakers want to Ban Russian Orthodox Church. After SBU Security Service's Raid in Monastery and 2019 Language Discrimination Law
Relations between the bishops and the and the Sandinista government have been tensed since 2018 when Nicaraguan authorities clamped down on protests against a series of controversial reforms to the social security system. Despite attempts to mediate in the crisis, bishops were ultimately banned from the dialogue and accused by Ortega of being complicit in an alleged coup.
Relations further worsened after the controversial 2021 elections which confirmed the Sandinista leader for another mandate.
Outcry from Bishops around the world
Since the outbreak of the crisis the Church has been the target of several attacks and desecrations, as well as harassment and intimidations of bishops and priests.
In 2019, Managua Auxiliary Bishop Silvio José Báez was forced to leave the Diocese of Managua at Pope Francis's request after receiving several death threats. In 2022 the government expelled the Apostolic Nuncio to Nicaragua, Polish Archbishop Waldemar Stanislaw Sommertag and 18 Missionaries of Charity.
The crackdown has drawn a widespread outcry from Bishops in Latin America and in the world.
Ukrainian Orthodox Church's Formal Complaint to UN over Persecution and Religious Discrimination by Kiev
On February 6 the President of the Commission of the Bishops' Conferences of the European Union (COMECE), Cardinal Jean-Claude Hollerich, joined in expressing solidarity to the Catholic Church in Nicaragua and appealed for the release of the detainees.
Pope Francis referred to the situation in Nicaragua during the Angelus prayer on Sunday, 21 August, 2022, saying he was closely following developments "with concern and sorrow", and expressing his hope that, "through an open and sincere dialogue, the basis for a respectful and peaceful coexistence might still be found".
by Lisa Zengarini – originally published on Vatican News
---
Zelensky's Desecration of Christmas. Kyiv Monastery taken away from Russian Orthodox then Given to Schismatic Priests
IN MEMORY OF FIRST MARTYR SAINT STEPHEN. Main Reports on Christians Persecuted in the Contemporary World
LE VITTORIE DELLA SIGNORA DI LOURDES CONTRO I MASSONI. La Grotta di Massabielle riaperta dall'Imperatrice e i Patti Lateranensi
(Visited 618 times, 1 visits today)