Russian Spy Agency reports on NATO Arms deliveries to Ukraine. $27.4 Billion in Security Aid by Pentagon only. €3,6 by EU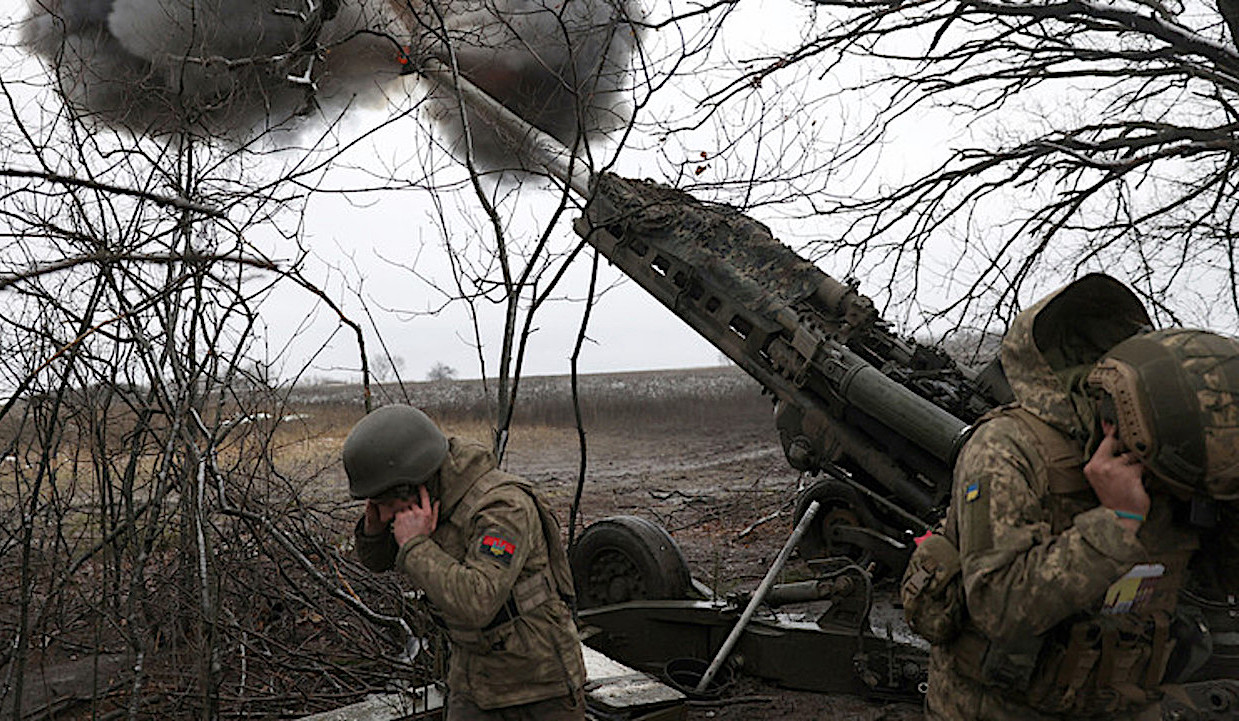 Pentagon unveils new major Ukraine aid package
Update on February, 26, 2023
Washington is shelling out another $2 billion to shore up the Ukrainian military, the Pentagon has announced. The US Department of Defense stressed yet again that the White House, along with its Western allies, will continue to support Kiev "for as long as it takes."
In a statement on Friday, the first anniversary of Russia's offensive in Ukraine, the Pentagon said that its commitment to supporting Kiev had "only strengthened" over the past 12 months.
Ukraine War Anniversary: UN and China Work for Peace, Devilish Zelensky for Invading Moldova's breakaway Transnistria
The latest security assistance package places particular emphasis on additional unmanned aerial systems, including Switchblade 600 UAS kamikaze drones, as well as anti-drone and electronic warfare detection equipment. On top of that, Washington has pledged to supply Ukraine with an undisclosed number of missiles for High Mobility Artillery Rocket Systems (M142 HIMARS) and 155mm artillery rounds.
The Pentagon said that unlike 'Presidential Drawdown', the weapons comprising the latest package will not be sourced from the US Army's own stocks, but rather procured specifically from the manufacturers.
WEAPONS LOBBY – 9. Norges Bank: War Dirty Affairs among Stoltenberg, Gates, Nato & Italy. Oslo Business Leopard Tanks for Ukraine
More than 400 tanks and 1,500 infantry fighting vehicles have been transferred from the West, the SVR claims
Published on February, 21, 2023
On cover image Ukrainian artillerymen fire a M777 howitzer towards Russian positions on the frontline of eastern Ukraine, on November 23, 2022 (from Russia Today)
NATO member states have provided Kiev with scores of heavy weapons since December 2021, including 440 tanks and 1,510 infantry fighting vehicles, the Russian Foreign Intelligence Service (SVR) said on Monday.
According to officials, Ukraine has also received 1,170 anti-air and 655 artillery systems, as well as 9,800 rockets for mobile multiple rocket launchers. "Most of the military equipment supplied by the West has been destroyed by the Russian forces," the SVR claimed.
NATO Leopard for the Ukraine War Escalation. "Only very Experts can Manage its Power". Analysis by former Italian Tank Commander
The statement comes a month after Ukraine's top backers, including the US, Britain and Germany, pledged for the first time to transfer modern main battle tanks, such as Leopard 2. While Washington stated in the past that it had no plans to deliver F-16 fighter jets, Pentagon spokesman John Kirby told reporters last week that the US "would welcome" other countries transfering their Soviet-era aircraft to Kiev.
According to the Pentagon, the US provided Ukraine with more than $27.4 billion in security aid between February 24, 2022 and January 20, 2023.
Bipartisan US Politicians Gabbard, Kucinich, Paul, Stein at the "March Against the War Machine" in Washington
Josep Borrell, the EU's top diplomat, said on Sunday that the bloc was in "urgent war mode." He added that he would propose using the $3.6 billion from the European Peace Facility to buy more ammunition for Ukraine.
Moscow launched a military operation in Ukraine nearly a year ago, citing the need to protect the people of Donbass and Kiev's failure to implement the 2014-2015 peace accords. Russia has since warned that tanks and other Western weapons would not change the course of the conflict but would be treated as legitimate targets.
Increasingly Lethal Military Aid to Ukraine from NATO Powers is "Deeply Immoral". Croatian President spoke like Hungarian PM Orban
Russian officials have also repeatedly accused Ukraine of using Western-supplied weapons, including HIMARS multiple rocket launchers and M777 howitzers to attack civilians in Donbass.
Originally published by Russia Today
---
Ukrainians NeoNazi's Chief Zelensky Armed by Biden for the StarWars: US Patriot vs Russian Missiles Sarmat & Zyrcon
EU Parliament Member Rebukes Zelensky for a War without Truce
Russian Orthodox Church's Patriarch issues Apocalyptic Warning. Musk against "Relentless Escalation" in Ukraine
WEAPONS LOBBY – 8. American Armaments Sales in Europe Booming thanks to the War in Ukraine: "US Colony after Nato Coup"
WAR-GAMES Escalation in Ukraine. Himars Rockets from US. Akatsiya Howitzers from Russia in Belarus. New Risks for Kiev?
(Visited 472 times, 1 visits today)