"TRUMP UNDER ARREST…" But it's a Fake! Former President Free after Hearing and the Shameful CNN News Manipulation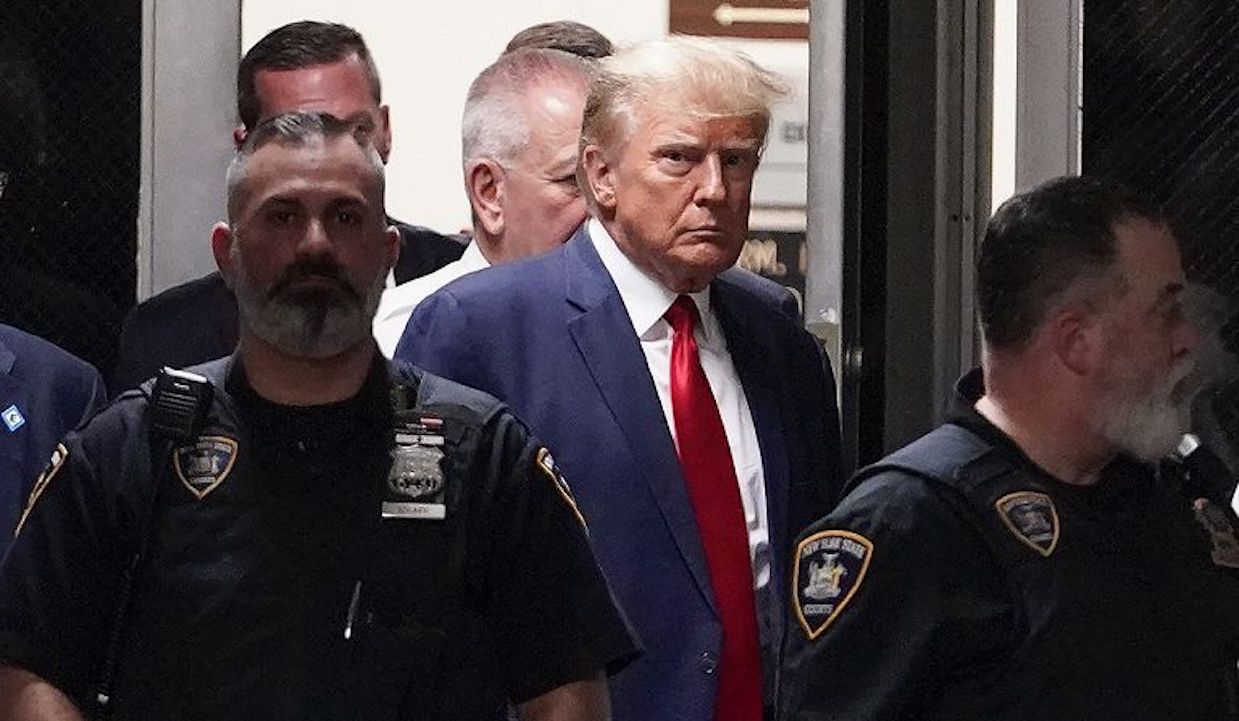 by Gospa News Editorial Staff
UPDATE ON APRIL 4, 2023
The hearing of the century ended as Donald Trump's lawyer predicted. The first indicted former US president in the nation's history walked in free and walked out free.
At the beginning of the formal indictment procedure, CNN mounted a shameful media speculation, closely followed by the Italian mainstream newspapers, with the headline "Under arrest" explaining only in the article that technically that risked that…
While the public prosecution has given the best of a fictitious legal vision even hypothesizing an indictment for conspiracy for the alleged payment of a porn star's silence!!!
Biden, who in Ukraine has used a lot of his political influence by allowing his son Hunter to collect large earnings from an energy company with an American company (and therefore committing the possible crime in the USA) sleeps peacefully instead.
UKRAINEGATE: an investigative "memo" accuses Joe Biden and John Kerry too. Reopened the inquiry
"We cannot and will not normalize criminal conduct." This was stated by Manhattan prosecutor Alvin Bragg, explaining the allegations against Donald Trump to the press. The former president would have provided "34 false statements to cover up other crimes. These are criminal offenses in New York State. Regardless of who committed them", said Bragg who now has to worry about the risk of an investigation against him for judicial persecution…
Investigation Launched Into DA Alvin Bragg's 'Abusive and Partisan' Pursuit of Trump
The indictment against Donald Trump, which was released after the hearing, alleges that the former president was involved in a conspiracy to undermine the integrity of the 2016 election. Prosecutors say Trump did part of an illegal plan to suppress negative information, and this plan includes an illegal payment of $130,000 ordered by the defendant to eliminate information that would have harmed his campaign.
Trump Regretful. Trial postponed to December 4th
The prosecution claims that the reason she committed the crime of falsifying company registers was in part to "promote his candidacy".
After his formal indictment by the Manhattan court, Donald Trump is "regretful" and "disturbed": one of the former President's lawyers, Todd Blanche, declared to CNN at the end of the hearing. "It wasn't a nice day, I didn't expect something like this to happen in this country. You don't expect this to happen to someone who has been President of the United States," he concluded.
The next hearing in which Donald Trump will have to appear in person in the Manhattan courtroom has currently been set for December 4th. Cnn reports it
---
Trump's lawyer: "He will not be put in handcuffs"
UPDATE ON APRIL, 1, 2023
Trump, 76, is likely to appear before the Manhattan District Attorney Alvin Bragg on Tuesday after announcing his surrender. He could face up to 30 charges related to business fraud.
Trump will be photographed and have his fingerprints taken after turning himself in. He will be flanked by armed Secret Service agents who must protect him at all times, per The New York Times.
Trump's lawyer Joe Tacopina told ABC News on Friday that the former president "will not be put in handcuffs."
ARTICLE PUBLISHED ON MARCH, 31, 2023
A New York grand jury has voted to indict Donald Trump following a lengthy investigation into alleged hush-money payments to adult film actress Stormy Daniels. The decision marks the first time a former US president has ever faced criminal charges, sending the courts into uncharted legal territory.
Meanwhile Florida Governor Ron DeSantis, has ripped the New York City prosecutor "Soros-backed" behind the criminal indictment of the former president and stated that "Florida will not Extradite Him".
Indeed last week Trump announced his looming arrest…
After this America First Legal (AFL) has launched an investigation into the Manhattan District Attorney's Office's "abusive and partisan" pursuit of former President Donald Trump, with the foundation seeking records that are expected to unmask the probe against Trump as politically motivated.
Can Trump still run for president?
Given the unprecedented nature of the case, it remains to be seen how a criminal indictment will affect Trump's chances to return to the White House in 2024. Charges, and even a conviction, do not disqualify him from a presidential run, and so far the legal proceedings appear to have only energized Trump's supporters. Some of his Republican allies have condemned the New York DA's office for overreach, while House Speaker Kevin McCarthy has vowed to launch a probe on the matter.
What happens next?
Trump is expected to surrender to the authorities voluntarily, with his lawyer stating he was called to appear in New York for arraignment by next Tuesday. Though prosecutors in New York have suggested they hoped to take him into custody sooner, the governor of Trump's current home state of Florida, Ron DeSantis, has said he would not cooperatewith any extradition proceedings.
De Santis: "Florida will not extradite Trump
Donald Trump's potential top rival for the Republican Party's 2024 presidential nomination, Florida Governor Ron DeSantis, has ripped the New York City prosecutor behind the criminal indictment of the former president.
"Florida will not assist in an extradition request given the questionable circumstances at issue with this Soros-backed Manhattan prosecutor and his political agenda," DeSantis said in a tweet on Thursday.
Soros Sponsored even US Prosecutors – among which the Manhattan DA – to Free Criminals from Prisons
So far there has been no reports of any potential extradition requests, as a spokesman for the Manhattan district attorney's office told AP that prosecutors had reached out to Trump's legal team to "arrange a surrender" and a court appearance, expected sometime next week.
DeSantis previously said he wouldn't get involved in the case "in any way,"indicating that he wouldn't try to help block the Florida resident's extradition to New York, but has now echoed Trump's belief that Manhattan District Attorney Alvin Bragg "is stretching the law to target a political opponent."
"The weaponization of the legal system to advance a political agenda turns the rule of law on its head. It is un-American," DeSantis added.
MAIN SOURCES
Poll reveals Republicans' preferences for 2024 race. DeSantis over Trump who is Running to a Huge Defeat
(Visited 344 times, 1 visits today)