Coronavirus: Boris Johnson discharged from Hospital but continues Convalescence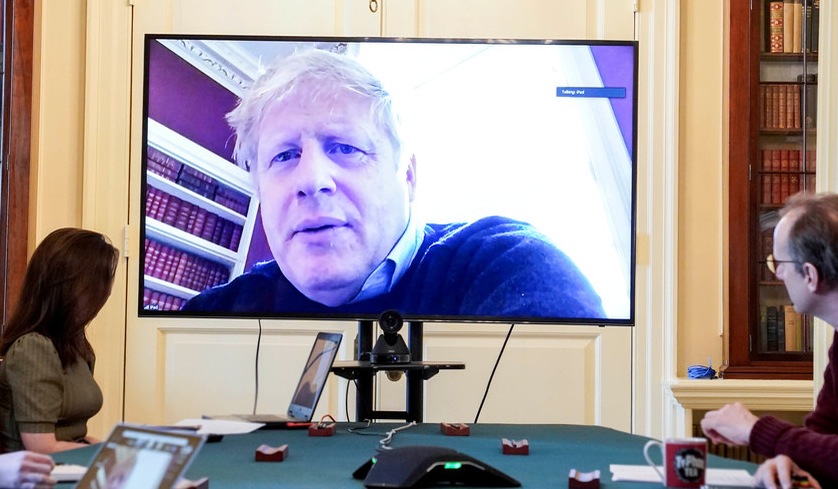 VERSIONE ORIGINALE IN ITALIANO
UPDATE ON APRIL, 13
British Prime Minister Boris Johnson was discharged from the hospital, where he was hospitalized last Sunday for coronavirus. This was announced by Downing Street, on the day when Britain crossed the 10,000 coronavirus death threshold. According to the health authorities, cited by the Guardian, 737 died in the last 24 hours, with the total rising to 10,612.
In a message posted via Twitter, Boris Johnson admitted that there were days when it was not known whether he could be saved. Johnson thanked two nurses, a New Zealander named Jenny and a Portuguese named Luis, who, he said, "stayed by my bed for 48 hours during which things could have gone one way or another."
"On the advice of his medical team, the prime minister will not return to work immediately," added a spokesman, announcing that Johnson will continue convalescence in Checkers, the country residence reserved for British heads of government. Johnson, the spokesman said, "would like to thank everyone in Saint Thomas (the hospital in London where he was hospitalized) for the excellent care he has received." British Prime Minister Boris Johnson thanked the health staff at St. Thomas Hospital in a message, where he was hospitalized
UPDATE ON APRILE, 7
Boris Johnson is 'breathing without assistance' in intensive care and does not have pneumonia, Downing Street said today.
The PM's spokesman said he was 'stable overnight and remains in good spirits', having received 'standard oxygen treatment'. Mr Johnson has also not needed a mechanical ventilator despite mounting concerns over his health.
He was moved to ICU at St Thomas' Hospital in central London last night and given oxygen after his health deteriorated sharply over just two hours, leaving doctors fearing he will need a ventilator, according to Daily Mail.
As it is known CoVid-19 has been redefined SARS-2 precisely because this term derives from the English acronym of Severe Acute Respiratory Syndrome. The virus from the bronchi enters the sterile alveoli of the lungs and gradually attempts to blocks its functioning.
This can lead to a decrease in blood oxygenation which in the most serious cases leads to death by asphyxiation or an aggravation of pre-existing pathologies, in particular those of the cardiovascular system, so as to make them fatal.
American pharmaceutical firms are meeting in London to discuss treatments for coronavirus-stricken British PM Boris Johnson, who was moved to Intensive Care Unit after his condition deteriorated over the weekend, the US president said according Russia Today.
Bojo is one of 135 hospitalized for the pandemic in the United Kingdom, where he has already infected more than 50,000 people and killed over 5,000. The first British PM had tested positive for swabs 11 days ago.
"We're very saddened to hear that [Johnson] was taken into intensive care this afternoon. Americans are all praying for his recovery," President Trump said at a press briefing on Monday, adding that several "genius" drug companies had "arrived in London already" to discuss therapeutics for the prime minister.
Trump noted that the companies were working on "rather complex" treatments which have had "incredible" results, though he did not get into specifics about which drugs were under consideration.
"It's a very complex treatment of things that they've just recently developed," Trump said, adding: "When you're in intensive care, that's a big deal," and that "hopefully they won't be needed."
posted on april, 6
Prime Minister Boris Johnson has been moved to intensive care in hospital after his coronavirus symptoms "worsened", Downing Street has said.
A spokesman said he was moved on the advice of his medical team and is receiving "excellent care".
Mr Johnson has asked Foreign Secretary Dominic Raab to deputise "where necessary", the spokesman added.
The prime minister, 55, was admitted to hospital in London with "persistent symptoms" on Sunday evening.
SARS-2: for defending "Bilderberg's Fake News" Italian Govt Blames Russia wich Helps It
A No 10 statement read: "The prime minister has been under the care of doctors at St Thomas' Hospital, in London, after being admitted with persistent symptoms of coronavirus.
"Over the course of [Monday] afternoon, the condition of the prime minister has worsened and, on the advice of his medical team, he has been moved to the intensive care unit at the hospital."
It continued: "The PM is receiving excellent care, and thanks all NHS staff for their hard work and dedication."
CORONAVIRUS – 10. The Plot in 100 lines: from CIA Bio-Weapons to New World Order Prophecy
Chancellor Rishi Sunak said his thoughts were with the prime minister and his pregnant partner, Carrie Symonds, and that Mr Johnson would "come out of this even stronger".
Labour leader Sir Keir Starmer described it as "terribly sad news".
"All the country's thoughts are with the prime minister and his family during this incredibly difficult time," he added.
Mr Johnson was initially taken to hospital for routine tests after testing positive for coronavirus 10 days ago. His symptoms included a high temperature and a cough.
Earlier on Monday, he tweeted that he was in "good spirits".
Last night, on the advice of my doctor, I went into hospital for some routine tests as I'm still experiencing coronavirus symptoms. I'm in good spirits and keeping in touch with my team, as we work together to fight this virus and keep everyone safe.

— Boris Johnson #StayHomeSaveLives (@BorisJohnson) April 6, 2020
GOSPA NEWS – CORONA VIRUS INVESTIGATIONS
(Visited 277 times, 1 visits today)