The Study which Changed Covid Vaccines History. Pfizer mRNA Serum can Alter Human DNA. Entering in Cells through Liver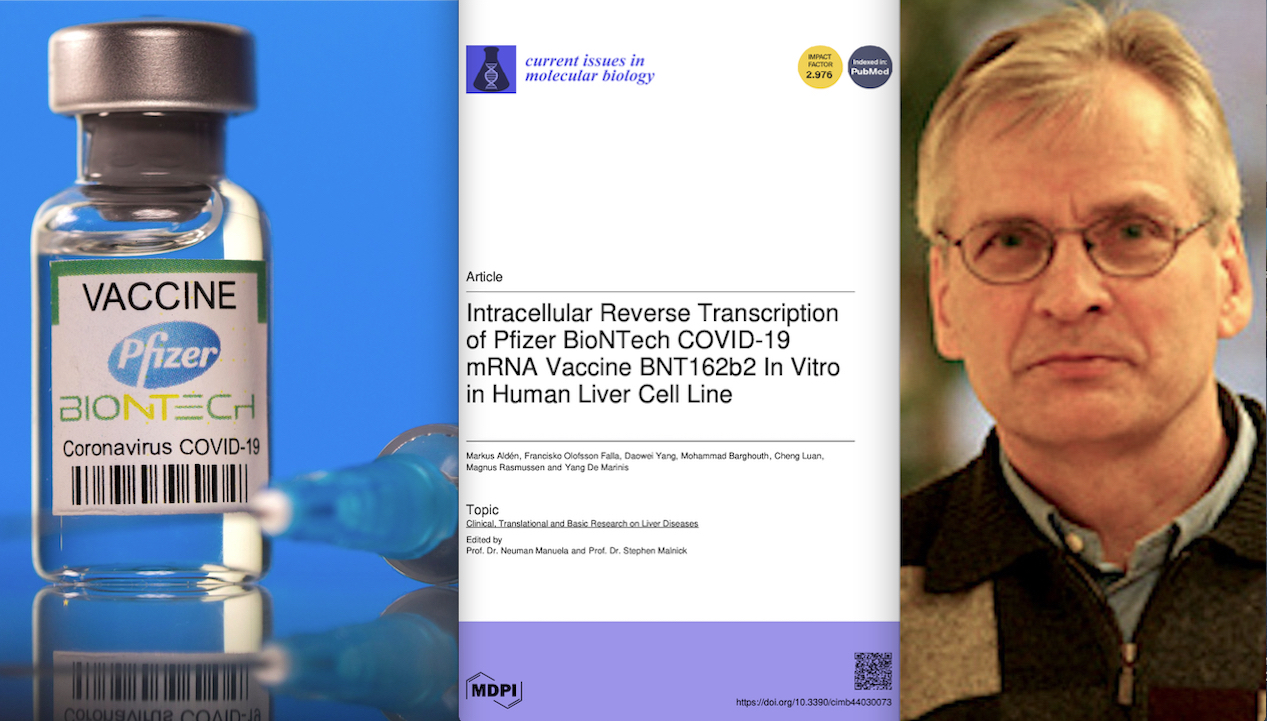 by Fabio Giuseppe Carlo Carisio
All the linked articles in Italian are available in simultaneous machine translation in English – All links to them have been added aftermath in the quoted sentences of the study
«Our results indicate a fast up-take of BNT162b2 into human liver cell line Huh7, leading to changes in LINE-1 expression and distribution. We also show that BNT162b2 mRNA is reverse transcribed intracellularly into DNA in as fast as 6 h upon BNT162b2 exposure».
This is the disturbing sentence of a study published on Current Issues Molecular Biology by medical journal MDPI – Molecular Diversity Preservation International based in Basel, Switzerland.
This research conducted by scientists of Department of Clinical Sciences, Lund University, Malmö, Sweden (Markus Aldén, Francisko Olofsson Falla,, Daowei Yang, Mohammad Barghouth, Cheng Luan, Magnus Rasmussen and Yang De Marinis) changed the history of Covid vaccines because it was to first to unveil the risk of the human DNA alteration.
This study, in fact, was one of the scientific strengths that led the Italian judge Susanna Zanda to send the documents of a civil case to the Public Prosecutor's Office in Rome, relating to the suspension from work of an unvaccinated psychologist, for the question of injuries and deaths from adverse reactions to mRNA gene sera.
VACCINI COVID: STUDIO TERRIFICANTE DAL MIT DI CAMBRIDGE! Alterazione DNA & Non Vaccinati a Rischio Contagio da SPIKE tossica dei Sieri mRNA
Other studies published by the German geneticist Walter Doerfler and American biophysics Stephanie Seneff (previewed by Gospa News) confirmed this danger which an Italian judge expressed in a degree of Court of Florence.
«Effective and safe vaccines are urgently needed to reduce the morbidity and mortality rates associated with COVID-19. Several vaccines for COVID-19 have been developed, with particular focus on mRNA vaccines (by Pfizer-BioNTech and Moderna), replication-defective recombinant adenoviral vector vaccines (by Janssen-Johnson and Johnson, Astra-Zeneca, Sputnik-V, and CanSino), and inactivated vaccines (by Sinopharm, Bharat Biotech and Sinovac)» the researchers wrote.
«The mRNA vaccine has the advantages of being flexible and efficient in immunogen design and manufacturing, and currently, numerous vaccine candidates are in various stages of development and application. Specifically, COVID-19 mRNA vaccine BNT162b2 developed by Pfizer and BioNTech has been evaluated in successful clinical trials [2,3,4] and administered in national COVID-19 vaccination campaigns in different regions around the world [5,6,7,8]».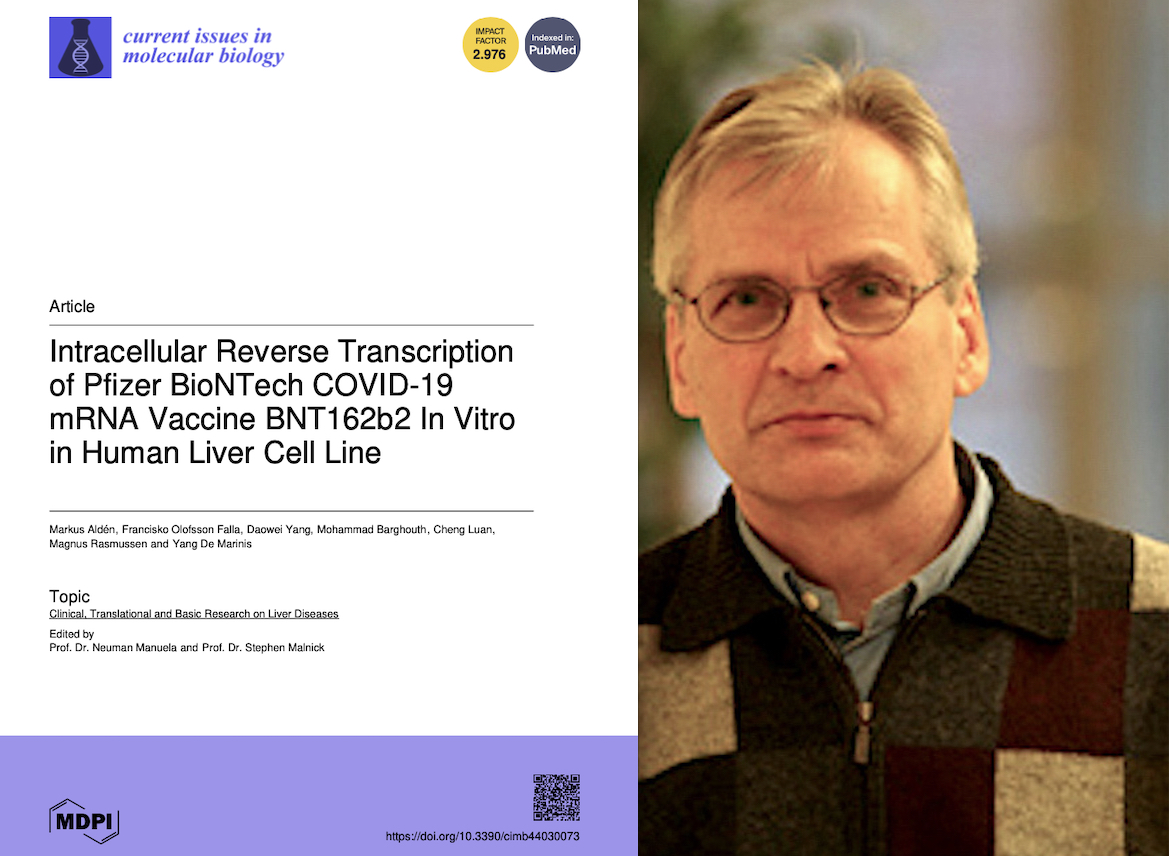 «BNT162b2 is a lipid nanoparticle (LNP)–encapsulated, nucleoside-modified RNA vaccine (modRNA) and encodes the full-length of SARS-CoV-2 spike (S) protein, modified by two proline mutations to ensure antigenically optimal pre-fusion conformation, which mimics the intact virus to elicit virus-neutralizing antibodies [3]. Consistent with randomized clinical trials, BNT162b2 showed high efficiency in a wide range of COVID-19-related outcomes in a real-world setting [5]. Nevertheless, many challenges remain, including monitoring for long-term safety and efficacy of the vaccine. This warrants further evaluation and investigations»
The COVID Jabs' Mechanisms of Injury: Sudden Death, Blood Cloths, Human Mad Cow and Autoimmune Diseases
«The safety profile of BNT162b2 is currently only available from short-term clinical studies. Less common adverse effects of BNT162b2 have been reported, including pericarditis, arrhythmia, deep-vein thrombosis, pulmonary embolism, myocardial infarction, intracranial hemorrhage, and thrombocytopenia [4,9,10,11,12,13,14,15,16,17,18,19,20]. There are also studies that report adverse effects observed in other types of vaccines [21,22,23,24]. To better understand mechanisms underlying vaccine-related adverse effects, clinical investigations as well as cellular and molecular analyses are needed».
A French University Hospital's Shock Study: "Myocarditis in Young People and Embolism in Women Growing after Vaccination Campaign". Alarms by an US Cardiologist Too
«A recent study showed that SARS-CoV-2 RNAs can be reverse-transcribed and integrated into the genome of human cells [25]. This gives rise to the question of if this may also occur with BNT162b2, which encodes partial SARS-CoV-2 RNA. In pharmacokinetics data provided by Pfizer to European Medicines Agency (EMA), BNT162b2 biodistribution was studied in mice and rats by intra-muscular injection with radiolabeled LNP and luciferase modRNA. Radioactivity was detected in most tissues from the first time point (0.25 h), and results showed that the injection site and the liver were the major sites of distribution, with maximum concentrations observed at 8–48 h post-dose [26]. Furthermore, in animals that received the BNT162b2 injection, reversible hepatic effects were observed, including enlarged liver, vacuolation, increased gamma glutamyl transferase (γGT) levels, and increased levels of aspartate transaminase (AST) and alkaline phosphatase (ALP) [26]».
EPATITI AUTOIMMUNI PER VACCINI COVID. Allarme da 12 Studi (2 italiani). Il Ministero di Speranza li Ignora: "Nessun Legame col Boom di Casi tra Bimbi"
«Transient hepatic effects induced by LNP delivery systems have been reported previously [27,28,29,30], nevertheless, it has also been shown that the empty LNP without modRNA alone does not introduce any significant liver injury [27]. Therefore, in this study, we aim to examine the effect of BNT162b2 on a human liver cell line in vitro and investigate if BNT162b2 can be reverse transcribed into DNA through endogenous mechanisms».
"SARS-COV-2 E VACCINI MODIFICANO IL DNA UMANO. Enorme Esperimento sulla Popolazione". Studio Incubo di Genetista Tedesco su Science Direct
«The cell model that we used in this study is a carcinoma cell line, with active DNA replication which differs from non-dividing somatic cells. It has also been shown that Huh7 cells display significant different gene and protein expression including upregulated proteins involved in RNA metabolism [56]. However, cell proliferation is also active in several human tissues such as the bone marrow or basal layers of epithelia as well as during embryogenesis, and it is therefore necessary to examine the effect of BNT162b2 on genomic integrity under such conditions. Furthermore, effective retrotransposition of LINE-1 has also been reported in non-dividing and terminally differentiated cells, such as human neurons [57,58]».
In response today, the American drug regulator FDA is hiding the data of active pharmacovigilance, as denounced by the British Medical Journal, while those of passive pharmacovigilance detectable by the EudraVigilance platform of the European Medicines Agency, which monitors EU countries, are nothing short of shocking, as well as mysterious in relation to the cases of Covid-19 breakthroughs.
British Medical Journal's BOMB: "US FDA Hides Data on Serious Adverse Events after Covid Vaccines"
In addition, the US Centers for Disease Control and Prevention (CDC) have urged the FDA to approve Pfizer and Moderna boosters without the necessary clinical trials but only after some experiments on mice.
The Swedish scientists had instead concluded their scientific publication with alarming words: «Our study is the first in vitro study on the effect of COVID-19 mRNA vaccine BNT162b2 on human liver cell line. We present evidence on fast entry of BNT162b2 into the cells and subsequent intracellular reverse transcription of BNT162b2 mRNA into DNA»
But the international scientific community, completely conditioned on health and vaccination policies by powerful gurus of the New World Order such as Bill Gates and the Rockefeller Foundation, has remained totally deaf to this research as to many others, perhaps even more disturbing.
All that remains is to hope for the investigation that the Rome prosecutor will MANDATORY open on the injuries and deaths due to adverse reactions to vaccines after the report of the judge of the Court of Florence.
Fabio Giuseppe Carlo Carisio
© COPYRIGHT GOSPA NEWS
prohibition of reproduction without authorization
follow Gospa News on Telegram
MDPI – Intracellular Reverse Transcription of Pfizer BioNTech COVID-19 mRNA Vaccine BNT162b2 In Vitro in Human Liver Cell Line
"COVID: Logic, Reasoning and Scientific Evidence Disappeared with Fauci-Gates' Dangerous Vaccines" US Retired Neurosurgeon on NIH PubMed
WUHAN-GATES – 62. Vaccini d'Oro & SARS-Cov-2 da Laboratorio: Complotto NWO-Gates-CIA nel Covo dei Rockefeller a Bellagio
WUHAN-GATES – 59. "Dangerous SARS-2 & Omicron Lab Experiments without Risk Assessment. STOP Them!". Alert by 5 US Senators. Russia blames the last Boston Research
"VACCINI ANTI-COVID ALTERANO IL DNA". Giudice Italiano conferma 2 Ricerche Scientifiche Svelate da Gospa News
48,817 DEAD and 5,107,883 Injured Following COVID-19 Vaccines in European Database of Adverse Reactions
CDC Pushed for COVID-19 Boosters Without Clinical Trials: Disturbing Emails: "Pfizer Recommends It and I Trust in their Guidance"
Criminal FDA and CDC Ignore Law and Approve New COVID Vaccine Boosters with ZERO Testing on Humans: On Mice Only
(Visited 566 times, 1 visits today)