House Judiciary Subpoenas FBI Director Wray and AG Garland for Targeting Parents vs LGBT Propaganda at School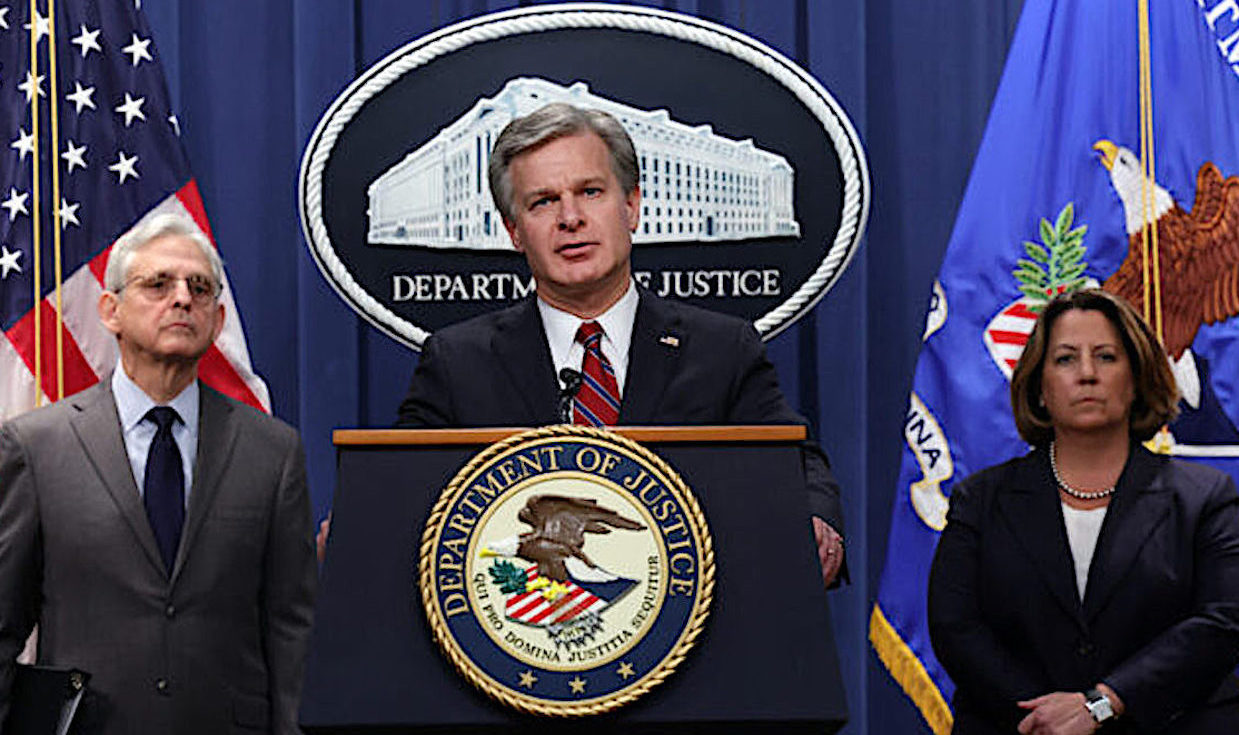 On the cover image FBI Director Christopher Wray (C), Attorney General Merrick Garland, and Deputy Attorney General Lisa Monaco hold a press conference at the Department of Justice in Washington on Oct. 24, 2022 (source The Epoch Times)
by Jack Phillips – Original published by The Epoch Times
All links to Gospa News articles have added aftermath for relevance to the topics covered
House Judiciary Republicans issued subpoenas to FBI Director Christopher Wray and Attorney General Merrick Garland to produce documents about alleged FBI investigations of parents at school board meetings in response to a controversial directive that Garland issued in late 2021.
The Epoch Times reviewed the subpoena, signed by Judiciary Chairman Jim Jordan (R-Ohio), which forces Wray to turn over relevant documents to the House Judiciary Committee on March 1 at 9:00 a.m. ET due to the alleged "misuse of federal criminal and counterterrorism resources."
The subpoena wants "all documents and communications referring or relating to" meetings with U.S. Attorneys' Offices in connection to Garland's memo issued in October 2021 to address "violent threats" that were allegedly made against school officials that Republicans later described as a politically motivated attempt to squash dissent. It also seeks to compel documents and communications relating to the establishment of a related Department of Justice task force.
"Since October 2021, Judiciary Committee Republicans have sent over one hundred letters to Biden Administration officials requesting answers about how the Administration used federal counterterrorism resources against American parents," the House Judiciary Committee said in a later news release.
Boston Children's Hospital & Harvard Medical School Promoted Surgery for Transgender Infants within Studies and Video
The Oct. 4, 2021, memo directed the FBI to team up with local law enforcement agencies and U.S. Attorneys to identify possible threats at school board meetings. It came in light of viral incidents where parents criticized school board members and teachers across the United States, accusing those officials of promoting left-wing or pro-LGBT viewpoints to students.
All documents and communications relating to the FBI's "EDUOFFICIALS" threat tag and related investigations are also sought by House Judiciary Republicans, according to the subpoena. Weeks after Garland's announcement, House Judiciary Republicans, citing whistleblower testimony, revealed how the FBI created the threat tag to track allegedly threatening statements at board meetings and said it was proof that counterterrorism resources were being used against parents.
"This subpoena is continuing in nature and applies to any newly discovered documents, regardless of the date of its creation," it says. "Any document not produced because it has not been located or discovered by the return date should be produced immediately upon location or discovery subsequent thereto."
Scottish Gender Threat: Kids as Young as 7 will be Asked if they Identify as Transgender or Non-Binary
House Judiciary Republicans on Friday also subpoenaed Garland, asking the attorney general to hand over relevant documents and communications linked to his October 2021 directive. Namely, Republicans are seeking communications and documents between Garland and top officials in the National School Board Association (NSBA) regarding a September 2021 letter on alleged threats or violence at school board meetings.
The Epoch Times also reviewed the subpoena sent to Garland, which asks him to provide GOP lawmakers with documents on March 1. Also subpoenaed was Education Secretary Miguel Cardona, who also has to produce communications and documents before the House Judiciary Committee on March 1.
Response
The FBI, in a statement to The Epoch Times on Friday, confirmed that the bureau received the subpoena but that Wray and other FBI officials are not targeting individuals for their speech. Instead, the bureau is investigating potential threats of violence, the statement said.
"The FBI has never been in the business of investigating speech or policing speech at school board meetings or anywhere else, and we never will be. Our focus is and always will be on protecting people from violence and threats of violence," a spokesperson for the FBI said. "We are fully committed to preserving and protecting First Amendment rights including the right to free speech."
CDC Directs Kids To Secretive Online Chat Space To Explore Sex Change Operations, 'Having Mulitiple Genders,' The Occult
"Attempts to further any political narrative will not change those facts. The FBI recognizes the importance of congressional oversight and remains fully committed to cooperating with Congress's oversight requests consistent with its constitutional and statutory responsibilities. The FBI is actively working to respond to congressional requests for information—including voluntary production of documents."
Controversy
The controversial NSBA letter, later removed from its website, equivocated incensed parents at school board meetings with "domestic terrorism," drawing outrage from parents groups and Republicans. The NSBA later apologized for sending out the letter and launched a "formal review" into the matter.
But just days after the NSBA letter was sent, Garland issued a memo (pdf) and news release calling for greater partnership to address alleged threats against school board officials.
Russia: the Last True Bulwark of Christianity. LGBT Propaganda Prohibited to Protect Children against Gender Theory and Pedophilia
"Threats against public servants are not only illegal, they run counter to our nation's core values," Garland said in a news release at the time. "Those who dedicate their time and energy to ensuring that our children receive a proper education in a safe environment deserve to be able to do their work without fear for their safety."
During an October 2021 Senate Judiciary Committee hearing, Garland toldlawmakers that real threats of violence against school officials "are not protected by the First Amendment." He also stipulated that officials are "not investigating peaceful protests or parent involvement in school board meetings."
About a year ago, Jordan and other Republicans said that whistleblowers came to them and alleged the FBI carried out dozens of investigations into American parents who complained about schools' COVID-19 mandates and labeled them with a "threat tag."
US Study: "COVID Vaccine Mandates for College Students are Unethical, 98 Times Worse Than Virus"
The alleged FBI investigations targeted parents who were "upset about mask mandates and state elected officials who publicly voiced opposition to vaccine mandates," the GOP lawmakers said at the time, noting that it was the EDUOFFICIALS tag that was used to label those individuals.
"In sworn testimony before this Committee, you denied that the Department of Justice or its components were using counterterrorism statutes and resources to target parents at school board meetings," the lawmakers wrote. "We now have evidence that [is] contrary to your testimony."
The Epoch Times has DOJ for comment on the subpoenas, which were first reported by Fox News on Friday.
by Jack Phillips – Original published by The Epoch Times
---
MAIN SOURCES
GOSPA NEWS – GENDER – MINORS DOSSIER
Catho-Dem Biden: Transgenders' Lover in Masonic Cult. Us President wants Them in Govt, Army and Female's Sports
To Understand Israeli LGBTQ Propaganda we have to Learn Difference between Masonic-Zionism and Judaism
EU-US: PEDOPHILIA Runs like a Pandemic. Millions of Children Victims. "Law Slow and Inadequate" Association METER Claims
(Visited 527 times, 1 visits today)