In the Orthodox Easter Russian Patriarch asks for a Soonest Peace. Ukrainian troops Shell a Donetsk Cathedral Killing a Believer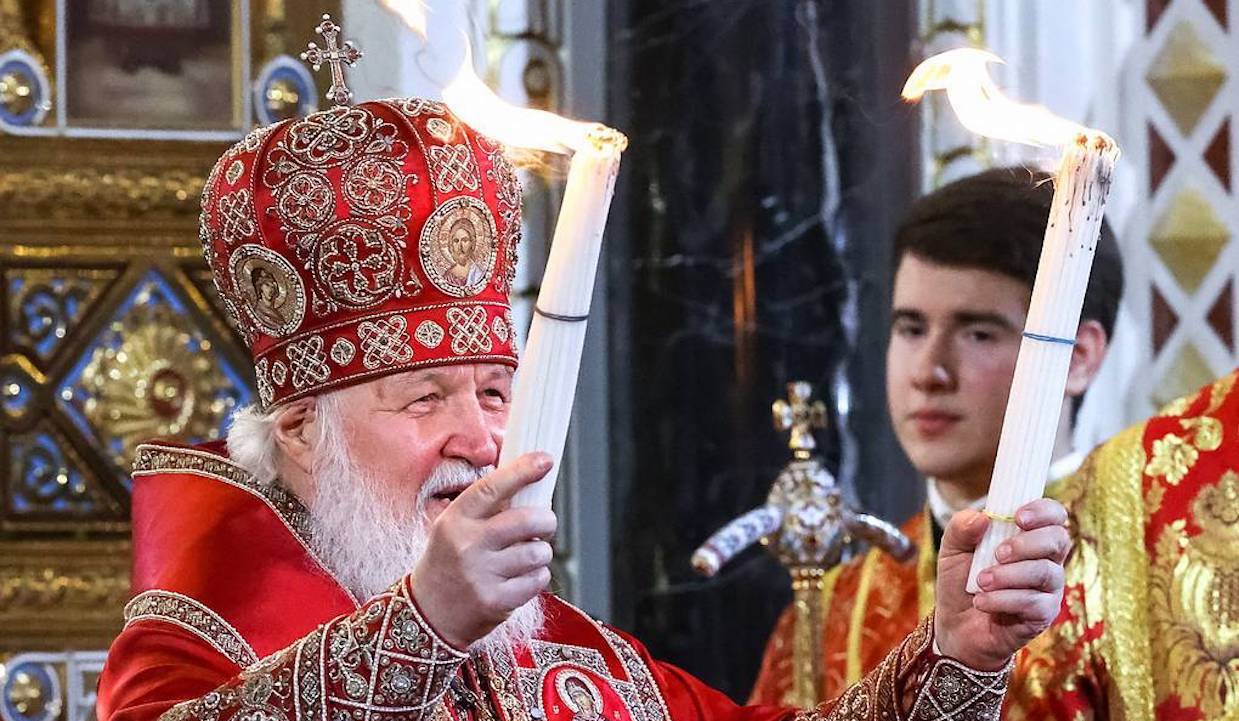 On the cover image the Patriarch of Russian Orthodox Church Kirill
«A civilian resident of Donetsk was killed and six wounded when Ukrainian troops shelled the city's Transfiguration Cathedral during Easter Vigil on Sunday, the acting head of the Donetsk People's Republic (DPR), Denis Pushilin, said» according to TASS Russian News Agency.
"For the time being, one person was reported as dead and six – as injured," Pushilin wrote on his Telegram channel. "Fire broke out when a Ukrainian projectile hit a kindergarten. Damage was reported at the Roofed Market, [at] nearby shops and a pharmacy."
"The enemy deliberately struck the main cathedral during the Easter night," he said. The official added that units of the Russian armed forces are already working to destroy Ukrainian firing points from where the shelling came.
ZELENSKY's GASH AT CHRISTMAS TRUCE! Biden's Neo-Nazi Rejects Putin and Kirill's Gesture of Peace
According to the Donetsk People's Republic (DPR) mission to the Joint Center for Control and Coordination of issues related to Ukraine's war crimes, the armed forces of Ukraine fired a total of 20 rockets from multiple-launch rocket systems towards the Voroshilovsky district of Donetsk at 03:25 a.m. Moscow time on Sunday.
Patriarch Kirill urges Russians, Ukrainians to do everything for soonest peace
Russians and Ukrainians should do everything within their powers to restore peace in Ukraine as soon as possible, the head of the Russian Orthodox Church, Patriarch of Moscow and All Russia Kirill, said on Sunday during the Paschal Vigil in the Christ the Savior Cathedral of Moscow.
"Sad events, which may even be described as internal feud, are now taking place on our historic Russian land. Today, I am addressing Russians and Ukrainians, particularly those who became embroiled in this conflict against their will: with the force of our prayer, and our good deeds, and our good intentions, we must do everything to stop this conflict as soon as possible," he said.
Zelensky Servant of NATO and Satan! Not of Ukrainian People. Orthodox Bishop arrested before Easter. Another Esplosive Attack planned by Kiev
The patriarch also expressed hope that the people of Russia and Ukraine would restore their "peace and good co-existence, and strong fraternal ties between our people, who were one nation in some point, inhabiting one country of Rus."
"My special prayer today will be about it, and I will ask you all to join it," he added.
Easter is the central holiday of the entire Christian world commemorating a key moment in the history of Christianity – Jesus Christ's resurrection from the dead. The Russian Orthodox Church determines the date based on solar and lunar calendars. In 2022, it falls on April 16.
Putin attends Easter service at Christ the Savior Cathedral
Russian President Vladimir Putin arrived at the Christ the Savior Cathedral in Moscow on Saturday night to attend the Easter service.The service is conducted by Patriarch of Moscow and All Russia Kirill.
Ukrainian Orthodox Church Bishop Arrested in the Kiev Regime Christians Persecutions
The Russian president traditionally attends services during high holy days. On Easter, the head of state usually attends services at the Christ the Savior Cathedral. Only twice did he participate in Easter festivities outside Moscow – in 2000, at St. Petersburg's St. Isaac's Cathedral and in 2003, when he attended services at the St. Nicholas Cathedral in Dushanbe while on a visit to Tajikistan.
In 2020, for the first time during his presidency, Putin skipped Easter service due to the coronavirus pandemic and lit a candle in the chapel at his Novo-Ogaryovo residence.
---
MAIN SOURCE
NWO Zionist Lobby to Persecute Christians: Netanyahu in Jerusalem like Zelensky in Kiev
From Fatima to Ukraine. The Useless Lesson of Peace by Pope Wojtyla to Christians that want Weapons and War
Moscow opens Criminal Case against ICC Prosecutor Khan, who Hugged Zelensky before the Warrant to Putin
(Visited 178 times, 1 visits today)