BIDEN'S DRONE KILLED CHILDREN IN KABUL. Pentagon Confirmed the Massacre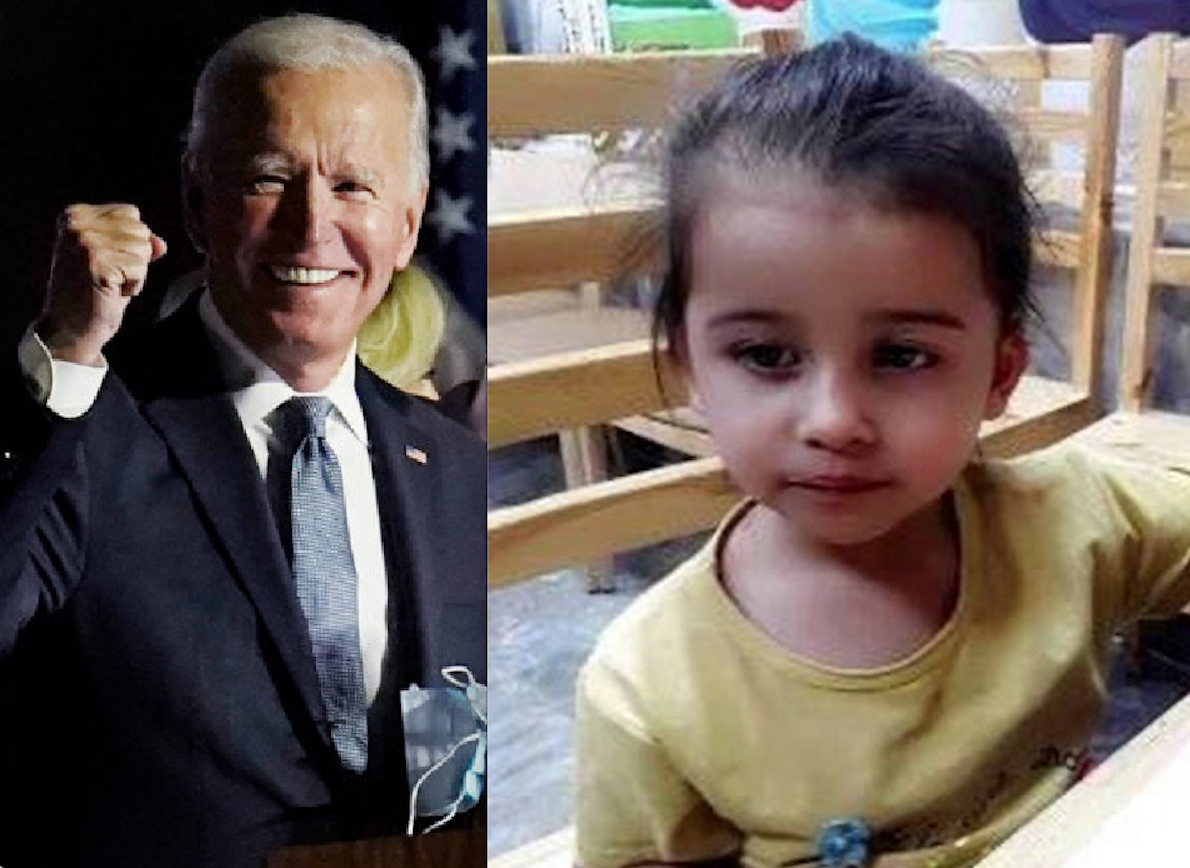 On the cover Joseph Biden and Malika Ahmadi, killed by a drone
by Fabio Giuseppe Carlo Carisio
After leaving Afghanistan in the hands of the Taliban and in total chaos due to the desperate escape attempt that cost the lives of many people at the Hamid Karzai International Airport in the capital, US President Joseph Biden wanted to punish ISIS for the kamikaze attack but instead he had a family exterminated by killing even a two-year-old girl.
Once again, as happened hundreds of times in Syria in the past and recently, the American drones of the US Air Force have done collateral damage far more serious than those done to their targets. Biden's revenge against the ISIS bombing in Kabul which killed 113 people at the airport on 26 August, including 13 US Army soldiers, not only proved ineffective but turned into a massacre of the innocent.
CIA, Mossad & Talibans in Jihadist's New Empire to Use Afghanistan against Iran and Russia
to report it in Italy was the veteran of the foreign news Maurizio Blondet, already sent to Manhattan for the attacks of 11 September 2001 from where he denounced the plot just confirmed in part by a memory declassified by the FBI on the role of the Saudis. The attentive journalist picked up the disturbing New York Times article which reconstructs the tragedy of an Afghan family, exterminated by a drone attack, because they were traveling in a suspicious vehicle.
But now, as you can read below, also NBC News reports the same news with confirmation from the Pentagon.
US Air Force personnel believed the driver was loading explosives to stuff the car and turn it into a car bomb. «Military officials said they did not know the identity of the driver of the car when the drone fired, but found him suspicious because of how they interpreted his activities that day, saying they may have visited a safe house in the car. Isis and, at a certain point, they loaded what they thought could be explosive into the car».
ISIS KILLS IN THE AL QAEDA's LAIR. 113 dead in the Double Explosive Attack "announced" in Kabul
In reality, as also emerges from a video, he had loaded cans of water for the family and had acted as a taxi for some relatives and friends who had to go to work.
The Times report identified the driver as Zemari Ahmadi, a longtime worker for a US aid group. Evidence, including extensive interviews with family members, co-workers, and witnesses, suggests his travels that day actually involved transporting co-workers to and from work.
And an analysis of the video feed showed that what the military may have seen was Mr. Ahmadi and a colleague loading water cans into his trunk to take him home to his family.
While the US military said the drone strike may have killed three civilians, the Times report shows it killed 10, including seven children, in a dense residential block. Mr. Ahmadi, 43, has worked since 2006 as an electrician for Nutrition and Education International, a support and lobbying group based in California. On the morning of the attack, Mr. Ahmadi's boss called from the office around 8:45 am and asked him to take his laptop.
9/11: FBI Declassified Memo on Saudi Complicity in the Plot. But doesn't Unveil Mysteries on Israel and CIA Covering
Malika, just 2, and two other small children were the youngest members of the family killed, along with Ahmadi Arwin's grandchildren, 7 and Benyamin, 6, and Zemari's two other children, Zamir, 20 and Faisal, 16. Ahmadi said. Zemari was a technical engineer for Nutrition and Education International, a non-profit organization working to tackle malnutrition based in Pasadena, California.
Ahmad Naser, a former Afghan Army officer and US military contractor, according to his cousin, was also killed in Biden's drone attack. He had married a few days earlier. According to Pentagon spokesman John Kirby, Washington "is unable" to contest reports that Sunday's drone strike killed civilians, however it claimed that one of the family members belonged to the radical Islamic group, ISIS-K. . ".
BIDEN's WAR STARTS IN SYRIA. US Air strikes against Iran-backed militia: 22 Killed
The retaliation was authorized by Biden as was a previous attack in Syria to hit the positions of Hezbollah and Pasdaran Shiites allies of the government of Bashar Al Assad in the fight against real terrorism (ISIS and Hayat Tharir Al Sham's Qaedists, protected by Turkey – and therefore from NATO – in the province of Idlib) which also claimed victims among civilians, even killing a child.
It seems fundamental to us to report the illuminating and caustic final considerations of the journalist Maurizio Blondet.
"Estimate the very high and very sophisticated intelligence that the US military has shown to dispose of. Consider any massacre carried out for propaganda, to show the media that "we have acted against ISIS". Savor the official lie ("we hit terrorists who were preparing another attack") enthusiastically reported by all the media as pure gold and with the satisfaction of the case, because it is an instructive fact to keep in mind for the other "news" that are poured from the TV as true every newscast and talk show. Then appreciate the fact that there is only one state in the world that takes the liberty of bombing a foreign city by spying on a foreign family from above, misunderstanding their acts and intentions, and annihilates them. And tell me about Taliban terrorists?».
Below NBC report
---
U.S. drone strike in Kabul mistakenly killed civilians, not terrorists, Pentagon says
An Aug. 29 drone strike targeting terrorists in Afghanistan mistakenly killed innocent civilians, including children, Pentagon officials admitted Friday.
"We now assess it is unlikely that the vehicle and those who died were associated with ISIS-K," Gen. Kenneth McKenzie, the head of U.S. Central Command, said. "It was a mistake." He said he is "fully responsible for this strike and the tragic outcome."
"I offer my profound condolences to the family and friends of those who were killed," McKenzie said.
The strike was launched after last month's deadly suicide bombing near Kabul airport that killed 13 U.S. military members and scores of Afghan civilians, and was initially said to have prevented another attack.
Exodus of Islamic Terrorism under Cia's Nose! "Isis and Al Qaeda among Afghan Migrants". Putin's alarm confirmed by US flight to Qatar
Central Command opened a formal investigation — called a 15-6 — after reports that the drone's Hellfire missile killed as many as 10 civilians, and had not prevented a terror strike, as U.S. officials initially claimed. The 10 dead were all members of the same extended family, relatives told NBC News, and included the seven children. Some were as young as 2 and 3.
"They were 10 civilians," one member of the family, Emal Ahmadi, said earlier this month. He said his toddler, Malika, was among those killed. "My daughter … she was 2 years old," he said. The targeted car was driven by Ahmadi's cousin, Zemari Ahmadi, a technical engineer for a U.S. aid company.
An investigation by The New York Times found some of Ahmadi's actions on the day of the strike may have been misinterpreted by U.S. military surveillance, which was on high alert for a terror attack after the Islamic State Khorasan extremist group claimed responsibility for the suicide bombing outside the Kabul airport that killed 13 U.S. military personnel and more than 110 Afghans.
What the military feared were explosives being put into Ahmadi's car were canisters of water for his family, the Times reported, citing video of his actions earlier in the day. McKenzie said officials had an "earnest belief" that there was "an imminent threat."
(Visited 367 times, 2 visits today)