Rep. Jordan Subpoenas Former Manhattan Prosecutor Who Pushed for Trump Indictment. Bragg Dropped Effort to Quash It
On the cover image the former US president Donald Trump, 2024 candidate for Republican primary, and the District Attorney Alvin Bragg
Introduction by Gospa News Editorial Staff
Manhattan District Attorney Alvin Bragg has dropped his effort to quash a congressional subpoena to a former prosecutor who worked in his office, a congressional aide told The Epoch Times in a statement on Friday.
"This evening, the Manhattan District Attorney's Office withdrew its appeal in Bragg v. Jordan. Mr. Pomerantz's deposition will go forward on May 12, and we look forward to his appearance," Russel Dye, spokesperson for Rep. Jim Jordan (R-Ohio), chair of the House Judiciary Committee, wrote to The Epoch Times in a statement.
"Bragg caved. Jim Jordan won," the House Judiciary Committee wrote in a statement on Twitter Friday.
---
Court Rejects Bragg's Request for Restraining Order Against Jordan
UPDATE ON APRIL, 12, 2023
Manhattan District Attorney Alvin Bragg's urgent request to enter a restraining order against Rep. Jim Jordan (R-Ohio) was rejected on April 11, the same day it was filed.
U.S. District Judge Mary Kay Vyskocil, a Trump appointee, turned down Bragg's emergency request for a temporary restraining order and preliminary injunction against Jordan, at least until a hearing is held.
"The Court declines to enter the proposed Temporary Restraining Order and Order to Show Cause," Vyskocil said, noting that she hadn't yet received several documents that were referenced in Bragg's filings.
A Grand Jury Voted to indict Former President Trump. But "Florida will not Extradite Him for Soros-backed Manhattan Prosecutor"
---
UPDATE ON APRIL, 7, 2023
House Judiciary Chairman Jim Jordan (R-Ohio) has subpoenaed a former Manhattan prosecutor who pushed for an indictment against former President Donald Trump. The move came days after Trump pleaded not guilty to felony charges brought by the Manhattan district attorney's office in a prosecution that has ignited outrage from Republicans.
Jordan on April 6 wrote (pdf) to former Manhattan prosecutor Mark Pomerantz, ordering him to appear before the House Judicial Committee to provide testimony.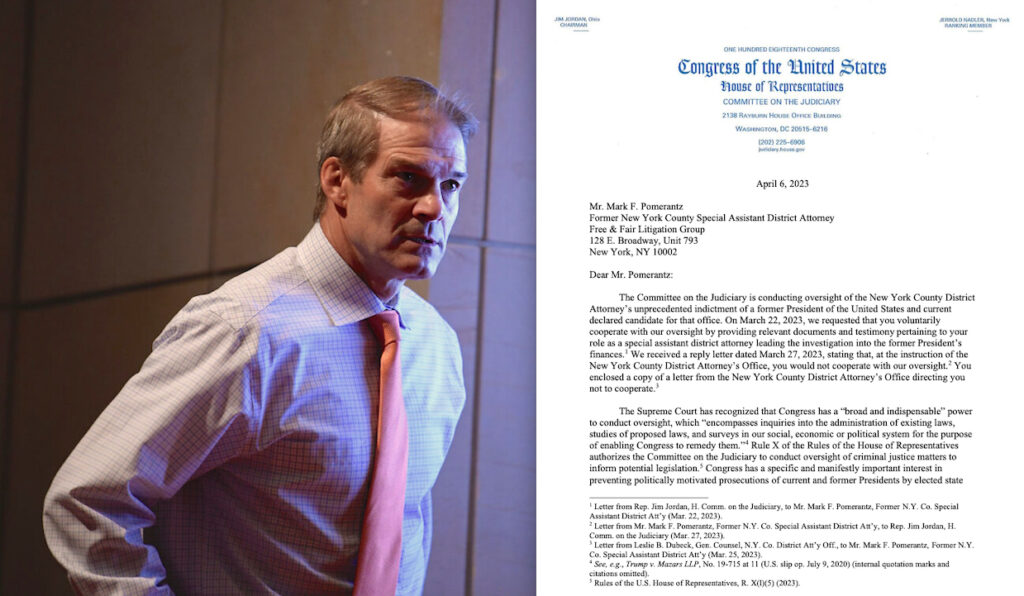 According to The Epoch Times, Pomerantz, who authored a book titled "People vs. Donald Trump," was a Manhattan prosecutor under District Attorney (DA) Alvin Bragg. Pomerantz earlier led an investigation into Trump's finances but resigned in February 2022 because of Bragg's initial unwillingness to pursue a criminal case.
The subpoena comes after Pomerantz rejected an offer to testify voluntarily. Pomerantz said he was instructed to refuse by the Manhattan DA's office.
"Based on your unique role as a special assistant district attorney leading the investigation into President Trump's finances, you are uniquely situated to provide information that is relevant and necessary to inform the Committee's oversight and potential legislative reforms," Jordan wrote to Pomerantz.
FROM RUSSIA-GATE TO THE ARREST WARRANTS AGAINST PUTIN & TRUMP. Devilish Strategy of Soros' New World Order on Friday 17
On April 4, Trump appeared at the New York Supreme Court, where Bragg's office charged him with 34 felony counts of falsifying business records related to a hush money payment to adult film actress Stormy Daniels in the weeks before the 2016 presidential election. Daniels claims she had an affair with Trump in 2006, which Trump denies.
Trump has maintained his innocence, saying the case is politically motivated, a refrain echoed by many Republicans.
---
Rep. Jordan Says Subpoena 'On the Table' for Manhattan DA After Trump Indictment
UPDATE ON APRILE, 4, 2023
Rep. Jim Jordan (R-Ohio) said a subpoena is on the table if it will compel Manhattan District Attorney (DA) Alvin Bragg to testify about his recent decision to prosecute former President Donald Trump, according to The Epoch Times.
Last month, after Trump revealed he is facing prosecution by Bragg's office, Jordan joined Reps. James Comer (R-Ky.) and Bryan Steil (R-Wisc.) on a letter questioning Bragg's case. The letter asked Bragg to turn over any communications his office has with the New York County District Attorney's Office or the U.S. Department of Justice (DOJ), the DOJ's component entities, or other federal law enforcement agencies relating to his case against Trump, and Bragg's testimony regarding the prosecution.
On March 30, Bragg's office confirmed it was going forward with a case against Trump. Leslie Dubeck, the general counsel for the Manhattan DA's office, sent a response letter to Jordan and the other Republican lawmakers the following day, saying compliance with their requests for documents and testimony "would interfere with law enforcement" and a "congressional review of a pending criminal investigation usurps executive powers."
---
Investigation Launched Into DA Alvin Bragg's 'Abusive and Partisan' Pursuit of Trump
UPDATE ON MARCH, 29, 2023
America First Legal (AFL) has launched an investigation into the Manhattan District Attorney's Office's "abusive and partisan" pursuit of former President Donald Trump, with the foundation seeking records that are expected to unmask the probe against Trump as politically motivated.
The foundation filed a New York Freedom of Information Law request on March 27 (pdf), requesting a range of Trump-related communications records from the Manhattan DA's office, which is pursuing an investigation against the former president.
"America First Legal will obtain and expose records about Alvin Bragg's unprecedented efforts to target a political opponent," said Gene Hamilton, AFL vice president and general counsel, in a statement.
Soros Sponsored even US Prosecutors – among which the Manhattan DA – to Free Criminals from Prisons
Manhattan DA Alvin Bragg is probing Trump over an alleged misclassification of a hush money payment to adult performer Stormy Daniels over an alleged affair.
Trump, who has denied the affair with Daniels and insists he's the victim of extortion, initially said he expected to be indicted last week, but Bragg has so far not made his move. The former president has since said he believes Bragg has given up on the case.
"I think they've already dropped the case … they have absolutely nothing." Trump said after a rally in Waco, Texas, on Saturday. "It's a fake case."
---
Manhattan District Attorney blames House Judiciary Republicans Inquiry: "Unlawful Incursion"
ARTICLE PUBLISHED ON MARCH, 24.2023
Former President Donald Trump faces possible criminal charges in New York relating to a hush money payment to adult film star Stormy Daniels ahead of the 2016 presidential election. Trump maintains he has committed no crime and has accused Manhattan District Attorney Alvin Bragg of being motivated by politics.
The case is focused on allegations that Trump falsified business records. Michael Cohen, Trump's former lawyer and fixer, testified before the grand jury Monday. The grand jury was scheduled to meet yesterday, but members were then told instead to return today.
Sources said the panel is likely to consider unrelated cases today. So, according NBC News, Grand Jury is not likely to consider Trump case until next week.
On Tuesday, the New York grand jury that's been investigating the hush money case involving former President Donald Trump has been told not to come in on Wednesday, delaying a possible indictment, NBC News confirmed. The Manhattan district attorney's office told the grand jury to be on standby for Thursday, two sources familiar with the matter said.
But later it was learned that he would deal with other different cases. One therefore gets the impression that the magistrate wants to keep Trump on the grill before summoning him for indictment.
---
Manhattan DA Office Responds: Trump Created 'False Expectation' He Would Be Arrested
by Jack Phillips – originally published on The Epoch Times
Manhattan District Attorney Alvin Bragg fired back at House Republicans seeking to probe his reported case against former President Donald Trump, offering the first public response to the former president's claim that he would be indicted by Bragg's office soon.
Brag Manhattan D.A.: "Neither fact is a legitimate basis for congressional inquiry"
"Your letter dated March 20, 2023 (the 'Letter'), in contrast, is an [unprecedented] inquiry into a pending local prosecution," Bragg's office wrote (pdf) to House Judiciary Republicans in the letter, which was posted online by multiple news outlets. It said that the GOP's letter "only came after Donald Trump created a false expectation that he would be arrested the next day, and his lawyers reportedly urged you to intervene. Neither fact is a legitimate basis for congressional inquiry."
If Bragg's office were to comply with the request, it would "interfere with law enforcement," and the GOP letter represents an "unlawful incursion into New York's sovereignty," according to the letter. It was written by Bragg's general counsel, Leslie B. Dubeck, and dated March 23.
Project Syndicate funded by Soros, Gates and McKinsey to Promote Ukraine War as Rockefeller Council on Foreign Relations
The letter represents the first public comments Bragg made specifically about the investigation into Trump after the former president announced last weekend that he would be indicted on Tuesday, although Tuesday passed without any charges being filed against him. So far, Epoch Times requests for comment to Bragg's office have gone unanswered.
However, the letter provided little insight into the investigation and whether the grand jury will return an indictment against Trump. Several witnesses, including former Trump attorney Michael Cohen and fellow lawyer Robert Castello, testified in front of the grand jury in recent days, triggering even more speculation about the case.
The Magistrate: "Prosecution for political purposes is unfounded"
"If a grand jury brings charges against Donald Trump, the DA's Office will have an obligation, as in every case, to provide a significant amount of discovery from its files to the defendant so that he may prepare a defense," the document stated. House Republican assertions that his office is "pursuing a prosecution for political purposes is unfounded, and regardless, the proper forum for such a challenge is the Courts of New York, which are equipped to consider and review such objections."
"In addition, review by the U.S. Supreme Court would be available to the extent any criminal case raises federal issues. That is the mechanism afforded to every defendant in a criminal case. Congress has no role to play in that review, especially as to a pending state criminal proceeding," according to the letter.
Because Congress doesn't have a "legitimate legislative task relating to the oversight of local prosecutors" and state laws, the recent Republican request would threaten the state of New York's "sovereign interest," Bragg's office said.
What Was Sought
House Republicans led by Judiciary Chairman Jim Jordan (R-Ohio), Oversight Chairman James Comer (R-Ky.), and Administration Chairman Bryan Steil (R-Wis.), earlier this week requested information and testimony into Bragg's investigation and described the probe as likely politically motivated. They wrote that Bragg's office has frequently reduced felony charges for violent offenders in New York City, but he's reportedly looking to elevate charges against Trump over an incident that occurred in 2016.
"Your decision to pursue such a politically motivated prosecution—while adopting progressive criminal justice policies that allow career 'criminals [to] run the streets' of Manhattan—requires congressional scrutiny about how public safety funds appropriated by Congress are implemented by local law-enforcement agencies," Jordan wrote to the district attorney's office.
Since Trump's post on Truth Social announcing he would be arrested soon, Republicans in Congress have circled their wagons around the former president, accusing Bragg and Democrats of engaging in a politically motivated witch hunt. Some legal scholars, too, have denigrated Bragg's case and have claimed it is a twisted interpretation of the law.
Poll reveals Republicans' preferences for 2024 race. DeSantis over Trump who is Running to a Huge Defeat
A spokesperson for Trump told The Epoch Times over the past weekend that Trump has received no special information about a possible indictment and suggested the former president was reacting to publicly available reporting that cited anonymous reports. A so-called "court source" told multiple news outlets last Friday that Trump could be indicted soon in connection to the case, which delves into alleged hush money payments that were provided to Stormy Daniels during the 2016 campaign.
If Trump is arrested, it would be a first for a current or former president. Since the founding of the United States, no president has faced criminal charges.Meanwhile, the former president has said he would continue his 2024 White House campaign if he is indicted. A rally in Waco, Texas, is scheduled for later this month.
The Epoch Times has contacted Bragg's office and a Trump spokesperson for comment.
Jack Phillips – originally published on The Epoch Times
Jack Phillips is a senior reporter for The Epoch Times based in New York. He covers breaking news.
---
US Midterm: Defeats for Biden, Voting System and Trump "Political Suicide": Threatened the GOP Rival DeSantis (Winner in Florida) for 2024 Presidential Challenge
RussiaGate Huge Plot against Trump! Acquitted after the arrest the Analyst Who Contributed to Infamous Steele Dossier
(Visited 638 times, 1 visits today)