Project Syndicate funded by Soros, Gates and McKinsey to Promote Ukraine War as Rockefeller Council on Foreign Relations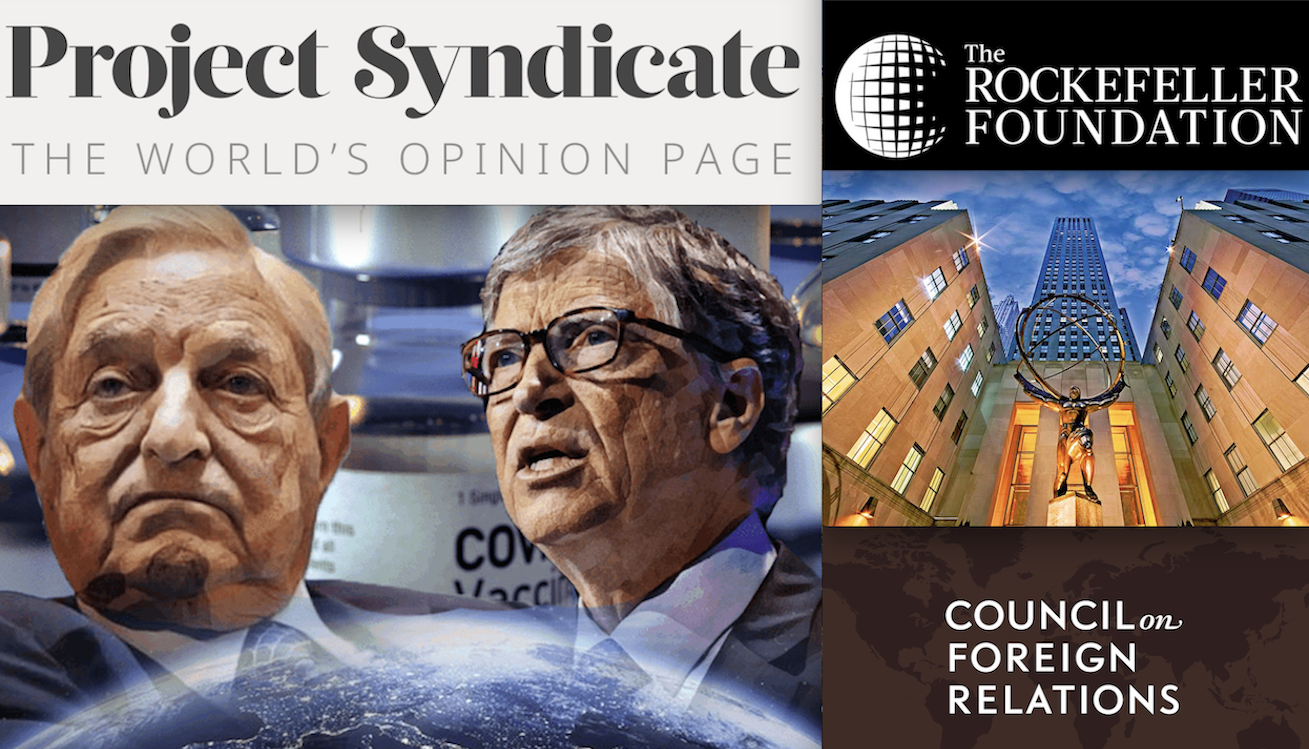 by Fabio Giuseppe Carlo Carisio
«There is no publication that exemplifies Soros' hold on the global media more than Project Syndicate, self-dubbed "The World's Opinion Page."».
This was written by investigative journalist Joseph Vazquez and Daniel Schneider on MRC NewsBusters almost two months ago as we reported in the article "Soros Bankrolls 253 Groups to Influence Global Media and White House".
They blamed the "Global Propaganda Operation" behind this partizan website in they excellent inquiry on the Hungarian multimillionaire and and self-styled philanthropist.
THE WHITE HOUSE PROPAGANDA THROUGH PROJECT SYNDICATE
«The publication boasts a "global audience" that includes "prominent politicians, policymakers, scholars, business leaders, and civic activists from six continents" and "over 140 heads of state." Project Syndicate claimed its commentaries appeared an amazing 20,393 times in 156 countries in 2021 alone. Soros' OSF funneled at least $1,532,105 to Project Syndicate between 2016 and 2020. The outlet promoted everything from abortion to global climate lockdowns to hatred against Israel. It also influences White House propaganda» Vazquez and Schneider wrote.
In reality, the hotly topical ethical issues and an apparent anti-Zionist orientation represent only a media strategy to pretend to manifest a thought free from cultural conditioning in geopolitical analysis.
Soros Bankrolls 253 Groups to Influence Global Media and White House
The real goal is not only to "influence" the US president but to support the initiatives of the New World Order which has been influencing the White House since it has been in the hands of the Democrats Obama and Biden, financed by megadonors Bill Gates and George Soros who outline its political programme.
A confirmation of all this can be found in relation to the positions of Project Syndicate on the War in Ukraine that we highlighted in our previous investigation.
"TOWARD A NEW WORLD ORDER: The Future of NATO". Soros' 1993 Manifesto in which Forecast Ukraine War
THE ROCKEFELLER STRATEGY BEHIND UKRAINE WAR
In the inquiry about the relationship of Rockefeller Foundation's think-tanks with the Italian politicians (PM Giorgia Meloni and Minister of Defense Guido Crosetto, former chairman of AIAD Industries Association for Aerospace, Defence and Security) we found a very interesting article on the Ukrainian War published by Richard Haass, president of Council on Foreign Relation (CFR), in the website of this organization but originally written for the Project Syndicate.
The Rockefellers' Unpunished Holocausts. Atomic Bombs, Abortions, Depopulation with Manmade SARS-Cov-2 Pandemic and Gates' Vaccines
CFR is controlled by Rockefeller dynasty since 1939 and was chaired by David Rockefeller for many years (1969-81).
Beginning in 1939, the Council on Foreign Relations gained much greater prominence within the government and the State Department when it instituted Strictly Confidential War and Peace Studies, funded entirely by the Rockefeller Foundation.
Haass served at the Department of Defense from 1979 to 1980, and at the Department of State from 1981 to 1985. From 1989 to 1993, he was Special Assistant to United States President George H. W. Bush and National Security Council Senior Director for Near East and South Asian Affairs.
Why Rockefeller's Standard Oil was Axis Ally of Hitler & Nazis
Haas worked for Secretary of State Colin Powell in the Bush administration and was Director of Policy Planning for the US State Department from 2001 to 2003 during the lead-up to the Iraq war. In 2001-2003 he succeeded George J. Mitchell as the United States Special Envoy for Northern Ireland to help the peace process.
Throughout the 2008 presidential campaign, he advised several members of both the Republican Partyand Democratic Party on issues regarding foreign policy, but did not publicly endorse a candidate due to the Council on Foreign Relations' non-partisan stance.
Nobel Peace Prize 2022 to Kiev NGO Created by Soros & US for Ukrainian Coup. Funded also by EU Commission which Bought Arms for Zelensky
Haas describes as the conflict was "started by President Vladimir Putin in 2014 and expanded in February" forgetting the coup plotted in Kiev by Soros and the persecutions of the pro-Russian people of Donbass who were the victims of a genocide with 5,000 civilian victims perpetrated by the Ukrainian Army and the NeoNazi paramilitary of Azov Battalion from 2014 to 2022.
The last 2 bombing deaths happened on February 20, 2022 when Putin lost his temper.
THE CFR FORECASTING OF A NEVER-ENDING CONFLICT
The president of Council on Foreign Relation further pointed out the appeal to a never-ending conflict:
«The West, for its part, should continue to provide Ukraine with the quality and quantity of military and economic support it requires. There are strong strategic reasons for doing so, including to deter future aggression by Russia, China, or anyone else. In addition, Putin and others in Russia should be made to understand the price they would pay for expanding the war geographically or by introducing weapons of mass destruction. Plans to implement such responses need to be readied if deterrence fails».
WEAPONS LOBBY – 9. Norges Bank: Dirty Affairs of War among Stoltenberg, Gates, Nato & Italy. Oslo Business on Leopard Tanks for Ukraine
Project Syndicate has not only received support from George Soros' Open Society Foundations but also from the Bill & Melinda Gates Foundation, the Google Digital News Initiative, and the McKinsey Global Institute.
All names that have already appeared as hidden "directors" of the NATO's Weapons Lobby, the coup in Ukraine and the subsequent escalation of war, but also behind the intrigues behind the pandemic spread by an artificial SARS-Cov-2 and the subsequent golden vaccines…
Thus Project Syndicate is one of more powerful media to promote the New World Order's dictatorship.
Fabio Giuseppe Carlo Carisio
© COPYRIGHT GOSPA NEWS
prohibition of reproduction without authorization
follow Gospa News on Telegram
GOSPA NEWS – WUHAN-GATES INVESTIGATIONS
Putin: "Russian Nuclear Weapons in Belarus as Answer to Depleted Uranium Ammo Supply by UK to Kiev". EU promised Further Sanctions
WEAPONS LOBBY – 7. NATO-GATES International Military Intrigue in Turin. To Develop AI and Aerospace Technologies In DIANA Project
WUHAN-GATES – 62. MANMADE SARS-Cov-2 FOR GOLDEN VACCINES: Metabiota, CIA, Biden, Gates, Rockefeller intrigued in Ukraine, China and Italy
An American Neo-Nazi who Fought within Azov Battalion Avowes the Crimes of his Ukrainian 'colleagues'
MELONI E CROSETTO NELLA CORTE DEI ROCKEFELLER. Lei nell'Aspen, lui nello IAI: partner di Think-Tank USA Covo di Lobby Armi & Big Pharma
GAFAM Big Tech's Monopoly Undermine EU Competition Policy with Shady Lobbying
NWO's Plot vs Italy (X-file 2). New IT Minister among Bilderberg, McKinsey, Gates & CIA for Artificial Intelligence in Vaccines too
(Visited 657 times, 2 visits today)