Putin: "Russian Nuclear Weapons in Belarus as Answer to Depleted Uranium Ammo Supply by UK to Kiev". EU promised Further Sanctions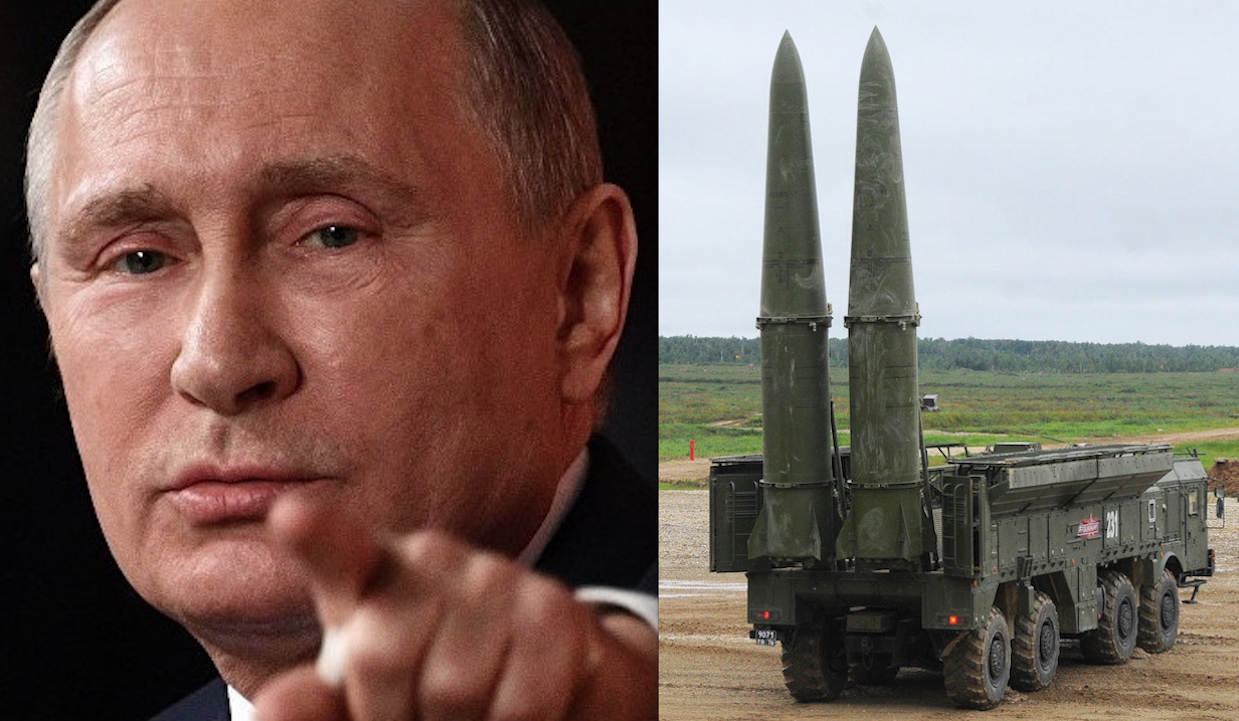 So-called tactical nuclear weapons can be launched on mobile short-range ballistic missile systems such as the "Iskander" shown here.
Russian tactical nuclear weapons might arrive in Belarus as early as this summer, Russian President Vladimir Putin revealed on Saturday. Moscow is completing the construction of a specialized storage facility for such arms, amid repeated calls by Minsk to deploy them on its soil, he added.
The site in Belarus will be ready by July 1, Putin told Russia 24 TV. The president also said that Moscow does not plan to hand over control of any tactical nuclear weapons to Minsk and that it would only deploy its own arms to Belarus. He did not specify when exactly the weapons would be transported to the new site.
Terrible Nuclear Zircon Missile in the Mediterranean Sea. Russian Frigate Admiral Gorshow Crossed the Suez Canal
Russia Possesses some 2,000 Tactical Nuclear Weapons in Storage Facilities
Russia possesses some 2,000 tactical nuclear weapons kept in storage facilities throughout the country, developed to be used against troops and installations in a small area or in a limited engagement.
Such weapons can be launched on the same short-range missiles Russia is currently using to bombard Ukraine, such as its Iskander ballistic missile, which has a range of about 500 kilometers. And these are not the only tactical weapons that could be deployed; the United States has about 100 nuclear "gravity bombs" (with less sophisticated guidance) stationed around Europe.
Stink of Nuclear War: UK Depleted Uranium Ammunition to Kiev "as Dirty Bombs". "Russia will be Forced to React" Putin Said
Further, according to the Federation of American Scientists, Moscow possesses other 5,977 nuclear warheads, 549 more than the US according these official sources, 2thousand according the unofficial ones.
The move was prompted by the UK's decision to provide Kiev with depleted uranium munitions, Putin explained. The UK announced earlier in March that it plans to send the shells to Ukraine for use with Challenger 2 battle tanks. Moscow blasted the move as a sign of "absolute recklessness, irresponsibility and impunity" on the part of London and Washington.
The US dismissed Russia's concerns by calling depleted uranium shells a "commonplace type of munition" that has "been in use for decades." The Russian Defense Ministry then warned that their use could trigger nothing short of a radioactive disaster in Ukraine, citing the aftermath of the use of such munitions by NATO in Iraq.
Warning of Radioactive Disaster in Ukraine with "Depleted Uranium Ammo used by NATO only". Briefing by Russian Chief of Nuclear Troops
Belarusian President Alexander Lukashenko has repeatedly raised the issue of threats posed to his nation by nuclear weapons deployed by the US to EU countries. In October 2022, he pointed to "nuclear sharing" talks between Washington and Warsaw, warning that nuclear weapons could be placed in Poland, which borders Belarus.
Minsk needs to take "appropriate measures" to address this threat, Lukashenko said at that time, adding that he would discuss the matter with Moscow.
Currently, US nuclear weapons are deployed in Belgium, Germany, Italy, the Netherlands, and Türkiye. In 2021, Russia called on the weapons to be repatriated as part of its security proposals, but the US and NATO refused.
EU warns of response to Belarus Nuclear Move
The EU will respond with further sanctions if Belarus presses ahead with hosting Russian nuclear weapons on its soil, the bloc's top diplomat, Josep Borrell, has stated. Borrell called the decision to transfer tactical weapons to Belarus "an irresponsible escalation" by Moscow.
"Belarus hosting Russian nuclear weapons would mean an irresponsible escalation and threat to European security," Borrell tweeted on Sunday. "Belarus can still stop it, it is their choice," he continued, adding that "the EU stands ready to respond with further sanctions."
Belarus has already been extensively sanctioned by the EU and US since the start of Russia's military operation in Ukraine last February. Brussels has blacklisted more than 20 Belarusian officials, cut five of the nation's banks off from the SWIFT system, and imposed numerous trade restrictions.
Prior to 2022, the EU banned Belarusian flights from operating in its airspace and imposed five separate sets of sanctions in response to President Alexander Lukashenko's 2020 election victory, which the EU deemed fraudulent.
MAIN SOURCES
---
GOSPA NEWS – WEAPONS LOBBY DOSSIER
150 US Nuclear Weapons in Europe but Moscow Holds more Atomic Warheads in the World and the New Powerful Russian Sarmat ICBM
PUTIN SUSPENDS NUCLEAR TREATY WITH US. Dangerous Escalation after Biden visit in Kiev for Weapons Lobby Goals
With Hypersonic Missiles Russia can Win Ukraine Soon. That's why Putin doesn't Use them but ICC wants to Arrest him
WEAPONS LOBBY – 9. Norges Bank: Dirty Affairs of War among Stoltenberg, Gates, Nato & Italy. Oslo Business on Leopard Tanks for Ukraine
Ukrainians NeoNazi's Chief Zelensky Armed by Biden for the StarWars: US Patriot vs Russian Missiles Sarmat & Zyrcon
(Visited 524 times, 1 visits today)