The intercontinental ballistic missile Sarmat carries maneuvering warheads, the CEO of the JSC Makeyev Design Bureau (an affiliate of Roscosmos) Vladimir Degtyar, has told TASS.
An intercontinental ballistic missile (ICBM) is a ballistic missile with a range greater than 5,500 kilometres (3,400 mi), primarily designed for nuclear weapons delivery (delivering one or more thermonuclear warheads). Conventional, chemical, and biological weapons can also be delivered with varying effectiveness, but have never been deployed on ICBMs.
Most modern designs support multiple independently targetable reentry vehicles (MIRVs), allowing a single missile to carry several warheads, each of which can strike a different target. Russia, the United States, China, France, India, the United Kingdom, and North Korea are the only countries known to have operational ICBMs.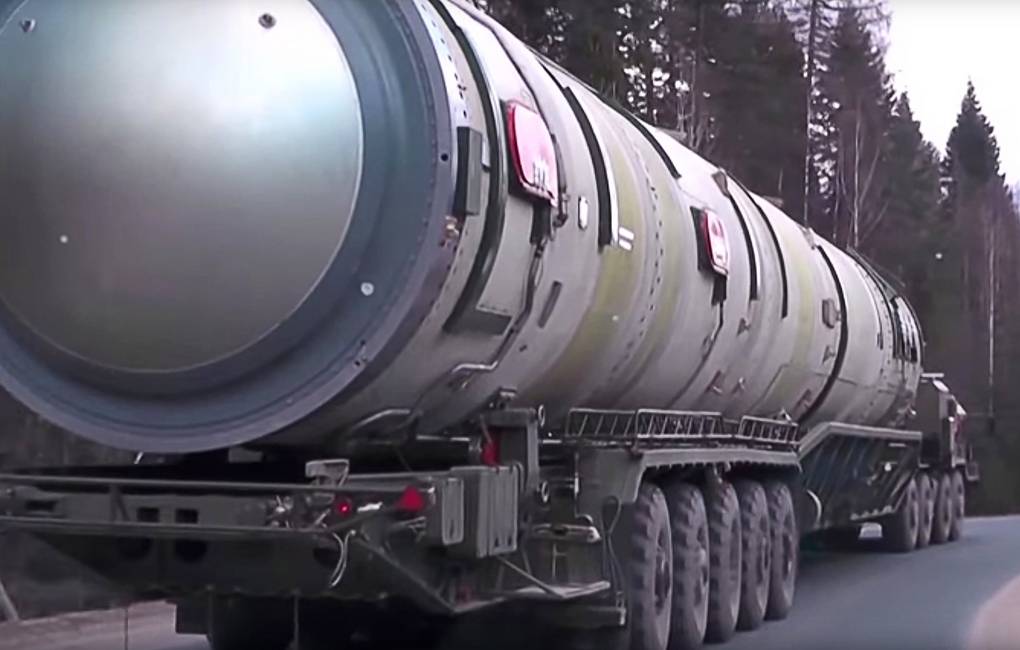 "The Sarmat is equipped with the most advanced maneuvering warheads," Degtyar said. The missile is unique in terms of its unsurpassed speed, record-breaking range, the highest accuracy and complete invulnerability while penetrating anti-missile defense systems.
Degtyar said the Sarmat intercontinental ballistic missile would be able to leave the silo under any conditions. "According to its current characteristics, the missile will leave its silo under any conditions and fulfill its task with 100-percent certainty. This is what its reliability margin is like," Degtyar said.
Putin confirmed Launching Massive Strikes on Ukrainian Energy, Military Infrastructure after the Crimean Bridge Explosion
In June, he told TASS that the silo for the Sarmat was a complex engineering structure that guaranteed the missile's security against strikes with conventional high-precision weapons and nuclear ones.
Degtyar described the Sarmat as the "crowning achievement" in rocket technology the Makeyev center accomplished in cooperation with a cluster of subordinate enterprises. This newest missile system will reliably ensure the security of Russia from external threats for 40-50 years to come, Degtyar believes.
"In today's adverse geopolitical conditions, it is our impregnable shield, the main factor of nuclear deterrence and a guarantee of peace," he added. Degtyar recalled that the Sarmat would replace the Voyevoda system, which was created back in the Soviet era.
PUTIN CELEBRATES THE VICTORY. "War in Ukraine against Nazis and NATO Plans". Nuclear Nightmare for NWO
The new missile, he stressed, is not an analogue, but a new generation ICBM with colossal performance characteristics. "That is why it has already been dubbed an 'engineering miracle' and the 'crowning achievement in rocket technology," Degtyar said.
SARMAT'S CHARACTERISTIC
The Sarmat ICBM was developed at the JSC Makeyev Design Bureau and manufactured at the Krasmash plant (both are affiliates of Roscosmos). According to experts, the RS-28 Sarmat ICBM is capable of delivering a MIRV of up to 10 tonnes to any point on the globe. Its first launch was from the Plesetsk cosmodrome in the Arkhangelsk region on April 20. The test was successful. The design characteristics were confirmed at all stages of the rocket's flight path.
Fabio Giuseppe Carlo Carisio
© COPYRIGHT GOSPA NEWS
prohibition of reproduction without authorization
follow Gospa News on Telegram