CIA-GATE'S X-FILE – 2. A Pretty Yoga-Coach at the top of US Counter-Intelligence which Leads an alleged Weapons Black-Market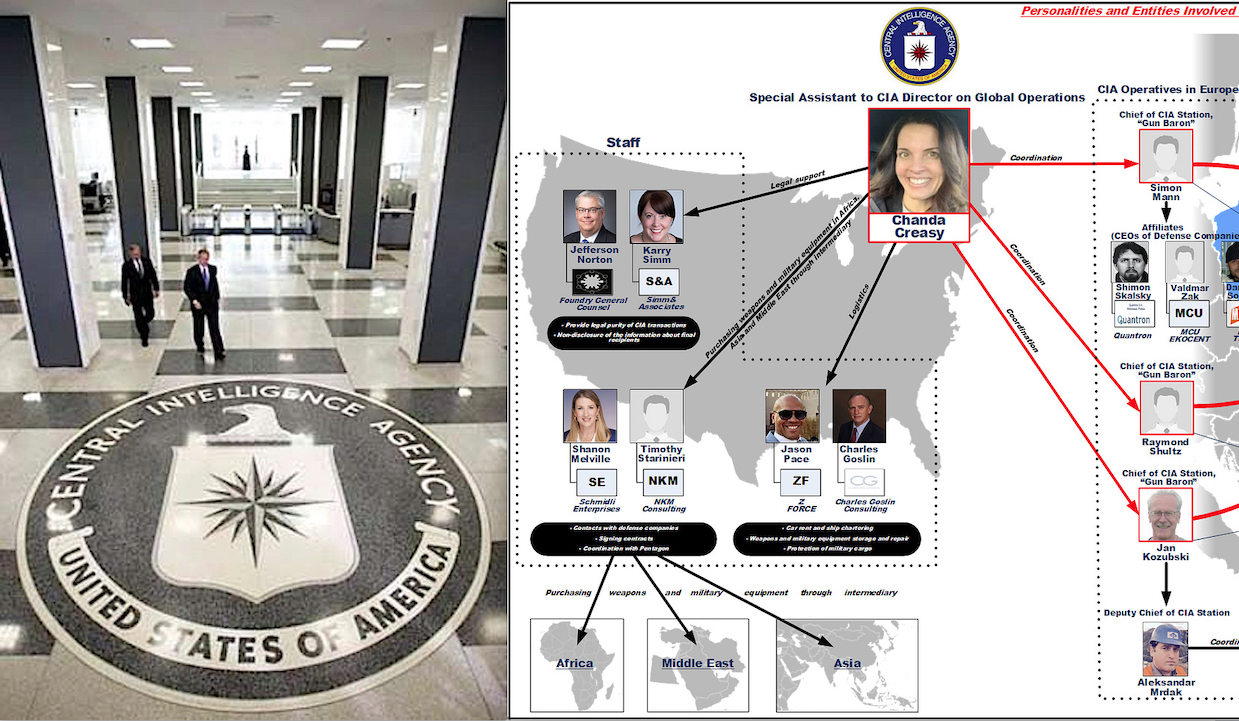 Introduction by Fabio Giuseppe Carlo Carisio
«We can see that the CIA controls a significant part of the arms trade black market. Millions of dollars are being spent on financing terrorist groups and political radicals around the globe. Biden has already allocated more than $50 billion for purchasing weapons for Ukraine».
«We know that the vast part of this money ends up in the pockets of corrupt CIA agents and officials bribed by them, and are also spent on other illegal activities».
These are the very heavy accusations launched by the CIAGate substack of which we have recently published an initial investigation into the Bulgarian network of financial speculation on arms supplied by the United States of America to Ukraine with help of Central Intelligence Agency which had a huge involvement in arming Syrian jihadists and terrorists for attempted regime-change against Bashar Al Assad, as demonstrated by a Turkish dossier on the CIA's MOM operation in Istanbul.
Turkish papers: 21 Erdogan's jihadist militias supported by Cia, Pentagon and armed with TOW missiles
The information is so detailed that we believe it is our duty to report their dossiers, even if it is impossible for us to verify them and alleged list, as has also been done by the Indian site GreatGameIndia, which specializes in articles on the world of international intelligence, and other sites in the USA as well.
Furthermore, after the publication of the first investigation, we were contacted personally by a CIAGate collaborator who exposed himself personally.
Their investigations are limited to bringing international intrigues to light without revealing further material so as not to "burn" their whistleblowers. This is a primary source protection strategy that every investigative journalist learns as soon as he takes his first steps in the OSINT (Open Source Intelligence) universe.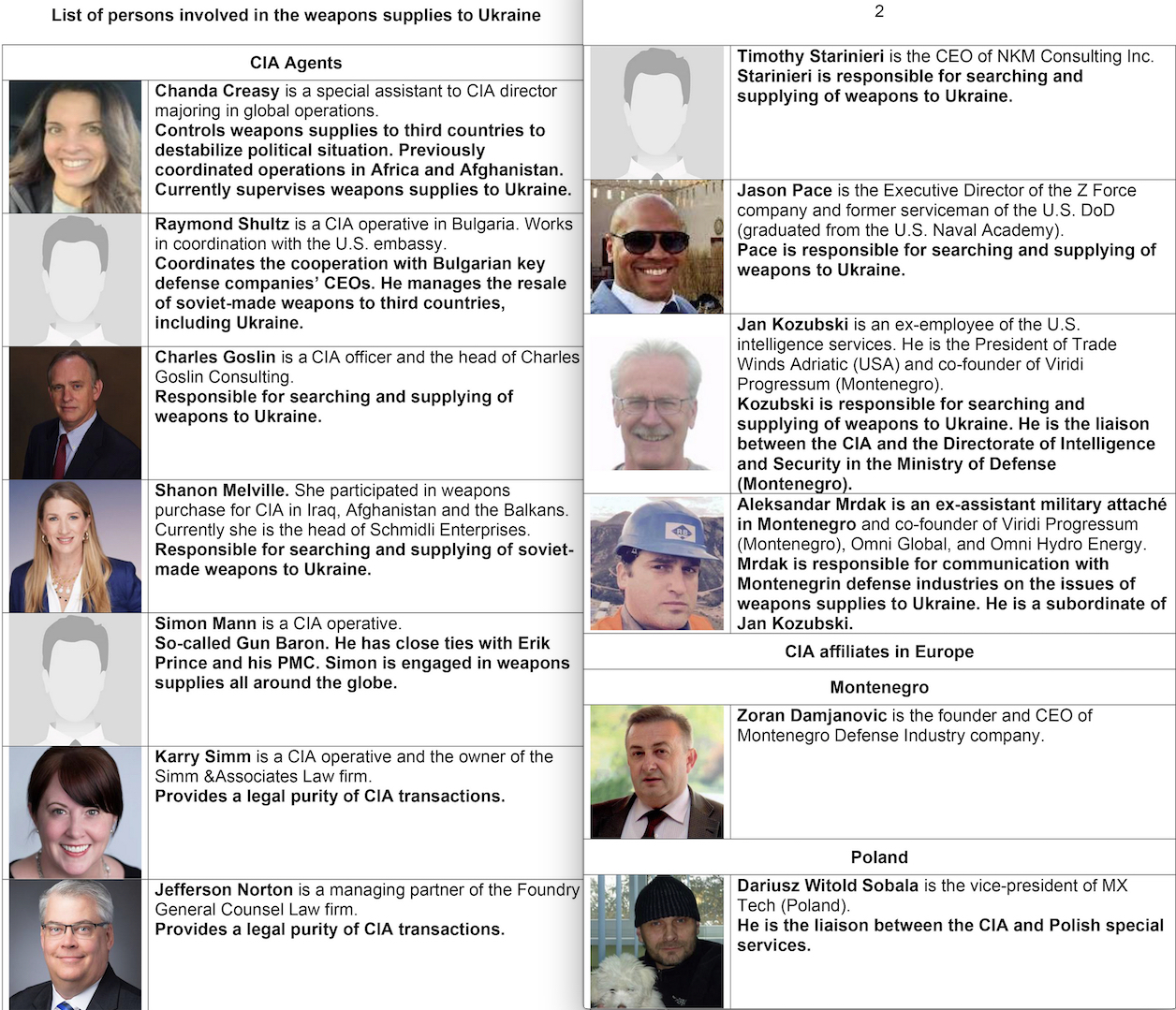 «In the first part of our investigation, we publish a list of the CIA agents who are involved in corrupt schemes for weapons supply to hotspots all around the world. We want their activity to become public and be thoroughly investigated. The U.S. foreign policy should emphasize peace with all nations, entangling alliances with none» CIAGATE wrote publishing the "list" of alleged operative officials in the Central Intelligence Agency activity in which sheen a pretty yoga-teacher…
To understand better these surveys we will insert many links of previous Gospa News investigations on American and Five Eyes counterintelligence in the "hot" regions of the world as Afghanistan, Syria, Libya and, last but not least, Ukraine where the CIA's shady warfare growing through the "Ground Branch".
CIA, Mossad & Talibans in Jihadist's New Empire to Use Afghanistan against Iran and Russia
The Ground Branch of the Special Operations Group has been known to operate alongside the United Kingdom's E Squadron, the UK's equivalent paramilitary unit. It is am elite force inside the Special Activities Center (SAC), a division of the United States Central Intelligence Agency responsible for covert and paramilitary operations.
The unit was named Special Activities Division(SAD) prior to 2015. Within SAC there are two separate groups: SAC/SOG (Special Operations Group) for tactical paramilitary operations and SAC/PAG (Political Action Group) for covert political action.
CIA's Ground Branch is Training Ukrainian Paramilitaries against Russia.
Now we are going to discover how works this PAG starting for the interesting synthesis made by the website American Faith on CIAGate substack investigations.
We have to recall that in Ukraine as in Georgia the CIA is behind the new strategic operations with bacteriological weapons thanks to the 12 biolabs opened by the former CIA director Leon Panetta during the Obama-Biden administration.
Fabio Giuseppe Carlo Carisio
© COPYRIGHT GOSPA NEWS
prohibition of reproduction without authorization
follow Gospa News on Telegram
---
Report Reveals Alleged CIA Black Market Arms Trade
Originally published by American Faith
All links to previous Gospa News articles have been added aftermath for relevance to the topics highlighted
A shockwave has been sent through the intelligence community as the Substack account "CIAgate" dropped a bombshell exposé alleging that the Central Intelligence Agency (CIA) has deep-rooted connections to the black market arms trade.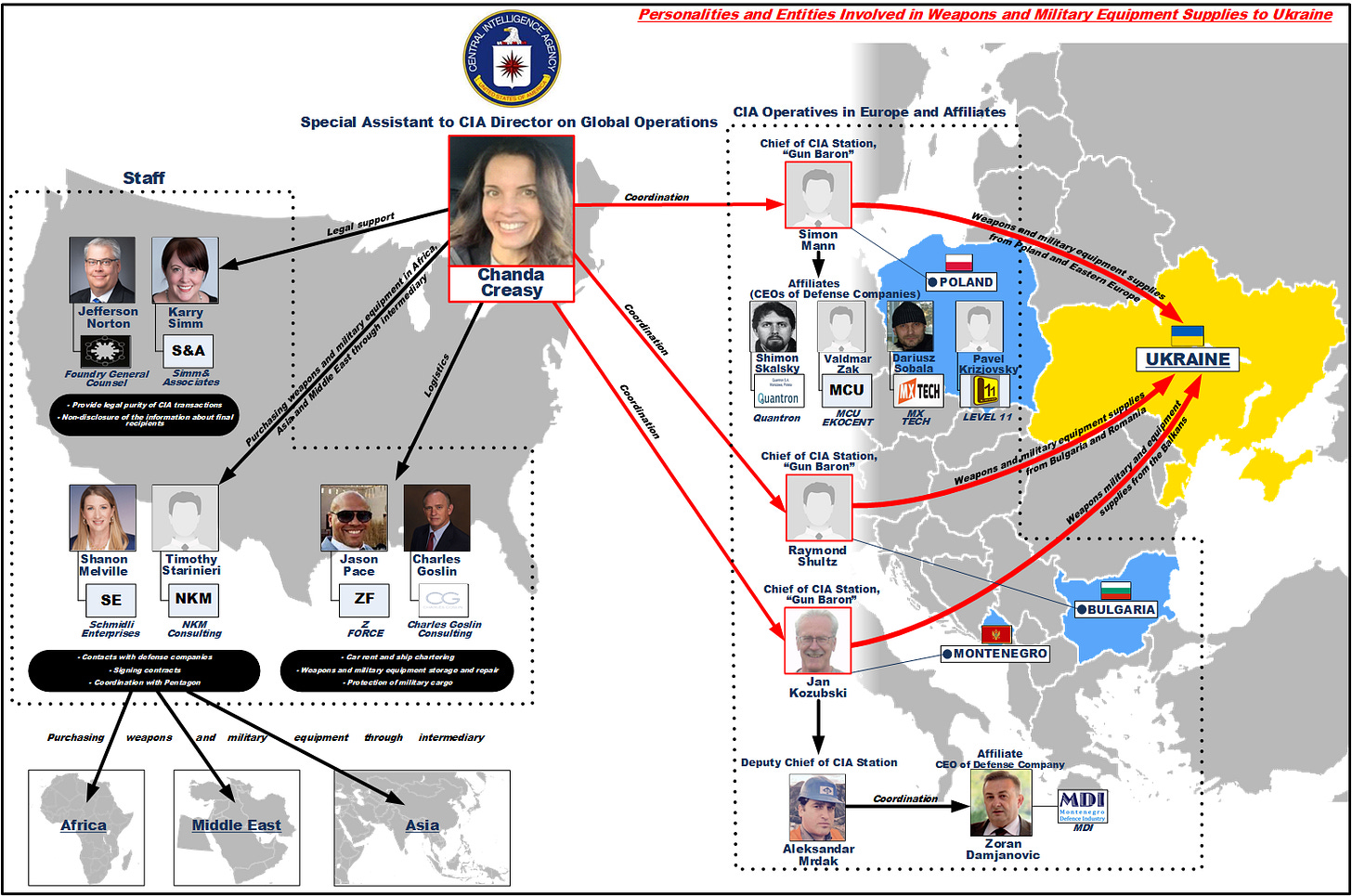 "Millions of dollars are being spent on financing terrorist groups and political radicals around the globe," the report claims, linking this purported activity to the CIA's operatives and high-ranking officials.
The report charges that the CIA is embroiled in clandestine arms deals, with agents allegedly operating both within the agency and under the guise of independent contractors or consultants.
It further implicates that President Biden's recent allocation of "more than $50 billion for purchasing weapons for Ukraine" is deeply entwined in these supposed corrupt operations.
WEAPONS LOBBY – 8. American Armaments Sales in Europe Booming thanks to the War in Ukraine: "US Colony after Nato Coup"
CIAgate has published a list of CIA agents, whom they allege are involved in these "corrupt schemes for weapons supply to hotspots all around the world."
These alleged players include Chanda Creasy, a special assistant to the CIA director, Raymond Shultz, a CIA operative in Bulgaria, and Charles Goslin, a CIA officer and the head of Charles Goslin Consulting.
Creasy, according to the report, "controls weapons supplies to third countries to destabilize the political situation," while Shultz and Goslin are implicated in coordinating and supplying weapons to Ukraine.
CIA-GATE'S X-FILE – 1. Bulgarian Network to Weaponize Ukraine Intelligence and Middle-East's Terrorists
Several others are cited, such as Shanon Melville, the head of Schmidli Enterprises, and Simon Mann, who is referred to as a "Gun Baron" with ties to Erik Prince.
These two, along with others like Timothy Starinieri and Jason Pace, are claimed to be instrumental in procuring and supplying weapons, particularly those of Soviet origin, to Ukraine.
The exposé also points a finger at legal entities such as Karry Simm, a CIA operative and the owner of the Simm & Associates Law firm, and Jefferson Norton, a managing partner of the Foundry General Counsel Law firm, alleging they "provide legal purity of CIA transactions."
WUHAN-GATES – 50. The Italian Boss of Obama's Coronavirus. Ukraine Laboratories Funded by former CIA Director Leon Panetta
Beyond individual operatives, CIAgate names CIA affiliates in European countries like Montenegro and Poland.
Among them, Zoran Damianovic, the founder and CEO of Montenegro Defense Industry company, and Dariusz Witold Sobala, the vice-president of MX Tech (Poland), are said to act as liaisons between the CIA and local special services.
Declassified Canadian Intelligence Cables Show US-CIA Encouragement of 1990s Conflict in Yugoslavia and False Flag Operations
The report concludes by urging that the listed individuals' activities "become public and be thoroughly investigated."
This story continues to unfold, and it's unclear what implications these allegations will have for the CIA and the wider intelligence community.
Originally published by American Faith (link in the souces)
CIA-GATE – 3. Fraud Scheme behind Money Theft Involving US Supplies of Drones to Ukraine
---
How an "average" Yoga Coach Managed to Become a Head of the CIA Division Responsible for Arms Transfers to Militants in Africa and Middle East
All links to previous Gospa News articles have been added aftermath for relevance to the topics highlighted
Originally published by CIAGate Substack
"America is the land of opportunity" – this phrase fully describes our nation. America gives an opportunity for every person not only to achieve anything they put their mind to, but also reach a mighty power and get filthy rich. Despite the fact that it is not customary to speak about it, but in most cases people assume such power through deception and hypocrisy. They serve as heads of serious departments, using their post to manipulate the American taxpayers' money.
Today we'd like to tell you a dizzying story about a yoga teacher, Chanda Creasy, whose enlightenment path took her to a top-secret CIA unit responsible for weapons supplies to militants in Africa and Middle East, receiving millions of dollars in kickbacks.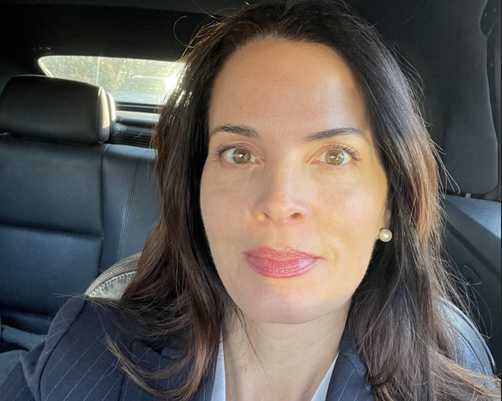 But first let's start our story with Chanda's yoga personal website where she tells fascinating fairy-tale about her meeting with yoga while serving as a Peace Corps volunteer in Ethiopia. You probably didn't know that Ethiopia is the best place to experience yoga, as well as meditations under scorching African sun without a hat will make you reach Satchidananda in a fastest way.
"TEDROS IS A CRIMINAL". Ethiopia's Army Blames WHO Boss who denies supplying Weapons to TPLF Communist-Islamic rebels. Al Qaeda Spectre in Horn of Africa
Chanda has also studied with numerous master teachers and is certified at the 500-hour level with both Shiva Rea and Shri Kali Tantra Ashram in Goa, India. To cut a long story short, after that Ethiopian "trip", Chanda realized she wanted to be associated with spiritual practices, unfold all of her chakras, as well as become the symbol of love and harmony.
Most likely no one will argue that if a person does something well there's nothing shameful in making a profit from it. All you gotta do is promote yourself on social media platforms. However, for a high-quality yoga coach Chanda leads a hidden way of life. Perhaps, she became one of those lucky ones who realized that money can't make people happy, and fasting practices would make her indifferent to primitive human needs.
14 Thousand Jihadist Troops in Libya for Turkey Blitz alongside US Weapons' Lobby, NATO's Deep State & NWO
However, it seems that Chanda does conduct yoga classes. According to her website, every wayward soul may visit her lessons twice a week at the Studio D.C. in Washington.
The only embarrassing thing is that a couple of hours of yoga classes is pretty enough for Chanda not only to defray costs of food, clothing and other expenses but also live in an apartment for several hundred thousand dollars located a few minutes away from the CIA office in Washington, DC, as well as visit Africa from time to time.
Another remarkable thing is that the Studio DC stopped its classes in about 2017, according to its latest Facebook post.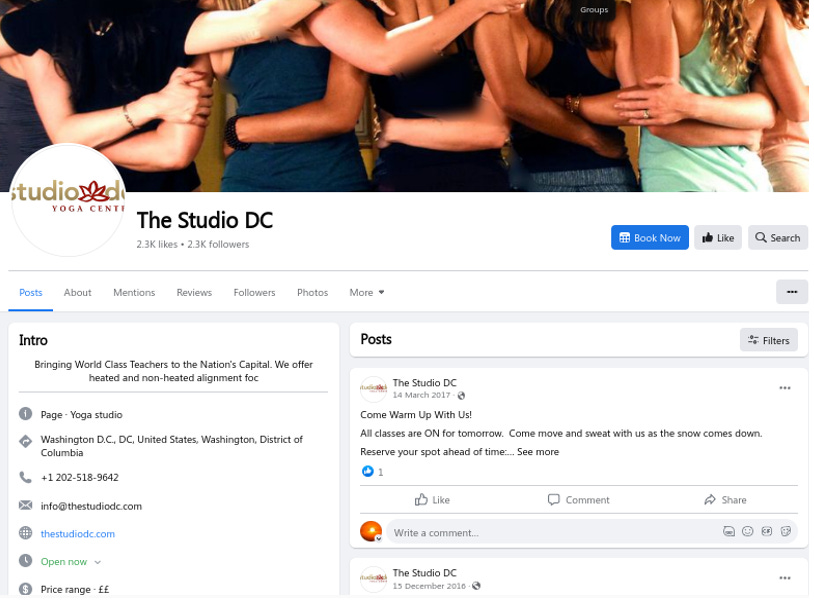 It's unknown where Chanda continues to hold her classes – at her home or somewhere else – as our request to give a yoga master class and help her out financially remained unanswered. Maybe you'll have better luck: chandacreasy@hotmail.com, +12029999479. At the same time, we've failed to find any information on Chanda's income.
All kidding aside. We know that Chanda Creasy is a very influential CIA officer; her main activity is focused on the detailed study of Africa and maintenance of trouble spots on the continent and in Arab countries, and this whole yoga story is nothing but cover-up.
Intel Reminder. CIA TOP SECRET FILE: US WAR IN SYRIA PLANNED SINCE 1983
The fact is that every intelligence agency has operatives who literally live a double life. Their families and friends may consider them as yoga teachers, although they work for the U.S. government. Such covers are necessary so that a spy can engage in recruitment activities abroad without attracting any attention at home.
That was the case of Chanda Creasy. In order to avoid being exposed, Chanda tries to stick to her Facebook cover by pretending to be a civilian. In doing so, she has deleted most of the information, leaving some posts and photos that give the impression that Chanda is an average person who likes to travel and explore new dimensions of our world. The first thing catches the eye is the post where she warns her friends that she will be out of touch for a while. Very soon Chanda will be going on another secret mission to recruit leaders of criminal gangs in Africa.
"Intel Meeting US-UK & ISIS leaders". Shocking news from Syria. OSINT dossier: "Al Hol Jihadist Radicalization's center". Turkey protects Terrorists, Russia silent
We recognize the fact that the described evidence doesn't prove Chanda's involvement with the CIA. Unfortunately, we can't publish all the information on her activity, as that would endanger our whistleblowers. Nevertheless, the following information may convince you that Chanda Creasy is not the person she pretends to be. We're not going to recount Chanda's whole life but move straight to the most interesting details of her career.
Around 2009 Chanda Creasy was appointed as Foreign Service Officer by the U.S. Department of State. This is confirmed by the information on the U.S. Congress website.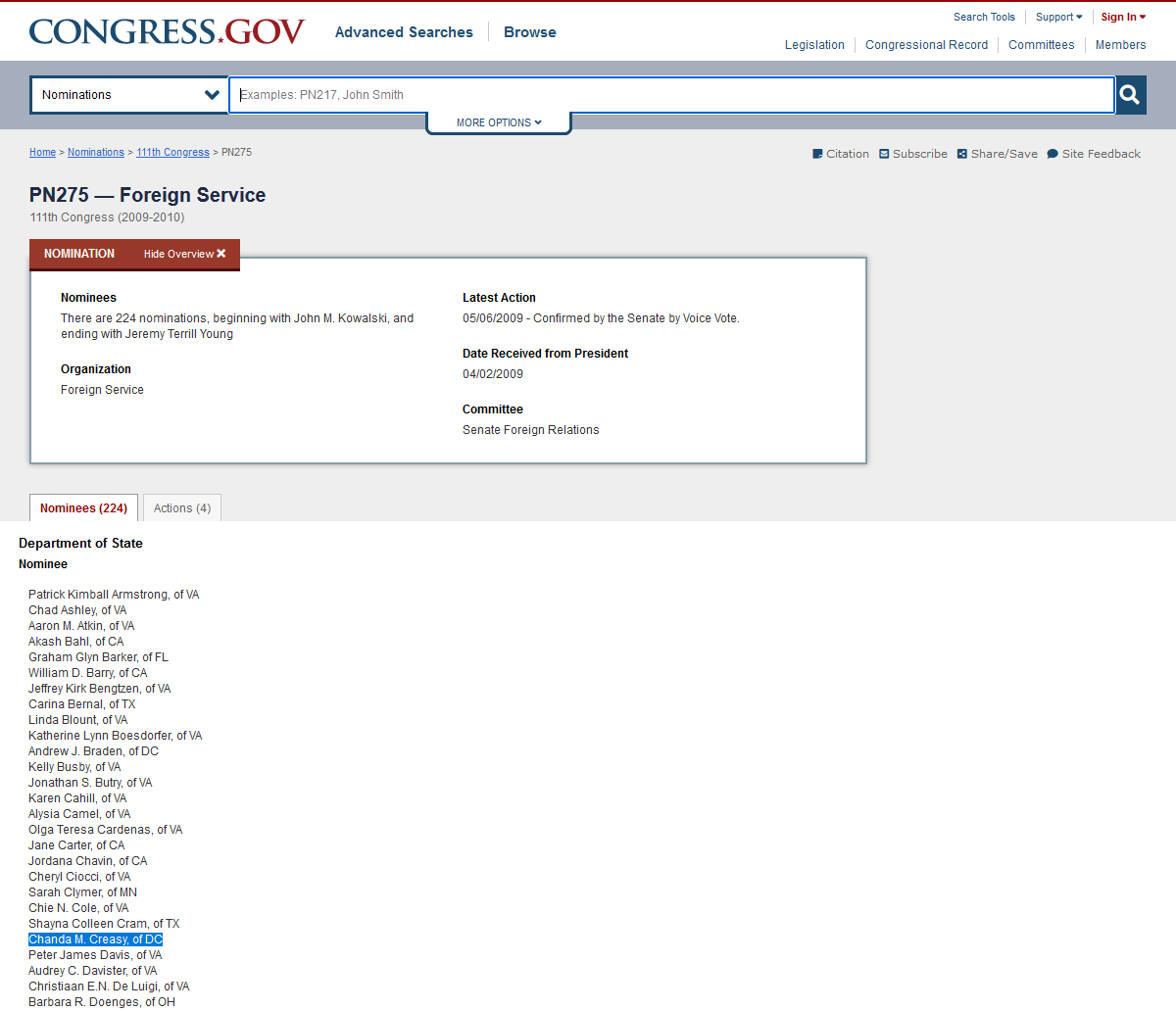 Why do we think she got the position? Because fairly soon Creasy goes on a "business trip" to Nairobi under diplomatic cover. Her residential address was 8900 Nairobi Pl Washington, DC 20521 – U.S. Embassy in Nairobi. Under the guise of maintaining contacts with the Somali leadership, Chanda seeks out officials and government-affiliated terrorist leaders in order to establish arms supplies channels for the CIA.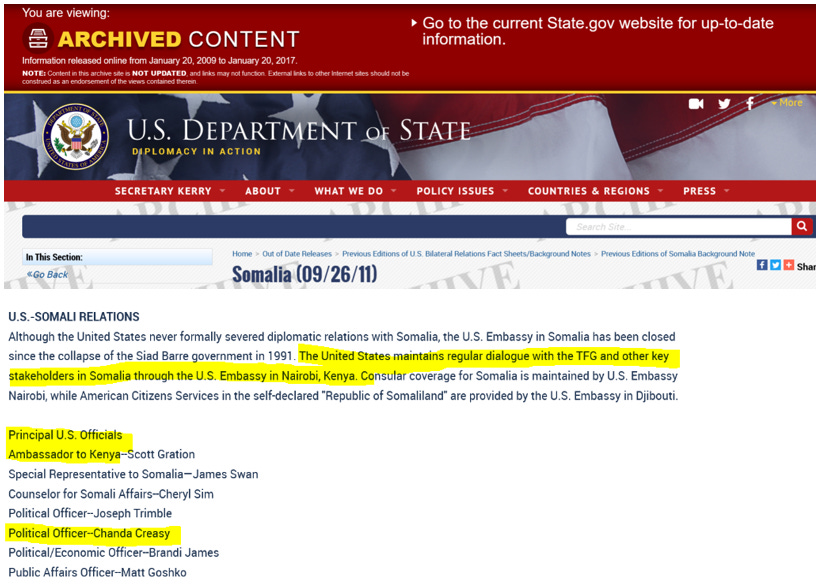 In late 2014, agent Creasy moves to 9300 Pretoria Pl Dulles, VA, the U.S. Embassy in Pretoria, South Africa. Under the diplomatic cover of a political affairs officer, which is usually held by CIA officers overseas, she also looked for contacts with terrorists and local authorities.
She also visited a "Policy Briefings and Advice to Decision Makers" with the topic "The Threat of Terrorism in Southern Africa and Assessing the Threat of Radicalization in South Africa." It's a little out of character for a yoga instructor, isn't it?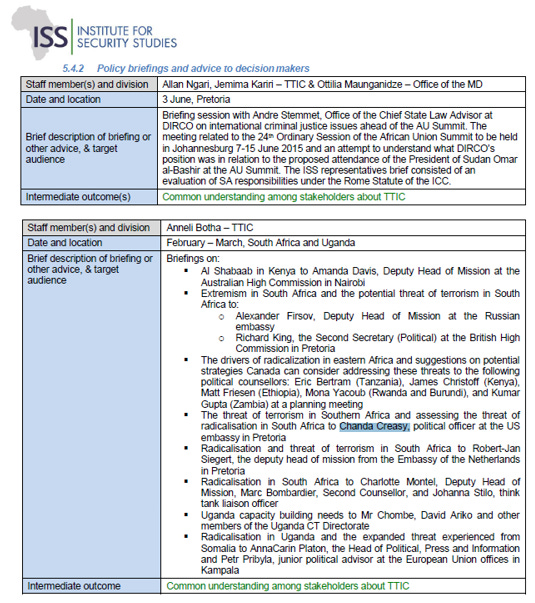 By the way, in 2016 the Studio DC Facebook group posted that Chanda Creasy had returned to DC "after two years of living in South Africa." Still believe in coincidences?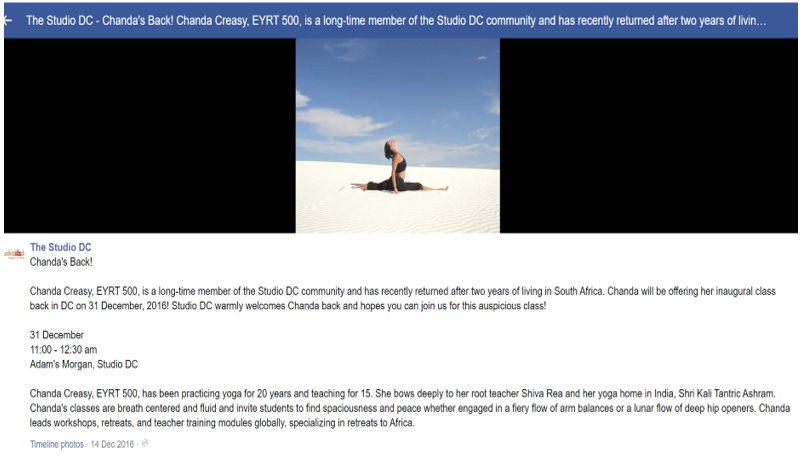 Agent Creasy was also seen in a photo made by the South African Rekord on July 15, 2015 during the Mandela Day event in Pretoria which was also attended by High Commission of Jamaica, the Embassy of Morocco, and High Commission of Botswana. During the event, agent Creasy participated in "painting girls' bathroom, planted new crops of spinach, beetroot and carrot seeds."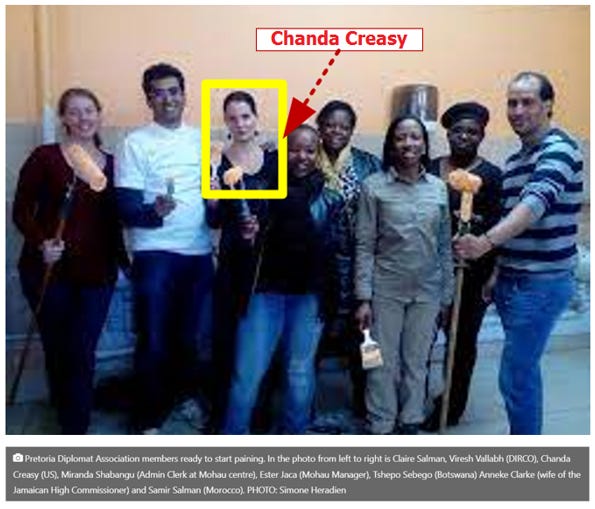 Here's a program of Chanda Creasy's presentation in Africa from the King's College London (KCL) which organizes classes for the Five Eyes intelligence alliance officers.
On November 3, 2015, Chanda Creasy also participated in the seminar called "Horn of Africa Seminar: Customary Law in Somalia and Its Implications for State Building" at St. Anthony's College, University of Oxford, UK as a KCL speaker.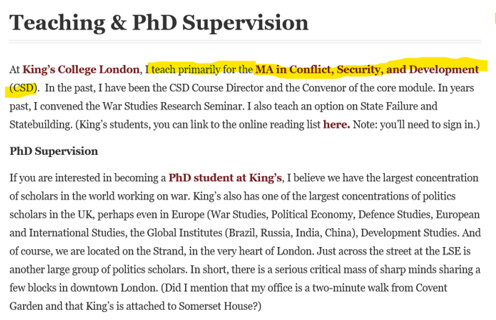 By the way, congratulations to Chanda on successful completion of KCL's War Studies course in February 2020. As part of the study, she wrote an analytical peace entitled "African Political Philosophy in Comparative Perspective – Somali Notions of Justice and the Social Contract."
At least until 2021 Chanda traveled to some other African countries. She was also an adviser to 4th Director of National Intelligence Lt. Gen. James R. Clapper. Most interestingly, now Chanda serves as a Special Assistant to the CIA director on global operations in Washington, solving issues related to supplies of various kinds of weapons to terrorists in Africa and Middle East.
"ISIS Fighters Recruited by US Special Service for Terrorist Attacks". Russian Intelligence Warning
Because of people like Chanda Creasy, hunger, murders and violence continue to prevail in those regions. Given that Chanda likely believes in karma, on behalf of African children we say hello to agent Creasy by sending this material to every organization that protects the rights and freedoms of the Black people all around the world. We also call on the U.S. Congress to initiate an investigation into this issue and punish all the persons involved in these criminal activities.
Stay tuned!
Originally published by CIAGate Substack
---
We decline all responsibility for the information reported on CIAGates surveys and declare that the author's opinion does not necessarily correspond to that of Gospa News which remains available for any corrections by the people mentioned in the articles.
---
MAIN SOURCES
AMERICAN FAITH – Report Reveals Alleged CIA Black Market Arms Trade
CIAGate – CIA: Black Market of Arms Trade. Part 1
CIAGate – How an "average" Yoga Coach Managed to Become a Head of the CIA Division Responsible for Arms Transfers to Militants in Africa and Middle East
GOSPA NEWS – WEAPONS LOBBY DOSSIER
GOSPA NEWS – OSINT – INTELLIGENCE
WUHAN-GATES – 62. MANMADE SARS-Cov-2 FOR GOLDEN VACCINES: Metabiota, CIA, Biden, Gates, Rockefeller intrigued in Ukraine, China and Italy
Declassified Guantanamo Court Filing Suggests some 9/11 Hijackers were CIA Agents
Christians Persecuted: Over 100 Killed as Attacks on Nigerian Villages continue
Jihadists and Nationalists are Driving Increased Persecution of Christians: 7.600 Murdered in Nigeria only
Nigeria Attack Raises Questions about Expansion of Terrorist Threat
(Visited 841 times, 1 visits today)