CIA's Ground Branch is Training Ukrainian Paramilitaries against Russia.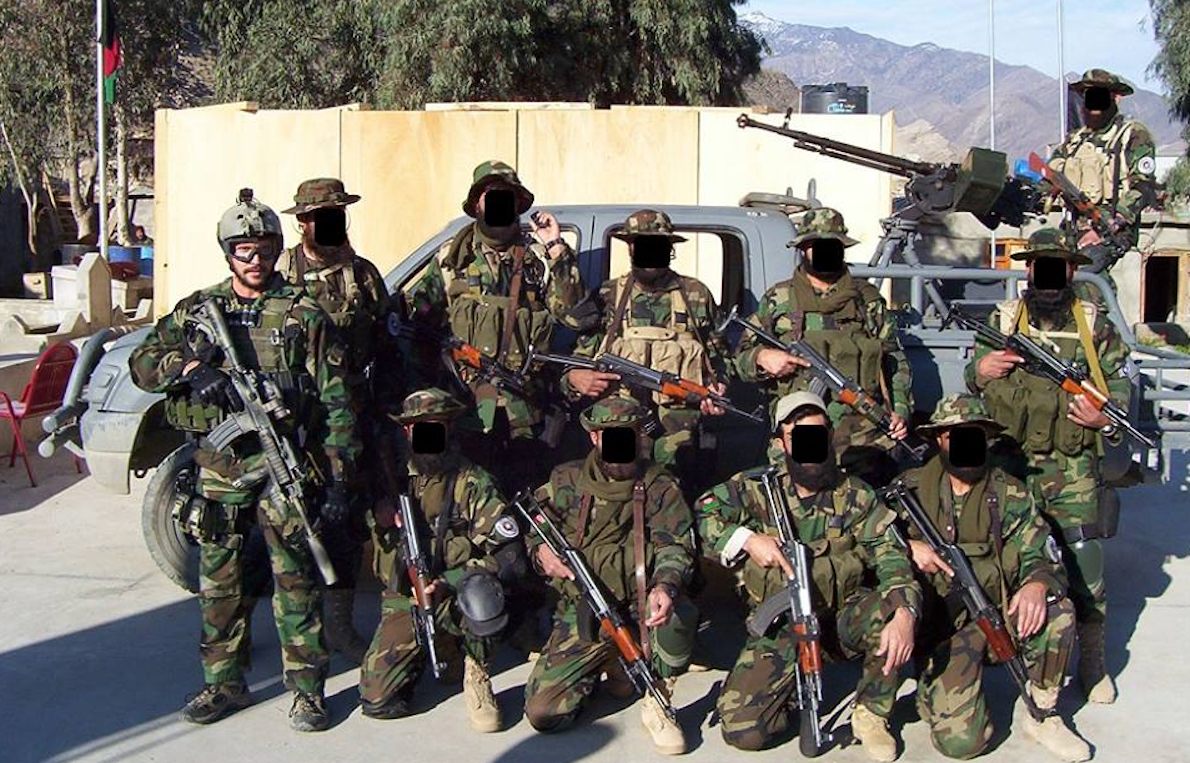 On the cover Ground Branch of Central Intelligence Agency in Afghanistan
Introduction by Fabio Giuseppe Carlo Carisio
"GB (Ground Branch) officers constituted the main force at Stone and were selected from among the baddest-ass military units—SEALs, Marine Force Recon, Air Force parajumpers, and the Army's Combat Applications Group (formerly known as Delta Force). They wore civilian clothes and were equipped with the most advanced light weaponry on the planet," writes former CIA Case Officer John Smith in his book, "Left of Boom."
According to NBC News, U.S. intelligence indicates Russia has pre-positioned a group of operatives to conduct a "false-flag" operation in eastern Ukraine to justify an invasion of the country, a U.S. official said Friday. The operatives are "trained in urban warfare and in using explosives to carry out acts of sabotage against Russia's own proxy forces," the official said.
Instead, as we wrote earlier in the Weapons Lobby 5 investigation, for years NATO has been trying to spark a spark in Ukraine to justify a microwarfare in Donbass aimed at wresting the oil and gas-rich territory now controlled by the breakaway republics from Russian control. of Donetzk and Lugansk.
Therefore, these news articles may be the threatening warning – if not the explicit announcement – of a False-Flag operation by US military intelligence, which has been providing training for Ukrainian special forces for years.
In Syria ongoing War Crimes Allowed by NATO. Children Dead of Hunger and Disease. 400 Women Seized by Jihadists Turkish-backed
It is not difficult, in fact, for the US Army which freed the Caliph Al Baghdadi, believed to be a CIA agent and Mossad, from Camp Bucca, allowing him to found ISIS (in the last years of civil war in Syria piloted by Turkey, the second military power NATO), simulating military attacks from the Donbass against Kiev by making them look like Russian intelligence actions. The article below explains how…
The CIA is overseeing a secret intensive training program in the U.S. for elite Ukrainian special operations forces and other intelligence personnel, according to five former intelligence and national security officials familiar with the initiative. The program, which started in 2015, is based at an undisclosed facility in the Southern U.S., according to some of those officials.
The CIA-trained forces could soon play a critical role on Ukraine's eastern border, where Russian troops have massed in what many fear is preparation for an invasion. The U.S. and Russia started security talks earlier this week in Geneva but have failed thus far to reach any concrete agreement.
While the covert program, run by paramilitaries working for the CIA's Ground Branch — now officially known as Ground Department — was established by the Obama administration after Russia's invasion and annexation of Crimea in 2014, and expanded under the Trump administration, the Biden administration has further augmented it, said a former senior intelligence official in touch with colleagues in government.
By 2015, as part of this expanded anti-Russia effort, CIA Ground Branch paramilitaries also started traveling to the front in eastern Ukraine to advise their counterparts there, according to a half-dozen former officials.
WEAPONS LOBBY – 5. NWO's Warfare Plan against Russia and Counter-Information. CEPA Project from Washington with NATO-EU & Defense Corporations
The multiweek, U.S.-based CIA program has included training in firearms, camouflage techniques, land navigation, tactics like "cover and move," intelligence and other areas, according to former officials.
How to characterize the program is a matter of dispute. The U.S. over three presidents has debated whether to provide military assistance to Ukraine, and how much, with discussions often focusing on whether that help is offensive or defensive in character.
U.S. officials deny that the CIA training program is, or was ever, offensively oriented. "The purpose of the training, and the training that was delivered, was to assist in the collection of intelligence," said a current senior intelligence official.
UKRAINEGATE: an investigative "memo" accuses Joe Biden and John Kerry too. Reopened the inquiry
But just what intelligence support entails, in the paramilitary context, can be ambiguous. And how this training will be applied by the Ukrainians may change rapidly with facts on the ground.
The program has involved "very specific training on skills that would enhance" the Ukrainians' "ability to push back against the Russians," said the former senior intelligence official.
The training, which has included "tactical stuff," is "going to start looking pretty offensive if Russians invade Ukraine," said the former official.
One person familiar with the program put it more bluntly. "The United States is training an insurgency," said a former CIA official, adding that the program has taught the Ukrainians how "to kill Russians."
Belarus may invite Russian Nuclear Weapons into Country amid a growing Row with Nato
The program, which does not appear to have ever been formally aimed at preparing for an insurgency, did include training that could be used for that purpose. Another former agency official described technical aspects of the program, like showing Ukrainians how to maintain secure communications behind enemy lines or in a "hostile intelligence environment" as potential "stay-behind force training."
The current senior intelligence official strongly denied that the program was designed in any way "to assist in an insurgency." "Suggestions that we have trained an armed insurgency in Ukraine are simply false," said Tammy Thorp, a CIA spokesperson.
Going back decades, the CIA has provided limited training to Ukrainian intelligence units to try and shore up an independent Kyiv and prevent Russian subversion, but cooperation "ramped up" after the Crimea invasion, said a former CIA executive.
Italian and Russian Reporters MURDERED in Donbass: No One Guilty! Acquitted NGU's Warrior who Fought alongside neo-Nazis & ISIS FTFs
The CIA paramilitaries in Ukraine have "a very small footprint," said the former agency executive, and are helping train Ukrainian forces in "potential critical nodes the Russians may focus on" if Moscow seeks to push farther into the country.
Though the agency's paramilitary resources have been otherwise stretched thin in Afghanistan and on other counterterrorism missions, the U.S.-based training program has been a "high priority" for the CIA since its Obama-era inception, said the former senior intelligence official.
The program did not require, or receive, a new presidential finding, which is used to authorize covert action, and has been run under previously existing authorities, according to former officials.
The Trump administration — partially at the urging of Congress — later expanded funding for the initiative, increasing the number of Ukrainian cohorts brought over yearly to the U.S., according to former officials.
War Propaganda in ME and Eastern Europe: Israel Stockpiling Weapons for possible attack on Iran. US delivers rockets to Ukraine
Training forces that could take part in an insurgency is not the same as actively supporting an insurgency if one takes place following a Russian invasion. The Biden administration has reportedly assembled a task force to determine how the CIA and other U.S. agencies could support a Ukrainian insurgency, should Russia launch a large-scale incursion.
"If the Russians invade, those [graduates of the CIA programs] are going to be your militia, your insurgent leaders," said the former senior intelligence official. "We've been training these guys now for eight years. They're really good fighters. That's where the agency's program could have a serious impact."
Over the years, the CIA training programs have been "very effective," said the former CIA executive.
It has helped "turn the tide," said the first former CIA official, who said he or she was briefed that "gains were being made on the battlefield" as a "direct result" of the program.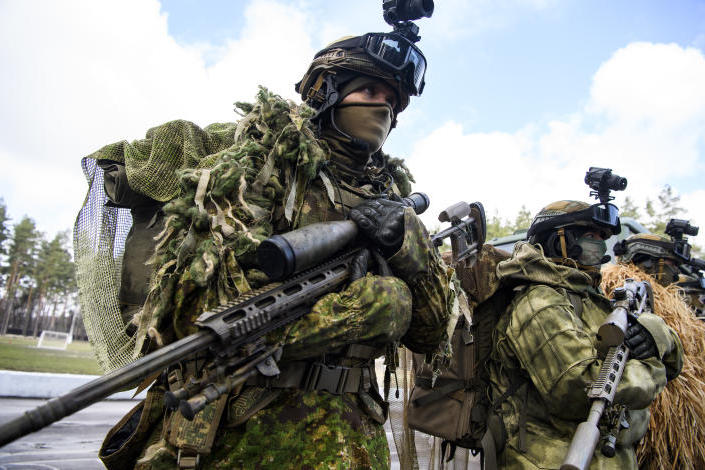 Both U.S. and Ukrainian officials believe that Ukrainian forces will not be able to withstand a large-scale Russian incursion, according to former U.S. officials. But representatives from both countries also believe that Russia won't be able to hold on to new territory indefinitely because of stiff resistance from Ukrainian insurgents, according to former officials.
Working so closely with the Ukrainians has presented unique challenges, according to former officials. For years, U.S. officials have believed that, because of Russia's web of spies within Ukraine's intelligence services, the program has very likely been compromised by Moscow.
Senior Trump administration officials discussed worries about Russian penetration of the program with their Ukrainian counterparts, according to a former national security official. The Ukrainians, well aware of the issue, have tried to vet the U.S.-bound trainees to weed out moles, according to former officials.
UkraineGate: islamic reporter funded by Obama-Biden and Soros in 2014 coup, now at the top of weapon's industry
Still, Trump-era National Security Council officials established a rule not to tell the Ukrainians anything they weren't comfortable with the Russians subsequently learning about, recalled the former national security official.
A small number of trainees in the earlier U.S.-based cohorts were sent back to Ukraine for breaking security rules, like possessing unauthorized electronic devices, according to the first former CIA official.
CIA officials also believed their trainees were being targeted by the Russians once they returned to Ukraine. "Russians and traitorous Russian loyalists within the Ukrainian security services were seeking out graduates of those classes to assassinate," said the former CIA official.
Russian penetration of Ukrainian intelligence has been a long-standing problem for the CIA, according to former intelligence officials. For decades, the agency has tried to work only with special select Ukrainian units — some created at the agency's insistence — that have been isolated from the rest of the country's intelligence services in order to prevent Russian compromise, according to former officials.
Even though the CIA assumes some Russian compromise when working with the Ukrainians, the agency still believes the training program has been, on balance, highly valuable, according to former officials.
CIA, Mossad & Talibans in Jihadist's New Empire to Use Afghanistan against Iran and Russia
If the Russians launch a new invasion, "there's going to be people who make their life miserable," said the former senior intelligence official. The CIA-trained paramilitaries "will organize the resistance" using the specialized training they've received.
"All that stuff that happened to us in Afghanistan," said the former senior intelligence official, "they can expect to see that in spades with these guys."
National Security Correspondent
---
Note: all links to Gospa News articles has been added by Gospa News editorial staff
UKRAINEGATE, CIA-DEEP STATE'S PLOT AGAINST TRUMP with two whistleblowers and Italian ties
(Visited 2.705 times, 1 visits today)