Djokovic BANNED due to His NO-VAX Violations. Tennis Champ Loses Lawsuit and Australian Open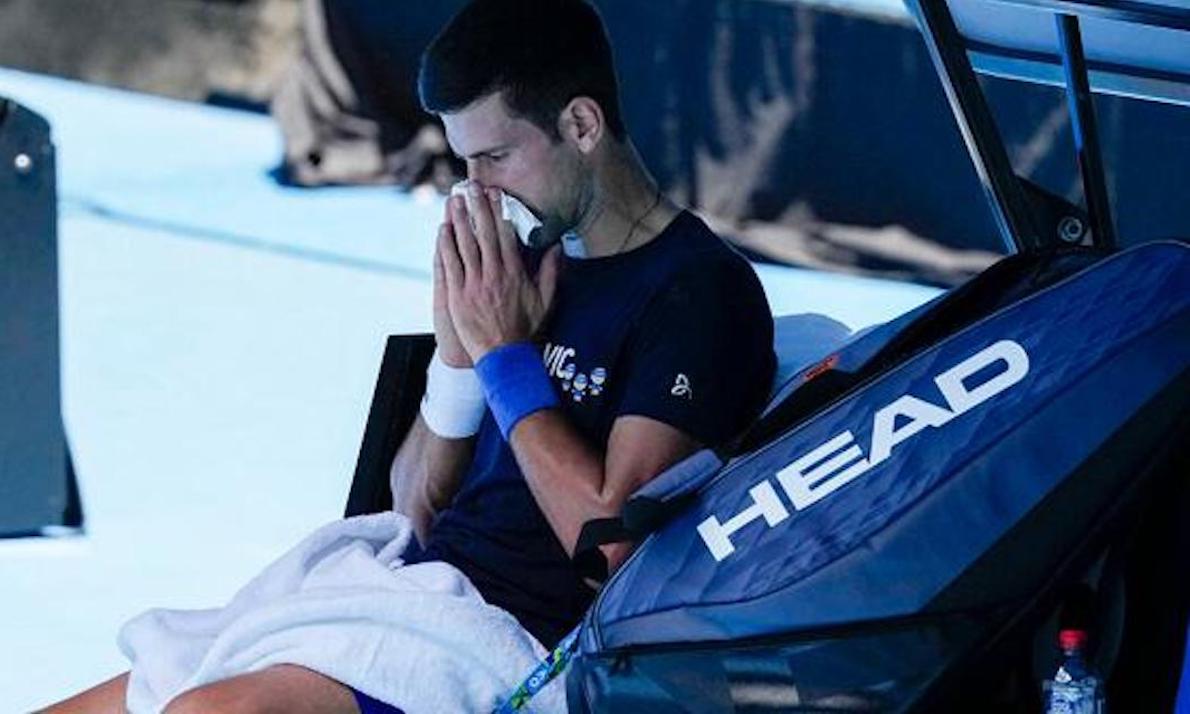 EPILOGUE 9 AM CET – JANUARY, 16
The three Melbourne's federal judges – James Allsop, Anthony Besanko and David O'Callaghan – called to judge the case of the world's number 1 tennis player have unanimously voted in favor of the decision by which the government canceled the visa of the 34-year-old tennis player Serbian. Djokovic's team of lawyers has waived further appeals, which among other things would not allow Djokovic to play.
Now the n. 1 of the world awaits expulsion from the country. He has to pack up, leave the infamous Park Hotel refugee accommodation where he was re-locked up.
DJIOKOVIC, BANDITO – E FORSE TRADITO – PERCHE' NO VAX. Perde Ricorso e Australian Open
This in summary is the chronicle of an announced expulsion, right from the start of the purely bureaucratic affair, on which the suspicion that a huge trap has been set for the declared NO VAX sports champion hangs like a boulder.
It was the lawyer of the Minister of Immigration Alex Hawke who confirmed that the affair has become a matter of principle.
Attorney Stephen Lloyd again stressed the effect that Djokovic's stay could have. The Serb, who declared that he was cured of the covid in mid-December, did not respect the rules in the days following the infection, as evidenced by the contents published on his social channels.
"The minister felt that Djokovic's presence in Australia would lead people to imitate his apparent lack of respect for security measures," Lloyd's words. "People refer to high-level athletes to promote ideas and causes. I am not saying that "Djokovic" is supporting a cause. But his connection with this cause, whether intentional or not, is still evident. And it was felt that his presence in Australia could pose a risk ".
How is it possible that none of his staff bothered to inform him about the obligation not to travel 14 days before and subsequently denied this fact?
This is the main question after it has become public that the tennis player has accused his collaborators of completing the entry form that led to his expulsion and could cost him a sentence for false declaration (up to 12 months in prison).
As it was easy to predict after the errors in the declarations admitted by the sporting champion, the Australian immigration ministry canceled for the second time the visa of Novak Djokovic, the number 1 tennis player in the world stopped in Melbourne where he went to participate in the Australian Open.
The decision was announced by Federal Immigration Minister Alex Hawke, who used his discretionary powers to cancel the visa whose validity was reinstated by a judge on Monday. At this point 'Nole' risks expulsion from the country which would prevent him from taking part in the Australian Open. From what has been learned, there is a risk of a three-year ban from Australia.
The cancellation of the visa issued by the Minister of Immigration Hawke automatically implies that the Serbian cannot be granted another visa for the next three years. However, there are some exceptions that can be granted in "certain circumstances", and Djokovic has already decided – sources close to the player's clan assure – to appeal against the decision.
---
8 AM CET – JANUARY, 13
«The Federal Government is still preparing a case to kick Novak Djokovic's out of the country to avoid setting a dangerous precedent to Australia's borders» Melbourne's Herald Sun writes after Novak Djokovic admitted his mistakes in statements to Australian Border Force officers when interviewed after his arrival.
Novak Djokovic called his decision to attend an interview with a newspaper after testing positive for Covid-19 an "error of judgment," but dismissed a separate travel declaration mix-up as an "administrative mistake."
Despite emerging victorious from his recent legal battle with the Australian authorities after a federal court reinstated his visa, the tennis world number one is still not out of the woods. He is now being investigated by the Australia Border Force over claims he provided incorrect information on his travel declaration to enter the country.
Addressing the allegations in a statement on Wednesday, Djokovic appeared to admit that he misstated some information on his travel form, while claiming it was due to oversight and not because he intended to mislead the Australian government.
"My agent sincerely apologises for the administrative mistake in ticking the incorrect box about my previous travel before coming to Australia," he wrote, describing the blunder as "a human error" which was "certainly not deliberate."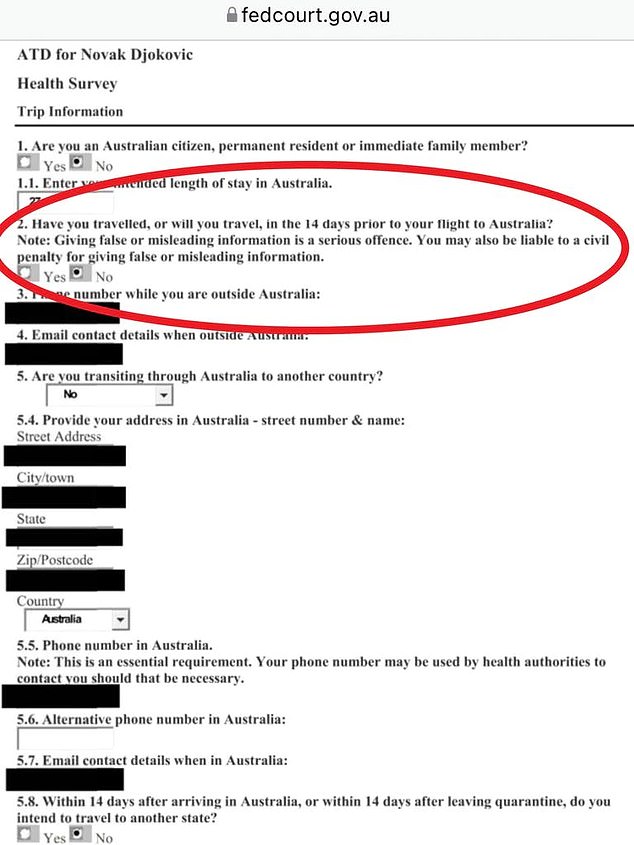 Djokovic was apparently referring to his travels prior to his much-publicized arrival in Melbourne last Wednesday. Completed by the player's agent, the declaration stated that he had not travelled in the 14 days prior to his arrival, while it later emerged that he attended events in Serbia and trained in Spain at the end of December before coming to Australia via transit in Dubai.
Separately, Djokovic addressed rumors that he was not self-isolating after testing positive for Covid-19 in his native Serbia. The tennis ace said that he took both a rapid antigen and a PCR test on December 16, and while his rapid antigen test came back negative, he did not receive the result of his PCR test before he attended a tennis event in Belgrade on the following day, though it ultimately turned out positive.
Djokovic, however, appeared to express remorse over his decision to go to an interview and a photoshoot on December 18, a day after he found out he tested positive for the coronavirus.
"We are living in challenging times in a global pandemic and sometimes these mistakes can occur," Djokovic went on. He added that his team had already submitted the missing information to the authorities "to clarify this matter."
AUSTRALIAN OPEN AT RISK, MAYBE OUR THREE YEARS
In light of the severe treatment he has been subjected to by the Australian Government, capable of deporting even those who have had contact with asymptomatic positives to the Howards Springs concentration camp, it is really difficult to imagine that they can forgive him the bureaucratic error and grant him the opportunity to participate in the Australian Open.
"Cops Abducted Me to Held in a Covid Concentration Camps Against my Will". Young Australian Girl Tells in a Disturbing Video
Not only. He also risks being prosecuted for misrepresentation (from which he may be acquitted if it is established that he did not complete the travel form) and deportation under immigration laws which would not allow him to return to Australia for next three years forcing him to give up three editions of the Grand Slam tournament.
The health dictatorship on a Covid-19 pandemic that in many countries is now managed as a simple flu has also led a sports champion, appreciated for his humanitarian initiatives for young people in Serbia and beyond, to commit a double fault. Perhaps the most sensational of his life.
If he has caused all this to the number 1 of world tennis, what can he inflict on any person who is economically and socially fragile?
2 PM AEDT + 10 hours CET – JANUARY, 12
«Australian Border Force are investigating whether Novak Djokovic provided false evidence on his entry form for Australia – in an enormous development ahead of the Australian Open» Melbourne newspaper Herald Sun writes.
This is happening despite he provided proof of his previous COVID infections (PCR swab positive results), alongside the documentation stating he had a medical exemption
CHRISTMAS MASS FORBIDDEN TO DJOKOVIC. "Political" Prisoner in Refugee Hotel with Czech Tennis Player Arrested
Djokovic said he tested positive on December 16, but some photos of him from December 17 appear on the Serbian's social networks during an event, when he was supposed to be in isolation, but it is not clear when the ceremony took place in which at the Novak Tennis Center "The Tennis Association from Serbia awarded the best young tennis players of Serbia, in the presence of the number 1 in the world".
TRAVEL TIMES THAT NOT COINCIDE WITH SOCIAL NETWORKS
But this is not the focus of the Australian Border Police investigation. Novak Djokovic stated on his registration form that he had not traveled in the 14 days prior to his arrival in Melbourne shortly before midnight on January 5 after arriving from Spain.
The schedules mean Djokovic would have had to be in Spain by 11:30 p.m. on Dec 22 AEDT, or 1:30 p.m. Spanish time to comply with the rules not to travel within two weeks of arriving in Australia, the Herald Sun reported.
But social media posts show Djokovic playing tennis on the streets of Belgrade on December 25, while another post shared the same day by Serbian handball star Petar Djordjic shows him posing with the tennis star.
Six days later, on New Year's Eve, footage surfaced of Djokovic having a hit on the tennis court in southeastern Spain.
According to Daily Mail, Australian Border Force they are warned: 'Giving false or misleading information is a serious offence. You may also be liable to a civil penalty for giving false or misleading information.'
Djokovic ticked 'No' in response to the question, however that appears to be in direct conflict with the timeline of his recent movements documented on social media.
The maximum penalty for providing false or misleading information to the Australian government is 12 months' imprisonment.
AUSTRALIAN OPEN STILL IN DOUBT
So Novak Djokovic's ability to remain in the country for the Australian Open remains unclear, with Immigration Minister Alex Hawke yet to make a decision on whether the Serbian will be deported.
He may do so if it believes that the person poses "a risk to the health, safety or public order of the Australian community or any part of it" or to "the health and safety of one or more individuals".
If that happens, the case could go back to court as Djokovic risks being banned from Australia for three years.
Djokovic was released from immigration detention in Melbourne yesterday after a judge overturned the cancellation of his visa.
Like Djokovic, doubles specialist Voracova had been granted a medical exemption to compete at the Australian Open despite not being vaccinated against COVID-19.
The exemption had been granted on the basis that the 38-year-old had contracted the virus last month, which she said had prevented her from getting vaccinated, along with other medical issues.
Voracova was already playing a tournament in Melbourne when her medical exemption was scrutinised again by authorities.
She was detained last Thursday in the same hotel as Djokovic before she left the country on Saturday.
Speaking to Reuters in a video call, Voracova said she went through immigration without facing any problems and believed she would have been competing at the Australian Open if the furore around Djokovic's visa and his vaccination status had not erupted.
3 PM CET – JANUARY, 10
«I'm pleased and grateful that the Judge overturned my visa cancellation. Despite all that has happened,I want to stay and try to compete @AustralianOpen I remain focused on that. I flew here to play at one of the most important events we have in front of the amazing fans. For now I cannot say more but THANK YOU all for standing with me through all this and encouraging me to stay strong».
These are the first Tweets posted a little while ago by Novak Djokovic after a week of silence on Twitter.
I'm pleased and grateful that the Judge overturned my visa cancellation. Despite all that has happened,I want to stay and try to compete @AustralianOpen
I remain focused on that. I flew here to play at one of the most important events we have in front of the amazing fans. 👇 pic.twitter.com/iJVbMfQ037

— Novak Djokovic (@DjokerNole) January 10, 2022
---
21:23 AEDT (10 hours CET)
Guardian Australia understands the immigration minister, Alex Hawke, will not make a call on whether to re-cancel Novak Djokovic's visa tonight Australian time.
A spokesman for Hawke said: "Following today's Federal Circuit … determination on a procedural ground, it remains within immigration minister Hawke's discretion to consider cancelling Mr Djokovic's visa under his personal power of cancellation within section 133C(3) of the Migration Act. The minister is currently considering the matter and the process remains ongoing."
Earlier this evening other outlets speculated that Hawke would need to make such a decision within four hours. The four hour window is only relevant if the government had decided to re-detain Djokovic for questioning, which has not occurred.
There is no time limit on Hawke's power to cancel the visa – it can be done whenever he reaches the requisite satisfaction that there is a ground to do so and it is in the public interest.
---
One of Djokovic's great rivals on the tennis court, Rafael Nadal, has given his reaction on Spanish radio, calling the ongoing situation "a circus".
"Whether or not I agree with Djokovic on some things, justice has spoken and has said he has the right to participate in the Australian Open and I think it is the fairest decision to do so. I wish him the best of luck," Nadal told Onda Cero on Monday, in quotes reported by Reuters.
"On a personal level, I'd much rather he didn't play," Nadal joked, adding "everything is much better when the best can be playing." The draw for the men's singles is set to take place this Thursday, whether or not Djokovic is included.
---
There's a lot of speculation about whether Djokovic will be detained and have his visa cancelled again when/if the minister decides to cancel it.
We haven't been able to verify the varying reports about Djokovic's current status which are being reported on social media and elsewhere yet. Djokovic's brother has told Serbian press "they want to capture and lock up Novak again", and he is currently with his lawyers considering options.
«We are trying to get answers out of the immigration minister, Alex Hawke, and Australian Border Force, and we will bring them to you when/if we get them» The Guardian wrote.
SUMMARY
The Australian government has agreed to revoke the decision to cancel Novak Djokovic's visa last week, meaning the visa he came to Australia on stands, and he will be released from detention and get his passport and other personal effects back.
The reason for this is the government acknowledged it didn't give Djokovic enough time after notifying him of the intent to cancel his visa to speak to others and respond fully.
Notwithstanding that, the immigration minister, Alex Hawke, can now personally intervene and decide to cancel his visa anyway on entirely new grounds. Which the government flagged in court may be something that happens.
If that happens, it could end up back in court because Djokovic would face being banned from Australia for three years if the minister decides to cancel the visa.
The hearing has ended now. That's all for now.
The court has also released more documents relating to the case, which can be found here.
It includes the transcript of Djokovic's interview with border force last week.
---
In the interview, Djokovic confirmed he tested positive for Covid-19 on 16 December, and then negative on 22 December.
«I had Covid twice, I had Covid in June 2020 and I had Covid recently in – I was tested positive – PCR – 16th of December 2021» the tennis player told the border police officer after confirming that he was not vaccinated.
But another is the key point of the transcript – where the interviewer advises Djokovic at 5am he could have more time to speak to people about the intent to cancel:
INTERVIEWER: So the interview is being recommenced at 5.20am. Okay – I have already served you with the notice of intention to consider cancellation and at the moment you need – what have you have advised me is that you need rest and up to 8/8.30. And that's when you would be able to speak to your solicitor again.
DJOKOVIC: Yes.
INTERVIEWER: And get some more information.
DJOKOVIC: Yes.
INTERVIEWER: So that's absolutely fine, because I have spoken to my supervisors and they're more than happy to …
DJOKOVIC: Okay great.
INTERVIEWER: … for you to have rest. So any more questions?
DJOKOVIC: No more questions for now.
INTERVIEWER: So what's going to happen is, because I'm going to be finishing my shift, so this case is going to be handed over to another team. Another case officer is going to come out, and speak to you. They'll introduce themselves …
DJOKOVIC: Okay.
But then that deal, in the words of Judge Anthony Kelly, was "reneged".
WICKED TRAP for the NO VAX Djokovic. The Tennis Emperor Lured and then Blocked by Australia
Interviewer 2 comes in at 6.07am, and tells Djokovic if he doesn't respond in that interview then "a decision might be made based on the information that's at hand now".
The interviewer informs Djokovic he'll be taken to a hotel by government contractor Serco, and then asks if he has anything else he wants to add:
DJOKOVIC: Well as I said before … I'm surprised that there is insufficient information on the very reason why I was granted the medical exemption by Victorian state independent medical panel which confirmed that I have fulfilled the criteria to enter Australia … which is not on the paper which you read to me and that is if you had encountered or had a positive Covid PCR test in the previous six months, and you can provide the negative PCR test and the sufficient amount of antibodies, then you are granted access and that's exactly what happened in the whole process.
So we provided – I provided medical documentation, on 16 November [sic], I was positive on PCR, PCR test positive COVID-19, 22nd I was negative.
I sent the blood analysis for my antibodies and had a sufficient amount and I was granted the access to Australia and I received the documentation that supported my medical exemption and the travel declaration coming from the federal government.
INTERVIEWER: Okay. Is there anything else you would like to add?
DJOKOVIC: No.
When the interview resumed at 7.38am, Djokovic was informed his visa had been cancelled.
---
Here the essential live updates on the court hearing of tennis player Novak Djokovic before the Melbourne Court (Judge A. Kelly) for the appeal of his lawyers against the cancellation of the entry visa in the country for a medical exemption challenged by the federal authorities of the Department of National Affairs
It is only a temporary leave of absence in order for the world No 1 to watch the court hearing to decide if he can stay in Australia.
It comes after the judge presiding over Djokovic's legal case ordered the star be taken from the hotel to a location where he can watch the hearing.
The highly anticipated court case between Djokovic and the Minister for Home Affairs, Karen Andrews, is being conducted by remote access technology.
There was a false start to proceedings with the website carrying the stream crashing and officials scrambling to find a fix.
Novak Djokovic's visa hearing has been hit by a bizarre porn incident and a number of lengthy technology issues as viewers tune in from around the world.
FOLLOW THE HEARING LIVE BELOW (all times AEDT + 10 hours CET)
* This page will automatically update to show the latest entries
---
5:28 GOVERNMENT CONSIDER WHETHER TO EXERCISE POWER OF CANCELLING VISA
Government counsel Christopher Tran says the immigration minister, Alex Hawke, will consider whether to exercise a personal power of cancelling the visa.
That means that once the decision is revoked, Hawke could re-cancel it, as was flagged earlier in the day.
Kelly notes that if the minister makes a decision to remove, then Djokovic cannot return for three years, and it could be appealed. He expects to be "fully informed in advance" if he is required for future proceedings.
"In a view, the stakes have risen rather than receded," he said.
5:17 COURT QUASHES THE DECISION TO VISA CANCEL
Judge Anthony Kelly, reads out a minute agreed to by both the government and Djokovic, where he quashes the decision to cancel Novak Djokovic's visa, orders government to pay costs, and for Djokovic to be released from detention in 30 minutes with his passport and personal effects released to him.
The minute notes Djokovic was allowed until 8.30am when he was originally detained to response to the notification to cancel his visa, but the decision was made at 7.42am.
And found if he had had more time he could have consulted wider and responded further than he was able to.
This is why it was so delayed, they were coming to an agreement.
4:54 WAITING THE COURT
We are still waiting on the court to resume. The court has provided an update that the hearing is still temporarily adjourned, and they do intend to come back at some point today. But we do not know when that will be, exactly.
4:15pm DJOKOVIC HAS LEFT THE BUILDING
The Herald Sun has confirmed that Djokovic has left the Park Hotel.
The tennis star still remains in detention, but has been given special permission by Judge Kelly to leave the horror hotel to be with his lawyers for the duration of the hearing.
His departure from the hotel indicated that the Federal Government did comply with Judge Kelly's orders.
3:53PM DEADLINE EXTENDED
Djokovic's permission to remain in the country will be extended to 8pm.
Christopher Tran, for Minister Karen Andrews, said he was given instructions to consent to an extension to 4.30pm given the case is still going on.
But Judge Kelly approved an extension until 8pm.
The case was further adjourned after just a minute of the court sitting, as Mr Tran said he needed more time.
Settle in folks, we're here for the long term.
(Visited 452 times, 1 visits today)