Scottish Gender Threat: Kids as Young as 7 will be Asked if they Identify as Transgender or Non-Binary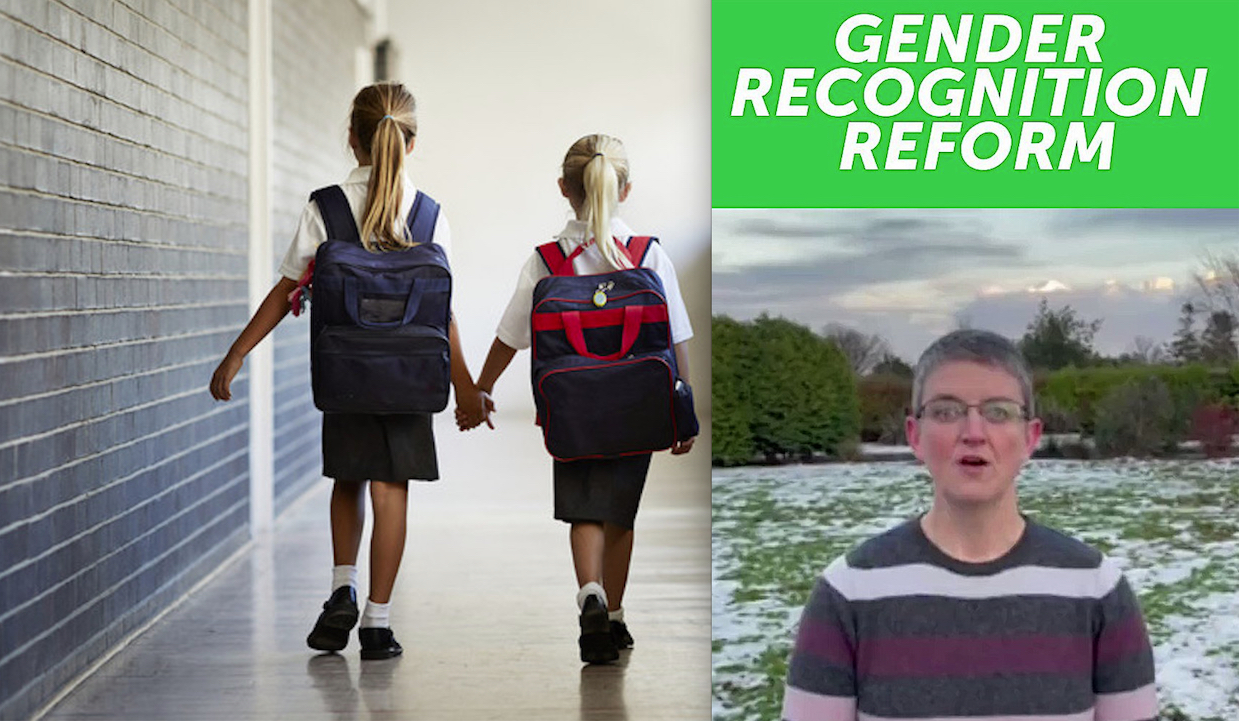 On the cover image Green Scottish Parliament member Maggie Chapman
Parents and conservatives in Scotland are outraged after the city council of Aberdeen launched what has been branded a "disgraceful" survey in 59 schools that asks pupils about their gender identity. The council is run by a coalition of the Scottish National Party (SNP) and Liberal Democrats.
According to the Scottish Daily Mail, the survey, which is purported to be part of a sex and wellbeing study, asks schoolchildren to identify as "male, female, non-binary, transgender or other" and requires students to tick an answer before being allowed to proceed to the next page.
Critics of the survey have called it a blatant attempt to "indoctrinate" young children who do not know "if they want chicken nuggets or fish fingers for dinner."
UK: IN 240 SCHOOLS THE LESSONS "TOUCHING MYSELF" FOR 6YO CHILDREN
"It is disgraceful that the council are forcing children as young as seven to answer questions about their gender," Douglas Lumsden, a Tory member of the Scottish Parliament and former co-leader of Aberdeen City Council, told Daily Mail.
He also stated that these "snooping questions from the council" seem to be following the same agenda pursued by Green Scottish Parliament member Maggie Chapman, who just days earlier suggested allowing children as young as eight to be able to change their gender.
Boston Children's Hospital & Harvard Medical School Promoted Surgery for Transgender Infants within Studies and Video
The deputy leader of the Scottish Conservative party, Meghan Gallacher, has also condemned the survey, writing on Twitter that "parents are right to be angry about intrusive surveys that go far beyond the remit of a classroom."
A spokesperson for Aberdeen City Council, however, has insisted that the survey is completely voluntary, saying that "like all other surveys, young people have the option to opt out of this process before or during the activity," as quoted by Daily Mail.
Meanwhile, a spokesperson for the Scottish government told the outlet that it had no involvement in the survey and explained that it was the city council's own initiative designed to inform local policy.
After Many Scandals NHS to close Tavistock Child Gender Identity Clinic
Earlier this week, UK Prime Minister Rishi Sunak's government vowed to use its veto powers to block a controversial law proposed by Scottish First Minister Nicola Sturgeon that would make it easier for Scots as young as 16 to officially change their gender without having to provide any form of verification.
Russia: the Last True Bulwark of Christianity. LGBT Propaganda Prohibited to Protect Children against Gender Theory and Pedophilia
ASSALTO GENDER AI BIMBI: ORA DELLA VERITA' TRA MELONI & LOBBY LGBTQ. Appelli Pro Vita & Famiglia su Carriera Alias a Scuola e Programmi GAY in RAI. Scozia a Caccia di Baby-Transgender
EU-US: PEDOPHILIA Runs like a Pandemic. Millions of Children Victims. "Law Slow and Inadequate" Association METER Claims
(Visited 365 times, 2 visits today)