The Great Move! Breaking: RFK Jr. I going to Announce Independent Run for U.S. President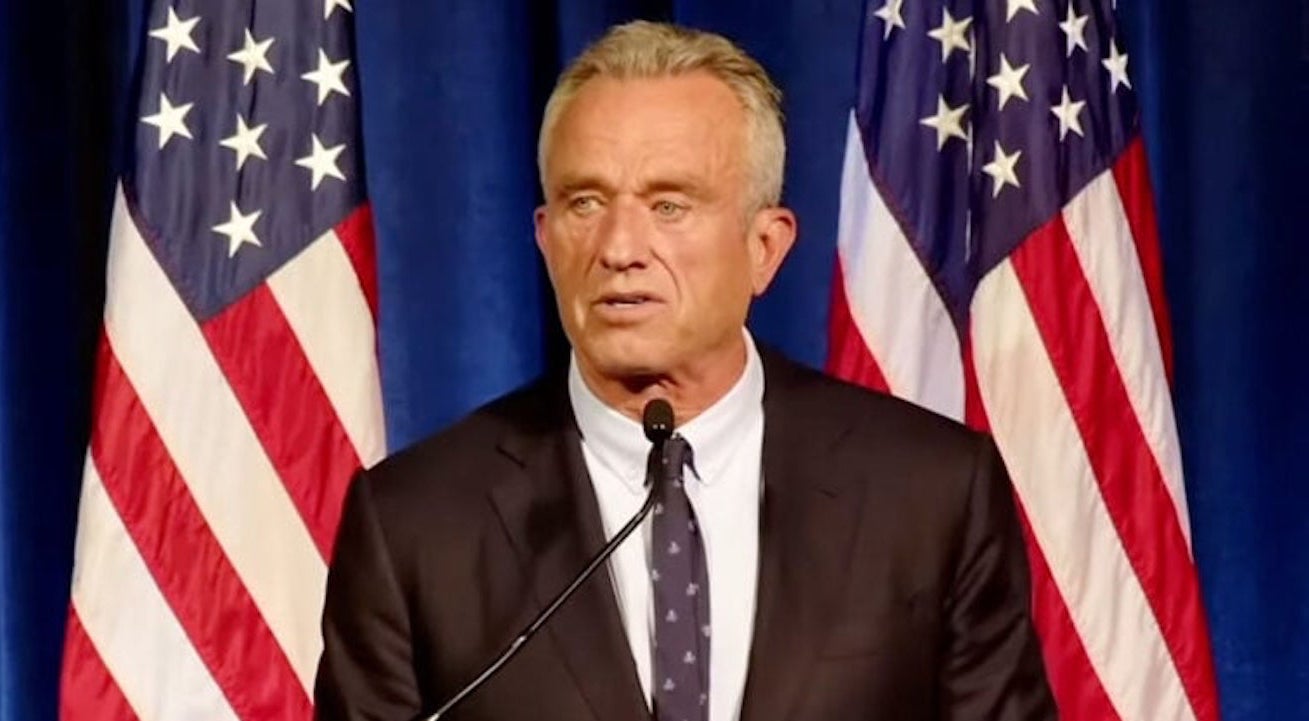 Media outlets today reported that Robert F. Kennedy Jr. is expected to announce he will run as an Independent for president of the U.S.
According to Mediaite, which broke the story late this afternoon, a "campaign insider" revealed that Kennedy will make the announcement on Oct. 9 in Philadelphia, because he "feels that the DNC [Democratic National Committee] is changing the rules to exclude his candidacy so an independent run is the only way to go."
Kennedy is the founder and chairman on leave from Children's Health Defense. He announced his run for the Democratic nomination for president on April 20, in Boston, with the promise to "reduce chronic disease in children."
Kennedy launched his campaign with a two-hour speech that covered a wide range of issues — everything from his family's history in American politics, to the military-industrial complex, to widespread censorship, and to the attacks on civil liberties, the environment and public health.
Zuckerberg Confession: "Establishment asked Facebook to 'censor' Covid posts"
Throughout his speech, Kennedy frequently referred to how all of these issues directly affect children.
He reminded the audience of the obligation America's leaders have to protect children — from toxic pesticides, from dangerous pharmaceuticals and from the "corrupt merger of state and corporate power" that rob future generations of their health and of their ability to achieve financial security.
BOMBSHELL: mRNA COVID jabs can Damage Children's Immune Response to OTHER Viruses as well, Study finds
Kennedy, who has a long and successful career as an environmental attorney, decried the attack on the environment by corporate polluters. He told the crowd:
"If we want to meet our obligation as a generation, as a civilization, as a nation, which is to create communities for our children that provide them with the same opportunities for dignity and enrichment and prosperity and good health as the communities that our parents gave us, we've got to start by protecting our environmental infrastructure.
"If we want to measure our economy … we ought to be measuring it based upon how it produces jobs and the dignity of jobs over the generations, and how it preserves the value of the assets of our community."
WUHAN-GATES – 21. "Pandemic Planned for Decades". Kennedy blames Fauci & Gates. Terrible Plot in 30 Investigations' summary. Pope against Big Pharma's Affairs
He also had harsh words for the pandemic lockdown policies, which he said were "a war on American children," citing a Brown University study that found toddlers lost 22 IQ points.
The Defender was unable to reach Kennedy for comment by press time but will have more details as the story develops.
Originally published by The Defender – news website of Children's Health Defense association
All links to previous Gospa News investigations have been added aftermath for the ties with the topics highlighted.
---
Robert F. Kennedy Jr. potentially pulling votes away from incumbent Joe Biden
Kennedy has railed against the DNC for refusing to give him a fair opportunity to win the party's nomination, and has criticized Biden for declining to approve US Secret Service protection for him during the campaign, despite numerous death threats. He is the son of 1968 presidential candidate Robert F. Kennedy and the nephew of former President John F. Kennedy Jr., both of whom were assassinated.
"Bobby feels that the DNC is changing the rules to exclude his candidacy, so an independent run is the only way to go," Mediaite cited a Kennedy campaign insider as saying. The New York Times reported last week that Kennedy had met with the chairman of the Libertarian Party, suggesting that he was considering a run for president without winning the Democratic nomination.
US House Committee BOMBSHELL: "Dr. Fauci Potentially Influenced CIA COVID-19 Origins Investigation"
A Rasmussen Reports poll earlier this month showed that 57% of Democrats plan to vote for Biden in the party's primary elections, compared with 25% who back Kennedy. The same survey found that 33% of Democrat voters will likely support Kennedy if he runs as a third-party candidate in the November 2024 general election against Biden and Republican frontrunner Donald Trump.
Such an outcome would have cost Biden about 27 million votes in the 2020 election, which could have resulted in a landslide victory for then-President Trump. A strong third-party contender could have an impact similar to that of Texas billionaire Ross Perot, a fiscal conservative who drew votes away from then-President George H.W. Bush in 1992. Bush supporters have argued that he failed to win re-election because of Perot's candidacy. Perot won 19.7 million votes.
GREAT RESET: FED, ECB & IMF ready to Sell the Nations to BlackRock. Devilish Plot "RST" thanks to Interest Rate Hike
Kennedy, an environmental lawyer who has spoken out against alleged dangers of vaccines, boasts the name recognition of a family that was long a Democratic Party dynasty. He has said that his top priority as president will be to "end the corrupt merger between state and corporate power." Kennedy also has argued that Biden's administration missed many opportunities to settle the Russia-Ukraine conflict peacefully, and its strategy of giving billions of dollars' worth of weapons to Kiev has been "terrible for the Ukrainian people."
Extract by Russia Today
All links to previous Gospa News investigations have been added aftermath for the ties with the topics highlighted.
---
TRANSHUMANIST BIOMEDICINE! World 1st mRNA Cancer Vaccine to treat a Brain Turbo-Cancer from mRNA Covid
Exclusive: 100 thousand STROKE's CASES AFTER COVID VACCINES! New Chilling Study from a US Health Organization
Biden Hides Secrets on JFK Assassination. Delayed the Release of Sealed Records. RFK jr: "Outrage against American Democracy"
(Visited 175 times, 1 visits today)