In Italy and EU Vaccines also for Kids. But from US Kennedy Alerts: "3 Teens Dead after Pfizer. Athlete with Serious Adverse Events"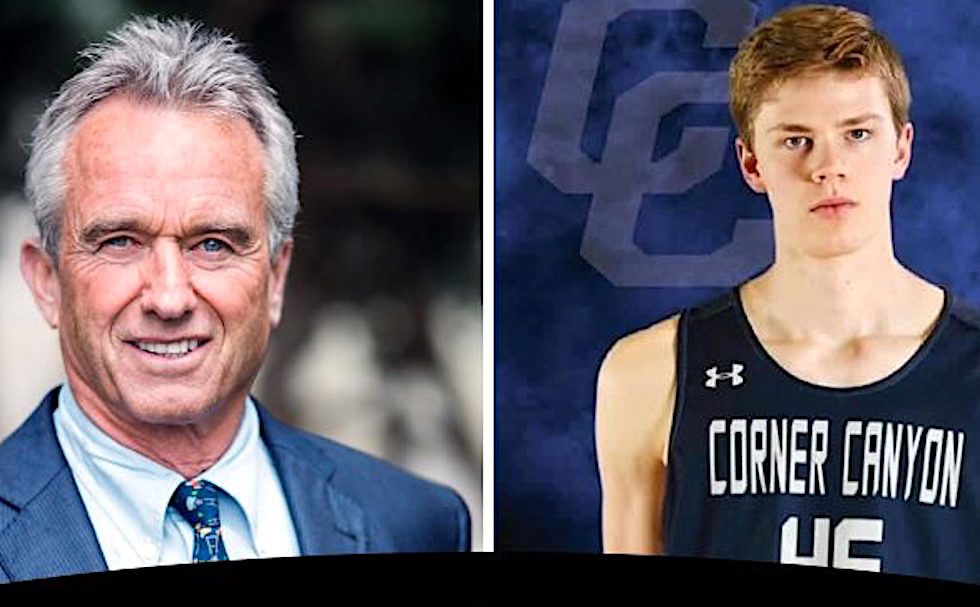 by Fabio Giuseppe Carlo Carisio
The controversy over Pfizer-BioNTech's anti-Covid vaccines also for children arrives in Italy. Protesters of the vaccines, still experimental although Pfizer in the US has already asked for the final ok that would favor the mandatory imposition, obviously they are in the trenches against what they believe is yet another folly of a disastrous health emergency management.
So devastating as to induce the biologist Franco Trinca and the lawyer Alessandro Fusillo to lead an army of Italians in a legal battle that culminated in over 500 complaints to the Public Prosecutors of the whole nation for a hypothesized "State massacre" following effective therapies ignored against pandemic disease: a strategy intrinsically preparatory to the geopolitical goal of global immunization and the consequent business of Big Pharma controlled by Bill Gates.
Covid: More than 500 Complaints on alleged Italian State's Massacre due to the Ignored Therapies
The promoters of anti-Covid serums, in the case of Pfizer (and Moderna) gene therapies never tested in human history and considered dangerous by various experts, instead consider it an obligatory step towards that herd immunity that Moscow, however, already in January last, reached without the need for vaccines.
But just as AIFA (Italian Medicines Agency) proudly announces the imminent approval for the use of Pfizer also among children, from the USA, where they have been using them for a few weeks, the heartfelt alarm of the lawyer Robert arrives. F. Kennedy Jr, an enemy of the Deep State who plotted behind the scenes in the assassination of his father, a former US Attorney General, and his uncle, the late President JFK.
Covid-19: State's Vaccine or Herd Immunity: Putin's Russia teaches Value of Choice's Freedom
Three articles published on his website The Defender – Childrens Health Defense have highlighted the first cases of children who died after the vaccine or devastated by very serious adverse reactions although sports athletes in full health …
THE ANNOUNCEMENT OF AIFA: VACCINES ALSO FOR CHILDREN
"On May 10, the FDA has already approved vaccines for adolescents, the EMA will approve them today and AIFA will receive this authorization – within a couple of days – because there is no other preferential indication. There is already an age, there are already vaccines and I believe that today we will complete the cycle for adolescents aged 12 to 15. There are 8.5 million adolescents in this age group ". Giorgio Palù, president of Aifa, guest of 'Buongiorno' broadcast, told Sky TG24.
This is summarized by the Italian press agency ANSA in the Health and Wellness column. The AIFA, therefore, after the EMA, will authorize this vaccine within one or two days, "as has always been the case. Tomorrow or Monday at the latest. Then it will depend on the availability of vaccines, as we know for this age mRna vaccines are recommended».
This is summarized by the Italian press agency ANSA in the Health and Wellness column. The AIFA, therefore, after the EMA, will authorize this vaccine within one or two days, «as has always been the case. Tomorrow or Monday at the latest. Then it will depend on the availability of vaccines, as we know for this age mRna vaccines are recommended».
«In the US, we are also studying for younger children, and what we do know is that the immune response is very high as is expected in an immune system that is still young. Not only that, but the protection after the first dose is over 90% and is close to 100% if not 100% after the second dose. The children respond very well and are protected».
But what is written by The Defender website denies this latest statement by the virologist Palù, a great opponent of the "pandemic terrorism" promoted by Italian politics but only before being appointed by the government to lead the Italian Pharmaceutical Agency in Rome.
Italy-US Academic Virologist: "Stop to Pandemic's Terrorism. Covid-19 less Lethal. Lockdowns may destroy Economy"
We recall that Kennedy is not a NO-VAX extremist but, for almost twenty years now, he has been fighting only to obtain "clean" vaccines and has focused his legal battles on the fundamental role of pharmacovigilance which, as he demonstrated by winning a historic case against the US Department of Health, it is not being implemented in the manner prescribed by American laws that granted legal immunity to Big Pharma.
Gospa News, which is by no means a No-Vax media but requires safe and adequately tested vaccines, highlighted this circumstance in the WuhanGates 21 investigation which also reported the complaint by the lawyer RFK against a "pandemic planned for decades by Bill Gates ".
FIRST TEENAGERS DEAD IN THE USA
The latest article published by The Defender is chilling. It was written by Megan Redshaw, a freelance reporter who has a background in political science, a law degree and extensive training in natural health. In 2014, she founded the "Living Whole" website and became a leading parental rights and health freedom advocate. Megan has been featured on Meet the Press, CBS, Russian Television International, the New Zealand Journal of Natural Medicine, Holistic Parenting Magazine, The Chronicle and more.
WUHAN-GATES – 21. "Pandemic Planned for Decades". Kennedy blames Fauci & Gates. Terrible Plot in 30 Investigations' summary. Pope against Big Pharma's Affairs
«The number of reported adverse events following COVID vaccines continues to climb, according to data released today by the Centers for Disease Control and Prevention (CDC). The data comes directly from reports submitted to the Vaccine Adverse Event Reporting System (VAERS). VAERS is the primary government-funded system for reporting adverse vaccine reactions in the U.S. Reports submitted to VAERS require further investigation before a causal relationship can be confirmed» reported the RFK website.
«Every Friday, VAERS makes public all vaccine injury reports received as of a specified date, usually about a week prior to the release date. Today's data show that between Dec. 14, 2020 and May 21, a total of 227,521 total adverse events were reported to VAERS, including 4,406 deaths — an increase of 205 over the previous week — and 21,537 serious injuries, up 3,009 since last week».
Covid Vaccinated, Ongoing Decimation! Meanwhile EMA Conceals Deaths' Data. More than 10 thousand People Died after Jabs in EU and Us
The numbers from the war bulletin coincide with those that emerged from the latest reports EudraVigilance, the platform for collecting reports of undesirable effects in the European Union countries set up by the EMA (European Medicines Agency), which unfortunately cannot be reported by the media with the same punctuality and precision of the American ones because analytical summaries are not elaborated but they force journalists, like us at Gospa News, to laborious calculations that require days of time …
According to Defender, this week's VAERS data (update on May,28 showed 3,449 total adverse events, including 58 rated as serious, among 12- to -17-year-olds. In the U.S 281.6 million COVID vaccine doses had been administered as of May 21. This includes120 million doses of Moderna's vaccine, 152 million doses of Pfizer and 10 million doses of the Johnson & Johnson (J&J) COVID vaccine. Of the 4,406 deaths reported as of May 21, 23% occurred within 48 hours of vaccination, 16% occurred within 24 hours and 38% occurred in people who became ill within 48 hours of being vaccinated. Data from the previous week had shown 943 total adverse events, of which 23 classified as serious, between 12 and 17 years.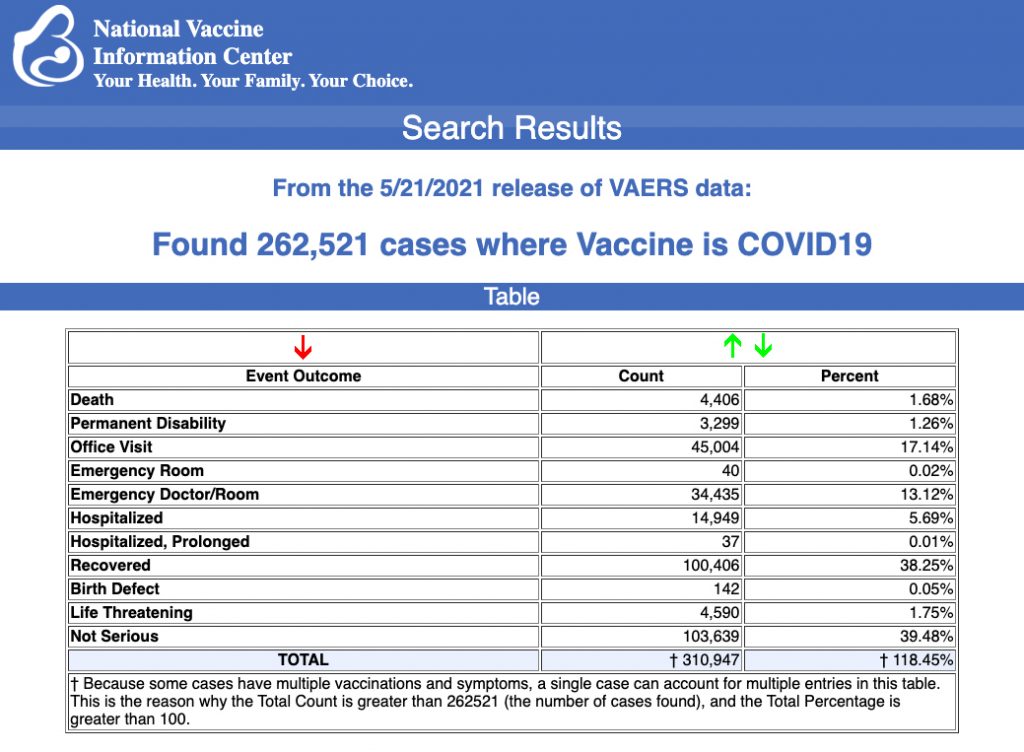 But here is the disturbing revelation from journalist Megan Redshaw who also reports the number of death reports among minors. «This week's VAERS data show: 20% of deaths were related to cardiac disorders. 54% of those who died were male, 44% were female and the remaining death reports did not include gender of the deceased. The average age of death was 74.4 and the youngest deaths reported include two 15-year-olds (VAERS I.D. 1187918 and 1242573 ) and a 16-year-old (VAERS I.D. 1225942). There were other reported deaths in children under 16 that could not be confirmed or contained obvious errors».
«As of May 21, 1,641 pregnant women reported adverse events related to COVID vaccines, including 527 reports of miscarriage or premature birth. Of the 2,577 cases of Bell's Palsy reported, 52% were reported after Pfizer-BioNTechvaccinations, 41% following vaccination with the Moderna vaccine and 192 cases, or 9%, of Bell's Palsy cases were reported in conjunction with J&J. There were 238 reports of Guillain-Barré Syndrome with 43% of cases attributed to Pfizer, 38% to Moderna and 23% to J&J. There were 74,781 reports of anaphylaxis with 39% of cases attributed to Pfizer's vaccine, 50% to Moderna and 10% to J&J. There were 4,433 reports of blood clotting disorders. Of those, 1,842 reports were attributed to Pfizer, 1,359 reports to Moderna and 1,194 reports to J&J». But the alarm does not end here …
THE HEART INFLAMMATION ALARM
Gospa News was among the first web media to report the alert launched by the EMA itself in the countries of the European Union for the worrying heart inflammation recorded especially among vaccinated young people (30-40 years). While the CDC (Centers for Disease Control) is already investigating heart problems in adolescents after the COVID vaccine. as reported last May 24 again by The Defender.
INFIAMMAZIONI AL CUORE DOPO PFIZER: ALLERTA EMA. 424 Paralisi nell'UE. SOS da Medica Messicana Inferma da 4 Mesi
«On May 24, The Defender reported the CDC is investigating reports of teens and young adults vaccinated against COVID who experienced heart problems. The CDC's Advisory Committee on Immunization Practices released an advisory May 17 alerting doctors to reports of myocarditis, which seemed to occur predominantly in adolescents and young adults, more often in males than females, more often following the second dose and typically within four days after vaccination with Pfizer or Moderna vaccines. Most cases appeared to be "mild" and follow-up is ongoing – – writes the website of Robert F. Kennedy again – The CDC said its monitoring systems had not found more cases of myocarditis than would be expected in the population, but members of the committee on vaccinations said healthcare providers should be made aware of the reports of the "potential adverse event."».
Myocarditis is inflammation of the heart muscle that can lead to cardiac arrhythmia and death. According to the National Organization for Rare Disorders, myocarditis can result from infections, but "more commonly the myocarditis is a result of the body's immune reaction to the initial heart damage." Pericarditis is inflammation of the tissue surrounding the heart that can cause sharp chest pain and other symptoms.
«As The Defender reported May 26, one week after the CDC announced it was investigating heart inflammation in recently vaccinated young adults, Connecticut reported 18 new cases of heart problems among teens who had received a COVID vaccine. All 18 cases resulted in hospitalization — the vast majority for a couple of days, while one individual remained hospitalized as of May 26».
Instead «White House press secretary Jen Psaki said during a press briefing Monday the Biden administration will continue to advise young people to get vaccinated, despite reported cases of myocarditis» Megad Redshaw wrote controversially. (read more)
(Visited 648 times, 1 visits today)