Former Goldman Sachs' Man appointed as UK PM to Clean the "Truss Mistakes" against King Charles' Great Reset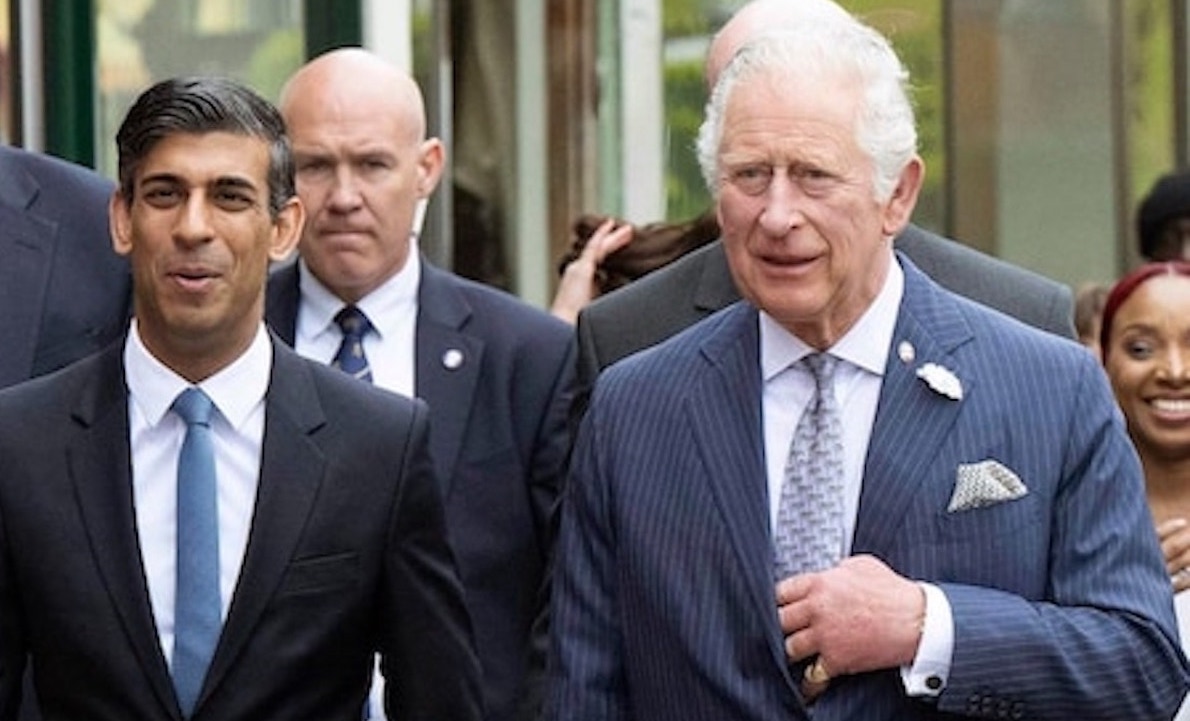 On the cover image Rishi Sunak alongside king Charles III, promoter of Great Reset
by Fabio Giuseppe Carlo Carisio
«Rishi Sunak took office as British prime minister, Tuesday, acknowledging the mistakes of his Conservative Party predecessors and warning of difficult decisions ahead for a country mired in political and economic trouble» the NBC explains.
«The former finance minister is now the United Kingdom's third leader in seven weeks, following the collapse of Boris Johnson's scandal-plagued government and the light-speed implosion of Liz Truss» the NBC wrote.
«Sunak, the first British Asian to assume the role and a multimillionaire former banker, paid passing tribute to those predecessors in his first speech as leader Tuesday. But he also acknowledged "mistakes were made" under Truss, and promised to lead with "integrity, professionalism and accountability" — three qualities Johnson is widely perceived as lacking» the US network added.
UK, Truss Loses the Challenge against Great Reset. PM "Forced to Resign" by Charles III's NWO due to Her Counter-Poverty Plan. Will BoJo back?
In consideration of the fact that the new PM comes from a financial career in Goldman Sachs, one of the most significant investors in Big Pharma Pfizer even before the planned pandemic (with engineered SARS-Cov-2) and the anti-Covid Comirnaty vaccine produced by the New York company with the German Biontech, it is reasonable to assume that the "mistakes of the Truss" are those that have tried to hinder the policy of financial devastation of the poor and middle classes of the British population that is preparatory to the realization of the Great Reset wanted by King Charles III.
Queen Elizabeth II Death for Charles III King: British Imperialism from the NWO of Big Pharma & Weapons Lobby to WEF's Great Reset
"Our country is facing a profound economic crisis," Sunak said in his first speech as prime minister outside No. 10 Downing St. "I will unite our country not with words but with action."
Sunak's leadership was confirmed when he met King Charles III at Buckingham Palace and was invited to form a government by the new monarch, a ceremonial rubber-stamping act known as "kissing hands."
Truss became the 15th prime minister of Queen Elizabeth II's reign just 49 days ago — the shortest term in British political history.
"People without Basic Needs in Winter due to Energy Prices". Alarm by London's Mayor and British Medical Journal
At 42, Sunak will be the youngest prime minister in more than 200 years. The son of African-born Hindus of Indian descent, he is also the country's first ethnic minority leader in 140 years, after Prime Minister Benjamin Disraeli in the 1800s, who was of Jewish descent but a practicing Christian.
Though Sunak is a former banker, it's through his wife's father, an Indian software tycoon, that the couple sits on an estimated 730 million pound fortune ($825 million) — making them richer than the king and Camilla, the queen consort.
Just like Truss, Sunak was not elected by the U.K.'s 67 million people but rather appointed by a few hundred Conservative lawmakers.
UK Police preparing for the Risk of Civil Unrest this Winter amid a Cost of Living and Energy Crisis
THE FORGOTTEN FINANCIAL CAREER AT GOLDMAN SACHS
Despite working for Goldman Sachs between 2001 and 2004, Sunak doesn't allude to his Goldman analyst years on his LinkedIn profile. Nor does he mention his subsequent career working for hedge fund TCI fund (The Children's Investment Fund) or for Theleme Partners, an equity investment firm which he apparently founded himself. All that matters in Rishi's history is his time in parliament and as Chancellor of the Exchequer.
«This might be because public service obliterates all else, or because his time at Goldman was a traumatic one. Sunak joined the class of 2001, which means he would have arrived shortly before September 11th. In 2001, Goldman's profits fell 25% as a result of the terrorist attack and in the following 12 months, the firm cut more than 2,800 jobs, 12% of its employees at that time. Even in late 2002, Goldman was considering cutting another 400 people and there were forecasts that up to 20% of its bankers could be cut» Sarah Butcher wrote on E-financial Careers website.
PFIZER: AFFARI CON GOLDMAN SACHS, INTRIGHI CON GLI EX MANAGER DRAGHI & MONTI. In CdA Big Pharma pure ex vicepresidente della Banca
For Rishi, who was reportedly very nice and very hard-working, the turbulence at Goldman may have been a spur to leave banking. In 2004 he went to Stanford Business School in California to study an MBA, but rather than staying in the US and working in tech, came back to London to work for CIFF.
Children's Investment Fund Foundation (CIFF) is an independent philanthropic organisation, with offices in Addis Ababa, Beijing, London, Nairobi and New Delhi.
Even if Sunak himself wants to play down his history in finance, it's unlikely to go unforgotten by the British electorate, for whom his former career in banking and his immense wealth by marriage are likely to be sources of growing contention in an era of fiscal restraint.
«Sunak could easily foster a new era of 'banker bashing' in the UK as the British public come to associate him with finance and with renewed austerity. For Goldman Sachs, it might therefore be a good thing that he hasn't fully completed his LinkedIn profile. But it could just be that he hasn't got around to it: the profile doesn't say that he's PM yet, either» highlighted E-financial Careers.
THE UKRAINE WAR ISSUE
Britain's new prime minister, Rishi Sunak, vowed Tuesday to help Ukraine fight off Russia's invasion even as he warned of difficult financial choices ahead for his government.
Speaking outside 10 Downing Street, Sunak called it a "terrible war that must be seen successfully to its conclusion".
WEAPONS LOBBY – 6. Third World War Warnings! UK, Nato, US & Zelensky threaten Russia and China
Ukraine President Volodymyr Zelensky congratulated Rishi Sunak on becoming the new UK Prime Minister and said Kyiv was ready to strengthen ties with London, a key military ally.
"Congratulations to Rishi Sunak on taking office as British Prime Minister!" Zelensky wrote on social media, saying he hoped Sunak would be able "to successfully overcome all the challenges facing British society and the whole world today."
It is very difficult, however, for the new PM to go against the British Weapons Lobby, one of the most powerful in the world with the war industry Bae Sistems partner of the Italian Leonardo and of many others, who are doing gold deals. thanks to the Kiev regime's refusal to negotiate a truce with Moscow.
If Sunak will do, he'll probably hold out in his position even less than "lettuce" Truss …
Fabio Giuseppe Carlo Carisio
© COPYRIGHT GOSPA NEWS
prohibition of reproduction without authorization
follow Gospa News on Telegram
Serious Clues of NATO-Kiev Attacks. UK Plot on Crimean Bridge. 8 Arrests by FSB. Mysterious Leak in an Oil Pipeline. Drone Killer Found near Nord Stream
King Charles III Proclamation in Violation of UN Resolution: Royal Legacy to Protestants in Discrimination of Catholics, Jews or Muslims
STRATEGIA DEL TERRORE GLOBALE DA 007 NATO & "14 EYES". Pandemia da Laboratorio, Crisi Gas, Attentati di Kiev per la III Guerra Mondiale
(Visited 443 times, 1 visits today)