IDF Strikes hit Gaza Evacuation Convoys: 70 Killed according to UN Humanitarian Body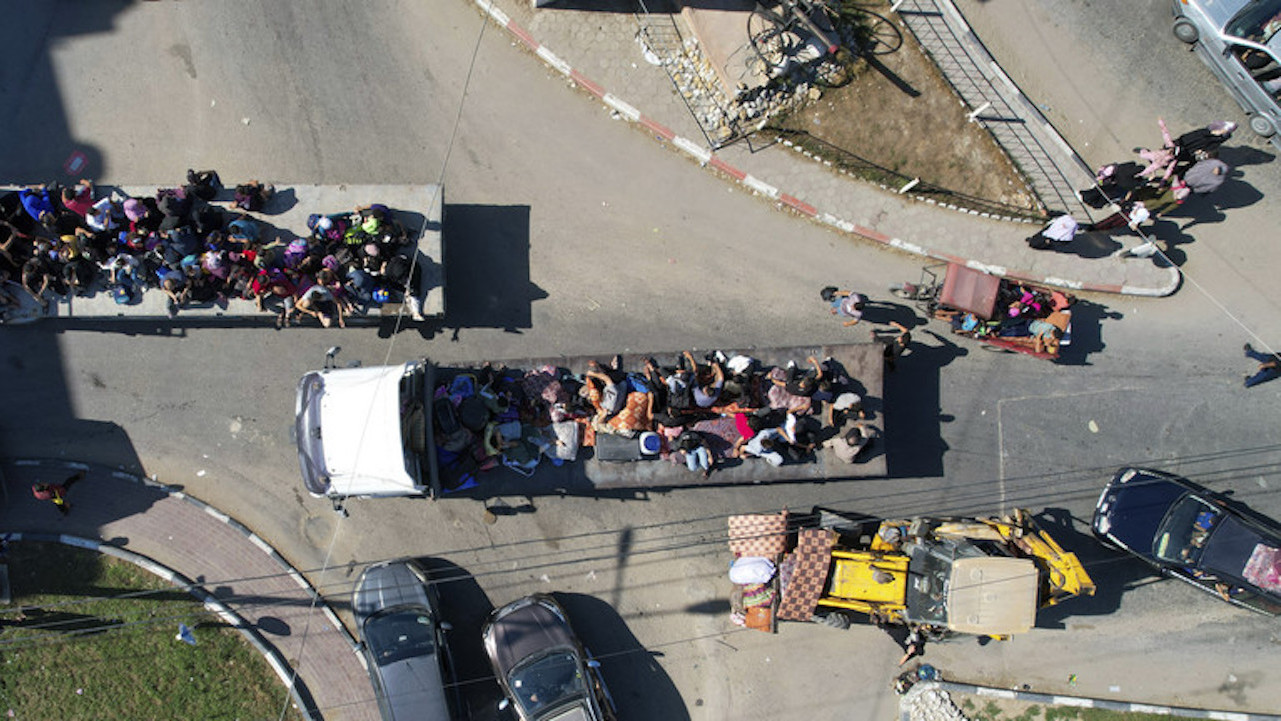 In the cover image Palestinians flee from northern Gaza after the Israeli Army issued an evacuation warning ahead of a potential ground invasion, October 13, 2023 © AP / Hatem Moussa
Subscribe to the Gospa News Newsletter to read the news as soon as they are published
Dozens of people, mostly women and children, have been injured and killed in Israeli airstrikes on evacuation convoys fleeing Gaza City, according to Hamas officials. The IDF has yet to respond to the accusations, after ordering more than 1 million people to leave the northern part of the enclave "to save their lives."
Israeli Forces Shot their Own civilians, Kibbutz Survivor says
The UN humanitarian body, OCHA, said several "vehicles of those evacuating the north were hit, killing more than 40 people and injuring 150 others," citing data from health officials in the Hamas-governed Palestinian enclave.
"These incidents prompted many people to abandon their evacuation efforts and return home," the UN agency added, as "heavy Israeli bombardments, from the air, sea and land, have continued almost uninterrupted."
Huge Slaughtering with Ground Assault is Coming! Israel's Military warned UN to Evacuate Northern Gaza within 24 hours
Hamas' media office claimed on Friday that airstrikes hit civilian cars in three separate locations, allegedly killing 70 people. The Palestinian Health Ministry said that Al-Shifa Medical Complex was treating "dozens of victims" injured "as a result of the Israeli occupation forces targeting citizens who were forced to leave their homes."
The Israel Defense Forces (IDF) has yet to comment on the allegations, and it is unclear whether militants were among the passengers of the convoys.
Tens of thousands of Palestinians have fled south after Israel issued an order on Thursday night, initially giving Gaza residents 24 hours to evacuate from the north to "save their lives" ahead of an expected ground offensive, according to the UN. Prior to the evacuation order, more than 400,000 Palestinians had already been internally displaced.
Armageddon Spectres: Gaza Sieged without Vital Supplies. Hamas threatens to Kill Hostages on Live TV
The IDF called the evacuation order a "humanitarian step," claiming that the residents would be able to return to Gaza City after Hamas militants were eradicated. The military did not mention any specific deadline, with a spokesperson acknowledging the evacuation would take "some time."
Israel has faced widespread criticism from human rights organizations for the forced relocation order, with UN Secretary-General Antonio Guterres urging West Jerusalem to reconsider it, insisting that "even wars have rules" and telling all sides to respect international humanitarian norms.
"Moving more than 1 million people across a densely populated warzone to a place with no food, water, or accommodation when the entire territory is under siege, is extremely dangerous and, in some cases, simply not possible," Guterres said on X (formerly Twitter) early Saturday morning.
The World Health Organization (WHO) also appealed to Israel to "immediately rescind orders for the evacuation of over 1 million people living north of Wadi Gaza," saying that a "mass evacuation would be disastrous – for patients, health workers and other civilians left behind or caught in the mass movement."
"With ongoing airstrikes and closed borders, civilians have no safe place to go," the WHO said on Friday.
Originally published by Russia Today
All links to previous Gospa News investigations have been added aftermath for the ties with the topics highlighted
---
Putin: "Israel and Hamas displayed cruelty against each other"
Israel and Palestinian militant group Hamas have displayed "brutality" and "cruelty" against each other, Russian President Vladimir Putin told reporters on Friday. He urged both parties to prioritize thinking "about the civilian population" instead.
Speaking after a press conference concluding his two-day visit to Kyrgyzstan, Putin condemned the attack on Israel, calling out the exceptional "cruelty" exhibited by Hamas.
Update – INTEL DROP by CIA ex Agent: Hamas-Israel Fighting, likelihood "False Flag" to Wipe Gaza Off the Map. Warnings by Egypt Ignored
"Israel, of course, faced an unprecedented attack, which has never happened in history, and not only in scale, but also in the nature of its execution, in cruelty – well, what can I say? We must call things what they are," he stated.
At the same time, Israel has responded to the attack on a massive scale "with quite brutal methods," Putin noted, urging both parties to "think about the civilian population" despite "all the bitterness on both sides."
The Russian president warned against imposing a total blockade on Gaza, calling this approach to the Palestinian enclave "unacceptable."
"More than two million people live there. Not everyone supports Hamas, by the way, not everyone, yet everyone must suffer, including women and children. Of course, hardly anyone will agree with this," the president insisted.
"Origin of US Weaponry used by Hamas must be Investigated" American & Russian Politicians said
Putin reiterated Russia's stance that the conflict between Israel and Hamas could only be resolved through negotiations, as well as abiding by UN resolutions, namely, creating an independent Palestine. Moscow is ready to mediate in the conflict, taking advantage of its close ties with both the Arab nations and Israel, Putin added.
"Russia can [help] precisely because we have developed very good relations with Israel over the last, say, 15 years, and traditional relations with Palestine. Therefore, no one will suspect us of wanting to play along with someone. But, of course, only if someone needs our mediation. This is always done only based on an agreement between the parties," he concluded.
Originally published by Russia Today
All links to previous Gospa News investigations have been added aftermath for the ties with the topics highlighted
---
MAIN SOURCES
GOSPA NEWS – WEAPONS LOBBY DOSSIER
UPDATES – Again Missiles, Blood, War in Holy Land! Hamas reacts to the Daily Crimes of NaziZionist Bibi's Israeli Hitmen
(Visited 373 times, 1 visits today)