Jordan cartoonist detained for 'offensive' drawing of UAE ruler after Israeli deal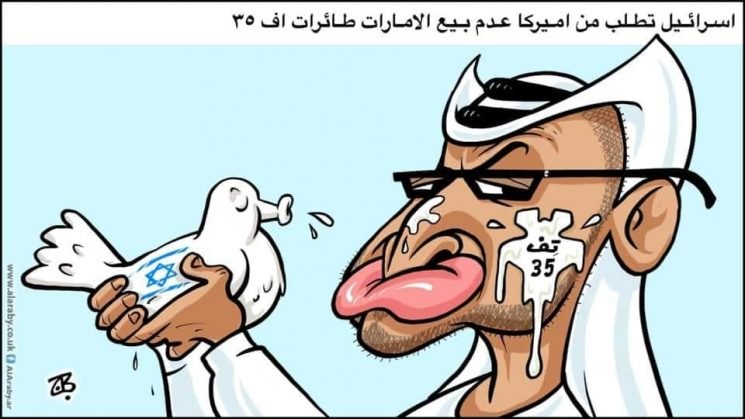 From Middle East Monitor
Palestinian-Jordanian cartoonist, Emad Hajjaj, was arrested in Jordan three days ago after publishing a caricature insulting Crown Prince of Abu Dhabi, Sheikh Mohammed Bin Zayed.
The CEO of the Centre for Defending Freedom of Journalists (CDFJ), Nidal Mansour, said that Hajjaj was arrested in connection with a case published under the Cybercrime Law.
The cartoon which was published on his Al-Araby Al-Jadeed news site depicts Bin Zayed being spat on by a dove of peace displaying the flag of Israel.
Hajjaj's cartoon comes after a peace deal was announced between the UAE and Israel brokered by Washington, earlier this month.
The UAE is the fourth Arab nation to reach such a deal with Israel, after Jordan, Egypt and Mauritania, although the latter halted relations with the occupation state as a result of its 2014 attack on Gaza.
Hajjaj's cartoon includes a caption that reads: "Israel asks America not to sell the UAE F-35 aircraft."
The F-35 fighter jet has been a major target for Abu Dhabi. Getting its hands on such an advanced combat aircraft is believed to be one of the reasons why the UAE signed the peace deal.
READ more: WEAPONS LOBBY 3 – KILLER DRONES 'ZIONIST TYCOON
Following his arrest, a number of journalists held a protest in solidarity with Hajjaj outside the Palace of Justice demanding his immediate release and calling for the charges against him to be dropped.
Reporters Without Borders (RSF) also demanded the release of Hajjaj, while calling on authorities not to use the Cybercrime Act to mute critical voices.
After alleged Nukes against Beirut, Israeli Phosphorus Bombs Fell on Lebanon Borders
Human Rights Watch (HRW) has called on the Jordanian authorities to immediately release a cartoonist for drawing a satirical cartoon about a recent normalisation deal between the United Arab Emirates (UAE) and Israel, reported by Anadolu Agency.
"Calling a satirical cartoon a terrorism offence only confirms that Jordan intends to muzzle citizens who speak freely," Joe Stork, HRW's deputy Middle East director, said in a statement.
"This arrest sends the message that Jordanian authorities would rather abuse the rights of their own citizens than risk offending a gulf leader's feelings," he said.
On Thursday, Hajjaj was referred to the State Security Court on a charge of "disturbing [Jordan's] relations with a foreign state"
WEAPONS LOBBY – 4. UK and Italy in the hands of Qatar's Muslim Brotherhood: Rothschild partner and Jihadists' funder
Activists on social media shared the caricature that mocks UAE Crown Prince Mohammed bin Zayed Al Nahyan, as Israel refused to allow the UAE to buy F-35 warplanes from the US despite Abu Dhabi's normalization deal with Tel Aviv.
The UAE cancelled a meeting last week with Israel and the US over Israeli Prime Minister Benjamin Netanyahu's opposition to provide the Gulf state with the US fighters F-35.
14 Thousand Jihadist Troops in Libya for Turkey Blitz alongside US Weapons' Lobby, NATO's Deep State & NWO
On 13 August, the UAE and Israel announced a US-brokered agreement to normalise their relations, including opening embassies in each other's territory.
Palestinian groups, including the Palestinian Authority, have denounced the UAE-Israel deal, saying it does not serve the Palestinian cause and ignores the rights of Palestinians.
(Visited 605 times, 1 visits today)