After alleged Nukes against Beirut, Israeli Phosphorus Bombs Fell on Lebanon Borders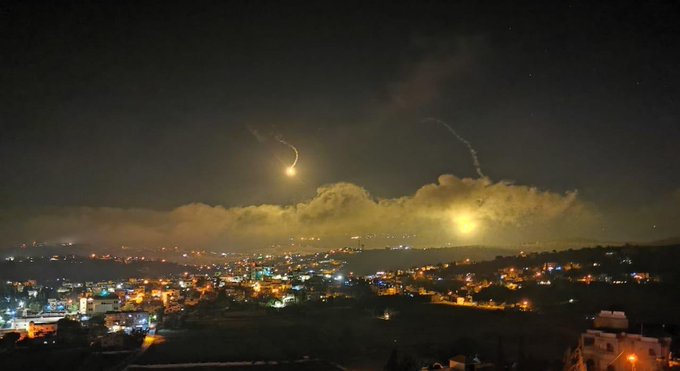 by Fabio Giuseppe Carlo Carisio
There is no peace for Lebanon. After the alleged nuclear attack on the port of Beirut which caused more than 200 deaths and thousands of injured by destroying an important part of the city and also devastating an Italian military base, Israel is still targeting the border areas with the territories occupied by the Zionists.
Beirut: Deep State "Killed" Shia-Christian Govt. Ex Zionist MP: "Blast as Nuclear Bomb. I hope it was Israel"
In recent days, the Lebanese paramilitary forces of Hezbollah (also an important Shiite political component in Parliament) reported that they had shot down an Israeli Defense Forces drone, a few hours ago Sputnik International and the Lebanese satellite TV Al Manar reported fire bombs launched in Lebanon on Tueasday night. While IDF confirmed a "security incident" in the Manara kibbutz.
Exclusive Video: Italian Military Base Devastated during Beirut Blast
Citing Lebanese reports, Amir Bohbot, a military editor and senior defense analyst for Walla News, reported that IDF shells fell on Lebanon's side of the border amid sounds of explosions. An aircraft was also spotted in the area, despite dense fog, according to Sputnik International.
Video from the scene accompanied early reports about sounds of gunfire in the area.
Israeli Prime Minister Benjamin Netanyahu is currently en route to the Northern Command of the IDF, which is the regional command center for the country's northern border with Syria and Lebanon.
«The Jerusalem Post reported that approximately 30 flares were launched along the Israeli border with Lebanon, which has received added attention from the IDF following vows by Hezbollah to avenge the July killing of one of its personnel during an Israeli airstrike in Syria» wrote Sputnik International.
Erdogan's war crimes: the truce broken by Turks with 18 dead. White phosphorus against children
According to the detailed report written by the lebanese media Al Manar (below the full post) even illegal phosphorus bombs were used in the strikes. Those are the same lethal weapons that according to Red Crescent were launched by Turkey Army in October 2019 againsst many Kurdish villages in the Rojava, the North East of Syria, during the military invasion sarcastically called Peace Spring by Tutkish sultan Recep Tayyip Erdogan.
LOBBY ARMI – 3: TYCOON SIONISTA DEI DRONI SPIA-KILLER PREMIATO DAI MASSONI USA E DALLA REGINA UK
The phosphorus bombs were promoted by Elbit Systems, the biggest weapons corporation in Israel and one of most important in the world, as highlighted by Gospa News in the dossier Weapons Lobby 3 about the drones' tycoon Michael Federmann, owner of this defense multinational company, who was awarded by B'nai B'rith Zionist Lodge in Washington and by UK Queen Elizabeth II, in the usual intrigue among Zionist, Freemasonry, Western Deep State, Islamic Sunni Countries and Muslim Brotherhood described in report Weapons Lobby 4.
WEAPONS LOBBY – 4. UK and Italy in the hands of Qatar's Muslim Brotherhood: Rothschild partner and Jihadists' funder
The Chemical Weapons Convention (CAC, January 13, 1993) does not consider white phosphorus a chemical weapon, although some countries do. In recent years, the United States and Israel have used white phosphorus in combat: neither country has ratified Protocol III against incendiary weapons of the Convention on Certain Conventional Weapons.
WUHAN-GATES – 12. MI6 British Intelligence former Head: "SARS-2 Built in Bio-Lab". Pics and Proofs of HIV Tests
And then they continue to sanction Russia, Iran and Venezuela for not complying with international treaties on unconventional weapons such as the bacteriological ones on which more than 50 laboratories of the Pentagon (Department of Defense) and CIA (Central Intelligence Agency) work as described in the report WuhanGates 7 in reference to the dossier on the SARS-2 virus built in the laboratory as also claimed by the former director of MI6, the British counter-intelligence.
Fabio Giuseppe Carlo Carisio
© COPYRIGHT GOSPA NEWS
no reproduction without authorization

---
Al Manar report
Israeli occupation military forces (IOF for Lebanese media IDF for international – ed) mobilized in the Zionist entity's north on Tuesday night after confirming a "security incident" was taking place near the so-called kibbutz of Manara, just alongthe border with Lebanon.
Al-Manar correspondent said that the occupation military repeatedly fired flares at the border area with Lebanon. He also said that IOF fired phosphorus bombs at Lebanese territories in the area between Houla and Mais Al-Jabal towns.
IOF spokesman confirmed that a security incident took place, ordering Israeli settlers to stay in their homes. Israeli media reported that flares were fired by IOF, with Ynet saying infiltration attempt from Lebanon was possible.
Channel 13 reported, meanwhile, that the incident took place "as Prime Minister Benjamin Netanyahu was on vacation in the north."
The Zionist entity has been on alert for several weeks since after an Israeli raid on Syria's Damascus killed Hezbollah fighter Ali Mohsen in July 20. Hezbollah said at the time that a response to the deadly strike was "inevitable," leading
The Zionist entity has been deploying troop reinforcements along with advanced intelligence and precision fire systems to its northern borders and ban military vehicles from driving on roads adjacent to the borders.
Week later the occupation military claimed that a group of Hezbollah infiltrated into the occupied territories and clashed with IOF. Hezbollah denied a clash took place with the Zionist forces at time, vowing that response to the deadly strike was "inevitable."
In his speech on the fourteenth anniversary of Divine Victory in 2006, Secretary General Sayyed Hasan Nasrallah reiterated that retaliation for the fighter's killing will sure take place.
Israeli reporter Alon Ben David says the incident started after an Israeli post at the northern border was subjected to shooting from the Lebanese side sparking small fire. Then Channel 10 said that the security incident in north is over, settlers ordered to return to their daily routine
MAIN SOURCES
GOSPA NEWS – JIHADISTS REPORTS
(Visited 893 times, 1 visits today)