Christchurch Mosques' Killer planned Massacre since 2 years with Drones too. As a Mossad Military Mission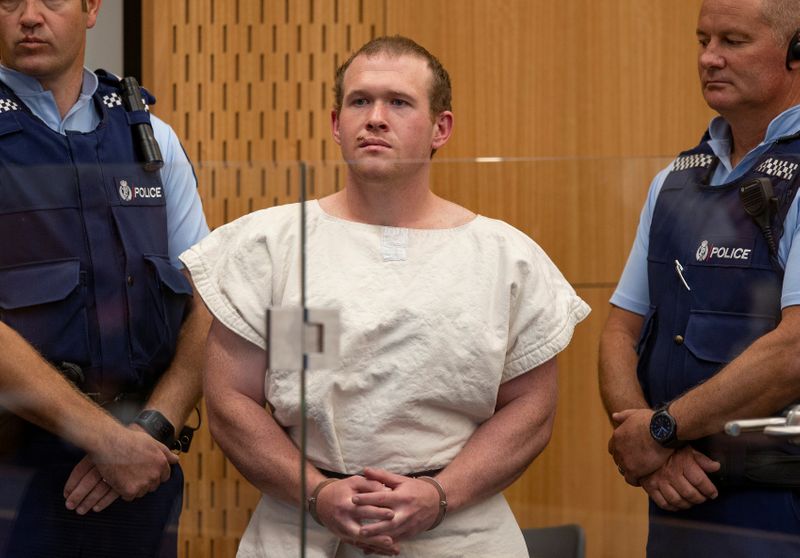 Sensational revelation by the prosecutor
during the first hearing
for the 51 murders of Brenton Tarrant
by Fabio Giuseppe Carlo Carisio
Versione originale in Italiano
The Brenton Tarrant massacre in Christchurch mosques was not the impromptu gesture of a white supremacist terrorist as he has been claimed. It was a real military mission planned in every detail for two long years. This is what emerged from the first hearing held today, Monday 24 August, before the Court of the city of New Zealand where the massacre took place on March 15, 2019.
Not only has it prepared with sophisticated weapons and even the use of drones the successful attacks in the places of cult of the Muslims of Al Noor and Linkewood but had also premeditated the fire of a third mosque.
Christchurch Sentence: Life in Prison with NO chance of parole for mosques killer
These new elements that emerged during the trial in which he risks life imprisonment without the possibility of release further confirm the thesis that Tarrant was a special agent trained by an expert counterintelligence such as that of the Tel Aviv Mossad, as claimed by various sources and clues highlighted in previous reports also for a previous suspicious episode concerning the mysterious presence of Israeli spies in Christchurch.
Tarrant, a self-professed white supremacist 29yo who broadcast part of the massacre live on Facebook, pleaded guilty in March this year to 51 counts of murder, 40 of attempted murder and a charge of terrorism. His decision to abandon an earlier plea of not guilty averted a lengthy trial that was expected to take months.
On Monday, a prosecutor read the authorities' version of events, telling the court of the detail in which Tarrant had planned the attacks, buying multiple firearms, thousands of rounds of ammunition, ballistic armour and military-style vests.
He moved to New Zealand from Australia in 2017 and began planning the attacks, researching various New Zealand mosques, viewing plans of the buildings he intended to attack and making a trip to Christchurch from the southern city of Dunedin, where he lived, two months before the massacre.
While there, he flew a drone over Al Noor mosque, scoping the building's entrances and exits. On the day of the attacks, the terrorist had petrol cans in his car that, the police said, he intended to use as incendiary devices.
Crown prosecutor Barnaby Hawes said Tarrant told police after his arrest that he wanted to create fear among the Muslim population. "He intended to instil fear into those he described as invaders, including the Muslim population or more generally non-European immigrants," Hawes said.
HORRORS' WHITE DEMONS FOR SPREADING TERROR
High Court judge Cameron Mander said that he had received more than 200 victim impact statements, along with submissions from various organisations. "I have read them all," said Mander, who added that he would not sentence Tarrant before Thursday morning after survivors and family members of victims had an opportunity to address the court.
After the official account of events on Monday the first of dozens of victims due to speak during the four-day hearing read emotional statements in front of the gunman, in a subdued courtroom that was sparsely populated due to coronavirus restrictions.
High Court judge Cameron Mander said that he had received more than 200 victim impact statements, along with submissions from various organisations.
Gamal Fouda, imam of Al Noor mosque, told Tarrant that he was "misguided and misled" and that his hatred was unnecessary.
"I can say to the family of the terrorist that they have lost a son and we have lost many from our community too, I respect them because they are suffering as we are. Fouda said.
Far more serious were the accusations made a few days after the tragedy, during a public commemoration in Auckland, by Ahmed Bhamji, president of the Mount Roskill E Umar mosque, the largest in New Zealand.
"I am here and I say that I have a very strong suspicion that there is a group behind him and I am not afraid to say that I feel that the Mossad is behind this" declared in a public conference reported on YouTube the former Fijian MP became the spiritual guide of the most important mosque in Auckland referring to the killer and the Christchurch massacre.
CHRISTCHURCH, L'EX MINISTRO ISLAMICO: «MOSSAD DIETRO LE STRAGI»
The video (here report about), with its suspicion, immediately rebounded on social media and within a few days it also exploded in the media with the immediate indignant reaction of the Israeli communities. Above all because it was not just any Muslim who uttered that sentence but a leading figure in the international Muslim community according to whom there are unspecified "Zionist affairs".
Beirut: Deep State "Killed" Shia-Christian Govt. Ex Zionist MP: "Blast as Nuclear Bomb. I hope it was Israel"
Those statements confirmed what was anticipated by the Senior Editor of Veterans Today, Gordon Duff, an international intelligence expert, in reference to the alleged double face of Tarrant, trained by Isis and Mossad in Syria for the then failed purpose of killing President Bashar Al Assad, an Alawite Shiite exponent who professes mutual religious tolerance unlike radical Sunnis.
In this intertwining of geopolitics and religion it emerged from the Gospa News investigations that even the Al Noor mosque, site of the main massacre, had a double face. It had within it both moderate components of Islam but also extremists who became Foreing Fighters in the Middle East such as the New Zealand Daryl Jones alias Bin John and the Australian Christopher Havard who became Abu Salman al Australi, both radicalized in Christchurch and then enlisted for Al Qaeda in Yemen where they were killed by a US drone in 2013.
This is useful simply to understand the context in which a bloody and terrible tragedy took place but certainly not to mitigate the terrible sins of a ruthless killer like Tarrant. Lucid and well trained just like a Mossad agent…
Fabio Giuseppe Carlo Carisio
© COPYRIGHT GOSPA NEWS
no reproduction without authorization

---
MAIN SOURCES
GOSPA NEWS – JIHADISTS REPORTS
(Visited 785 times, 1 visits today)