WEAPON'S LOBBY – REPORT 1: The Us Corporations shareholders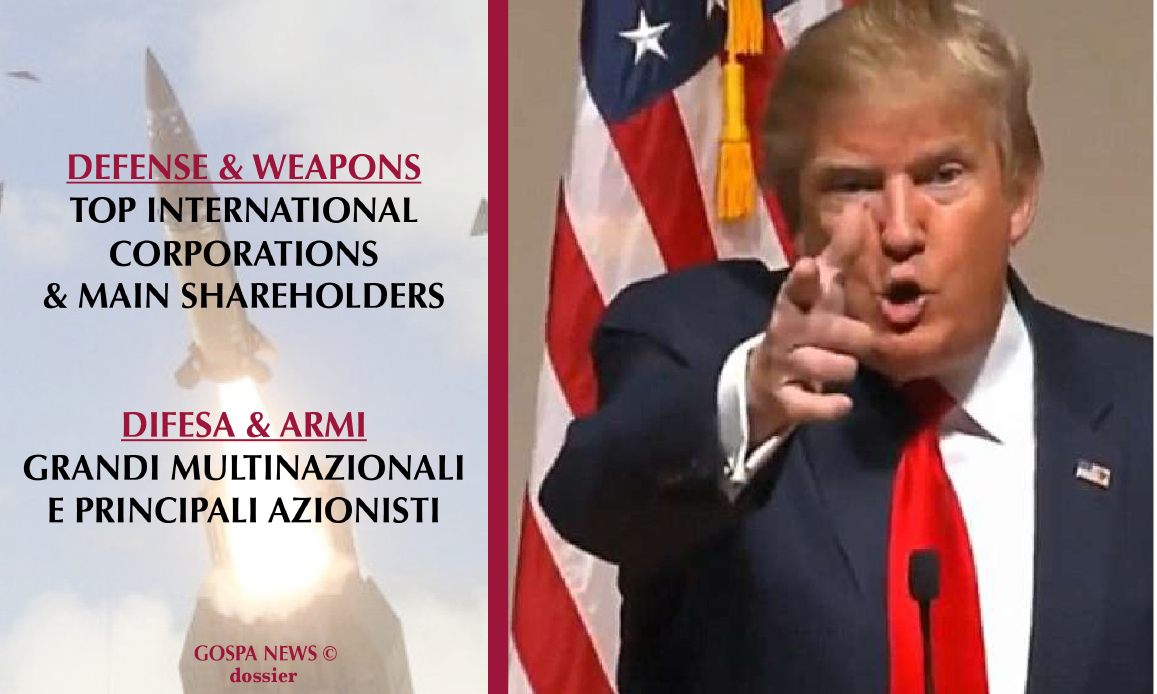 Investigations inside the top defense holdings
and the investors that hope in the Trump's wars:
numbers, names and international american funds 
___di Fabio Giuseppe Carlo Carisio ___
HERE ENGLISH VERSION WITH MACHINE TRANSLATING

«Gli inganni a volte funzionano, ma si suicidano sempre»
«Trickery succeds sometimes, but it always comits suicide»
(Gibran Kahlil Gibran – Sand and foam – Sabbia e schiuma)
Dagli Stati Uniti al Medioriente, da Israele all'Italia. Un esercito di avidi e spietati speculatori galoppa sulle vie dell'odio bestiale ed atavico di un'umanità sempre più disumana, cavalca il dorso di una miriade di tori metallici infuriati che muggiscono fiamme e proiettili dalle froge ipertecnologiche, bruciano terre, devastano città villaggi con un clic, seminano carestia e morte tra le anime dei guerrieri come tra quelle dei fanciulli innocenti annichiliti dai razzi di droni teleguidati. Ecco perchè in questo dossier ci sarà anche il nome della ditta che ha fabbricato la bomba intelligente made in Usa che nello Yemen nell'agosto 2018 ha fatto la strage su uno scuolabus, uccidendo ragazzini e bambini come in Irak, in Siria e in Ucraina. Un teatro quotidiano dell'orrore e della follia dove i sordidi giochi d'azzardo dei tycoon mondiali, in gran parte sionisti e sovente anche massoni, s'intrecciano con quelli di politici e banchieri di un occidente che ogni giorno strilla in un deserto d'ipocriti cuori l'appello cieco al rispetto dei diritti umani. Una macchina infernale che pare ormai attorcigliata in una spirale senza ritorno proprio come ogni inganno votato al suicidio.
Ormai senza guerra non c'è speranza per la cupidigia dei plutocrati contemporanei. Lo ha detto chiaramente, con garbato eufemismo, un politico della Repubblica Italiana di cui parleremo nei prossimi reportages di questo viaggio tra i signori delle armi e le più grandi multinazionali della difesa. Lo ribadisce l'ultimo rapporto diffuso lunedì 11 marzo del Sipri (Stockholm International Peace Research Institute): un centro di ricerca indipendente svedese che ogni anno analizza l'import-export di questo sempre mercato, dalle bombe ai fucili d'assalto, dagli apparecchi militari all'ingegneristica cibernetica di protezione o di sabotaggio, come ha scoperto il Venezuela nell'ultimo mese facendo da cavia alle tecnologie di una guerra occulta del terzo millennio. Un commercio sempre floridissimo perché sostenuto da opportune politiche internazionali guerrafondaie a dispetto del sempre più inutile Consiglio di Sicurezza dell'Onu.
MERCATO DELLE ARMI IN CRESCITA MA NON ABBASTANZA…
Il trend è in forte crescita e vede gli Usa leader sempre più incontrastati dopo la cura del presidente Barack Obama, premiato con il Nobel per la Pace 2009 al suo insediamento, libero di scatenare un inferno di conflitti ovunque per risollevare così le sorti di un mercato che dopo il boom degli anni Ottanta stava languendo. Era in crisi anche a causa della diplomatica propensione pacifista di molte nazioni, sollecitate dal Santo pacifista Giovanni Paolo II, al secolo Karolo Woytjla, che dopo aver vissuto da polacco sia l'occupazione Nazista Tedesca che quella Comunista Russa, girò il mondo nel tentativo di strappare qualche reale impegno umanitario ai leader della terra, e ci riuscì. Guarda caso uno dei patti più importanti fu siglato proprio l'8 dicembre 1987, ricorrenza dell'Immacolata Concezione della Madonna, cui il Pontefice era devotissimo: fu quel trattato Inf sui missili nucleari a raggio intermedio firmato tra Usa e Russia e stracciato qualche settimana fa dal presidente americano Donald Trump con conseguente analago ritiro del presidente russo Vladimir Putin. E' stato questo il segnale ufficiale di una brutale sterzata del capo di stato americano. Arrivato nel 2017 alla Casa Bianca un po' a sorpresa, con una strategia internazionale di distensione tale da valergli i sospetti, ridicoli oltrechè fasullli, del Russiagate, è stato presto richiamato all'ordine dalla lobby yankee delle armi che aveva invece puntato sulla sua rivale democratica Hillary Clinton, ben più accreditata per la sua efficace esperienza da Segretario di Stato nella creazione e gestione di focolai di conflitto in Libia, Siria, Ucraina. Dopo le lezioni di mid-term e lo spettro del shut-down (blocco amministrativo) per la Camera del Congresso conquistata dai Dem, il repubblicano Trump ha dovuto aggiustare il tiro per salvarsi la reputazione presidenziale e lo ha fatto con la sua sfacciata esuberanza: senza nemmeno curarsi dell'ipocrita apparenza come il suo predecessore Obama. Non si possono leggere altrimenti le sue ultime gesta politiche che vanno dalla rottura dell'Inf al riconoscimento delle Alture del Golan, occupate arbitrariamente da Israele in sfregio ad ogni risoluzione Onu e a discapito di Siria e Libano, dalle minacce condite da tempeste di sabotaggi elettrici per il golpe a Cacaras all'occupazione di un'isola nel Mar Cinese e fino alle provocatorie gite nel Mar Nero delle navi militari Nato davanti alle coste della penisola di Crimea, annessa alla Russia grazie a un plebiscito mai riconosciuto dai paesi dell'Alleanza Atlantica.
In un precedente articolo sui sospetti di una cospirazione dietro la strage di Christchurch ho descritto la Triade Massonica di UK, Usa ed Israele quale "deep state" transnazionale di un governo macroeconomico che condiziona e dirige la politica delle nazioni più strategiche o preziose di risorse naturali (come Libia, Siria e Venezuela). Analizzeremo in altre riflessioni le radici storiche e le evidenze di questa entità occulta che, proprio come il diavolo, lavora ogni giorno per far credere che non esiste. Per ora mi limito a notare, dati alla mano, come queste tre potenze siano quelle finanziariamente più implicate nell'industria bellica di cui scriverò in tre distinti reportage: questo sugli Stati Uniti, il prossimo su Israele e l'ultimo su Gran Bretagna ed Europa. Gli intrecci sono tali e tanti che alcune informazioni diventeranno per forza tautologiche ma come dicevano i latini "repetita juvant"…
ECCO LE TOP DEFENSE HOLDINGS NEL MONDO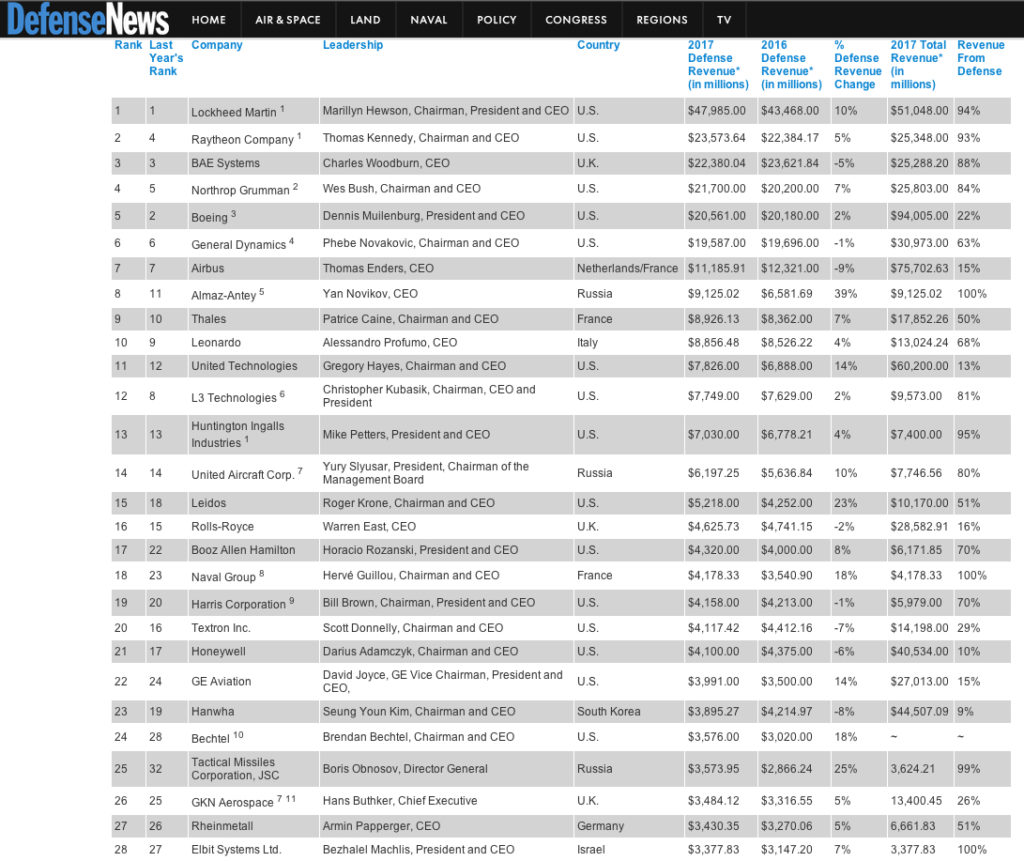 I dati generalistici 2018 del citato Sipri sul traffico legale – ma sempre – confermano quelli del sito Defense News (riferiti però al 2017) che si addentra nei meandri delle varie corporations e mi ha consentito di scoprire che nelle prime 28 per fatturato ce ne sono 15 statunitensi, 3 russe, 3 britanniche, 2 francesi ed una rispettivamente di Germania, Olanda, Italia, Corea del Sud ed Israele. Analizzeremo nel dettaglio azionisti e management solo di quelle multinazionali il cui bilancio in ambito bellico è prioritario: ho ritenuto di escludere da questa radiografia societaria holdings come Boeing. Airbus e Rolls-Royce che pur avendo una produzione nel segmento difesa vedono il loro fatturato principalmente alimentato da altri settori. Ho invece radiografato altre società che sono tra le prime 100 ma non tra le prime 28 della tabella (così tagliata per banali di ragioni di screenshot ma visibile integralmente sul link). Poco c'è da scrivere sull'azionariato di quelle russe come Almaz-Antey, Tactical Missiles Corporation, Russian Helicopters perché sono tutte di proprietà statale e ciò forse spiega il motivo per cui Putin è molto più prudente dei suoi equipollenti nelle politiche estere di belligeranza: lui deve rispondere solo al popolo, gli altri ai grandi elettori delle lobby delle armi. Non è una clamorosa novità. Ma oggi chi leggerà Gospa News potrà togliersi lo sfizio di scoprire numeri, nomi e vedere volti. Oltre a qualche storia di scandali internazionali sul traffico di armi in paesi dilaniati da atroci guerre civili come Yemen e Ucraina o da instabilità governative come la Nigeria. I dati nudi e crudi delle partecipazioni azionarie nelle corporations sono a fine articolo. Ora vediamo di capire chi sono alcuni dei plutocrati affaristi che scommettono sul commercio degli armamenti.
IL GURU DEMOCRATICO DELLA FINANZA DI NEW YORK
Il 2018 è però stato l'anno in cui gli inganni hanno incominciato a suicidarsi (come predisse Gibran). Così alcuni tycoon guardacaso sionisti, che con la mano destra finanziano la produzione che arma eserciti regolari quanto terroristi jihadisti e con la sinistra vanno a fare beneficenza per lavarsi la coscienza, sono finiti alla berlina proprio per le loro acrobazie affaristiche sulle bombe intelligenti, che però ammazzano bambini a mucchi nello Yemen come in Siria. Parleremo nella prossima puntata dei fucili automatici d'assalto affibbiati dagli israeliani a squadristi nazisti dell'Ucraina nel più perverso degli ossimori antropologici o delle motovedette vendute alla misera e martoriata Nigeria con un sovrapprezzo di 15 milioni di dollari. Tutti fatti circostanziati con tanto di nomi, cognomi ma anche numeri: quelli delle astronomiche partecipazioni azionarie nelle industrie della guerra che secondo recenti statistiche fatturano 1800miliardi all'anno nel mondo quando ne basterebbero 50 per sfamare tutte le popolazioni indigenti della terra. Una vergogna talmente spudorata, arrogante ma consolidata che se si prova rammentarla nei salotti buoni dei paladini dei diritti umani ci si sente rispondere che tanto non si può fare nulla.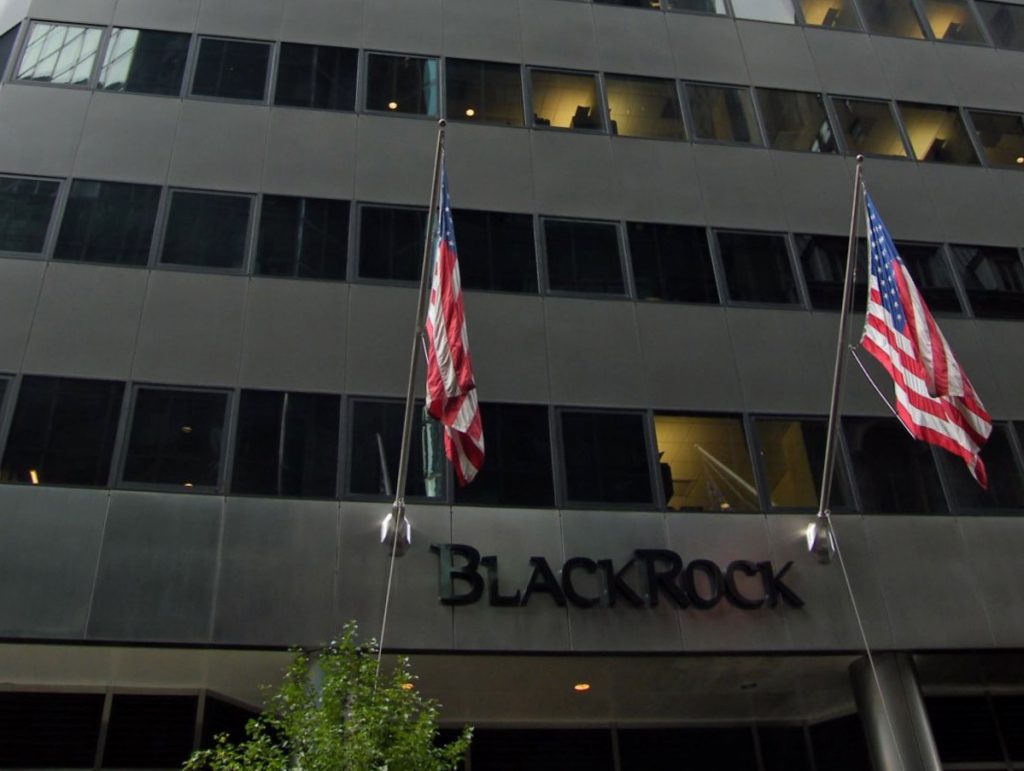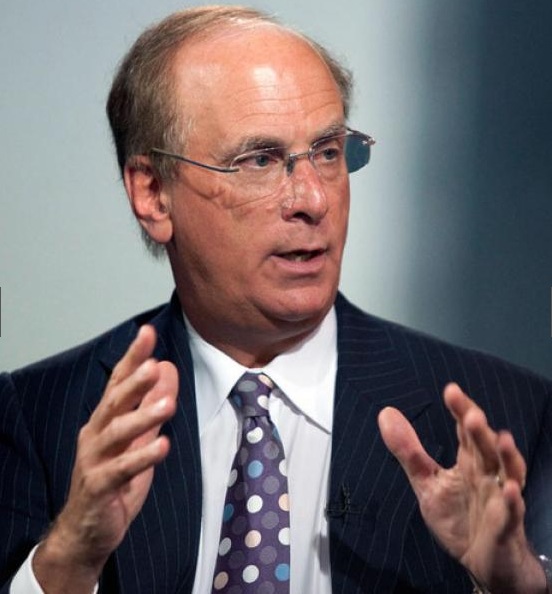 Qualcosa si può fare come pubblicare la foto e scrivere di Laurence Donald Fink, uno degli uomini più ricchi del pianeta e ritenuto anche tra i 28 più potenti, originario di famiglia ebrea ma ormai newyorkese fino al midollo e Democratico fino all'etternità, per sua stessa dichiarazione. Sarebbe interminabile un articolo sulla sua vita perciò mi limito ad alcune tappe essenziali che lo hanno portato ad essere chairman e Ceo, presidente esecutivo, di uno dei più importanti fondi d'investimento internazionali: il Blackrock con sede nella 55 E 52nd St di New York a poche centinaia di metri dal Rockfeller Center. Recenti stime attestano a 100miliardi di dollari il paniere di titoli amministrati, divisi tra pochi investitori istituzionali e moltissimi investitori retail. Ha circa 11mila dipendenti, opera in 26 Paesi divisi tra tutti i continenti e vanta clienti in oltre 100 diversi Stati. In Italia, ad esempio, gestisce più di 10 miliardi di investimenti divisi tra partecipazioni non qualificate in 22 delle società quotate a Piazza Affari (tra cui Intesa, Mediaset, Prysmian, Telecom, Pirelli con quote comprese tra il 2% e il 5%). I meriti di aver costruito questo colosso della finanza mondiale sono tutti del suo ideatore e fondatore Fink. «Laurence, per gli amici Larry, nasce nel 1952 – riporta L'Inkiesta in un dettagtliato articolo – Famiglia ebrea, un bachelor alla UCLA in Scienze Politiche e un MBA alla UCLA Graduate School of Management, Fink inizia a lavorare nel 1976 a First Boston, una banca d'investimento localizzata a New York. Nel mezzo si sposa, con Lori, con cui mantiene un rapporto idilliaco ed ha tre figli. La crescita, inarrestabile, lo porta nel 1988 a metter su BlackRock, società di asset management, con Robert Kapito, plurimedagliato in quanto a prestigio universitario avendo frequentato Harvard e Wharton. La separazione dal gruppo, inevitabile, avviene tra il 1992 e il 1994 con Fink, Ralph Schlosstein e Keith Anderson a porre Blackrock come società autonoma di risparmio gestito. La società cresce, inglobando al suo interno prima Merrill Lynch Investment Managers nel 2006 (con un raddoppio degli asset della società) e poi Barclays Global Investors (galassia Rotchschild – ndr) che, nel 2009, porta con sè in dote anche iShare, uno dei più grandi fornitori di ETF al mondo. Queste operazioni fanno sì che nel 2009 BlackRock possa diventare il più grande gestore di risparmio al mondo». Una holding con un patrimonio gestito di 102 miliardi di dollari nel 2017 che le ha consentito in tale anno di incrementare notevolmente i propri dati economici: ha registrato utili per 4,970 miliardi di dollari, con un fatturato annuo di 12,491 miliardi ed un incremento del 12% rispetto al precedente ciclo fiscale. Le azioni di BLK ieri erano scambiate a $ 438 per azione e la sua capitalizzazione di mercato è stata valutata a oltre $ 61,7 miliardi nell'ottobre 2018. Il gruppo è ora classificato 237° nell'elenco Fortune 500 delle maggiori società statunitensi per fatturato. Quanto questi risultati siano stati influenzati dalle partecipazioni nel mercato delle armi non è dato saperlo. Si sa però che gli investimenti sono massicci ed hanno procurato qualche grattacapo mediatico al chairman.
GLI INVESTIMENTI DI BLACKROCK NEL PIANETA DIFESA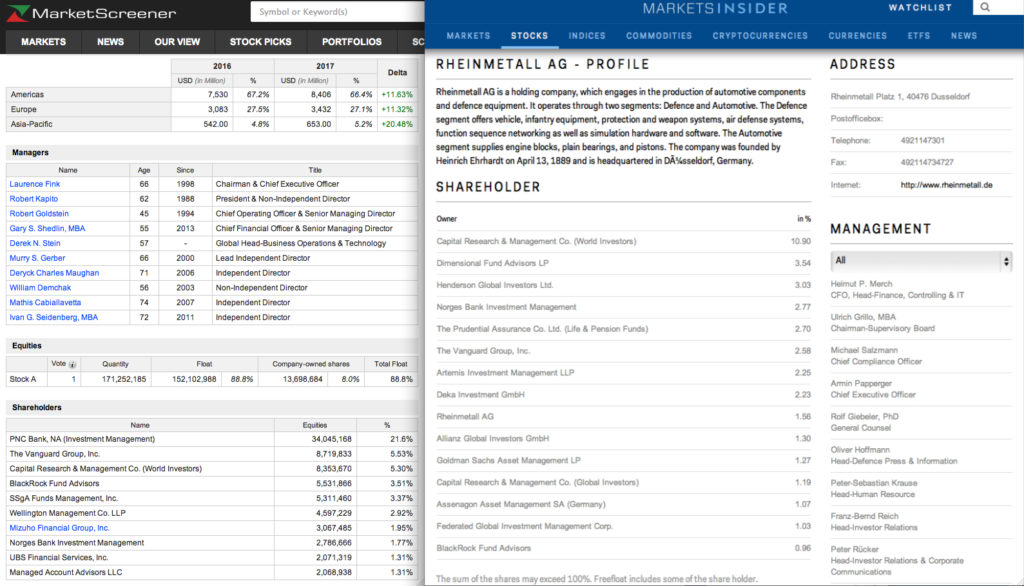 E' lodevole l'impegno di Fink nella Robin Hood Foundation che cerca di combattere la povertà a New York, creata dalle stesse speculazioni monetarie della Fedederal Reserve (la banca centrale Usa che è di proprietà di banche private sioniste, vedi articolo sul Terrorismo economico a fondo pagina), ma nel suo ruolo di chairman del fondo BlackRock l'anno scorso si è visto tributare il titolo infamante di Black Planet Award Preisträger, letteralmente Vincitore del Premio Pianeta Nero destinato a chi sta contribuendo a rendere più malsana la terra. Se l'è guadagnato in virtù della detenzione diretta (e indiretta) di quote significative nella multinazionale bellica con sede ed origine tedesca Rheinmetall Ag a causa delle ormai famose bombe, almeno sui giornali di controinformazione, costruite in Italia e trovate nello Yemen in sfregio ad ogni embargo internazionale sulla vendita di armi nel paese massacrato da una tremenda guerra civile (vedi link articoli a fondo pagina). Il titolo di "uomo nero del pianeta" sembra ben meritato anche per altri motivi visto che la holding finanziaria internazionale che presiede, è azionista di ben 24 delle 28 holdings belliche da noi analizzate. Le percentuali variano da quelle americane Aerojet (14,7%), Caci (13,4%), Perspecta (9,99%), Saic (7,35%), Vectrus (7,11%), Harris (6,53%), Raytheon (5,59%), Lockheed Martin (4,5%) a quelle nelle europee come la britannica Melrose-Gkn (7,43%), la francese Thales (2,87%), la turca Asels (1,29%), la tedesca Rheinmetall (0,96%) e l'italiana Leonardo (0,86%) fino alla giapponese Nec (6,02%). Ora è evidente che in assenza di conflitti armati o guerra fredda il fondo speculativo non avrebbe grandi utili; mentre, al contrario, quando la genetica litigiosità umana di memoria biblica deflagra in scontri internazionali i dividendi per gli investitori salgono alle stelle. E' quindi implicito che questo potente fondo, ovviamente molto presente in molteplici altri rami industriali e commerciali d'investimento, potrebbe avere evidenti vantaggi nel condizionare una politica guerrafondaia. Per tale motivo in questo primo reportage ci limiteremo ad analizzare principalmente coloro che speculano sul mercato degli armamenti più di coloro che li producono. La stessa ragione per cui un'associazione pacifista ed ecologista alla fine del 2017 premiò Fink per lo scandalo della Rheinmetall.
BOMBE RHEINMETALL NELLO YEMEN: PUNTA DELL'ICEBERG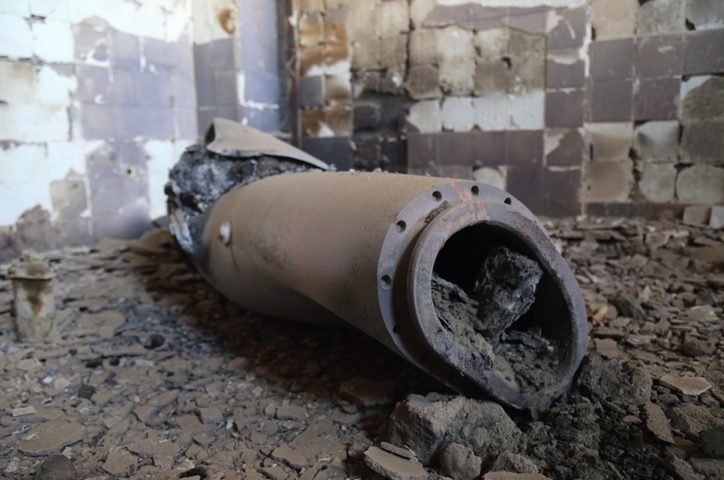 La vicenda delle bombe tedesche della multinazionale tedesca Rheinmetall nello Yemen non è che la punta dell'iceberg dell'ipocrisia di quell'occidente che sostiene l'Unicef ed altre organizzazioni umanitarie e poi si volta dall'altra parte quando le industrie della guerra devono fare i loro affari sulla pelle dei più piccoli. E' la spia di quei controlli sul mercato delle armi che vengono sempre aggirati con qualche cavillo legale. Della multinazionale teutonica e delle sue implicazioni istituzionali con palesi conflitti d'interessi politici parleremo nel dettaglio sull'ultimo reportage sull'Europa in quando i materiali di costruzione degli ordigni esplosivi rivenuti nei luoghi delle stragi nella penisola araba sono prodotti in Italia (ma assemblati altrove). Mi limito a ricordare che in Germania vige l'assoluto divieto di esportare armamenti nello Yemen e che pertanto la holding ha sfruttato la nota ambiguità normativa italiana per costruirli in una sua succursale in Sardegna. Da anni la questione rimbalza sui reportage della stampa nazionale ed internazionale ma, come da Gospa News evidenziato, il presidente della Repubblica Sergio Mattarella, prodigo di ammonimenti sui diritti umani in Venezuela, non ha mai proferito verbo nonostante le reiterate sollecitazioni di comitati spontanei per il disarmo. Parole pesanti le hanno messe invece per iscritto i responsabili dell'ong tedesca Ethecon, una fondazione di Dusseldorf per l'etica e l'economia in contrasto con i potenti gruppi corporativi, familiari, politici e statali tradizionali. «È una delle poche fondazioni di base, cioè "dal basso" e segue il mantra "Per un mondo senza sfruttamento e oppressione!" Questa giovane fondazione sta cercando ulteriori donazioni e membri sostenitori – scrive la fondazione nel suo sito – Dal 2006, Ethecon dà annualmente i due prezzi internazionali positivi e negativi: Ethecon International Blue Planet Award per l'eccezionale impegno a mantenere e salvare il pianeta blu ed Ethecon International Black Planet Award per la scioccante responsabilità per la rovina e la distruzione della terra. I vincitori del Blue Planet hanno incluso: Vandana Shiva dall'India, Uri Avnery da Israele e Jean Ziegler dalla Svizzera. Il Black Planet Award ha accusato, tra gli altri, i dirigenti e i principali azionisti delle società BP dal Regno Unito, Tepco dal Giappone, Deutsche Bank dalla Germania e Formosa Plastics da Taiwan».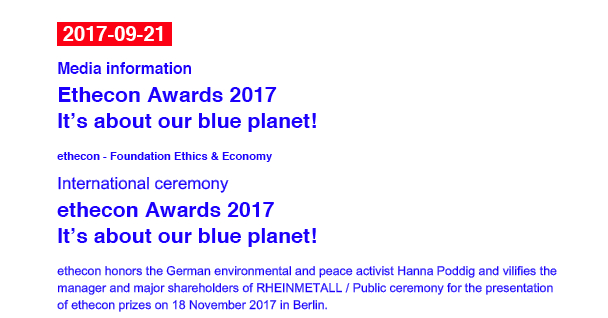 Nel novembre 2017 a Berlino, in una cerimonia pubblica che ha attirato i giornalisti dei più importanti media tedeschi, il premio blu è andato ad Hanna Poddig, che si batte per la pace, l'ambiente, i diritti umani ed è divenuta nota per le sue spettacolari azioni con cui, nel 2008 e nel 2012, riuscì a fermare i trasporti militari di uranio. Mentre quello Nero è andato proprio a Rheinmetall e quindi a BlackRock. «Armin Papperger (Presidente del Consiglio di Gestione) e Ulrich Grillo (Presidente del Consiglio di Sorveglianza), nonché i principali azionisti Larry Fink (Presidente e CEO di Blackrock Inc.) e Paul Manduca (Presidente di Prudential PLC) della società di armi Rheinmetall (Germania) sono esattamente l'opposto – rimarca Ethecon nel comunicato ufficiale – Agiscono sempre per il loro vantaggio e per il massimo profitto. In tal modo, calpestano l'ambiente, la pace e i diritti umani. Rheinmetall promuove la guerra, rovina i diritti umani e distrugge l'ambiente. Inoltre, illegali accordi di armi, evasioni fiscale e promozioni di guerra mostrano come i dirigenti di Rheinmetall ignorano l'etica e la morale in nome della massimizzazione del profitto. Attraverso le loro azioni rischiano la rovina e la distruzione del nostro Pianeta Blu e lo trasformano in un Pianeta Nero». E' curioso notare che per una misteriosa nemesi il finanziere Fink si vede attaccato e biasimato per una delle società belliche in cui BLK detiene una partecipazione minima e non per quell'altra più famosa in cui ha una maggiore quota del 4,5%: la Lockheed Martin finita nell'occhio del ciclone per l'ordigno che, sempre nello Yemen, colpì uno scuolabus facendo una strage di ragazzini.
STRAGE SULLO SCUOLABUS CON LA BOMBA LOCKHEED MARTIN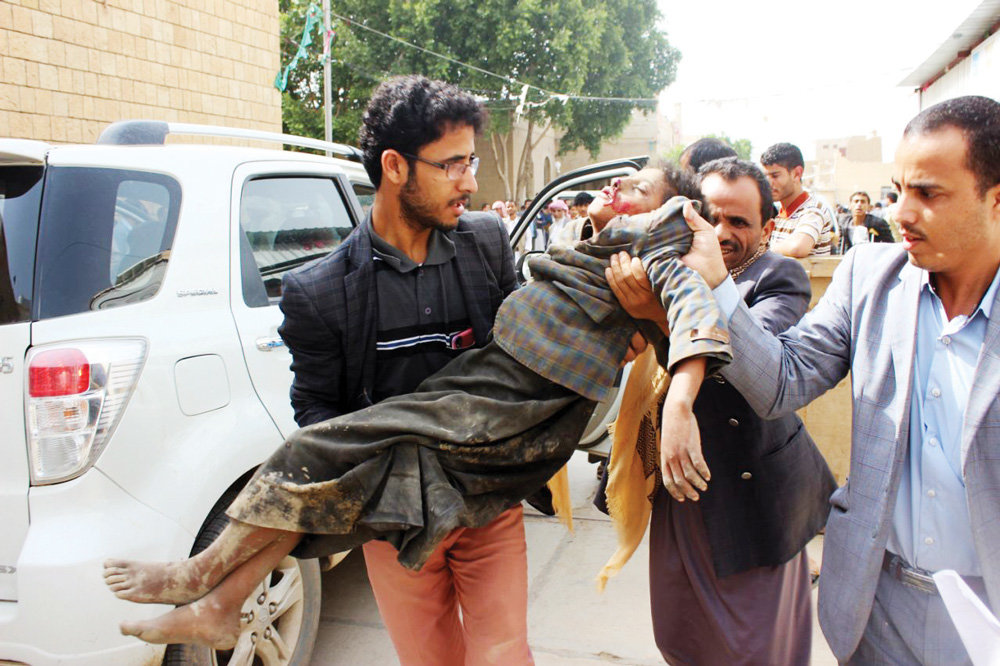 «Non è stata la bomba fatta dagli Stati Uniti, ma piuttosto l'incapacità dei militari sauditi di usare correttamente le munizioni – nonostante tutta la formazione americana – che ha portato all'orrendo attentato ad uno scuolabus yemenita in agosto. L'attacco aereo dalla coalizione a guida saudita che ha ucciso 40 bambini e mutilato decine di altri nella trafficata città commerciale di Dhahyan nel nord dello Yemen il 9 agosto 2018, non è colpa di Washington». Lo ha scritto il network Russia Today riportando la dichiarazione del presidente americano Donald Trump in un'intervista ad Axios sulla tragedia fece 130 vittime, tra cui 51 morti e 79 feriti e menomnati.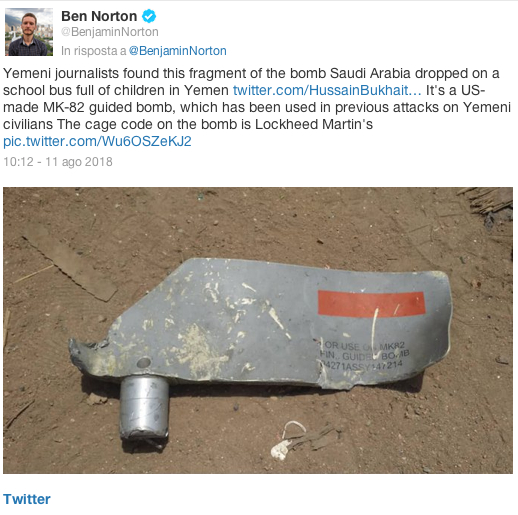 Il Pentagono sostenne che non si sarebbe mai potuto sapere chi aveva fornito gli ordigni «nonostante il fatto che pezzi di una bomba MK 82 laser-guidata da 500 libbre (227 chilogrammi) fatta da Lockheed Martin siano stati trovati sul luogo dell'esplosione» evidenziava l'articolo della tv russa aggiungendo che «Trump ha spostato la colpa della tragedia all'incapacità della coalizione di usare gli Stati Uniti forniti armi correttamente: "Sostanzialmente erano persone che non sapevano come usare l'arma, il che è orribile"». Il presidente americano si è ben guardato dal ricordare che buona parte del materiale bellico di fabbricazione americana è stato addirittura regalato dal Dipartimento di Stato degli Usa sotto forma di "aiuti militari", sospesi di recente dal Congresso solo dopo il barbaro assassinio del giornalista Jamal Kashoggi nel consolato dell'Arabia Saudita a Istanbul in circostanze ancora misteriose. «Nonostante l'apparente traccia di vendita di armi tra Washington e Riyadh, il Pentagono ha dichiarato che potrebbe essere impossibile dire da dove provenisse la bomba che ha annientato lo scuolabus – scrisse sempre RT – Nel 2016, gli Stati Uniti hanno approvato le vendite di MK-82 in Arabia Saudita, Emirati Arabi Uniti, Francia e Iraq, estendendo l'accordo in Australia e Bahrain l'anno successivo. "Potremmo non sapere mai se la munizione fosse quella che gli Stati Uniti hanno venduto a loro", ha detto a Vox l'Esercito Maggiore Josh Jacques, portavoce del Comando Centrale degli Stati Uniti. "Non abbiamo molte persone a terra"». Secondo i dati Onu nella cruenta guerra civile (vedi link sotto sullo Yemen) sono rimaste uccise già 10mila persone tra cui moltissimi civili nel 60 % dei casi a causa dei bombardamenti della potente coalizione a guida saudita e, secondo alcuni, alleata non dichiarata dei combattenti jifadisti di Al Qaeda che controllano parte del territorio.
GLI ALTRI FONDI CHE SPECULANO SUL MERCATO DELLE ARMI
E' invece provata da foto pubbliche l'occasionale frequentazione tra il repubblicano Trump ed il democratico Fink, a conferma che quando ci sono di mezzo gli affari il presidente del fondo BlackRock è un interlocutore privilegiato, anche perché significativo azionista proprio della Lockheed, la prima industria bellica americana che nel 2017 ha chiuso il bilancio con $47,985 miliardi di dollari di fatturato, il 14 % dei quali provento proprio di missili, bombe e altri armamenti per la cosiddetta difesa. Ma in questa multinazionale non c'è soltanto il più noto fondo americano di New York: sono presenti anche altre società americane d'investimento che pur essendo meno famose si distinguono per la loro presenza anche in molteplici altre aziende dell'industria bellica. Come ben evidenzia il dossier sugli azionisti delle holding delle armi allegato a fine articolo The Vanguard Group inc, con sede a Malvern (Pennsylvania), oltre ad essere uno dei leader mondiali nelle speculazioni in borsa, detiene il 7,35 % della Lockheed mentre il suo rivale SsgA Funds Management di Boston (Massachussetts) addirittura il 16 %. Il Capital Research & Management, fondo del Capital Group di Los Angeles (California) ha ben tre quote azionarie differenziate per un totale che lo porta al 9,54 %, mentre detiene solo il 4 % il Wellington Management Co., che a dispetto del nome non è neozelandese ma anch'esso di Boston. Non si tratta di partecipazioni occasionali ma di una pianificata strategia.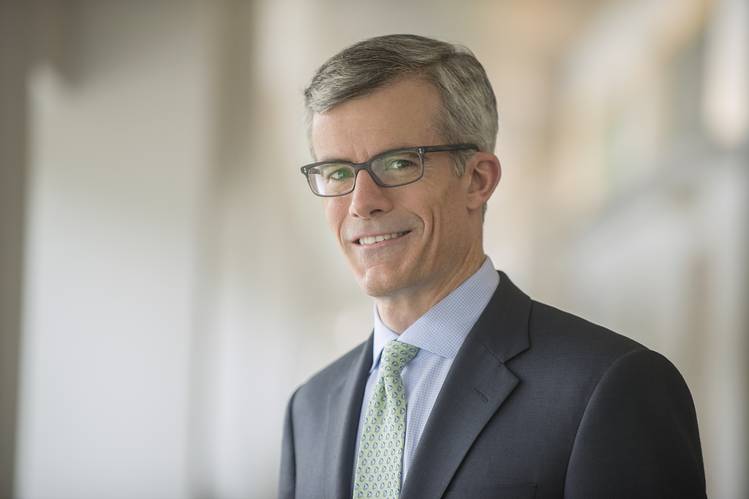 Vanguard, guidata dal nuovo Ceo Mortimer J. Buckley, è presente in ben 25 holding mondiali della difesa: anche nella Bae britannica dove BlackRock non figura (ma c'è la banca Barclays azionista e compartecipata dal fondo newyorkese). La SSgA presieduta da Cyrus Taraporevala ha investito in 11 di esse, il Capital Group guidato da Timothy D. Armour in 8 ed il Wellington in 7 per volontà del suo ceo Brendan Swords, dal cognome (spade in italiano) sicuramente vocato agli affari di armi. A questi fondi si aggiungono primarie banche internazionali newyorkesi come Goldman Sachs e Morgan Stanley, che hanno investito i patrimoni dei risparmiatori in 9 differenti aziende belliche. L'amara conclusione di questa analisi di macroeconomia settoriale è alquanto semplice: se si ferma la macchina della guerra a Wall Street avviene una strage di investitori. Per il business del sionista newyorkese dem Larry Fink e dei suoi colleghi (di cui narreremo la storia in altre occasioni) meglio che gli Usa continuino a seminare conflitti per i mondo e consentano ad Israele di fare altrettanto ora che ha le mani più libere per una recente privatizzazione. La più importante azienda militare nazionale di Tel Aviv, infatti, è stata acquisita dalla corporation privata di un tycoon israeliano, premiato qualche tempo fa dalla più importante loggia ebrea degli Usa. A conferma che la Triade Massonica non è affatto un miraggio. Ma questo lo racconteremo nella prossima puntata. Pregando Dio che non ci intercetti prima qualche drone ignorante…
Fabio Giuseppe Carlo Carisio
© COPYRIGHT GOSPA NEWS
divieto di riproduzione senza autorizzazione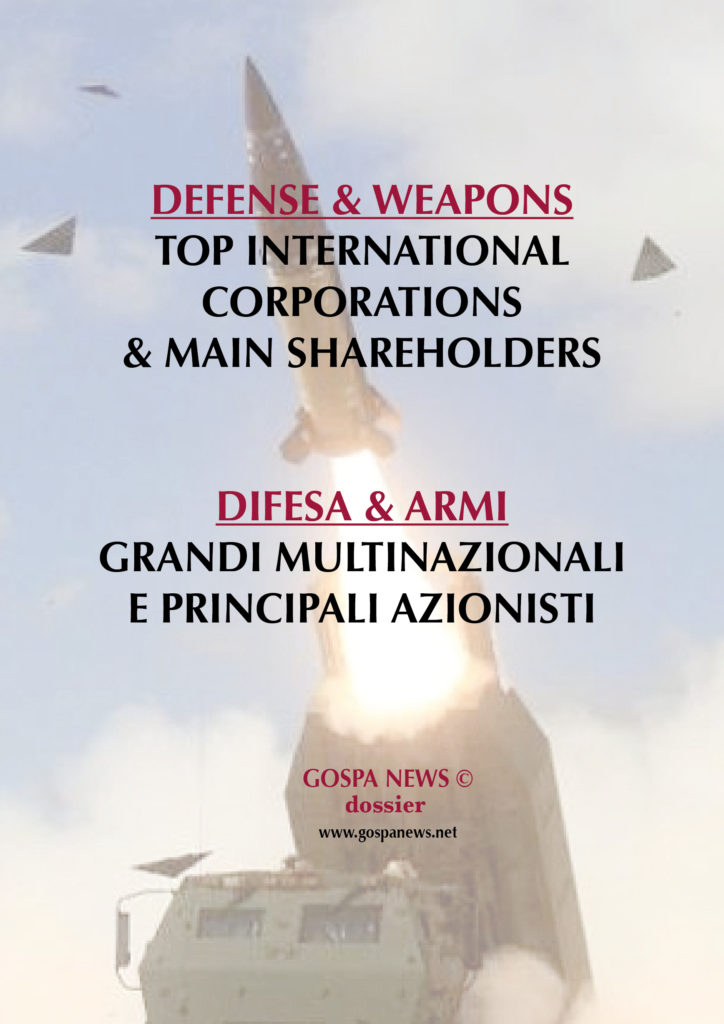 SOURCES
RUSSIA TODAY – LOCKHEED'S BOMB ON THE SCUOLABUS
http://www.gospanews.net/en/2019/03/27/christchurch-il-killer-istruito-da-mossad-e-isis-per-uccidere-assad/
http://www.gospanews.net/en/venezuela-sotto-attacco/
http://www.gospanews.net/en/2019/02/07/terrorismo-economico-usa-dopo-caracas-tocca-a-siria-e-italia/
http://www.gospanews.net/en/2019/03/07/droni-killer-trump-blocca-dossier-su-stragi-di-civili/
(Visited 186 times, 1 visits today)