Porn Artificial Intelligence on Facebook Threatens also Children. An Italian IT's Genius Revealed This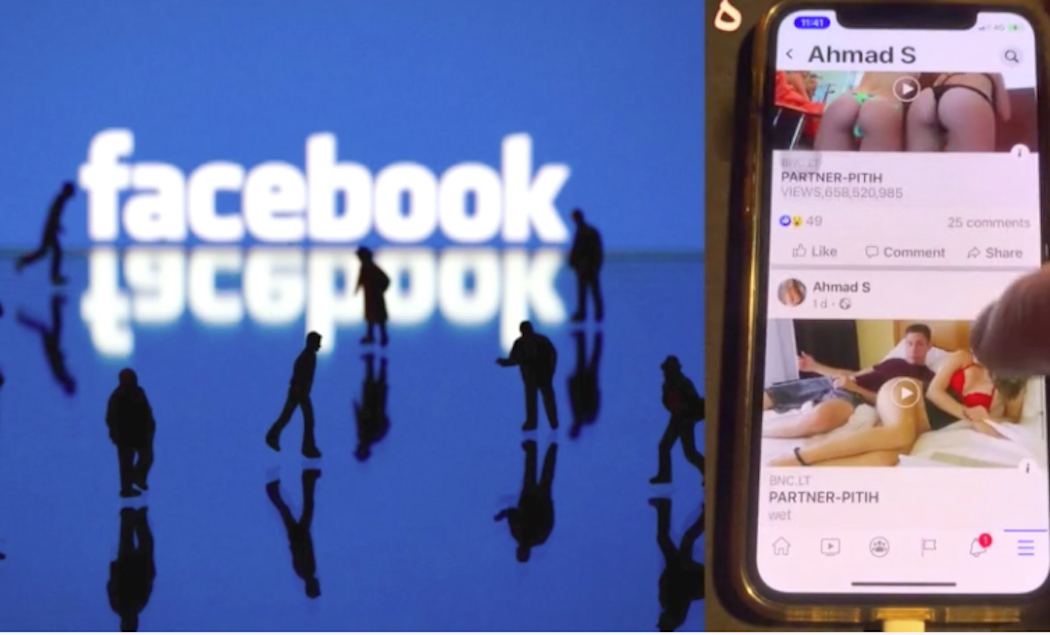 by Fabio Giuseppe Carlo Carisio
«Incredible! Facebook censors community posts, but is complicit in spreading pornography. It is precisely when the ostrich puts its head in the sand that its "behind" is exposed to anyone's mercy. Avoiding to face the evidence and the reality could therefore cause painful "surprises" ».
These sentences were published on his Rumble AlieAlliance profile by an Italian genius of computer science, Dr. Paolo Pomponi, 53, from Mantua, an IT expert since 1985, formerly a Google consultant and now manager of his company that develops decision algorithms. for the manipulations of fundamental data to the application of artificial intelligence. To understand their importance, just think that in the USA they are used to accelerate the ascertainment of evidence in court sentences …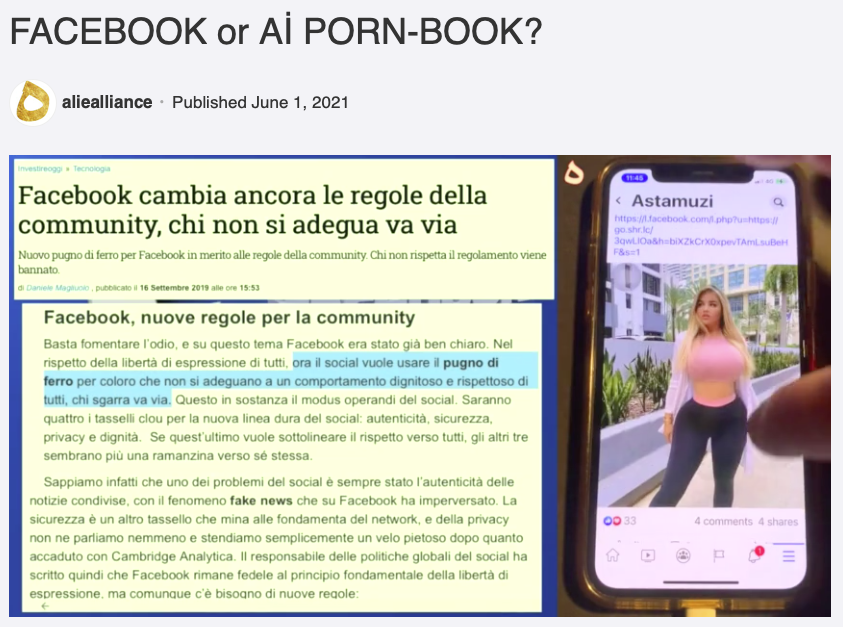 «The question of porn on FB must be divided between the human and the robot one. The human has understood that he can make money but the real problem is that of the fakes profiles that are created as avatars with an artificially constructed face through algorithms that study images and expressions that do not exist. Today a mannequin can animate him and even animate his sexual relations in such a way that they appear real. Fb has activated an affiliate network by inserting these fake profiles that redirect traffic to external servers that have geotargets, that is, a visual content in the language of those who connect. Within platforms they activate profiling widgets and bring people to video chat and dating content».
Doctor Pomponi analyzed through his specific computer skills what we all noticed on FB. Every day attractive girls with foreign names but also with an Italian profile send us a friend request. If you accept you will almost immediately receive messages in Messenger, if instead you go to view the profile here are explicit provocative photos of sexual advances that indicate external links where the contents are pornographic or chats often for a fee.
«In FB they communicate with an external url that promotes Whatspap chats and then bring you back internal websites» adds Pomponi who in his video highlighted dozens and dozens of cases of busty women or robust men aimed at an easy solicitation especially oriented towards those Facebook profiles, both of men and women, in which the word Single appears in the profile.
Baby-Prostitution at 10yo: Rome like Bangkok, thanks to No-Gender Left-Wing's Teaching and Cardinals LGBT Fans'
«All this is in contrast with FB community policies but not only. For example, I read Egyptian hieroglyphs, symbology and I did an article on Tibetan swastika and they blocked me after a few minutes. While this promotion of porn sites is rampant … Facebook is a private company and claims that within its platform it can do whatever it wants. But in fact it is a public service because it represents a single official communication channel. Everything is routed towards information manipulation which is then called brainwashing. And those who propose unwelcome content are obscured: the user's psycho-graphic is limited in the expansion of a social network» adds the IT expert.
«The real problem is the abuse of certain content. Despite the standard community in the FB network, children aged 8-9 enter. And above all from 13 years upwards because from that age registration on Facebook is allowed. It seems that a Facebook algorithm is able to autonomously create new fake profiles capable of asking for friendship and acting like the users themselves, then hijacking them on paid pornographic sites. Unfortunate facts that are in total violation with the standard company and community policies contained in the contractual conditions, as well as bad taste for the visibility of these contents, especially by minors, even if certainly for the social platform, remain very profitable» highlights Paolo Pomponi.
4thousand Toddlers Raped. Chilling Report by Italian Priest who Helps Police in Pedophiles' Hunting
«The money-stealing chain. There, too, a money conversion problem. There is more money there than in all the FB advertisements. They are raising money using the porn industry. This is done by registering with a credit or rechargeable card or by calling a premium number at a cost of € 2 per message» explains in detail the art director of the AlieAlliance project who wants to counter these speculations on social media.
What is the secret of their success? «It's in one word: shame! In English it means shame. People do not want to talk about these problems because they are considered rough but also the elderly must understand that the integrity of the little ones must be protected» concludes Pomponi.
Her complaint is added to that of Don Fortunato Di Noto, founder and president of the non-profit association "Meter on the side of children", which every year collaborates with the police around the world to unmask pedophiles. It was he who denounced the scandal of hard chats promoted by the giants of the web.
Fabio Giuseppe Carlo Carisio
© COPYRIGHT GOSPA NEWS
no reproduction without authorization – Italian original version
---
FONTI PRINCIPALI
GOSPA NEWS – PEDOPHILIA INVESTIGATIONS
(Visited 496 times, 1 visits today)