Dangerous "Situation in Kosovo resembles Ukraine Donbass Crisis" before the Conflict. Russian Envoy said on RT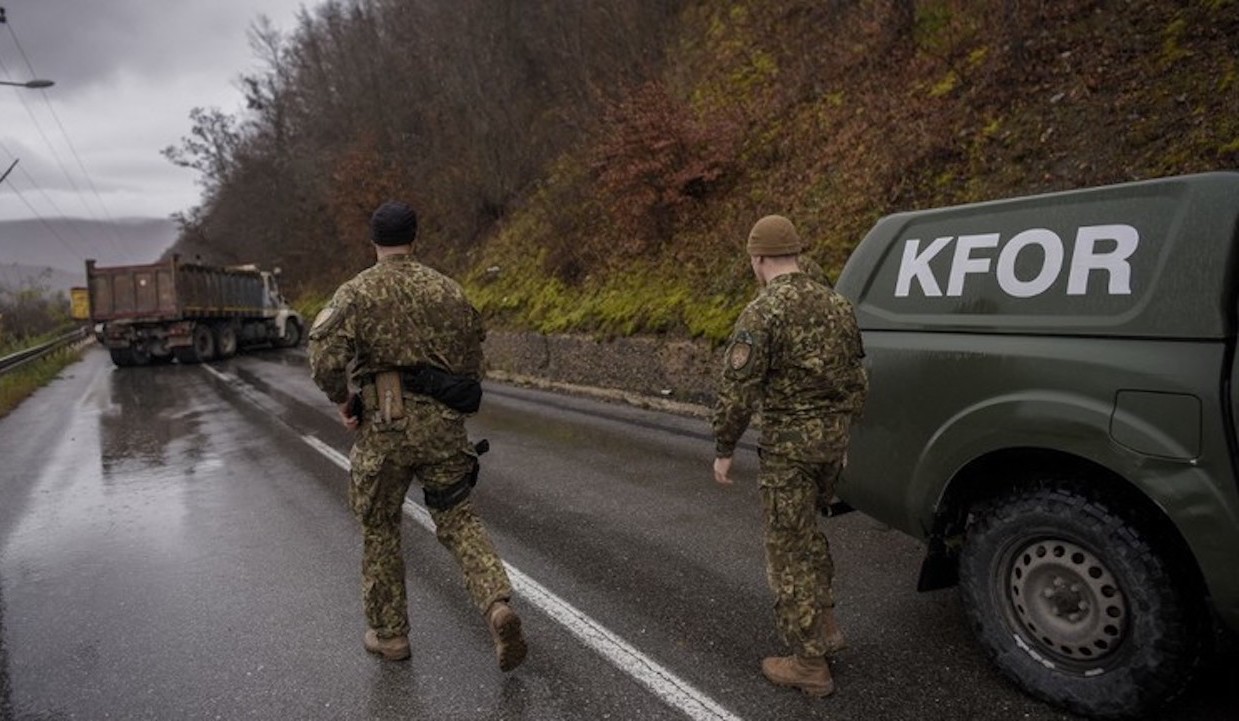 Pristina's attitude towards Serbs seems to be similar to that of Kiev towards Donbass, Moscow's ambassador to Belgrade believes
On the cover image NATO soldiers inspect a road barricade set up by ethnic Serbs near the town of Zubin Potok in Kosovo, December 11, 2022 – from Russia Today
The ongoing standoff in Kosovo bears an uncanny resemblance to the Donbass crisis, Russia's envoy to Belgrade Alexander Botsan-Kharchenko told Rossiya 24 TV channel on Monday.
"The whole situation, everything, including Pristina's attitude towards the Kosovo Serbs, resembles, although on a smaller scale, what has happened and is still happening in Ukraine," the diplomat said. The West is also treating the ethnic Albanian government in Kosovo the same way it has Kiev, he argued.
Nobel Peace Prize 2022 to Kiev NGO Created by Soros & US for Ukrainian Coup. Funded also by EU Commission which Bought Arms for Zelensky
Comparing the Donbass crisis to tensions in Kosovo, the ambassador added that "Pristina's desire … to take control over all of Kosovo, including the regions inhabited by Serbs, at all cost" is what "lies at the heart" of this standoff. Any further escalation would lead to more drastic consequences, Botsan-Kharchenko warned.
Serbian President Aleksandar Vucic still seeks to get out of this spiral of tensions "through peaceful means" and avoid transforming it into a full-blown conflict, according to the envoy.
"Pristina openly … bets on hard power, brute force," Botsan-Kharchenko added, which makes a peaceful resolution "extremely hard" to reach.
NATO seized Kosovo from Serbia in 1999, following the bombing of Serbia. The US and its allies continue to enable the ethnic Albanians in the province, the Russian ambassador has said recently, comparing it with their behavior towards Kiev. Botsan-Kharchenko specifically referred to former German chancellor Angela Merkel's admission that the Minsk agreements were intended to give Ukraine time to arm against Russia.
The current Kosovo government insists it can only discuss full recognition with Belgrade, something Serbia has continued to refuse. The most recent standoff comes amid a major deployment of ethnic Albanian police in ethnic Serb majority areas, just weeks after the EU persuaded Pristina to back down from a plan to ban Serbian license plates.
WAR CRIMES & DECEITS. ICC against Putin! Unpunished NATO Allies: Ukrainian Nazis as Bosnian Butcher, Jihadists General
Belgrade has accused the West of ignoring the grievances of Kosovo Serbs and noticing them only "when they are on the barricades." Meanwhile, Vucic called on Serbs in the breakaway province on Sunday to "be calm and peaceful" as well as to refrain from any aggressive moves against EULEX and KFOR, the EU- and NATO-led missions stationed in Kosovo. "We will do everything to preserve peace and stability," he added at the time.
Christians Persecuted by NeoNazi Kiev Regime: Other Ukraine Security Service SBU's Raids in Orthodox Churches
WEAPONS LOBBY – 8. American Armaments Sales in Europe Booming thanks to the War in Ukraine: "US Colony after Nato Coup"
USAF is Now Ready for Atomic World War (AWW): Top Secret B-21 Raider Stealth Bomber for Nuke Weapons finally Revealed
(Visited 440 times, 1 visits today)