In an interview with al-Mayadeen TV channel on Tuesday , Mikdad added that the US sanctions prevented everything from Syria despite that the humanitarian aid are not subjected to sanctions according to international laws.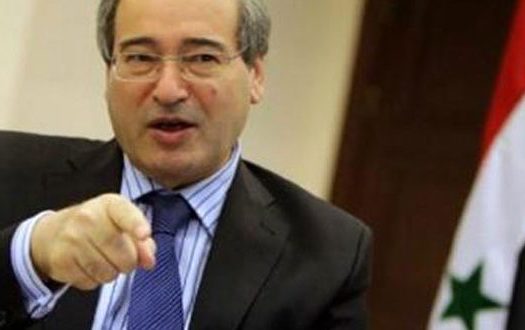 "From the first moments of the devastating earthquake, the Syrian State has mobilized all its potentials, as President Bashar al-Assad chaired an emergency meeting of the Cabinet, during which a national emergency plan was adopted, led by a 24-hour central operations room," Mikdad said.
The Foreign Minster added that the Foreign Ministry called upon the UN member states, the General Secretariat of the UN, its relevant agencies and funds, and also the International Committee of the Red Cross and other humanitarian, governmental and non-governmental organizations, to lend a helping hand and support Syria's efforts to deal with the humanitarian disaster, noting that "many fraternal and friendly countries responded to the call, as planes carrying humanitarian aid soon arrived at Damascus, Aleppo and Lattakia international airports and then to the affected areas.
Neverending WAR CRIMES in Syria under NATO's Shield! Israeli and US Airstrikes. Turkish Persecution on Rojava Population
"The sanctions imposed by the United States and Western countries on Syria exacerbated the disaster," Mikdad pointed out, calling upon all peoples and countries of the world to provide the assistance required to the Syrian people to face this humanitarian catastrophe.
Mikdad stressed that the UN Security Council's resolutions are crystal-clear as the humanitarian aid don't subject to any sanctions and all aid in facing such catastrophes are allowed.
American Shame in Syria: US Persecutes Population with the Sanctions but Steals 66,000 Oil Barrels Every Day
Mikdad also stressed that the Americans claim that they did not impose sanctions on humanitarian aid, but in reality their sanctions do not allow anything from reaching Syria, including preventing the purchase of medicines, as well as Washington and its western allies give orders to some countries and threaten them to impose sanctions on them if they negotiate with Syria or if any bank deals with Syria.
Mikdad thanked the countries and organizations that provided aid and expressed their solidarity with Syria and its people in these difficult and disastrous circumstances.
by Hala Zain – originally published by Sana (Syrian News Arab Agency)