Gates, Most Dangerous Man on the Earth. After Funding Virus and Vaccines Will Play with Nuclear in Japan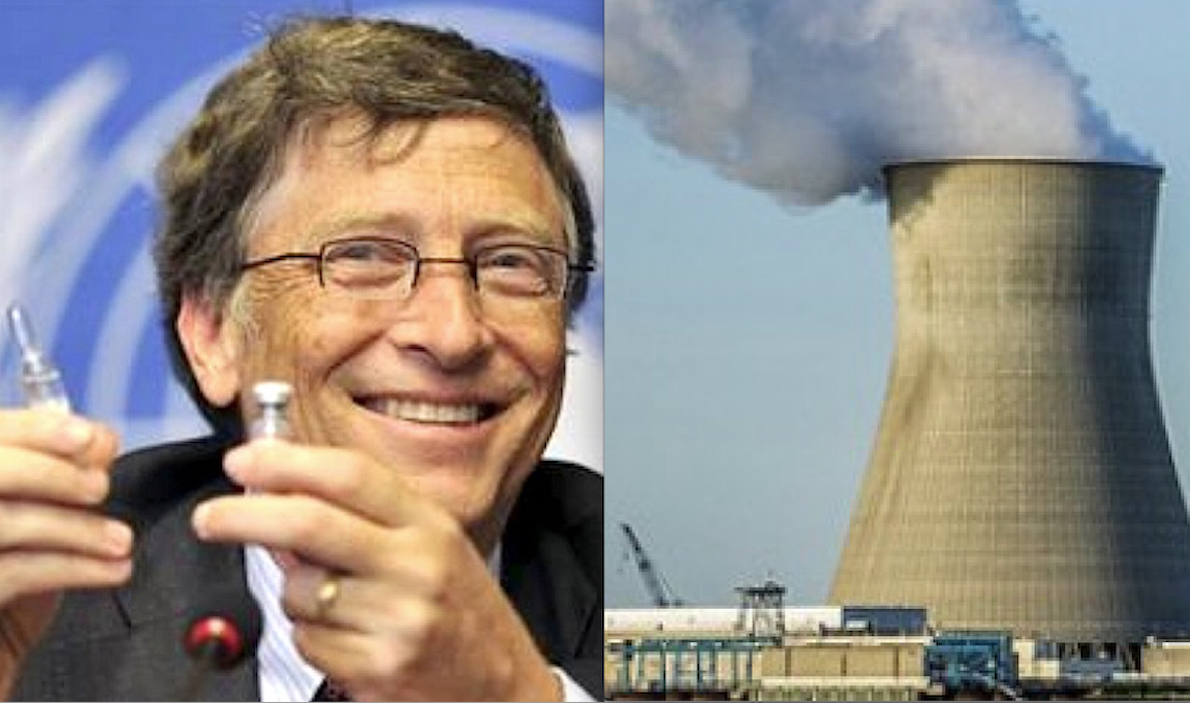 «This time the mythomaniac who wants to dominate the world is the owner of a stellar network that gets to create the scoops to be able to talk about it in its stations and write in its newspapers. He comes to imagine, using a nuclear warhead, of starting a war between China and England. Bond foils everything. Internet, all kinds of electronics and marketing ».
It was 1997 and MyMovies summarized the presentation of one of the legendary James Bond movies entitled "007 – Tomorrow never dies". Sometimes, however, reality may surpass the fantasy…
Bill Gates is becoming the most dangerous man on earth. Not only not only was he one of the main financiers of the dangerous experiments of the Wuhan Institute of Virology together with Anthony Fauci, then perfected by Professor Ralph Baric at the University of North Carolina, and subsequently has sponsored various Big Pharma (GSK-Pfizer, Biontech, Moderna) making money on anti-Covid vaccines.
WUHAN-GATES – 40. Fauci & Sorceres Apprentices. Virus SARS Manmade in BioLab since 2000. Us-China Big Affair
Not only has Microsoft already patented the microchip under the skin for the handling of cryptocurrencies with the disturbing license number 666. The same corporation of the guru Big Tech has added the management of a cloud program of the Pentagon, so it will have military secrets in its hands of the USA, but also the implementation of military Artificial Intelligence in Italy in partnership with Leonardo.
Now he starts playing with nuclear power thanks to the Japanese …
---
Japan to assist Bill Gates in building experimental nuclear reactor
by Russia Today
Two Japanese industrial majors are reportedly planning to team up with Bill Gates' venture company to provide technical support for a high-tech nuclear reactor that will be built in the US state of Wyoming.
The parties are expected to sign an agreement in January for the Japan Atomic Energy Agency (JAEA) and Mitsubishi Heavy Industries to provide industrial assistance and data from Japan's own advanced reactors, Japanese daily Yomiuri reported on Saturday, citing multiple sources close to the matter.
EU GREEN PASS, UNDER SKIN MICROCHIP AND GATES' 666 MARK OF THE BEAST. Transhumanist Plot by Klaus Schwab (Great Reset) & NWO against Christianity
TerraPower, a nuclear power venture established by Gates, is planning to open its Natrium plant in Wyoming as early as 2028, with the US authorities to provide funding to cover half of the project estimated at $4 billion.
Construction work for a fast reactor with an output of 345,000 kilowatts using sodium as a coolant will start in 2024.
Gates' venture firm was initially planning to work with state-owned China National Nuclear, but restrictions on nuclear deals with Beijing introduced by former US President Donald Trump forced the company to abandon the plan. The US has a long history of rivalry with China and Russia, which is also mulling plans to build and export advanced reactors.
The JAEA, which has vast experience operating sodium-cooled fast reactors, such as the Monju prototype fast-breeder reactor in Fukui Prefecture and the Joyo experimental fast reactor in Ibaraki Prefecture, will repeatedly provide operational data and designs to TerraPower.
Pentagon's TOP Secrets in the Bezos-Gates' Claws. DoD picks Amazon, Microsoft, Google and Oracle to replace JEDI Cloud
Japan had the bitter experience of decommissioning its Monju prototype advanced reactor in 2016, a project which cost $8.5 billion but provided little results and years of controversy. The Monju facility saw accidents, regulatory breaches, and cover-ups since its conception. The reactor was shut down after the 2011 Fukushima nuclear disaster.
Originally published by Russia Today
---
Note: all links to Gospa News articles has been added by Gospa News editorial staff
Documents Show Bill Gates (Vaccines Big Pharma's Partner) Has Given $319 Million to Media Outlets. Earlier Funded SARS Dangerous Tests
In Gates' Hands even Italian Military Artificial Intelligence. Leonardo-Microsoft Deal and Dems intrigues through 007 and Pandemic
WUHAN-GATES – 32. Bill III, Vaccines' Global Emperor. Crowned by Big Pharma's Cartel within Gates Foundation's Deal
"COVID-19 is a Designed Bioweapon with a Toxic structure that May be Replicated in Vaccines". US Army Retired Colonel said
(Visited 1.060 times, 1 visits today)