SBU kills member of Ukrainian Delegation at talks with Russia Kyreyev on Suspicion of Treason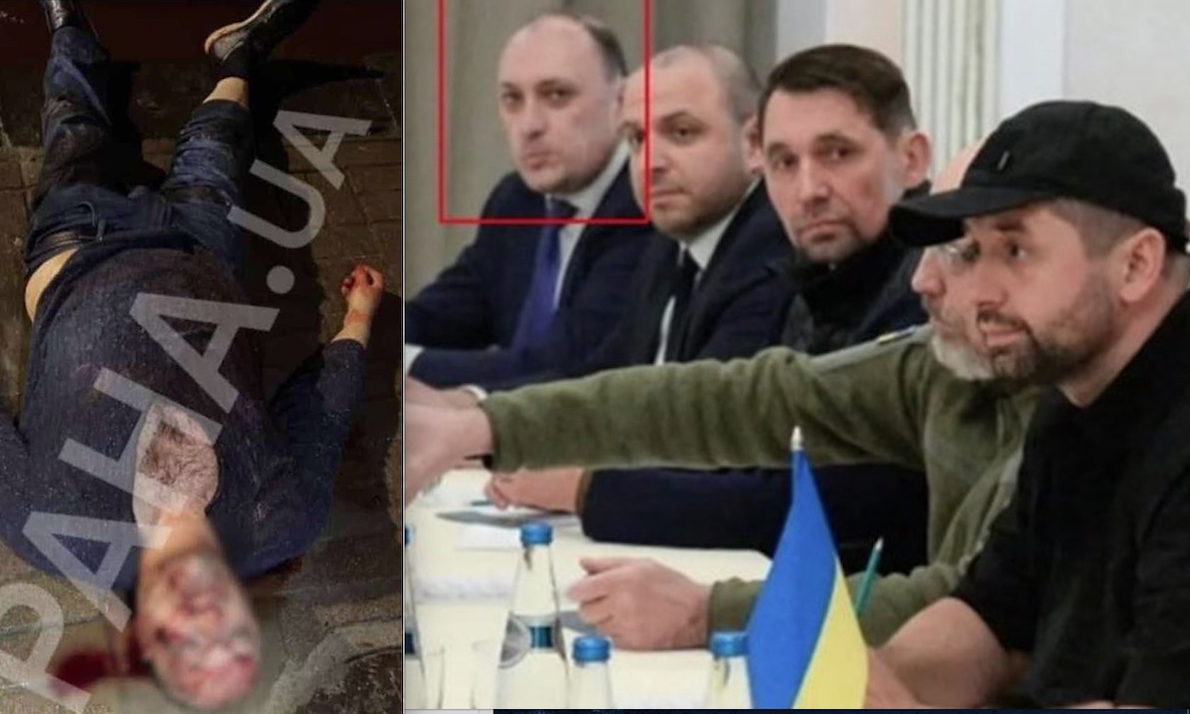 On the Cover image the Ukrainian negotiating team in Belarus and in the frame Denys Kyreyev according to a Greek newspaper
by Fabio Giuseppe Carlo Carisio
Why did the 007 military of Kiev kill the only man who had diplomatic credibility not only in Kiev but also in Moscow?
News from the Ukrainian war is bouncing around in the West full of contradictions. Russia has declared a ceasefire on the city of Mariupol, an important outlet on the Azov Sea, to allow the evacuation of civilians but according to mainstream media it would then have started firing on the fleeing population.
What the pro-Atlanticist journalists of the European Union have been reporting, openly against Russian President Vladimir Putin for years, since the past demonstrations of Alexei Navalny considered an agent of the Central Intelligence Agency (the US CIA counter-espionage), not only do not appear credible but contrary to any minimum logic.
Navalny is Working for Cia: Kremlin makes Explosive Allegation after Fake-Poisoning
The killing of a man who allegedly had contacts with the Kremlin secret services, on the other hand, seems to be absolutely functional to what was declared by the Russian Foreign Minister Sergey Lavrov about the President of Ukraine: "Zelensky is sorry that NATO does not intervene, it means that it does not want to resolve the conflict with diplomacy. He tries to provoke the conflict against Russia with the participation of NATO".
THE ASSASSINATION OF THE DELEGATE IN NEGOTIATIONS WITH MOSCOW
«The Ukrainian Security Service (SBU) shot and killed Denys Kyreyev, a member of the Ukrainian negotiating team at the first round of negotiations with Russia in Belarus, while attempting to detain him, Ukrainian parliamentarian Oleksiy Honcharenko said» write the Russian press agency Interfax.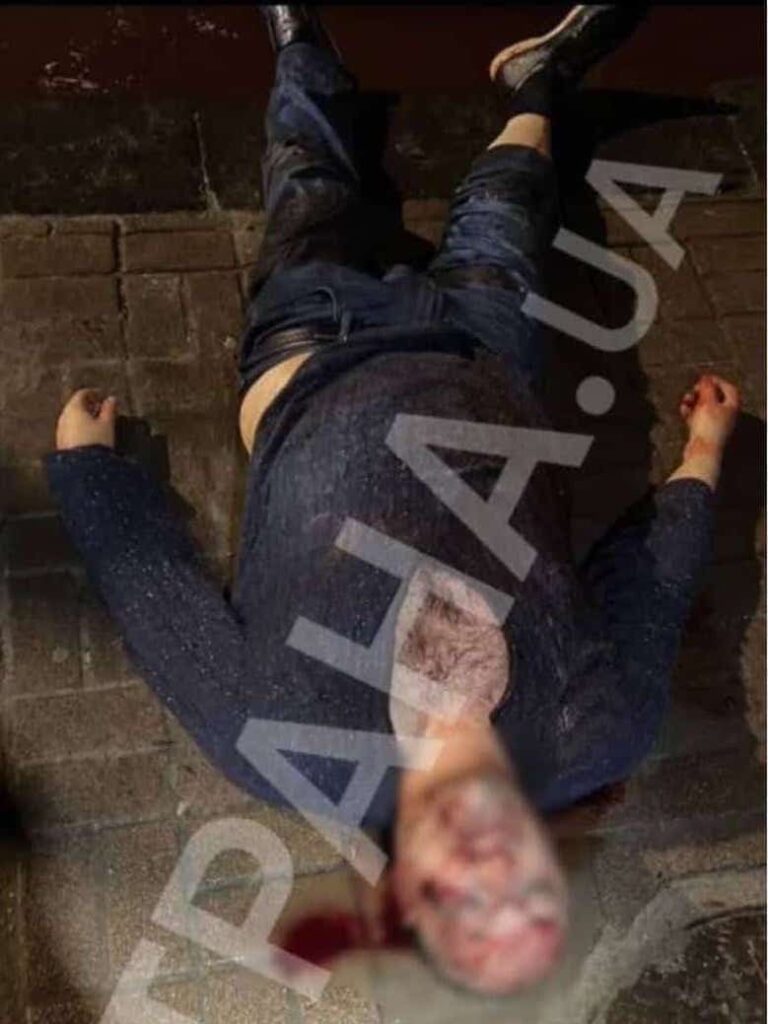 "During an attempt to detain Denys Kyreyev, a member of the Ukrainian negotiating delegation, the Ukrainian Security Service shot and killed him. He was suspected of high treason," Honcharenko wrote on Telegram. Kyreyev was among the members of the Ukrainian delegation at the first round of the talks with Russia in Belarus.
"The SBU had clear evidence of Kyreyev's high treason, including his telephone talks," Honcharenko said citing his sources in political quarters. The Interfax-Ukraine news agency has no official confirmation of this information thus far.
Ukraine: Nuclear and Biochemical Nightmare. SBU or NeoNazi "False-Flag" Attack Warning to Blame Russians for Ecological Disasters
Instead news has been confirmed by Russia Today.
«Sources in Ukraine have claimed that a member of the delegation Kiev sent to engage in talks with Moscow earlier this week was killed on Saturday. The first claim about the death of Denis Kireev came from Aleksandr Dubinsky, a controversial MP and journalist. In a post on social media, he claimed Kireev had been killed by agents of the SBU, the Ukrainian security service, during an attempt to arrest him» write RT.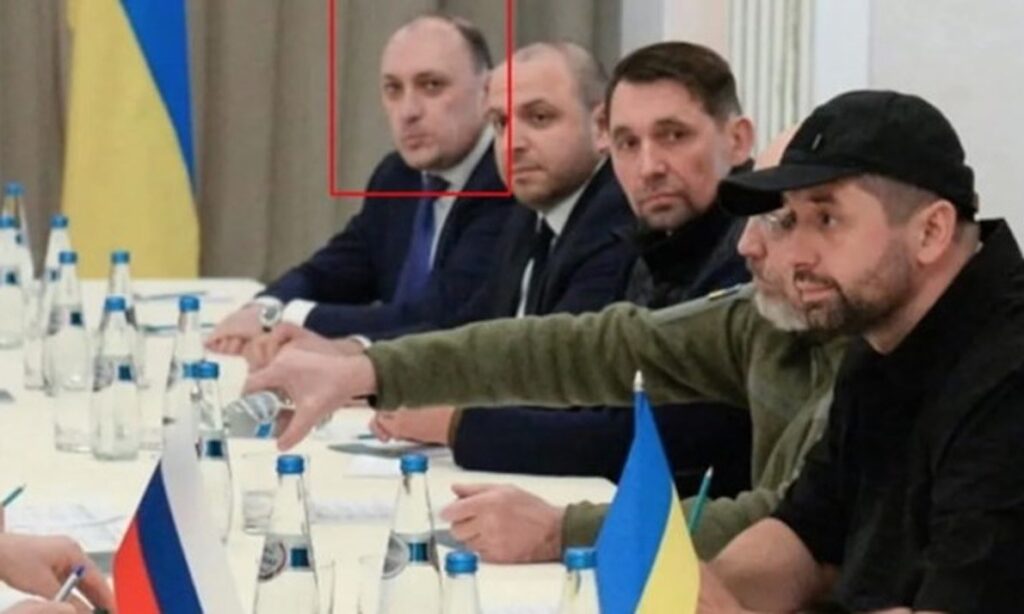 The assertion was later confirmed by two media outlets, Ukraina.ua and Obozrevatel, which both cited their own anonymous sources. The former published a partially blurred photo of what it claimed to be the body of the man. The image showed someone lying on the sidewalk face-up with what appeared to be blood on his face and pooling under the head. No comments by Ukrainian officials were available as of 4 pm local time on Saturday.
NATO's COUP IN UKRAINE: THE GENESIS – 2. Obama, Soros, MI6 & Kyiv Security Forum
An even more dramatic description of what had allegedly happened was published by Anatoly Sharij, a Ukrainian politician and journalist. He claimed Kireev "was executed by a shot in the head" near a courthouse in Kiev.
«Kireev, who had a background in banking, was photographed sitting at the far right of the negotiating table alongside other Ukrainian officials during the first round of peace talks with Russia on Monday. For some reason, the official list of six representatives that Kiev released to the media did not include his name, so his status during the talks remains unclear» adds Russia Today.
STOLTENBERG: NATO's Puppet for Gates-NWO in Pandemic as in Ukrainian War. Gavi Vaccines & Norges Bank Weapons Affairs on Yemen's Bombs
Last month, Ukrainian TV's Channel 5 claimed Kireev had been investigated by the SBU for purported connections with Russian intelligence services since at least 2020. It alleged the investigation had been called off because he had personal connections in the agency.
It remains unclear if the report about Kireev aired on the channel, which is owned by former Ukrainian president Petro Poroshenko, was part of a negative publicity campaign conducted against him, however.
The US Secretary of State Trip in Europe
Then Blinken today, March 5, traveled to Poland where he met with Polish leaders, including Foreign Minister Zbigniew Rau, to discuss further security assistance in the face of Russia's continued aggression and unprovoked attack on Ukraine. He also thanked Poland for generously welcoming hundreds of thousands of displaced persons from Ukraine and discuss how the United States can augment humanitarian assistance efforts for those fleeing Putin's war.
"US Military-Industrial Complex Wants War in Ukraine" Gabbard told. As the Nightmare of CEPA's Plan
The Secretary will then travel to Vilnius, Lithuania on March 6 to meet with President Gitanas Nauseda, Prime Minister Ingrida Simonyte, and Foreign Minister Gabrielius Landsbergis. On March 7, the Secretary will travel to Riga, Latvia, to meet with President Egils Levits, Prime Minister Krisjanis Karins, and Foreign Minister Edgars Rinkevics. He will travel to Tallinn, Estonia, on March 8 to meet with President Alar Karis, Prime Minister Kaja Kallas, and Foreign Minister Eva-Maria Liimets. During all three stops, he will discuss joint efforts to support Ukraine, strengthen NATO's deterrence and defense, promote democracy and human rights, and pursue deeper economic and energy cooperation with our Baltic Allies.
Fabio Giuseppe Carlo Carisio
© COPYRIGHT GOSPA NEWS
divieto di riproduzione senza autorizzazione
---
SOURCES
GOSPA NEWS – OSINT INVESTIGATIONS
CIA's Ground Branch is Training Ukrainian Paramilitaries against Russia. False-Flag Warning
(Visited 3.008 times, 1 visits today)