Mass Anti-lockdown Protests Break out in China: Arrests in the Videos. Fauci blames Xi's Govt zero-Covid policy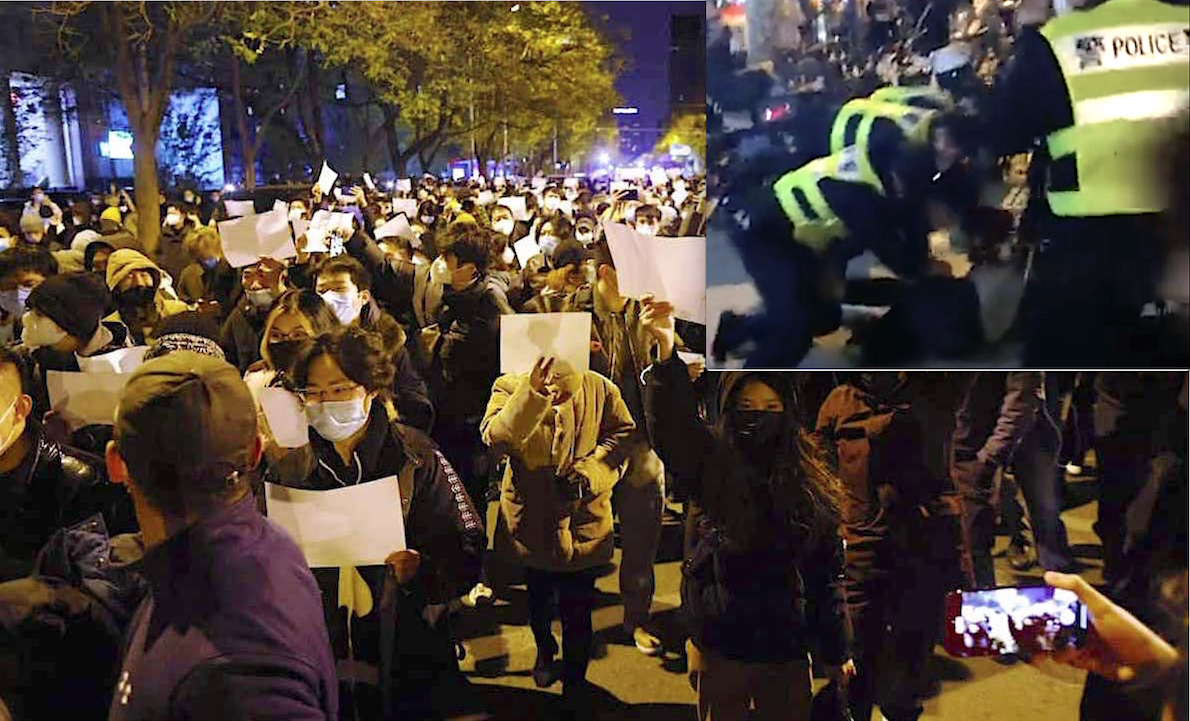 Mass anti-lockdown protests rocked several Chinese cities including Shanghai, Wuhan, and Beijing over the weekend, allegedly triggered by a deadly apartment block fire in Urumqi, with protesters blaming Covid restrictions for hampering rescue efforts.
Ürümqi, formerly known as Dihua, is the capital of the Xinjiang Uyghur Autonomous Region in the far northwest of the People's Republic of China
The rioters demand an end to the government's stringent Covid restrictions. Videos shared on social media purportedly show some protesters calling for the downfall of the Chinese Communist Party.
接上条 武汉 汉正街 现场应该有上万人 pic.twitter.com/3NRAn81Elr

— 李老师不是你老师 (@whyyoutouzhele) November 27, 2022
Crowds in Shanghai voiced their anger for the second day in a row on Sunday, chanting anti-government slogans as ranks of masked police looked on. According to one Twitter account tracking the protests, the crowd shouted "Communist Party step down, Xi Jinping step down!"
While the lockdowns have led to confrontations between citizens and police, mass demonstrations are rarely observed in China. The latest protests are believed to have started after an apartment block in Urumqi burned down, killing at least 10 people according to Western media reports. The city has been under lockdown since August, and the protestors have blamed Covid restrictions for hampering rescue efforts. City officials said on Saturday that they would roll back some of the restrictions.
— santan.eth(💙,🧡) (@WindSantan) November 27, 2022
Students in Beijing and Nanjing reportedly held vigils and demonstrations on Sunday, while video footage reportedly shows thousands of people demonstrating in Wuhan, the original epicenter of the virus. Like Shanghai, in late October it also returned to lockdown.
One video, purportedly shot in Wuhan on Sunday, shows demonstrators kicking down barriers erected to maintain social distance. By nightfall, video showed Shanghai police arresting protesters. It is unknown how many were detained, or whether similar arrests were made in other cities.
突发 现场开始抓人 pic.twitter.com/z2FYkr5sy7

— 李老师不是你老师 (@whyyoutouzhele) November 27, 2022
The US Covid-19 czar Fauci claims that Beijing has no clear strategy
The outgoing White House chief medical adviser, Dr. Anthony Fauci, has criticized China for rejecting Western vaccines while continuing to impose lockdowns on its citizens. Beijing argues that its strategy has led to a lower death count.
"Their approach has been very, very severe and rather draconian in the kinds of shutdowns without a seeming purpose," Fauci said on Sunday in an NBC News interview.
"In Wuhan to Reveal Truth in the Name of God". Zhang Zhan's Secret, Christian Reporter Tortured and Jailed by Communist China
The 81-year-old Fauci, who plans to retire by the end of next month, led a disjointed US Covid-19 response marked by his flip-flopping on issues such as the efficacy of masks and herd immunity targets. He criticized China's 'Zero Covid' policies, despite previously praising similar zero-tolerance mitigation approaches in Australia and New Zealand.
"It seems that in China, it was just a very, very strict, extraordinary lockdown, where you lock people in the house, but without any seemingly endgame to it," Fauci said. "They went into a prolonged lockdown without any seeming purpose or endgame to it, which really doesn't make public health sense."
WUHAN-GATES – 56. Deep Investigation on "Moderna's Artificial human gene like SARS-Cov-2". Huge Plot EU, China, US Darpa & Fauci
China's Foreign Ministry stated this summer that the "dynamic zero-Covid policy" is "not aimed at zero infection." Rather, "it aims to control the spread of the virus at the lowest possible cost in the shortest possible time." According to official figures, China has recorded 9.5 million infections and 30,000 fatalities, while the US has counted more than 97 million cases and nearly 1.1 million deaths.
---
The Mask Is Off: WEF's Klaus Schwab Declares China a "Role Model". After promoting the Microchips Implant in all Children
Fauci Grilled Under Oath in Social Media Censorship Case. Depositions of White House, FBI Officials "on Hold"
Shanghai Lockdown into Context: China Sees SARS-Cov-2 as a Bioweapon. The Whole Story
Xi Jinping re-elected as General Secretary of Communist Party of China. Among Dreams, Contradictions and Threats
Chinese Cardinal Arrested alongside LGBT Activists of the Umbrella Revolution: Plotted in Hong Kong by Canvas, CIA & Soros
(Visited 171 times, 1 visits today)