EU Parliament Member Rebukes Zelensky for a War without Truce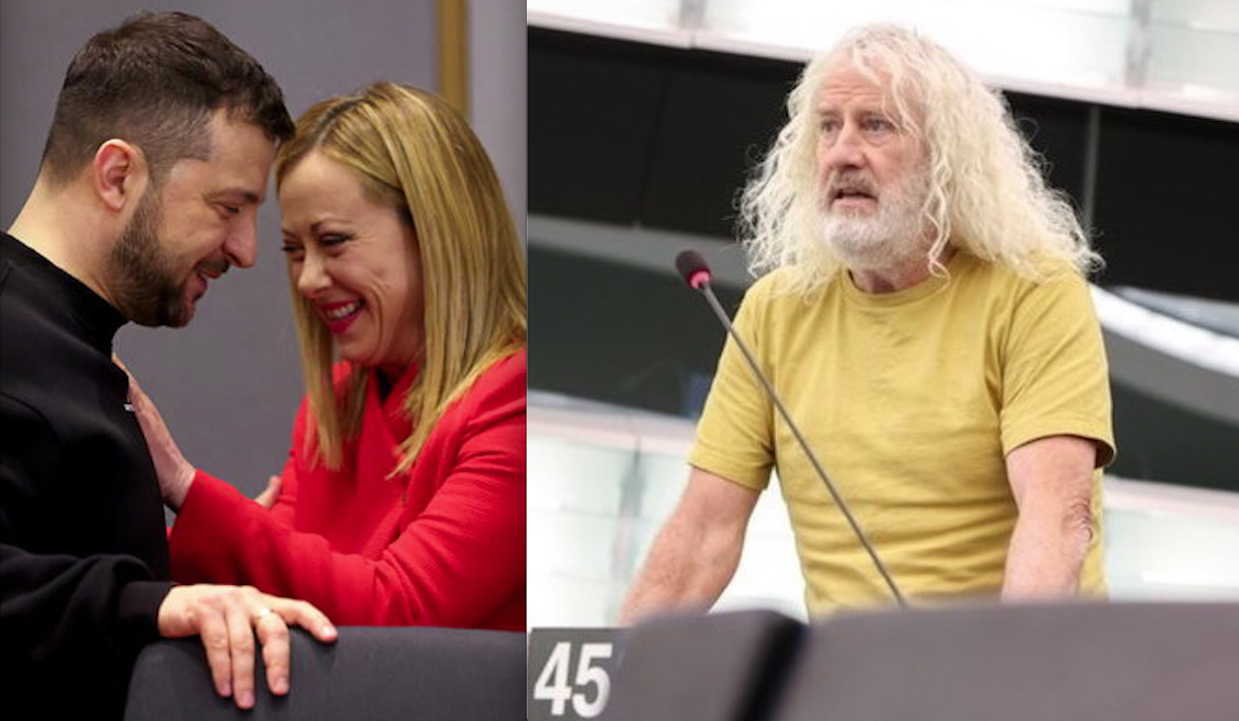 On the cover image the hug between Zelensky and Italian PM Giorgia Meloni in Bruxelles beside the MEP Wallace
Introduction by Fabio Giuseppe Carlo Carisio
After the European heads of state who obey the New World Order, created by the Rothschilds and the Rockefellers with the complicity of Freemasonry and the Political Zionist Movement, have joyfully received the head of the neo-Nazi regime of Kiev Volodimyr Zelensky a voice of dissent is also raised within the European Parliament.
The EU project to support the massacres of NATO and the Weapons Lobby encounters more and more opposition every day in Europe due to the concrete fear of a Third World War, in fact already underway, but above all of a First Atomic War which induced the Patriarch of the Orthodox Church of Moscow to make apocalyptic prophecies.
Russian Orthodox Church's Patriarch issues Apocalyptic Warning. Musk against "Relentless Escalation" in Ukraine
---
The Ukrainian leader is "feeding his people into carnage," MEP Mick Wallace said
Ukrainian President Vladimir Zelensky and his Western supporters are not interested in seeking a peaceful resolution to the conflict with Russia, Mick Wallace, a member of the European Parliament from Ireland, said on Wednesday.
"Zelensky has been making the rounds begging for more weapons, but not one word to say about peace. How many of his own people must he conscript and feed into the carnage before he sits down to negotiations?" Wallace said during a parliamentary debate.
"Kiev Hid Its Dead Soldiers in the Ravines". Exclusive Video in which Ukrainian POW Unveils Zelensky Crimes
The MEP described Russia's military operation as illegal and "unforgivable," and said that the conflict has devastated Ukraine. "Also unforgivable is how willing Western leaders are to ensure this becomes a war without end," Wallace argued.
Instead of calls for ceasefires, dialogue, and peace talks, we are deepening Western involvement in the war with no apparent concern for the repercussions.
Wallace warned that calls for Ukraine to seize Crimea would "lead to a possible breakout of nuclear war" and would only galvanize the resolve of the Russian people to defend the peninsula. Crimea, which is predominantly populated by ethnic Russians, voted to leave Ukraine and join Russia shortly after the 2014 Western-backed coup in Kiev.
Nobel Peace Prize 2022 to Kiev NGO Created by Soros & US for Ukrainian Coup. Funded also by EU Commission which Bought Arms for Zelensky
Speaking to reporters at NATO headquarters in Brussels on Wednesday, US Secretary of Defense Lloyd Austin reiterated that Washington would support Ukraine "for as long as it takes."
Russia sent its troops to Ukraine nearly a year ago, citing the need to protect the people of Donbass and Kiev's failure to implement the 2014-2015 Minsk agreements. Former Israeli Prime Minister Naftali Bennett said in a recent interview that the US and its allies had "blocked" negotiations between Moscow and Kiev when they broke down prior to April 2022.
ZELENSKY's GASH AT CHRISTMAS TRUCE! Biden's Neo-Nazi Rejects Putin and Kirill's Gesture of Peace
Ukrainian officials have since said that peace can only be achieved if Moscow surrenders Crimea and other former Ukrainian territories. The Donetsk and Lugansk People's Republics, together with Kherson and Zaporozhye Regions, joined Russia after holding referendums in September. Moscow has maintained that Kiev's demands to return the territories are a non-starter.
Russian Foreign Minister Sergey Lavrov said in late December that the Ukrainian leadership was incapable of negotiating and was dominated by "rampant Russophobes."
Originally published by Russia Today
---
NATO Leopard for the Ukraine War Escalation. "Only very Experts can Manage its Power". Analysis by former Italian Tank Commander
IL PAGGETTO DEI ROTHSCHILD & LA SGUATTERA DEI ROCKEFELLER. Meloni contro Macron per Zelensky nel "privé" di Parigi
Increasingly Lethal Military Aid to Ukraine from NATO Powers is "Deeply Immoral". Croatian President spoke like Hungarian PM Orban
WAR CRIMES & DECEITS. ICC against Putin! Unpunished NATO Allies: Ukrainian Nazis as Bosnian Butcher, Jihadists General
The Rockefellers' Unpunished Holocausts. Atomic Bombs, Abortions, Depopulation with Manmade SARS-Cov-2 Pandemic and Gates' Vaccines
WEAPONS LOBBY – 8. American Armaments Sales in Europe Booming thanks to the War in Ukraine: "US Colony after Nato Coup"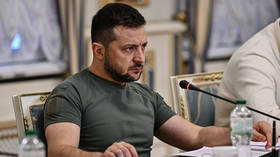 (Visited 1.094 times, 1 visits today)