Nord Stream Sabotage: Moscow blames Washington for "this Unprecedented Act of Terrorism"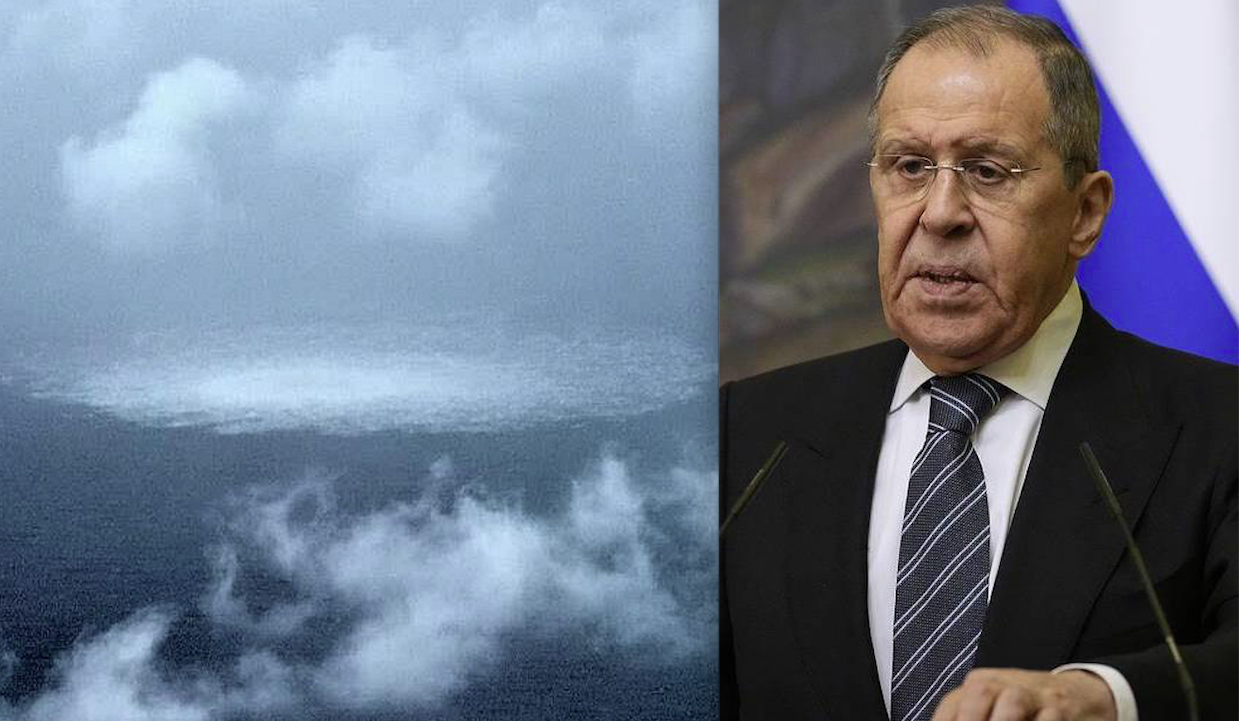 Russian Foreign Minister Sergey Lavrov on Thursday called attempts by Western media to shift the blame for the blasts on the Nord Stream gas pipelines on to a Ukrainian oligarch shameful.
by Gospa News Editorial Staff
"It is clear to us that Washington is responsible for this unprecedented act of terrorism."
This was stated by Deputy Foreign Minister Sergei Ryabkov in an interview with Russia Today in Arabic, taken up by TASS, regarding the explosions on the Nord Stream. Ryabkov added that the alleged rumors leaked by American sources and published by the New York Times according to which the attack was carried out by "a pro-Ukrainian group" are "a small attempt to divert international public opinion".
The recent information in Western media on Nord Stream accidents is an attempt to divert attention away from what really happened, First Deputy Permanent Representative to the UN Dmitry Polyansky also said in an interview with The Dive YouTube channel on Thursday.
"US Navy & CIA behind Nord Stream Sabotage". Discovered by Legendary NYT Journalist Pulitzer Prize-winning
"Regarding the recent information, I wouldn't dwell into too much detail. I think it is too obvious that this is really likely to be an attempt to divert attention from what has happened," he said when asked to comment on this week's reports in Western media saying that a pro-Ukrainian group could have been implicated in the acts of sabotage.
Previously, a detailed investigation published by journalist and Pulitzer Prize winner Seymour Hersh revealed that US Navy divers during NATO Baltops exercises in the summer of 2022 had planted explosives to destroy the Nord Stream pipelines, which Norway had activated them three months later. According to the report, US President Joe Biden and CIA decided to sabotage the Nord Streams after more than nine months of secret discussions with the national security team.
Lavrov lays into West's latest Nord Stream explanation
Russian Foreign Minister Sergey Lavrov on Thursday called attempts by Western media to shift the blame for the blasts on the Nord Stream gas pipelines on to a Ukrainian oligarch shameful.
Flightradar24 confirmed Hersh Investigation on Nord Stream Sabotage: NATO Planes over Sites During Baltops Exercise
"The attempts to explain, with reference to some Western intel services, that a certain Ukrainian oligarch was behind these (blasts on the gas pipelines – TASS), I think, are shameful for all those who have been pushing such a version through Western media outlets," Lavrov said at a news conference following talks with Saudi Foreign Minister Faisal Bin Farhan Al Saud.
Russia's top diplomat slammed what he said was a disgraceful reaction by Western media to the blasts and assured that the reports would not go unnoticed. The UN Secretariat which Moscow has asked to conduct an unbiased probe into the incident has been "absolutely passive and aloof," he lamented.
WEAPONS LOBBY – 9. Norges Bank: Dirty Affairs of War among Stoltenberg, Gates, Nato & Italy. Oslo Business on Leopard Tanks for Ukraine
"Reporters [have been asking] the secretary general and his representatives whether they find it necessary to investigate the screaming reports that have popped up about how the West views last September's terrorist attack on the Nord Streams. Both the [UN] secretary general and his employees have been dodging these justified questions," Lavrov added.
On Tuesday, the New York Times reported, citing US officials, that the latest intelligence data suggest a pro-Ukrainian group could have been behind the sabotage at the Nord Stream 1 and 2 pipelines. Also on Tuesday, Germany's Zeit published a report saying that German investigators had identified the ship that was used by the saboteurs. The company that rented it was allegedly owned by Ukrainian nationals and was registered in Poland.
Serious Clues of NATO-Kiev Attacks. UK Plot on Crimean Bridge. 8 Arrests by FSB. Mysterious Leak in an Oil Pipeline. Drone Killer Found near Nord Stream
On September 27, 2022, Nord Stream AG reported unprecedented damage that occurred the day before on three strings of the Nord Stream 1 and Nord Stream 2 offshore gas pipelines. On September 26, Swedish seismologists registered two explosions on the pipeline routes. The Russian Prosecutor General's Office launched a criminal case based on charges of international terrorism.
Gospa News Editorial Staff
© COPYRIGHT GOSPA NEWS
prohibition of reproduction without authorization
follow Gospa News on Telegram
Nord Stream Sabotage will Make Rich US with LNG Gas. The Suspicious Warning by CIA
(Visited 267 times, 1 visits today)