CoronaVirus SOS by Wuhan's Student Girl in Italy: «My Family's Tragedy Banned on Socials»
«My grandfather dead, my father infected»


The Guardian reported the drama of a girl




who has lived in Milan for six years


but it has been censored by the Chinese regime



In France the first victim of Europe




In Egypt the first African contagion
by Fabio Giuseppe Carlo Carisio
Tragedy, agony, despair, helplessness and finally censorship. This is the tremendous experience that a young Chinese architecture student is facing in Milan due to the damned CoronaVirus.
Biogenetic Weapon Catastrophe. Intel sources: «Virus spread by CIA with nano-Uav» as Cyber-DragonflEye. Alert in Iran and Italy
From the Lombard capital he began writing his family's drama diary in Wuhan, his place of origin and epicenter of the infection. He did so torn by the doubt whether to take the plane to his hometown to be close to family members or to stay in the safest Italy, where he has lived for six years, as wisely suggested by his mother.
In social posts WeChat and Weboi recounted the delay in the rescue of his 90-year-old grandfather, who died a few days after an "unknown pneumonia", the vicissitudes of his father who with fever had to travel kilometers on foot to the hospital for the viral test of 2019- nCoV, to which he finally tested positive until his serious aggravation with his lungs arrested, so as to induce doctors to hospitalize him in Intensive Therapy.
68 THOUSAND INFECTIONS, FIRST CASE IN EGYPT
Her distressing and painful tale, however, broke a few days ago. When the authorities of the People's Republic of China "warned" his family members not to publish negative messages but only positive ones. When his profiles on WeChat and Sina Weboi with which he mailed were suddenly blocked and his father, although in very serious conditions, would have been seized the cell phone.
Thanks to her Chinese friend Pei Lin Wu and a journalist from the British newspaper The Guardian, her story can be told to the whole world, despite the censorship imposed by the communist regime.
Beijing wants to avoid further panic after the deaths in the province of Hubei reached a fatal budget of 1668 and the number of people infected has risen to 68,000, as reported by the BBC, however, highlighting the statements of the Chinese Foreign Minister, Wang Yi, on which announced a drop in new cases for the third day in a row.
This slightly positive news clashes, however, with the fact that the cases abroad have doubled to about 500, 355 of which only on the cruise ship Diamond Princess still in a port of Japan in quarantine where there are also 35 Italians who the Ministry of Foreign is thinking of going to recover with an air flight to cure them in the National Institute of Infectious Diseases "Lazzaro Spallanzani". From there came good news for the couple of Chinese tourists who were always hospitalized in stable conditions and for the 17 year old Niccolò, taken from Wuhan on a special Air Force flight and tested negative.
«CoronaVirus, Bio-Weapon Massacre» (update). Us Expert blames China but forgets Pentagon's Secret Labs for "Ethnic Attacks"
In the meantime, however, the pandemic caused a first victim in Europe, an 80-year-old Chinese tourist, and recorded the first case in Africa, another Chinese in Egypt, thus becoming the nightmare of virologists for the rapid spread that it could have due to the precarious health conditions of many countries of the Black Continent from which hundreds of migrants leave every day on boats destined for Italy and Europe.
The specter of catastrophic forecasts by some epidemiologists about the possibility that two thirds of the world population risk contagion, fortunately lethal only in 2.29% of cases, is approaching. And while suspicions are growing that the contagions may have originated from an "ethnic" biological weapon, the University of Cambridge Center for the Study of Existential Risk (CSER) prediction that such a war instrument could be «extremely harmful and potentially unstoppable».
LIU: «I CAN'T EVEN ASK HELP THROUGH SOCIAL»
It is the story of 25-year-old student Liu Mengdi that describes better than any reportage the tragic situation of Wuhan and the drama suffered by his heart away from his relatives affected by the CoronaVirus.
She has lived in Milan for six years now where she first graduated from the IED (European Institute of Design), then studied at the Polytechnic Architecture and then continued in the prestigious Domus Academy where she is completing her degree course. You can read it in his FB social profile updated in December, before the outbreak began.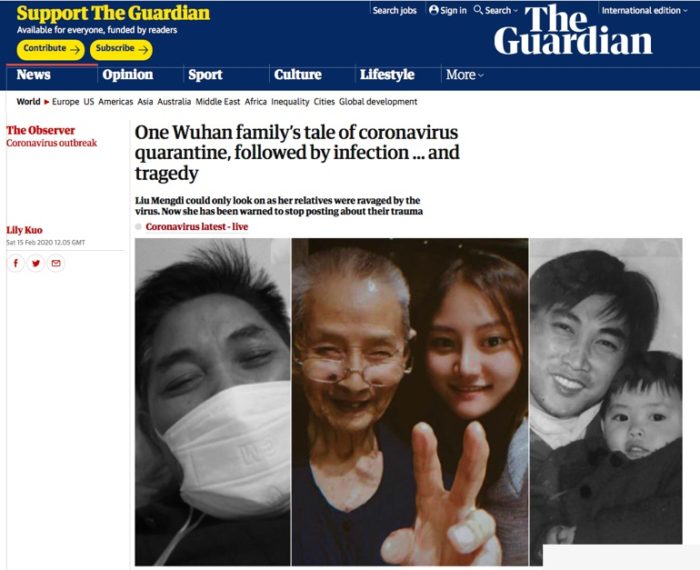 Waiting to be able to contact the girl we rely on the exhaustive article written by Lily Kuo for The Guardian, published online on Saturday 15 February, reporting the most salient sentences of the story and starting right from the moment when her diary was censored by the authorities with warnings to the family that in communist China obviously sound like threatening orders …
« Liu is especially angry about being told not to post online. "I can't even ask for help?" she wrote in one of her diary entries – highlighted The Guardian – Earlier this month, her WeChat account was blocked – she suspects because she was posting about the virus. Her father's phone seems to have been taken away and she can no longer call him».
«The epidemic has changed how some in my family view the news we get at home. In the past, my family always 100% believed the domestic reports. Even when I told them about overseas reports, they would never believe me," said Liu, who has lived in Italy for six years. "After the outbreak, they said would believe me in the future».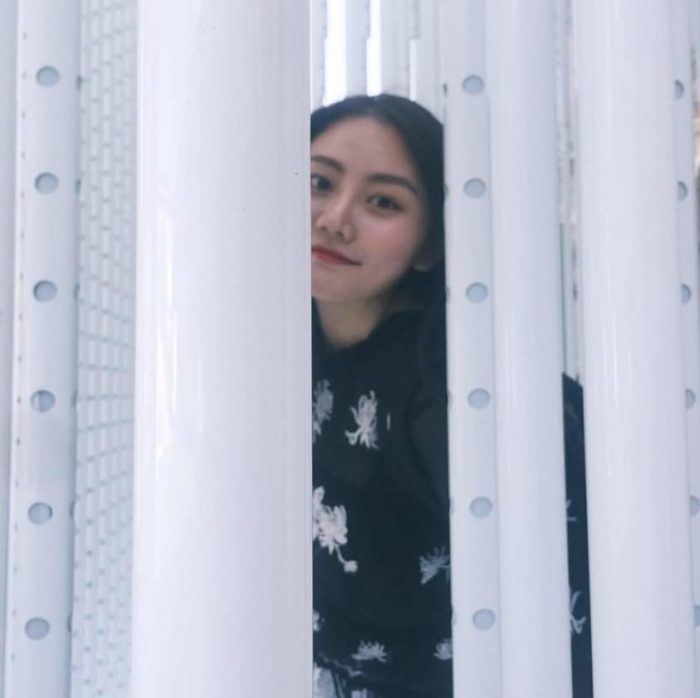 But it is not only censorship that has put Liu Mengdi's splendid smile to the test, who uses Lidia Liu as a nickname on social media in Italy.
«Today is the sixth day of the Wuhan lockdown [the city has been under quarantine for the last three weeks]. I thought my family, prevented from going out, would at least be safe. It never occurred to me they would not be able to escape this» she wrote on 29 January from Italy.
Her father, 54-year-old Liu Daoyu, after having had a sore throat and coughing five days earlier, had just tested positive for the virus. Her 90-year-old grandfather, Lei Ruting, showed even more severe symptoms: a fever that did not subside and breathing difficulties.
«Everyone in the family is extremely worried» she posted adding however some hopeful words: «We believe everything will be okay. Thank you to the frontline people fighting this. Thank you to those who have helped us».
GRANDFATHER DEAD AFTER REFUSAL OF THE HOSPITAL
Three days later, however, the tragedy. «On 2 February 2020 at 3:08pm Beijing time, my grandfather passed away from 'unknown pneumonia'. He just turned 90 last month. He was always healthy. Far more than grief, I feel lost and angry» she vented.
The reason is told by the journalist Lily Kuo: «A few days before her grandfather died, he had a fever all through the night and fell out of bed. When her relatives called for an ambulance, they were told there was no use in sending him to the hospital».
It was the hot days of the epidemic when health facilities were collapsing and beds were starting to run low in Wuhan before the new hospital was built in record time of just ten days.
«If he really is suffering from the virus there is nothing that can be done. Going to the hospital where no one will take care of him may be even more difficult» Liu said, recounting the advice her family had been given. Following instructions, the family contacted the local neighbourhood committee – which is charged with arranging tests, quarantines and transport to the hospitals – but were given no help. Eventually, Liu posted her family's story on Sina Weibo, Chinese microblog, pleading for help, and also contacted local media, which reported her account.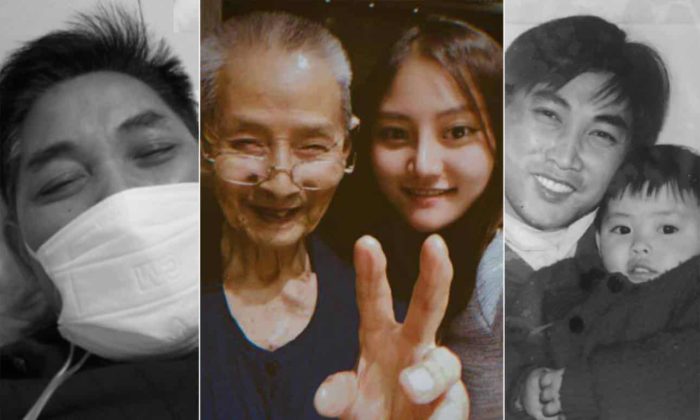 «Eventually, health workers came to their home, took a blood sample from her grandfather and advised him to find somewhere to do the full diagnostic test, kits for which are in short supply across the city. But her family was advised to stop putting out online calls for help and to post only "positive" messages – reported The Guardian – A journalist and friend of the family helped find a hospital that had testing kits available. Seeing photos and videos of him at the hospital, Liu felt relieved. But the next day, Lei died before the diagnosis could come back. His body was sent for immediate cremation after a short ceremony where staff set off firecrackers (according to the Chinese ritual it should instead be a relative – ed). The family was not allowed to go or collect».
«Grandpa really is strong. We knew he must have been in a lot of pain, but he still insisted and pretended he was fine» Liu added. The poor student, now Milanese by adoption, did not even have time to cry for the mourning of her dear relative to whom she was very fond because immediately the drama also affected her father.
18 MILES ON FOOT WITH FEVER FOR A DIAGNOSIS
Liu Daoyu has been in hospital since January 29th. Many infected people are sent back to their home in self-quarantine with the risk of infecting other people, highlights the British newspaper reporter. But a bed was found for him through family friends.
«To get a diagnosis, he had to walk to the hospital and back, covering almost 18 miles on foot while in the grip of a fever. Liu spoke to him as he walked back until his phone's battery gave out. The doctors said her dad was the most cheerful person in the ward. He told the family he would be better in three weeks at the most» The Guardian further added.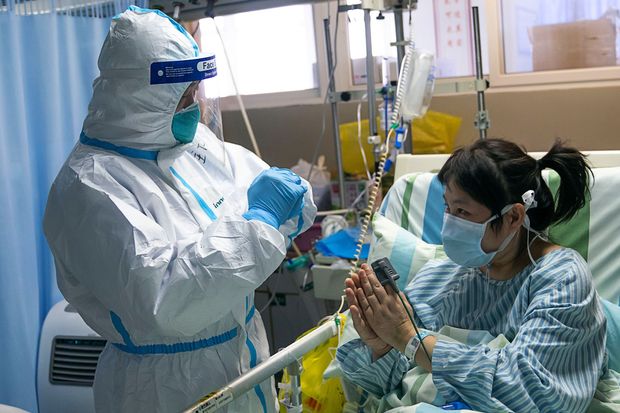 Her father is extremely active, doesn't drink or smoke and plays badminton three times a week. He always walks 10,000 steps a day. And as soon as he was hospitalized he asked for a double ration for lunch.
«He is 54 years old, but everyone says he looks like he is in his 40s» Liu said. Instead his condition has worsened dramatically. On 10 February, his birthday, Liu made a video with friends from around the world wishing her father well and an early recovery.
But that day, the hospital asked her mother to sign a form confirming his critical state. Later, Liu's mother told her that his lungs had stopped working. Her father is now in an intensive-care unit connected to a machine that pumps and oxygenates his blood .
LIU ALONE IN MILAN VERY FAR FROM FAMILY

«Her mother, now alone at home, has taken to staying with her sister. She cries often. Liu herself has trouble focusing on her education in Italy, where she studies architecture, and her internship. She wants to go home to see her family, but her mother says it isn't safe» added journalist Lily Kuo, leading all of us to imagine the tragedy of this young student, torn by the desire to embrace her loved ones and the rationality of staying away from the CoronaVirus nightmare.
He fondly remembers his grandfather Lei, proud to tell of having fought with Mao Zedong as a faithful member and volunteer of the party during the Cultural Revolution. That same communist party that has now choked in his throat also the cry of pain and despair that Liu from Milan launched on social networks as a sign of affection and help to his distant family.
Fabio Giuseppe Carlo Carisio
© COPYRIGHT GOSPA NEWS
no reproduction without authorization
---
SOURCES
THE GUARDIAN – LIU MENGDI'S TRAGEDY
BBC – CHINA FOREIGN MINISTER STATEMENT
«CORONAVIRUS, STRAGE DA ARMA BIOLOGICA». Esperto USA accusa la Cina ma il Pentagono ha 25 Laboratori Segreti per "Attacchi Etnici"
«CoronaVirus, Bio-Weapon Massacre» (update). Us Expert blames China but forgets Pentagon's Secret Labs for "Ethnic Attacks"
(Visited 821 times, 1 visits today)