Gates' Vaccines: War Bulletin! 13 Facial Palsies in Israel, 55 deaths in Us. 51 adverse reactions in India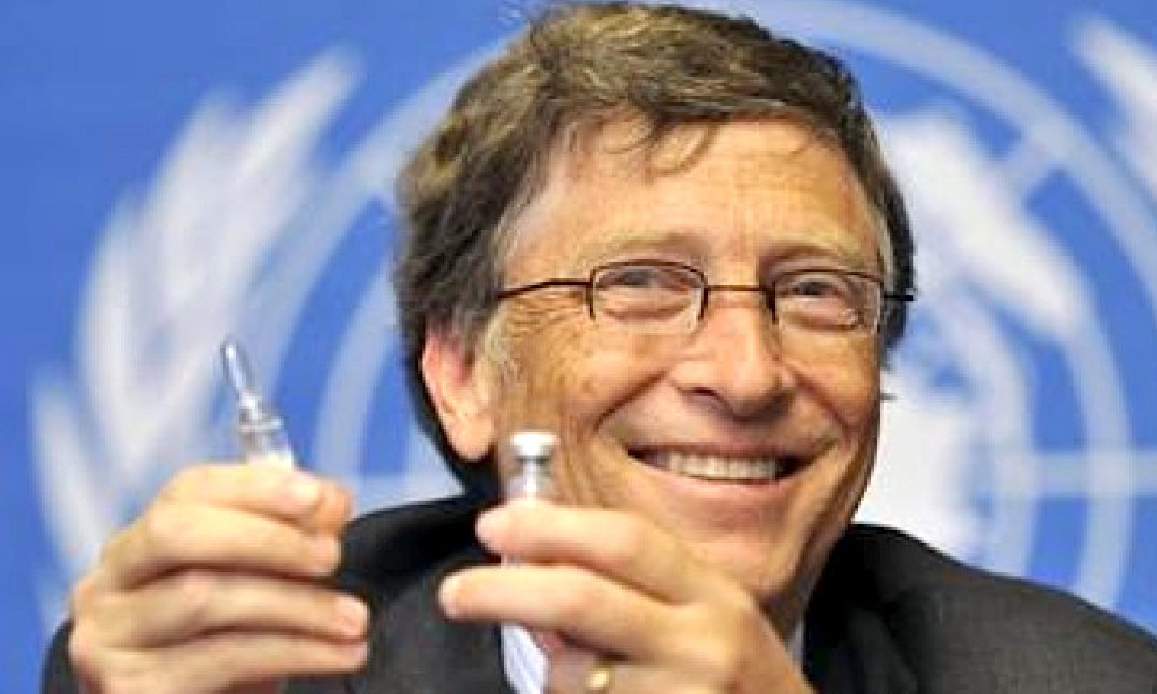 Versione originale in Italiano
By now it is almost impossible to keep up with the continuous updates coming from all over the world on the even fatal reactions caused by vaccines against Covid-19 (whose lethality at least in Italy is around 0.4% of the infected because many are asymptomatic). In recalling that in one way or another they were all financed by Bill Gates, capable of putting his claws on the hyper-immune plasma business as revealed only by Gospa News, we are therefore forced to make a quick summary referring to previous articles and other links for further information.
WUHAN-GATES – 29. Pandemic Great Business: In Gates' Talons Italian Vaccine Too! As the other ones owned by GSK
The numbers are obviously not representative if compared to the hundreds of thousands of people vaccinated so far but they are emblematic because they concern immediate reactions in relation to a pharmaceutical product that has been tested in clinical trials only for an observation period of 48 days. Therefore, the medium-term consequences are almost unknown, a cause for concern for authoritative doctors, that's why we have described it as a Russian roulette.
From Norway comes an update on the number of elderly people who died after the first dose of the Pfizer-BioNTech vaccine (companies financed and controlled by Bill Gates directly or through the London-based multinational GSK as explained in previous reports). From 23 deaths it has gone to 29 according to what was communicated by the Norwegian health authorities which, however, have ascertained a certain causal link with adverse reactions for the inoculated serum only in 13 cases, after the autopsies. In the others there is the presumption of a correlation but not certainty.
But the same Oslo experts have confirmed that the vaccine can be fatal for the elderly and frail people with previous diseases. So where is the respect for the medical oath of Hippocrates "primum non nocere" or first of all do no harm ???
In Norway 13 Deaths after Pfizer's Vaccine. Health Authority: "Normal, they were Elderly and Frail". Investigations on Us Physician Dead
There is still no confirmation that Florida doctor Gregory Michael, who died at just 56 years old a few days after vaccination although he was very healthy, was killed by an adverse reaction to the Covid-19 antidote. As does not exist for the other numerous deaths recorded in the US as reported by The Epoch Times newspaper.
The media outlet reported around 96 life-threatening cases following COVID-19 vaccinations, as well as 24 permanent disabilities, 225 hospitalisations, and 1,388 emergency room visits in the US.
55 PEOPLE DEAD IN THE USA
«Fifty-five people in the United States have died after receiving a COVID-19 vaccine, according to reports submitted to a federal system. The Epoch Times Deaths have occurred among people receiving both the Moderna and the Pfizer-BioNTech vaccines, according to the reports. The reporting system, the Vaccine Adverse Event Reporting System (VAERS), is a federal database. The system is passive, meaning reports aren't automatically collected and must be filed» explains journalist Zachary Stieber in the international and independent American media.
VAERS reports can be filed by anyone, including health care providers, patients, or family members. VAERS reports "often lack details and sometimes can have information that contains errors," according to the reporting system's website. Still, reports on VAERS represent "only a small fraction of actual adverse events," the site states, though underreporting is believed to be less common for serious events. In some cases, patients died within days of receiving a COVID-19 vaccine.
WUHAN-GATES – 26. SARS-2 Bio-Weapon & Gold Vaccines. From CIA-WHO Tests funded by Gates to EU Summit with Pfizer, Biden's sponsor, before Pandemic!
«One man, a 66-year-old senior home resident in Colorado, was sleepy and stayed in bed a day after getting Moderna's vaccine. Early the next morning, on Christmas Day, the resident "was observed in bed lying still, pale, eyes half open and foam coming from mouth and unresponsive," the VAERS report states. "He was not breathing and with no pulse." – adds The Epoch Times – In another case, a 93-year-old South Dakota man was injected with the Pfizer-BioNTech vaccine on Jan. 4 around 11 a.m. About two hours later, he said he was tired and couldn't continue with the physical therapy he was doing any longer. He was taken back to his room, where he said his legs felt heavy. Soon after, he stopped breathing. A nurse declared a do-not-resuscitate order. Moderna and Pfizer didn't respond to requests for comment. Abigail Capobianco, a spokeswoman for the Food and Drug Administration (FDA), told The Epoch Times via email, "Any reports of death following the administration of vaccines are promptly and rigorously investigated jointly by FDA" and the Centers for Disease Control and Prevention (CDC)».
13 ISRAELIANS WITH FACIAL PALSY
Instead, Israel confirms the fears of very serious adverse reactions from Pfizer vaccine advanced by Gospa News in a previous article and concerning the risk of anaphylactic shock and facial paresis. According to Russia Today, in fact, there are already 13 cases of facial paresis registered in the Israeli nation following the injection of the first dose of antiCovid serum.
Version:1.0 StartHTML:0000000183 EndHTML:0000004956 StartFragment:0000002427 EndFragment:0000004920 SourceURL:file://localhost/Users/artwine/Desktop/COVID%20vaccini/israele.doc
Israel has been hailed for its speedy and efficient mass inoculation program, which has vaccinated a staggering 20 percent of the country's population since the drive began at the end of December.
For a handful of Israelis, however, the initiative has led to some unexpected health scares. At least 13 people have reported mild facial paralysis after receiving the Pfizer/BioNTech jab, Israeli outlet Ynet reported, citing the Health Ministry, adding that officials believe the number of such cases could be higher.
«"For at least 28 hours I walked around with it [facial paralysis]," one person who had the side effect told Ynet. "I can't say it was completely gone afterwards, but other than that I had no other pains, except a minor pain where the injection was, but there was nothing beyond that. "The unnamed individual noted, though, that the unpleasant reaction was "something rare" and stressed that it was "important" people get vaccinated. However, he conceded that he was undecided about receiving a second dose of the vaccine» reports Russia Today.
«Israel's Health Ministry has stated that it is safe to administer the second shot, provided the facial paralysis passes and there are no lingering, long-term effects from the first jab. But some Israeli medical experts have chosen to ignore this advisory. Ynet quoted Prof. Galia Rahav, director of the Infectious Diseases Unit at Sheba Medical Center, who said she did not feel "comfortable" with administering the second dose to someone who had received the first jab and subsequently suffered from paralysis. "No one knows if this is connected to the vaccine or not. That's why I would refrain from giving a second dose to someone who suffered from paralysis after the first dose," she told the outlet» according to RT.
Pfizer Vaccine as Russian Roulette: Inefficacy, Facial Palsy and Anaphylaxis' Risks. Italians Physicians' Uprising. German Vaccinated Nurses' Overdose
Gospa News, analyzing the undesirable effects detected during clinical trials by Pfizer and mentioned in the package leaflet of the drug Comirnaty (approved in emergency by the WHO and by many countries except China which will distribute its product based on the same patent), had highlighted that 4 cases of facial semi-paralysis were recorded among the healthy human test subjects. This is the so-called Bell's palsy which can also cause permanent damage if the injury to the 7th facial nerve is severe
IN ITALY COVID OUTBREAKS IN THE RSA OF VACCINATES
"An outbreak of coronavirus has been discovered in RSA Santa Caterina di Prato, where numerous cases have also been recorded among the elderly who had been vaccinated in recent days: a total of 21 guests received the vaccine doses on 30 December last. So a week before positivity, which was recorded by the swabs on January 6. Based on the data provided by ASL Toscana centro, following the tests carried out – in the structure – at the moment 46 positive guests are confirmed ".
We report the summary of an article in the newspaper Il Messaggero which reported one of the retirement homes where an outbreak of the pandrmia virus was found after the start of the immunization plan. But there are many more episodes. So much so that it is feared that the record of 200 infected people registered in Israel among those vaccinated with Comirnaty is a much more widespread problem than that highlighted by the authorities. (read more)

(Visited 509 times, 1 visits today)