COVID-19, Trump in Walter Reed Military Hospital. Hit by virus after had blamed Deep State for the Pandemic's Plot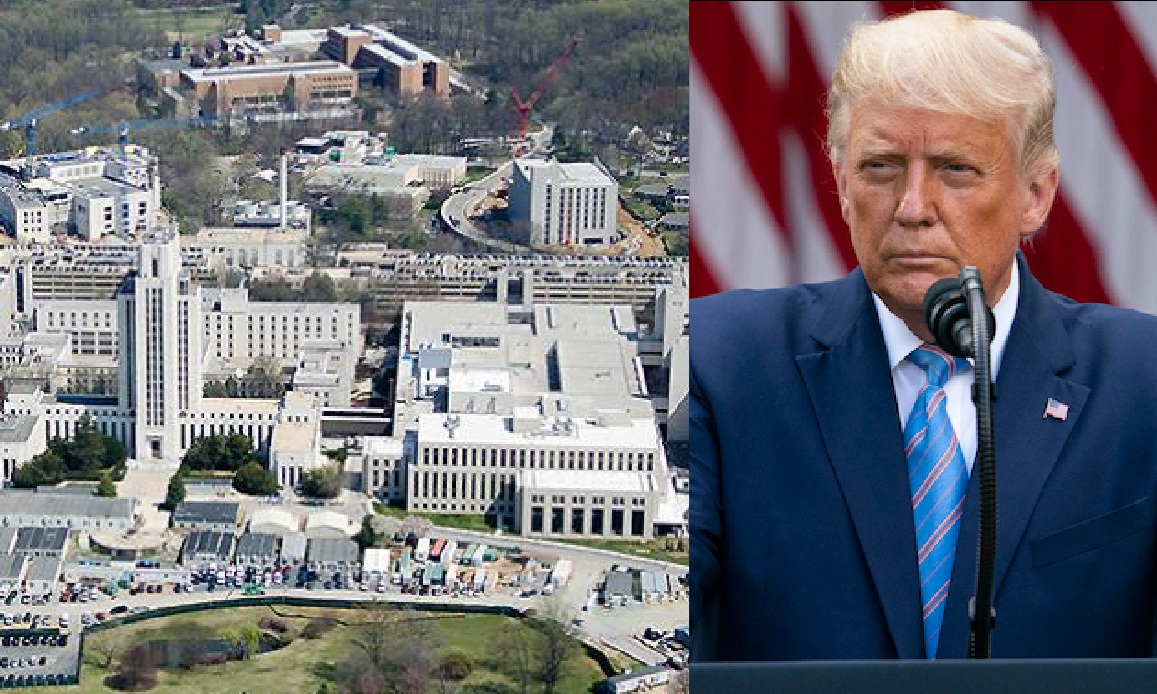 by Fabio Giuseppe Carlo Carisio
Versione originale in Italiano
US President Donald Trump, who has Covid-19, is to be taken to Walter Reed National Military Medical Center Friday afternoon in his helicopter as a precautionary measure, the White House said Friday. He have to undergo tests and will remain there for a 'few days' on advice of doctors, the White House told reporters.
The president, who tested positive for Covid-19 on Thursday night, has flown to the hospital complex in Bethesda, Maryland – just outside Washington, DC – on Friday afternoon, where a special suite was prepared for him. He left the White House shortly after 6:15 p.m. ET (UTC -5) and arrived at the military hospita minutes later after the short helicopter flight on Marine One.
Friday, is "doing very well" and does not require any supplemental oxygen, his physician said Friday night."This evening I am happy to report that the President is doing very well," White House physician Dr. Sean Conley said in a statement. "He is not requiring any supplemental oxygen, but in consultation with specialists we have elected to initiate Remdesivir therapy."
Remdesivir is an experimental antiviral therapy. Trump has completed his first dose and was resting comfortably, Conley said in the statement, which was tweeted by White House press secretary Kayleigh McEnany.
"Out of an abundance of caution, and at the recommendation of his physician and medical experts, the president will be working from the presidential offices at Walter Reed for the next few days,"White House Press Secretary Kayleigh McEnany said in a statement. Doctors urged the move so Trump could get immediate care if needed, according to an unnamed White House official.
The surprise announcement comes shortly after his physician, US Navy Commander Sean P. Conley, announced that Trump had been treated with an experimental antibody cocktail and a range of supplements including vitamin D and zinc. Trump"remains fatigued but in good spirits,"Conley said.
WUHAN-GATES – 21. "Pandemic Planned for Decades". Kennedy blames Fauci & Gates. Terrible Plot in 30 Investigations' summary. Pope against Big Pharma's Affairs
First Lady Melania Trump, who also tested positive for the virus, was experiencing a headache and a"mild cough."The rest of the first family has tested negative. Earlier on Friday, the White House chief of staff and press secretary maintained that Trump was still involved in governing and issuing assignments. However, Vice President Mike Pence replaced him on the previously scheduled conference call with governors.
He is in a state of early warning in the event that he has to take the lead of the White House as required by the Constitution in case of indisposition of the president.
THE PANDEMIC'S PLOT
Just in recent days, NBC, one of the most hostile American networks to Trump, released a study that accused the president of having spread infodemic with his conspiracy theories, despite those are strongly supported by other world authorities such as the former president of Iran and the metropolitan cardinal of Sri Lanka as well as the lawyer Robert F. Kennedy jr, activist in the campaign for safe vaccines.
Like the latter, Trump has also repeatedly declared that the pandemic was created by the Deep State, that potentate of financiers, Freemasons, militaries and secret services repeatedly mentioned in the Gospa News inquiries which even John Brennan publicly admitted to exist. former director of the Central Intelligence Agency with the Democrats, thanking the Deep State for the role it played in the Ukraine Gate which led to the impeachment of the Republican president, saved by the senators of his party.
UKRAINEGATE, CIA-DEEP STATE'S PLOT AGAINST TRUMP with two whistleblowers and Italian ties
The head of the White House has in fact repeatedly claimed that Covid-19 was "intentionally or accidentally spread from the laboratory in Wuhan, China. A thesis also disseminated by the former British counterintelligence director Richard Dearlove who anticipated the results of an English scientific study in reference to the SARS-2 built in the laboratory, just as stated, thanks to detailed research, by the French virologist Luc Montagnier and his compatriot bio-engineer Pierre Bricage, NATO consultant.
WUHAN-GATES – 12. MI6 British Intelligence former Head: "SARS-2 Built in Bio-Lab". Pics and Proofs of HIV Tests
But Trump was also ridiculed by the mainstream media for the support given to Hydroxychlorichin, an antiviral whose effectiveness the Lancet specialized magazine contested through a study that later turned out to be bogus.
Precisely for this reason the French Parliament summoned the Marseille professor Didier Raoult to a hearing to find out whether there were no conflicts of Big Pharma's interest with the HCQ treatment, in his opinion effective against Covid-19 but refuted by a part of the medical community.
POST CONTINUES HERE IN ITALIAN VERSION WITH MACHINE TRANSLATING
English version coming soon
(Visited 543 times, 1 visits today)