U.S. Appeals Court affirms hold on Biden COVID-19 Vaccine Mandate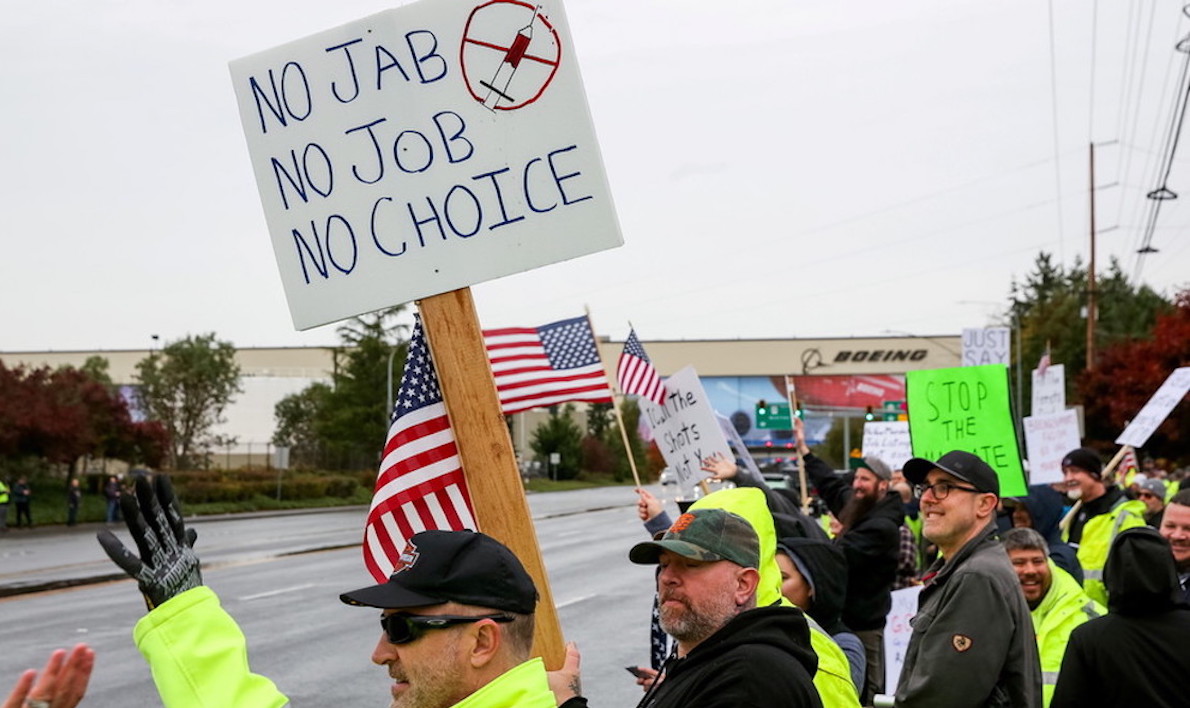 UPDATE ON NOVEMBER, 13, 2021
by Reuters
A U.S. appeals court on Friday upheld its decision to put on hold an order by President Joe Biden for companies with 100 workers or more to require COVID-19 vaccines, rejecting a challenge by his administration.
A three-member panel of the 5th U.S. Circuit Court of Appeals in New Orleans affirmed its ruling despite the Biden administration's position that halting implementation of the vaccine mandate could lead to dozens or even hundreds of deaths. "The mandate is staggeringly overbroad," the opinion said.
"The mandate is a one-size-fits-all sledgehammer that makes hardly any attempt to account for differences in workplaces (and workers)," Circuit Court Judge Kurt Engelhardt wrote for the panel.
Vaccine mandates are deeply controversial in the United States. Supporters say they are a must to put an end to the nearly two-year coronavirus pandemic, while opponents argue they violate the U.S. Constitution and curb individual liberty. The Fifth Circuit judges appeared to agree with the opponents.
"The public interest is also served by maintaining our constitutional structure and maintaining the liberty of individuals to make intensely personal decisions according to their own convictions – even, or perhaps particularly, when those decisions frustrate government officials," Engelhardt wrote.
No mandatory vaccines: California Town declares itself a 'Constitutional Republic' to buck Covid rules
The rule was issued by the Occupational Safety and Health Administration (OSHA) and mandates that businesses with at least 100 employees require staff to get vaccinated or face weekly tests and face mask requirements.
White House officials had no immediate comment on the ruling, which was hailed as a victory by Texas Attorney General Ken Paxton. Texas joined other U.S. states, as well as private employers and religious organizations, in legal challenges to the order.
"Citing Texas's 'compelling argument[s]' the 5th Circuit has stayed OSHA's unconstitutional and illegal private-business vaccine mandate", Paxton said on Twitter. Biden imposed the requirement in September, telling Americans that "our patience is wearing thin" with those refusing to get inoculated.
---
Federal Court FREEZES Biden's Vaccine Mandate for Working
ARTICLE PUBLISHED ON NOVEMBER, 7, 2021
Several U.S. states on Friday mounted multiple federal lawsuits against the Biden administration over its COVID-19 vaccine mandate for federal workers and contractors.
Texas sued individually in a federal court in Galveston. Another lawsuit, filed in a federal district court in Missouri involves Alaska, Arkansas, Iowa, Missouri, Montana, Nebraska, New Hampshire, North Dakota, South Dakota, and Wyoming. Yet another lawsuit, filed in a federal district court in Georgia, involves Georgia, Alabama, Idaho, Kansas, South Carolina, Utah, and West Virginia.
The lawsuits come a day after Florida Gov. Ron DeSantis announced he sued the administration over the same vaccine mandate. As of late Friday (October, 29), the total number of states suing the Biden administration over the mandate is 19, according to Epoch Times.
Now now comes a first response: a US federal appeals court has issued a stay on President Joe Biden's vaccine mandates for employers, freezing the requirement over constitutional concerns.
"No one should be forced to receive a COVID-19 vaccine". Archbishop for the US Military Services stated. Against Vatican's Hard Route
Biden's mandate says companies with 100 or more employees must require their workers to either get the Covid-19 vaccine or be tested weekly. Numerous Republican states and companies, such as conservative outlet Daily Wire, had already presented legal challenges to Biden's controversial mandate before the United States Court of Appeals for the Fifth Circuit stepped in.
The court put a hold on the mandate on Saturday before its January deadline over "grave statutory and constitutional concerns."
The petition to the appeals court came from businesses and multiple states including Texas.
"Emergency hearings will take place soon," Texas Gov. Greg Abbott tweeted about the decision after his state's attorney general celebrated the temporary victory over the federal mandate. "We will have our day in court to strike down Biden's unconstitutional abuse of authority."
The court's stay on Biden's vaccine mandate is not an actual end to the requirement, and critics will have a process to go through before they can celebrate any actual victory. The decision is a temporary stay until "further action" is taken by the court after hearing arguments in emergency hearings that will be part of an "expedited judicial review."
According to the court's decision, the government has until Monday to respond to the "permanent injunction" being requested by the petitioners.
Scandal on Vaccines for Children: GSK (Pfizer Partner) Funded with $18thousand a Member of CDC who Approved the Jabs since 5yo
Biden first announced his controversial mandate in September, and the specifics of the plan were released earlier this week amid backlash. The requirement, issued by the Occupational Safety and Health Administration (OSHA), concerns tens of millions of Americans, promises thousands in fines for companies that violate the mandate, which also requires companies to pay for weekly testing (if an employee chooses this option), and provides paid time off for employees to actually get vaccinated.
Conservative lawmakers and pundits have used the latest court decision to promise further action against the mandate, though others have accused Texas and other states of putting "selfishness" above the "common good."
Biden's vax mandate may have new targets
President Joe Biden's controversial workplace vaccine mandate has been revealed, and could soon be made permanent and expanded to small businesses. The Biden administration has already been sued for overreach.
Biden promised in September to strongarm private companies into mandating Covid-19 vaccines for their employers, vowing to enforce the mandates through the Department of Labor's Occupational Health and Safety Administration (OSHA). Though multiple large firms have already started to implement these measures, the OSHA only revealed on Thursday how they will be enforced.
"Risks of Miscarriage from mRNA Vaccines". New Zealand Scientists wrote in a Research: "Stop Gene Serums for Pregnant Women and Babies"
According to a draft entry in the Federal Register, all firms with more than 100 employees – no matter how many locations these employees are spread across – will be required from January 4 to ensure that these employees are "fully vaccinated" against Covid-19. Employers will be asked to keep vaccination records for their staff, and workers who refuse the jab will be required to submit to regular testing and wear face masks to work in most cases.
Penalties for employers refusing to enforce the mandate start at around $14,000 per violation, and increase to around $136,000 for further willful breaches. Federal inspectors will check businesses for compliance.
However, the agency has given no indication that it will stop at large corporations, and wrote that it "needs additional time to assess the capacity of smaller employers" to comply with the rules. To that end, the agency is calling for recommendations when it comes to making the temporary mandate permanent, for expanding it to all sectors of the workforce, and for implementing mask rules even for vaccinated employees.
Originally published by Russia Today
---
Note: all links to Gospa News articles has been added by Gospa News editorial staff
(Visited 335 times, 1 visits today)