Warfare between Big Pharma Giants Moderna & Pfizer on mRNA Vaccines' Nanoparticles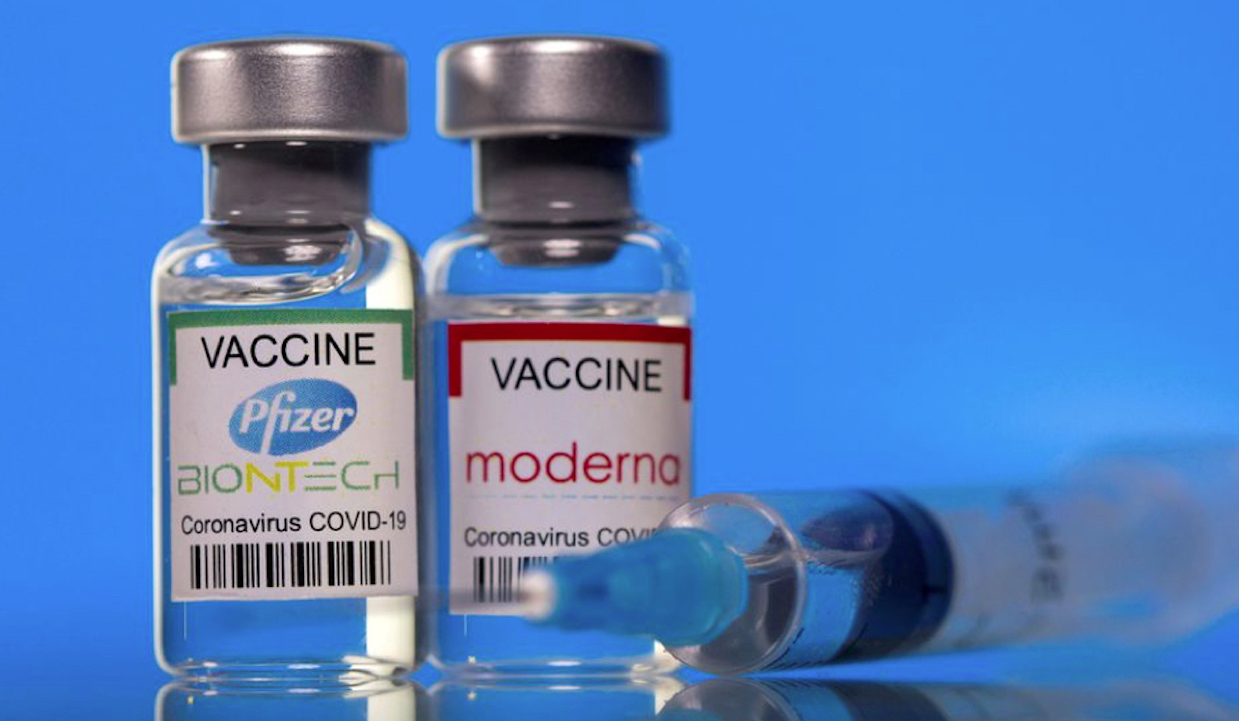 Pfizer, Moderna set to tangle in COVID vaccine patent trial next April
All links to Gospa News articles have been added aftermath for relevance to the topics covered
by Fraiser Kansteiner – originally published on Fierce Pharma
As parallel litigation simmers in the U.S., Germany and the Netherlands, the United Kingdom's High Court has set the venue for one of Pfizer and Moderna's first skirmishes in a heated battle over COVID-19 vaccine patents.
The case, comprising dueling lawsuits from the mRNA rivals, is set to go to trial in London in April 2024, multiple news outlets report.
Spikevax maker Moderna sued Pfizer and BioNTech in the U.K. last September, seeking compensation and damages for sales of the partners' rival mRNA shot Comirnaty. Moderna claims Pfizer's vaccine flouts patents related to lipid nanoparticle delivery, spike protein encoding and more.
Inflammatory Nanoparticles of mRNA Vaccine Change the Immune System (in Sons too). Warning by a Thomas Jefferson University Study
Not content to play sitting duck, Pfizer and BioNTech parried with their own U.K. case challenging the validity of Moderna's COVID-19 vaccine patents.
Pfizer did not immediately respond to Fierce Pharma's request for comment on the latest litigation update. Moderna, for its part, said it did not have a statement at this time.
The case is of "considerable value and importance" to the companies, Andrew Waugh, for Moderna, said in court documents quoted by The Independent. Experiments and expert testimony from biochemists, immunologists, virologists and vaccine delivery experts may be needed to resolve the dispute, the court was told at a preliminary hearing Thursday.
WUHAN-GATES – 48. Moderna Vaccine Patented 9 Months Before Pandemic. Thanks to the Fauci-Baric' Manmade SARS Viruses
The mRNA kerfuffle has largely played out the same in the U.S., where Moderna first sued Pfizer in August. At the time, Moderna CEO Stéphane Bancel argued his company was trying to "protect the innovative mRNA technology that we pioneered, invested billions of dollars into creating, and patented during the decade preceding the COVID-19 pandemic."
In a unique twist, Moderna said it wouldn't seek to remove Pfizer and BioNTech's shot from the playing field. Instead, in developed markets, Moderna said it expected its mRNA rivals to "respect its intellectual property rights" and "consider a commercially reasonable license." Moderna added that it would keep away from Comirnaty sales in many low- and middle-income countries.
VACCINES & GRAPHENE – 1. Dangerous & Mysterious Nanoparticles inside mRNA Serum. "Toxicology NOT Thoroughly Investigated" Pfizer Wrote
Pfizer and BioNTech hit back with a countersuit in December, demanding a jury trial and refuting Moderna's infringement claims. The partners contended Moderna was stretching its "already overbroad" and arguably "invalid" patents and was trying to "claim credit for others' work."
The companies argued that Moderna, in its original lawsuit, tried to rewrite the well-known story of the COVID-19 pandemic to put itself in the "single, starring role" by ignoring the contributions of other players.
by Fraiser Kansteiner – originally published on Fierce Pharma
---
Vital CDC DATA: "Serious Adverse Events by mRNA COVID Vaccines 5.5 Times Higher than All Others in the US since 2009"
"Very High Risk of Stroke after Vaccines with Concurrent Covid". Alert by Atlanta's University study confirms the CDC-FDA one
Pfizer mRNA Vaccine: Risks of Pulmonary Embolism, Myocarditis, Blood Clots, Immune Thrombosis. Finally Released the FDA Surveillance Data
(Visited 226 times, 1 visits today)