Suspect Woman in Custody for the Russian Blogger Terroristic Killing. (Videos). Moscow: "Blast Planned by Ukraine's Special Service through Navalny's FBK group"
by Fabio Giuseppe Carlo Carisio
UPDATE ON APRIL, 4, 2023
The prime suspect in the murder of prominent Russian military blogger Vladlen Tatarsky, Darya Trepova, has been put into pre-trial detention. The decision was announced by a Moscow court on Tuesday, shortly after Trepova was charged with terrorism by Russia's Investigative Committee.
The hearings took place behind closed doors on request of investigators, with the court supporting the motion despite opposition from Trepova and her legal team. The suspect will remain in pre-trial custody for two months, which may be extended further if needed.
Kiev's Mastermind behind Military Blogger's Murder in Blast Identified by Russia Secret Service
---
Woman Suspected of Blogger Killing Detained
UPDTATE ON APRIL, 3, 2023
A woman suspected of killing prominent Russian military blogger Vladlen Tatarsky has been detained, the country's Investigative Committee announced on Monday. Darya Trepova was earlier placed on Russia's wanted list.
Tatarsky (real name Maksim Fomin) was hosting a live event with fans at a café in the city's historical center, when a bomb went off, killing him and injuring over 30 people. A former fighter from Donbass, Tatarsky was extensively covering the Russia-Ukraine armed conflict on his Telegram channel.
Russia's Interior Ministry Monday released a video on Monday showing Darya Trepova, the main suspect behind the murder of prominent military reporter Vladlen Tatarsky, speaking to security forces after her arrest.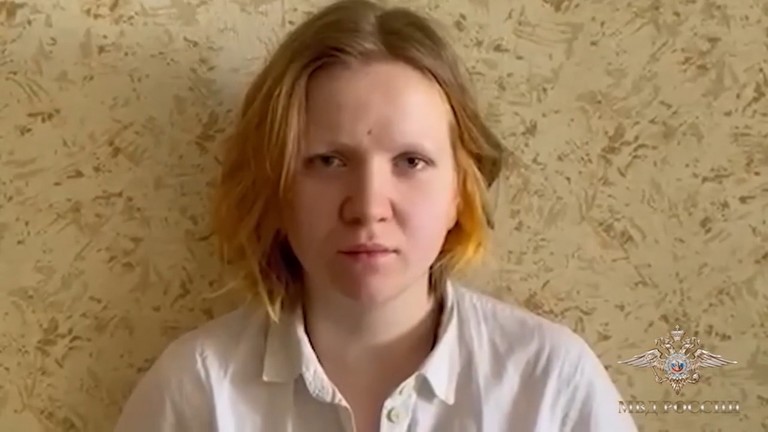 In the clip, Trepova admits that she "brought in the statuette that exploded" in the café in the city's historic center, killing the blogger and injuring 32 people.
«The April 2 attack that killed Vladlen Tatarsky was concocted by Ukraine's special services, Russia's National Anti-Terrorism Committee announced Monday» according to a preview reported by Sputnik International.
A chilling video with many pics of the young alleged murderer, her movements and the victim body in a pool of b bloody has been released by a pro-Kiev Rumble account WarLeaks Ukraine.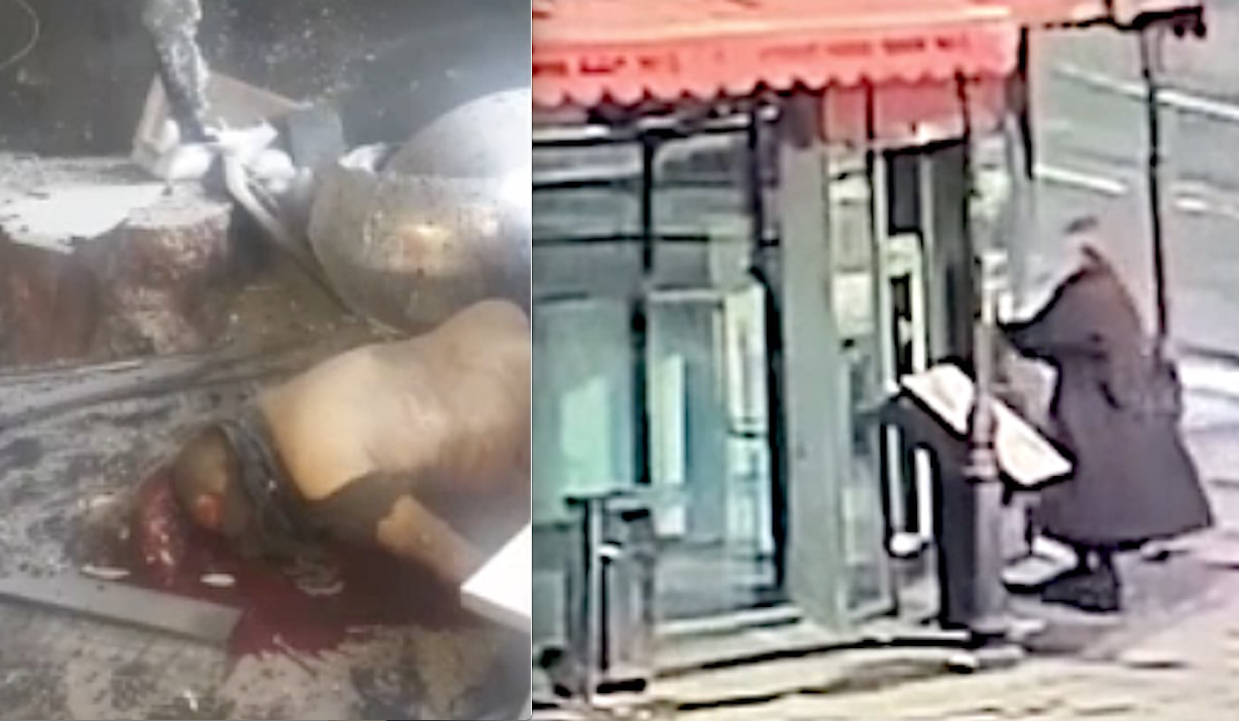 «According to the NAK, Kiev used "individuals who collaborated with [Alexey] Navalny's Anti-Corruption Foundation [FBK]" to carry out the attack. Officials described suspect Darya Trepova, who was detained on Monday, as an"active supporter" of the FBK» Russia Today has just written quoting the Russia's National Anti-Terrorism Committee statement.
Navalny, an anti-corruption campaigner and opposition figure, founded the FBK in 2011. The organization was labeled by the authorities as 'extremist' and banned in Russia in 2021. Navalny is currently serving a prison sentence for an embezzlement conviction. He accused Russian officials of trying to poison him after suddenly falling ill on a domestic flight in 2020. The Kremlin denied any involvement in the incident.
Navalny is Working for Cia: Kremlin makes Explosive Allegation after Fake-Poisoning
According to police, Trepova is 26 years old. Media outlets have reported that security forces were conducting a search in her St. Petersburg apartment.
According to the Fontanka news website, Trepova was detained in a St. Petersburg apartment that belonged to a friend of her husband. The outlet said she had a plane ticket for a flight to Uzbekistan.
Trepova reportedly exchanged text messages with Tatarsky and attended other events at which he participated. Multiple witnesses told Russian media that a young woman, who was one of the guests at Tatarsky's event, gave him a figurine as a gift shortly before the explosion.
Trepova's friends told news outlets that she was a medical student and worked several jobs, including as a designer and an administrator at a shop. One acquaintance told journalists that Trepova left Russia after Moscow launched its military operation in Ukraine last year, and spent several months in Georgia before returning to her home country. Another friend was quoted as saying that, while meeting in Moscow last month, Trepova told her that she was planning to leave Russia and travel to Ukraine through Turkey.
---
Prominent Russian Military Blogger Killed in St. Petersburg blast
ARTICLE PUBLISHED ON APRILE, 2, 2023
Leading Russian military correspondent Vladlen Tatarsky (real name Maksim Fomin), has been reportedly killed in an explosion in Saint Petersburg on Sunday. RIA Novosti has claimed, citing a security source, that the blogger died in an attack on the city's 'Street Bar' café, which also left more than a dozen injured.
«I think a lot of people will be offended by this, but I'm not used to it. The main qualities of men are responsibility and the ability to protect their loved ones. At first, our men allowed themselves not to take responsibility and, for example, to give their children to women with whom they did not live. Then the men lost the second main quality — the ability and desire to protect the Motherland!» he wrote in a post on hi Russian Telegram account when he went to fight in Donbass posting his photo holding a rocket.
Precisely thanks to this dual activity of blogger and fighter in defense of the pro-Russian population of the separatist republics of Dontezk and Lungansk he became famous with over half a million followers on Telegram.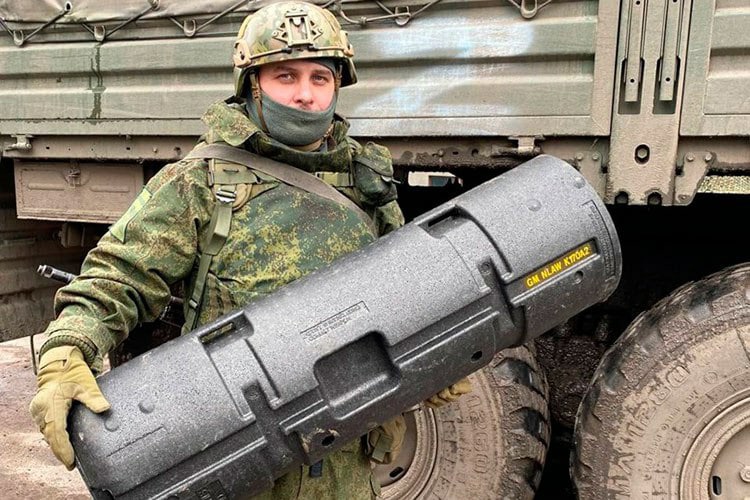 War reporter Vladlen Tatarsky may have been killed by an improvised explosive device disguised as a statuette, Kirill Makarov, the youth policy minister of the Donetsk People's Republic, told Russian media on Sunday. Tatarksy was killed earlier today by an explosion while hosting a live event for his supporters at a café.
According to several Russian media outlets, a young woman presented a figurine to the war correspondent and blogger during the event. Her identity is unknown so far. The police have not commented on this version of events but have confirmed that Tatarsky was killed in the blast, which also left 19 people injured.
Earlier, a source within the emergency services told TASS that an improvised explosive device was detonated near the stage in the café.
Russia's REN TV reported, citing a witness, that the statuette blew up as Tatarsky was holding it. According to TASS, the IED's power was equivalent to 200 grams of TNT.
A video published by REN TV shows the moment Tatarsky was allegedly given the bomb camouflaged as what appears to be a large bust. The footage shows, however, that it was a man, not a woman, who presented the supposed gift.
Tatarsky became prominent in Russia as a blogger and war correspondent reporting on the situation in Donbass after he joined the local militias in the wake of the Maidan coup in Kiev in 2014. The man, who also authored several books, was hosting a live event in a St. Petersburg café on Sunday.
Dugina Assassination: Russian FSB Identified the Suspect Ukrainian BombMaker (video)
This dramatic episode brings to mind the terrible attack in which the innocent journalist Dugina, daughter of the Russian Christian philosopher Alexander Dugin, was killed, on August, 20, 2022.
Following extensive investigations, the secret agents of Russia's Federal Security Service identified Ukrainian citizens as responsible and therefore blamed Kiev for having inspired the action, conducted with military training techniques.
Moscow: Int'l Organizations Ignore Kiev's Threats to Russian Journalists
Kiev continues to threaten Russian journalists with reprisals while international organizations turn a blind eye to the situation, Russian Foreign Ministry spokeswoman Maria Zakharova stated just hours after war correspondent Vladlen Tatarsky was killed in an explosion in St. Petersburg.
Zakharova stressed that Russian journalists are being intimidated by Kiev and its Western sponsors, "literally marked with special labels" on US social media platforms, and subjected to a witch hunt in Western media. According to the diplomat, the fact that relevant international organizations ignore this can easily be interpreted as tacit approval if not complicity.
Putin's Friends Bulletin Built by Italian Intelligence to Strike Counter-Information as Wanted by NATO & Weapons Lobby
The Russian Foreign Ministry emphasized that Western countries have not investigated any case of violent death of a Russian journalist that was "assessed by the Kiev regime and its thugs as a 'success'."
"Not a single case of the violent death of a Russian journalist, assessed by the Kiev regime and its thugs as a 'success' has been investigated, or even treated with elementary human sympathy by Western countries, international organizations or foreign professional communities."
"Up until recently, the West fought extremism and terrorism, marched as a united front in Paris in defense of journalists against whom terrorist attacks were committed. Today, the lack of reaction in the White House, Downing Street, the Elysee Palace, etc., given their alleged concern for the well-being of journalists and freedom of journalism, speaks volumes. The reaction in Kiev is striking, where recipients of Western grants demonstrate undisguised delight over what happened," Zakharova said.
Ukraine War: Journalist and Academic Banned by Italian TV due to they Spoke about the Putin Reasons. Press Freedom Collapses
The spokeswoman added that it is thanks to the Russian war correspondents that the world sees the truth and learns information about what is happening in Ukraine."The professional activities of Vladlen Tatarsky, his service to the Fatherland caused hatred with the Kiev regime. He was dangerous for them, but courageously went all the way, fulfilling his duty," the diplomat added, expressing condolences to Tatarsky's family.
Russian city to honor journalist Darya Dugina allegedly murdered by Ukrainian operatives
A fews day ago the city of Melitopol in Russia's Zaporozhye Region will rename one of its streets after journalist Darya Dugina, a state advisory body has announced. Dugina was killed last year by a car bomb, which investigators alleged was planted by Ukrainian agents.
News of the upcoming honor was reported by the Civic Chamber, a body consulted by the national government regarding public reaction to its policies. One of its members, Aleksandr Malkevich, championed the idea of commemorating Dugina. Melitopol Mayor Galina Danilchenko supported the proposal, the chamber said in a statement on Friday.
Dugina, a Russian public figure and journalist, was assassinated last August. She was the daughter of philosopher Aleksandr Dugin, who Western media have described as an ideologue of Russian nationalism, claiming he secretly influences the country's government.
Dugin Blames Nazi Ukrainian Regime for Killing of his Daughter. FSB shows the Evidences of this Premeditated Attack
She was killed when the car she was driving exploded on the outskirts of Moscow. The Russian government blamed Kiev and named two Ukrainian nationals as the primary suspects. Washington also reportedly believes that the Ukrainian government was responsible for her death and was "angered" by its tactics, according to Western media reports.
Dugina "dedicated herself to helping Donbass, organized the collection and delivery of humanitarian packages, actively covered the special military operation, and did her best to report truthful information about the situation in the war zone and the liberated territories," the chamber said. Naming a street after her in Melitopol, a city that she visited shortly before her murder, is "absolutely logical and just," it added.
The city is located in Zaporozhye Region, one of several former parts of Ukraine that voted to join Russia last year amid the ongoing hostilities. Kiev rejected the referendums as a "sham" and pledged to retake them by force. The region's largest city, Zaporozhye, remains under Ukrainian control. Provincial authorities designated Melitopol as the region's capital earlier this month.
Ukraine 'angered' US with Moscow car bombing
The US government had misgivings about Kiev's tactics following the car bombing that killed journalist Darya Dugina in Moscow Region, Politico news website has claimed. The assassination of controversial Russian philosopher Aleksandr Dugin's daughter on August 22, left American officials "angered," the article published on Tuesday said.
To deter Kiev from making similar "provocative" moves down the road, Washington intentionally allowed details of the plot to be made public in recent days, Politico reported, citing an unnamed official. Last week the New York Times reported that the US intelligence officials believe Dugina's assassination was authorized by "parts" of the Ukrainian government.
Nord Stream Sabotage: Moscow blames Washington for "this Unprecedented Act of Terrorism"
The NYT article, citing anonymous US officials, claimed Washington was not involved in the hit in any way, and would have opposed the operation had it known about it in advance.
In a "closely held assessment of Ukrainian complicity" shared with the US government, intelligence officials voiced their concern that such a "covert campaign" could "widen the conflict," and also expressed frustration over "Ukraine's lack of transparency about its military and covert plans, especially on Russian soil," the NYT reported.
But other terroristic sabotages as the ones to the Kerch bridge and to the Nord Stream gas pipelines.
have been attributed to the intelligence of NATO countries and more specifically to the Anglo-Saxon 007s of the Five Eyes alliance.
---
MAIN SOURCES
RUSSIA TODAY – Prominent Russian military blogger killed in St. Petersburg blast
RUSSIA TODAY – Russian city to honor journalist allegedly murdered by Ukrainian operatives
Serious Clues of NATO-Kiev Attacks. UK Plot on Crimean Bridge. 8 Arrests by FSB. Mysterious Leak in an Oil Pipeline. Drone Killer Found near Nord Stream
Nord Stream Sabotage: UN Security Council Rejected Investigation on Terroristic Act. Russia: "Dangerous Precedent"
STRATEGIA DEL TERRORE GLOBALE DA 007 NATO & "14 EYES". Pandemia da Laboratorio, Crisi Gas, Attentati di Kiev per la III Guerra Mondiale
(Visited 950 times, 1 visits today)