UPDATE. Wagner's Coup Attempt only for Money! FSB Investigations on Prigozhin Insurrection officially Dropped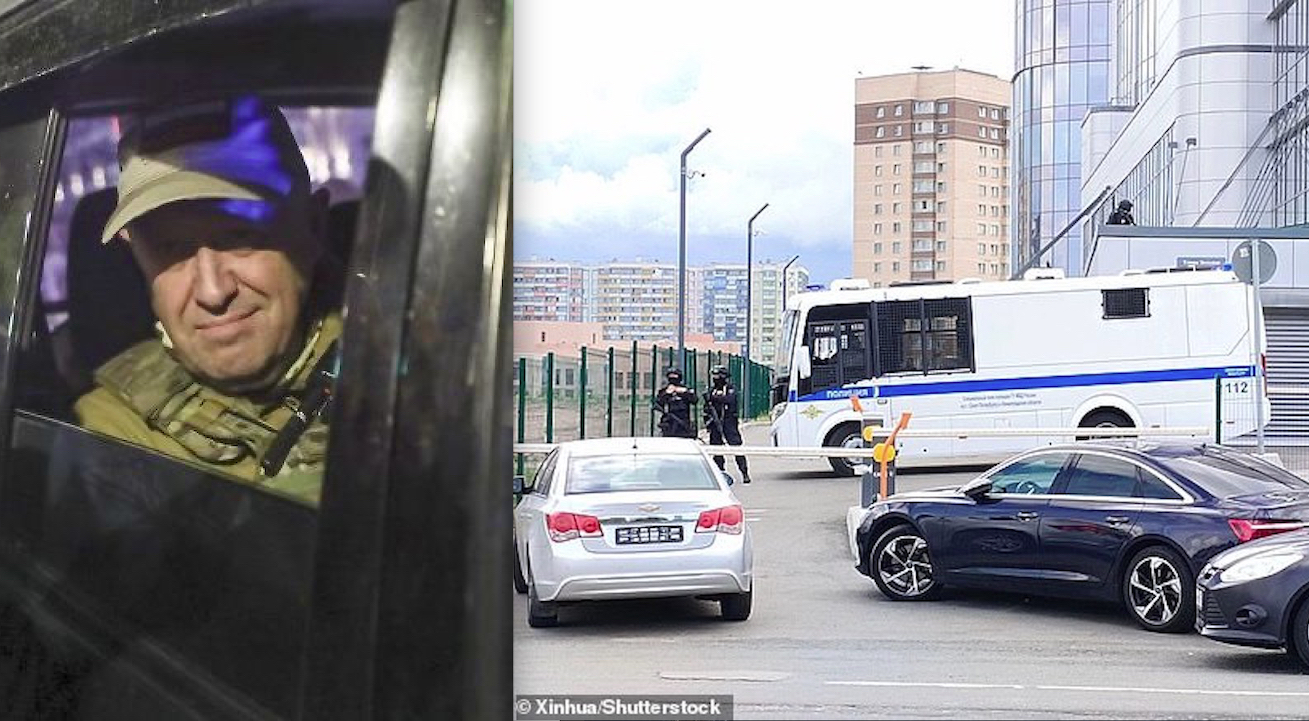 by Fabio Giuseppe Carlo Carisio
UPDATE ON JUNE 29, 2023
The Wagner Group was the only military formation that had refused to sign a contract with the Russian Defense Ministry shortly before it launched its insurrection last week, senior Russian MP Andrey Kartapolov said on Thursday.
Speaking to reporters, Kartapolov, who heads the State Duma's Defense Committee, explained that several days prior to Wagner's mutiny, the Russian Defense Ministry had declared that all military groups should sign contracts with it, describing the policy as "absolutely correct."
"Everybody apart from Wagner… complied. Apart from this gentleman [Prigozhin], who refused," the MP said.
Putin Secretly met Wagner Chief after Mutiny. Kremlin admitted the Talkings
Faced with this rebuttal, the Russian authorities told the group that it would no longer be involved in the military campaign in Ukraine, Kartapolov stated. "This means that there will be no more money, no more financial or material resources. And for Mr. Prigozhin, money is a factor, an important one, maybe even decisive."
As a result, the threat of defunding, "excessive and stupid ambitions," and an emotionally "agitated state" resulted in "high treason and the deceit of [Prigozhin's] brothers in arms," the MP said.
---
Western Intel Shadows behind Wagner's Coup Attempt.
UPDATE ON JUNE, 27, 2023
"They [the West and Ukraine] wanted Russian soldiers to kill each other, so that soldiers and civilians would die, so that in the end Russia would lose, and our society would break apart and choke on bloody civil strife," the Russian President Vladimir Putin said.
"They rubbed their hands, dreaming of getting revenge for their failures at the front and during the so-called counteroffensive, but they miscalculated."
Putin credited the patriotic spirit of the nation for avoiding bloodshed over the weekend and again condemned the "treasonous" mutiny by the private military company Wagner, in a speech on Monday evening, as reported by Russia Today
Putin is Winning the Military Warfare alongside the Economic one. New BRICS Members will Boost Multipolarity in the Russia-China Group
Putin thanked all of the soldiers, police and special services who remained true to their oath, and noted the "courage and self-sacrifice of the heroic fallen pilots" who saved Russia from tragedy.
«According to multiple reports, up to 20 airmen died after Wagner allegedly shot down a military helicopter and an airplane. The Russian Defense Ministry has not, however, published an official death toll» reported RT.
Russia's security services are already investigating whether Western intelligence agencies were involved in the events of June 24, Russian Foreign Minister Sergey Lavrov told RT television on Monday, according to TASS Russian News Agency.
"I work in a government ministry that is not engaged in gathering evidence of unlawful acts being committed, but we do have such agencies and, I assure you, they are already looking into it," Lavrov said, when asked if there was evidence indicating that either Ukrainian intelligence services or their Western counterparts were in any way involved in the attempted armed insurrection on June 24.
FSB Investigations on Wagner Insurrection officially Dropped
Meanwhile, as reported by RT, the criminal investigation into the mutiny by the Wagner private military company has been dropped, Russia's Federal Security Service (FSB) has announced. Russian President Vladimir Putin previously promised immunity to participants of the insurrection, which was led by Wagner chief Evgeny Prigozhin.
The FSB investigation "determined that on June 24 participants stopped actions directed at committing the crime," its press service reported on Tuesday. "Considering this and other relevant circumstances, the investigative body took a decision on June 27 to stop the criminal investigation."
The head of the Russian paramilitary contractors, who continue their activity in the center of St. Petersburg and abroad, had obtained from the Kremlin, thanks to the mediation of the Belarusian president, the guarantee of security to be able to emigrate to Belarus together with his most loyal officers involved in a coup attempt.
Boss in Exile Loses in Russia $47,5 millions Seized by FSB during Coup Attempt
ARTICLE PUBLISHED ON JUNE, 25, 2023
The Day After! The day after the failed coup by the paramilitary boss of the Wagner group, geopolitical analysts waste thoughts chasing the most bizarre readings while ignoring the simplest.
Just as American Intelligence knew of Yevgeny Prigozhin's plan to rebel against Moscow to denounce the phantom errors of the Russian Defense Ministry in the war that is winning above all thanks to missiles rather than mercenaries, the Kremlin's security service was certainly aware that the threats repeatedly launched on social networks would have become real.
How Russia is Winning the Conflict protracted by NATO's Weapons with EU-US Citizens' Money. Last Ukrainian Military Ship Destroyed (video), UK Cruise Missiles Intercepted
The American media also claim that Russian President Vladimir Putin Putin had known about the attempted revolt for at least a day…
But he let it go to avoid bloody firefights but preparing a military trap. He allowed Wagner's few armored vehicles to take control of the Russian Army headquarters in Rostov and then begin the march of convoys towards Moscow.
Putin: "Kiev unleashed War in 2014 after a Bloody Coup, Russia had right to help Donbass under UN Charter"
From the verified images transmitted by the West who cheered for the coup plotter as it did in Maidian Square in Kiev in 2014 when mercenary snipers fired on the crowd to unleash the regime-change, Prigozhin's announced 25,000 rebels have never been seen who, at 200 km from the capital but only 100 from the barriers prepared by the Russian army on the bridges over the Oka River, it stopped its course by accepting a surrender with security guarantees negotiated by the president of Belarus, where he went in "voluntary exile".
Foreign intelligence services likely played a role in the failed Wagner coup attempt, Serbian President Aleksandar Vucic said on Sunday.
He declined to name the countries that he believed to be involved. Putin, who called the short-lived uprising a "knife in the back" of Russia and its people, said such strife might be used by the country's enemies "to subvert us from within."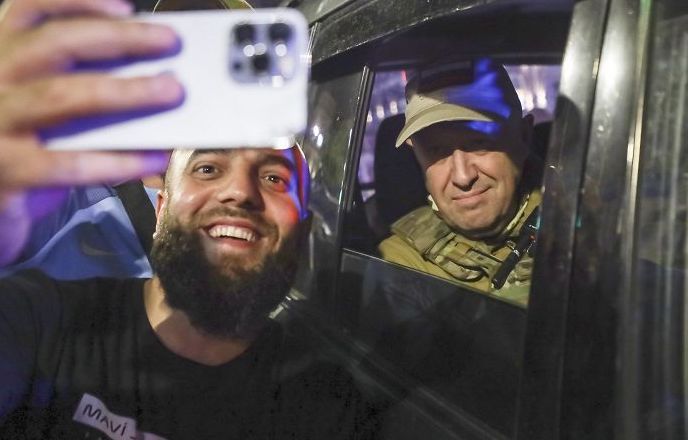 What remains of a day of bloodless madness at Putin's will? The umpteenth test of the Russian president's strategic patience against a private traitor.
The glory won by Wagner in Mariupol and Bakhmut will remain in the history books but will quickly disappear from the media spotlight which in the West will compete to snatch defamatory confessions about Russia from her traitor to her people.
Mariupol Freed from the Zelensky's Nazis Satanists. Putin conquers the Military Target and Shows the True Face of the Kiev Partisans (video)
Now the army of loyal followers of the mercenary boss (whose actual number is unknown) is withdrawing from the Lipetsk region and from Rostov to head towards Belarus. Someone struggles to believe that he has really betrayed and hypothesizes a surprise attack against Kiev …
But Putin's 500-day special military operation in Ukraine has taught us that even in war there is a code of honor that cannot be sacrificed for a surprise move. Especially while you're winning…
The FBI bounty on Prigozhin's head may appeal to his mercenaries
Prigozhin Prigozhin takes the last applause from some exalted youth of Rostov and goes into exile in Belarus, leaving in the hands of the Russian security service FSB the approximately 47 million dollars (4 million rubles in cash) seized in his headquarters in St. Petroburg while he was playing rebel in the streets of Rostov on the Don, damaging military vehicles around 10,000 square meters of roads for which repairs have already begun.
The approximately 25,000 Wagner mercenaries thus remain without salaries and battle prizes. Many of them even without a job because the Russian Defense Ministry has announced that it will negotiate each contract individually and not in departments.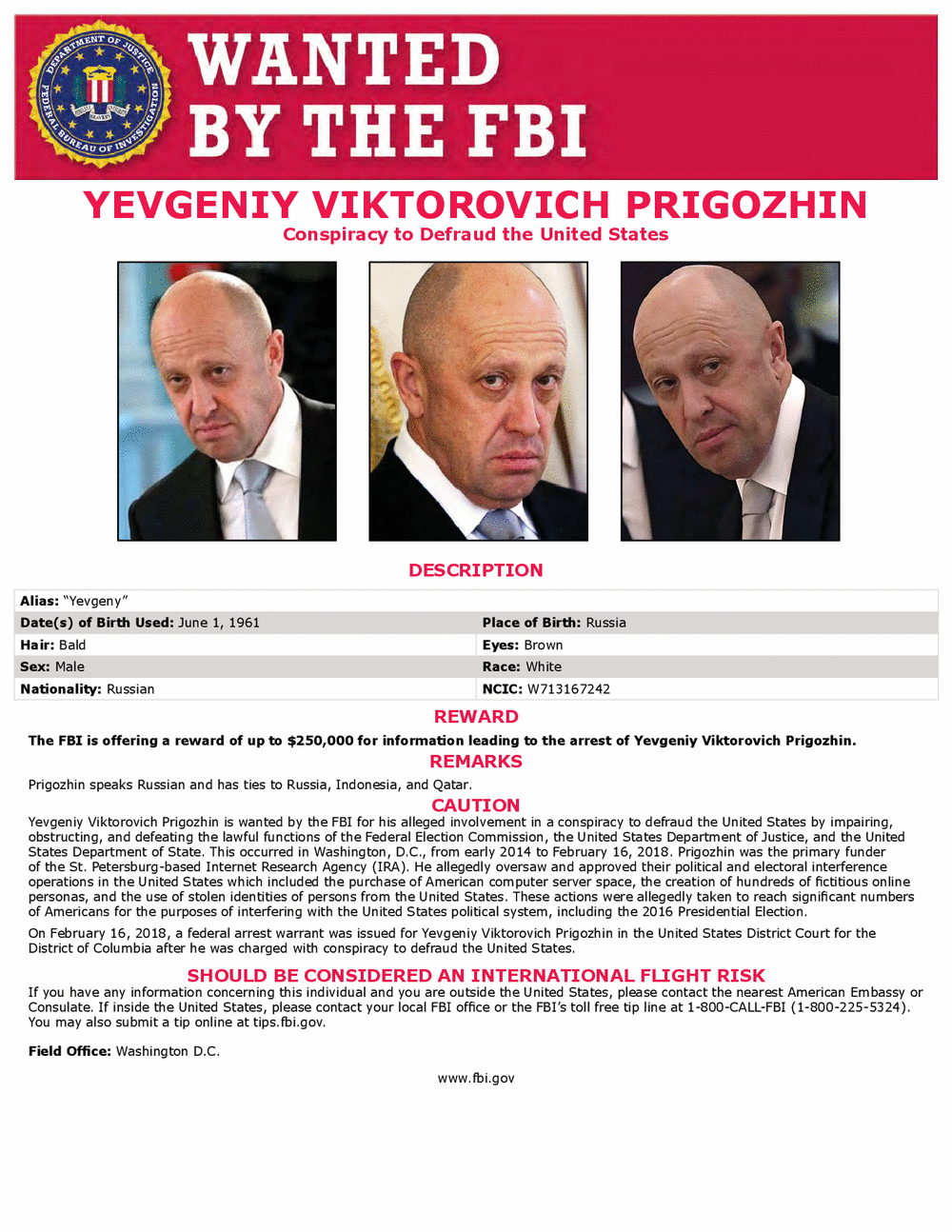 It is to be hoped that the Anglo-Saxon intelligence Five-Eyes, which has been behind every plot against Russia since the beginning of the civil war in Donbass, will award the traitor who was Putin's cook at least a few million euros. But above all that the FBI withdraw the arrest warrant against him for serious financial crimes.
Certainly among the Belarusians and his unemployed men, that $250,000 bounty could appeal to many!
STRATEGIA DEL TERRORE GLOBALE DA 007 NATO & "14 EYES". Pandemia da Laboratorio, Crisi Gas, Attentati di Kiev per la III Guerra Mondiale
The seizure of 4 million rubles at the Wagner headquarters
Russia's security service has reportedly found £38million ($47,5 million) in cash after raiding the Wagner HQ in St Petersburg, according to Xinua reporter and Daily Mail.
Yevgeny Prigozhin has confirmed that a large amount of money, which was stashed in a van and two buses on the property, was found during the raid by Putin's FSB troops – and belongs to the mercenary group.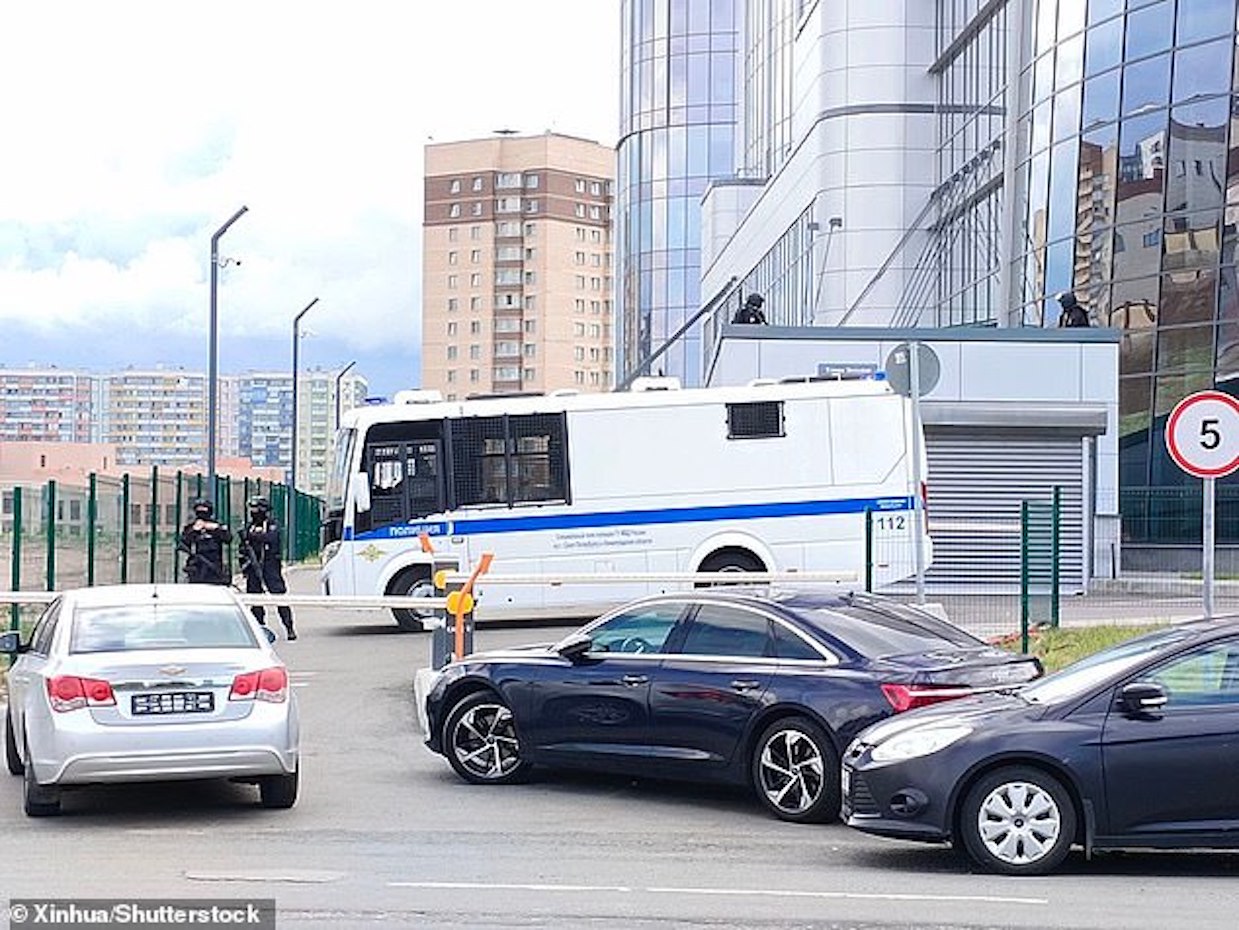 He provided no detail of how much the stash was worth, but earlier Russian media outlets reported it was around £4billion rubles, or £38million.
In an audio message on Telegram he explained that the funds are dedicated to covering compensation payments of killed Wagner soldiers.
'Wagner has been operating for the past 10 years using only cash – as agreed in our contract. I fully adhere to it,' he said, according to Daily Mail.
Fabio Giuseppe Carlo Carisio
© COPYRIGHT GOSPA NEWS
prohibition of reproduction without authorization
follow Gospa News on Telegram
---
MAIN SOURCES
GOSPA NEWS – WEAPONS LOBBY DOSSIER
---
Wagner agrees to end 'insurrection' after the Deal with Lukashenko. Kremlin: "Prigozhin will go to Belarus"
Belarusian President Alexander Lukashenko announced on Saturday that he had arranged a deal whereby Wagner Group leader Evgeny Prigozhin will abandon his mutiny in exchange for "security guarantees" for his fighters.
"Evgeny Prigozhin accepted the proposal of President Alexander Lukashenko to stop the movement of armed men of Wagner in Russia and take further steps to de-escalate tension," read a statement from Lukashenko's office.
According to the statement, Lukashenko and Prigozhin held talks for the "whole day," and "came to an agreement on the inadmissibility of unleashing a bloodbath on the territory of Russia."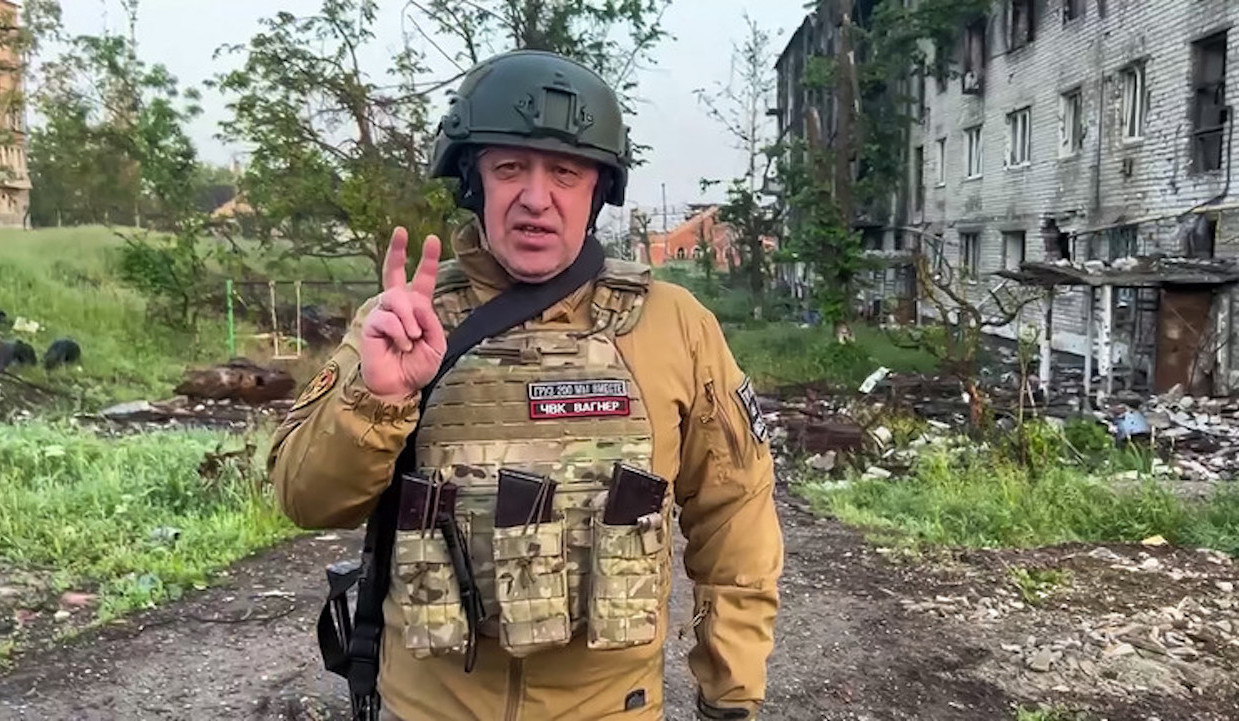 Lukashenko's office said that the talks were held in coordination with Russian President Vladimir Putin, adding that Prigozhin was offered "an advantageous and acceptable option of resolving the situation, with security guarantees for the Wagner PMC fighters."
Yevgeny Prigozhin said on Saturday he had ordered his fighters, who had been advancing on Moscow, to turn around and return to their bases in order to avoid bloodshed.
Prigozhin said his fighters had advanced 200 km (124 miles) towards Moscow in the last 24 hours. Before the bridges on Oka River where Russian Army prepared barricades.
Kremlin reveals details of Wagner deal
Kremlin Spokesman Dmitry Peskov revealed that Prigozhin, a Saint Petersburg Tycoon who made his initial fortune in catering, "will go to Belarus."
He added that Wagner's fighters will not be persecuted, taking into account their efforts on the frontlines of the Ukraine conflict. Peskov explained that President Vladimir Putin's team "have always respected their exploits."
Key Donbass city Bakhmut Completely Liberated by Russians. President Putin Congratulates Troops on Battefield Success
Those PMC contractors, who refused to take part in the mutiny – and whole units did not – will be allowed to sign contracts with the Russian Defense Ministry, Peskov stated.
Plotters aim to destabilize Russia playing for the External Enemies
"The plotters' adventurist aspirations are essentially aimed at destabilizing the situation in Russia, destroying our unity and undermining Russia's efforts to reliably ensure international security," the Russian Foreign Ministry said as reported by TASS Russian News Agency.
"The mutiny plays into the hands of Russia's external enemies."
"The attempted armed mutiny in our country has aroused strong disapproval in Russian society, which firmly supports President Vladimir Putin," the Foreign Ministry said. "We warn the Western countries against the slightest attempts to use the internal situation in Russia for achieving their Russophobic aims. Such attempts are futile and evoke no support either in Russia or among soberly-minded political forces abroad."
---
THE ARMED COUP ATTEMPT IN RUSSIA
UPDATE ON JUNE, 24, 2023
Evgeny Prigozhin, the head of the Wagner Group private military company, has been accused by the government of staging an armed insurrection.
The charges were brought late Friday night after Prigozhin accused Defense Minister Sergey Shoigu and General Valery Gerasimov, the chair of the Russian general staff, of serious crimes.
Prigozhin claimed to have ordered troops loyal to him to move towards Rostov-on-Don, a major city in southern Russia. Security measures were also reportedly beefed up in Moscow.
There is some turmoil in Russia after Evgeny Prigozhin, the head of Wagner Group private military company, was accused by the government of staging an armed insurrection.
Prigozhin's statements effectively constitute calls for beginning of and armed civil conflict, Russian Federal Security Service (FSB) press office said.
At the moment the clash is more "political" than military, given that there have not yet been direct confrontations other than a few small explosions of a terrorist nature probably triggered by Wagner's rebels to instill fear, cannot be considered the beginning of a civil war because people have remained neutral and comply with the requests of government authorities not to leave their homes in risk areas.
Putin signed a law allowing 30-day detention for violating martial law.
Wagner fighters still have chance to avoid punishment – legislator
The fighters of the Wagner Private Military Company (PMC) still can lay down arms and avoid punishment given their achievements in the special military operation but this should be done as soon as possible, head of the Duma Committee on State Building and Legislation Pavel Krasheninnikov told TASS on Saturday.
"Of course, there is a chance to lay down arms and avoid punishment, and this is what the president said. It seems to me that this should be done rather quickly. We know that there are many people there who proved their worth in the special military operation and there is respect for them. In order to not let it go to waste, it is necessary to do so rather quickly without succumbing to provocations by the mutineers' leadership," he said.
The armed mutiny will be suppressed and Russia will secure a victory, Konstantin Kosachev, Deputy Speaker of the Federation Council (the upper house of parliament), said on Saturday according to TASS Russian News Agency.
"All those who were hesitant now have to decide if they are with the Russian people or against them. There is no doubt that the mutiny will be suppressed. There is no doubt that Russia will win," the senator wrote on Telegram.
The Russian Army's Trap on Oka Bridge against Wagner Rebels
16:24 GMT Multiple shots were fired outside of the headquarters of Russia's Southern Military District in Rostov-on-Don, RT correspondent Ilya Vasyuninn reports. Footage from the scene shows a Wagner Group PMC contractor firing an assault rifle at the entrance of a local office of Rostelecom, Russia's biggest digital service provider, in an apparent attempt to break into the building.
15:42 GMT An anti-terrorism operation has been launched in Moscow, the city's Mayor Sergey Sobyanin has announced, describing the ongoing situation as "difficult." The upcoming Monday has been declared a non-working day in order to "minimize risks," the mayor added. Sobyanin also called upon the city's residents to reduce travel across the city, warning that road traffic in certain areas may be halted completely.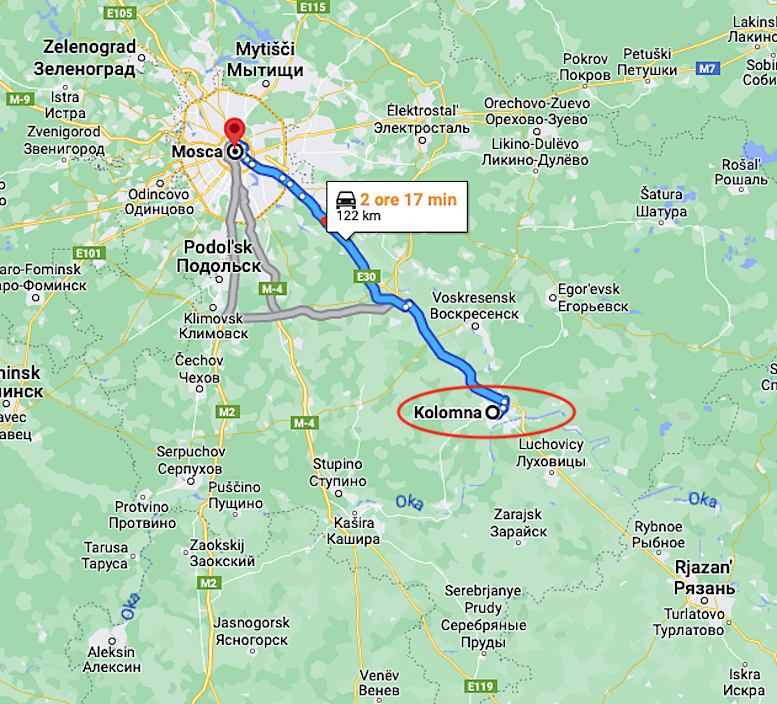 15:27 GMT A major bridge over the Oka River has been barricaded with heavy vehicles in the Russian city of Kolomna 114km southeast of Moscow. A large military column was spotted in the city heading to the southeast towards the city of Ryazan, unverified footage circulating online shows.
In all likelihood other barricades will also be placed near Kasira on the bridge over the Oka River of the M-4 highway where other Wagner group convoys have been reported.
Car traffic has been blocked on Russia's M-4 highway past Rostov-on-Don towards Aksay, since last night.
Chechen Fighters of Akhmat against Wagner Rebels moving toward Moscow
13:54 GMT Wagner Group forces are moving through Lipetsk Region, located some 370km to the south of Moscow, local governor Igor Artamonov has said, urging civilians to stay at their homes and avoid unnecessary travel. "The situation remains under control," the governor said, adding that the region's critical infrastructure continues to operate without incident, according to Russia Today.
BBC Verify team has verified a video showing a Wagner convoy of armed vehicles travelling on the M4 motorway, which links Voronezh and Moscow through the region of Lipetsk.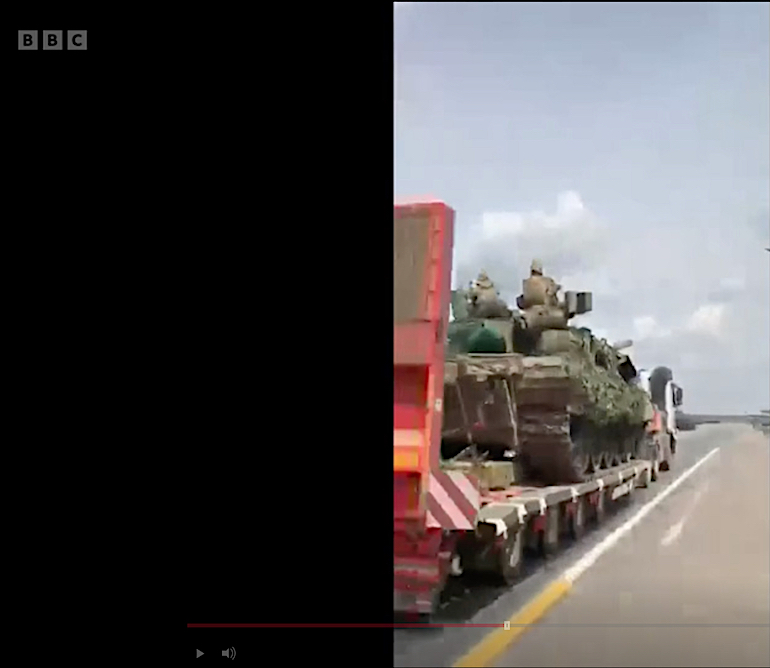 However, the footage only shows two trucks carrying as many tanks, two military trucks and a small van.
It is therefore a convoy that is more "demonstrative" than worrying since such a number of vehicles would not be able to worry the defenses of the Moscow Army in the least and it was allowed to pass by the Russian military to avoid an escaltaion in the hope that the Wagner's rebels agree to surrender their arms benefiting from the amnesty promised by the political authorities which will expire in a few hours.
Fighters of Akhmat, an elite National Guard unit from Russia's Chechnya, have reached Rostov-on-Don, unverified footage circulating online shows. Multiple armored vehicles and trucks carrying personnel can be seen driving on the outskirts of the city, which has become the hotbed of the insurrection by the Wagner PMC.
Explosion in the Vicinity of the Headquarters of Russian Southern Military District in Rostov
12:32 GMT – A loud explosion has been heard in the vicinity of the headquarters of the Russian southern military district in Rostov-on-Don, RT correspondent Roman Kosarev, covering the coup attempt, reported on Saturday.
He posted a one-minute clip on social media showing a crowd of people running away from where the blast apparently occurred. There has been no immediate data on casualties, or whether the building sustained any damage.
Russian President Vladimir Putin said earlier on Saturday that the situation in Rostov-on-Don remains "difficult," with the functioning of local civil and military authorities being "effectively blocked." The state will take "decisive actions to stabilize" the situation in the city, he added in an address to the nation.
Earlier in the day, multiple media outlets reported increased military movement in the southern city, with multiple videos posted to social media showing tanks parked on city crossroads and unidentified soldiers patrolling the streets and setting up roadblocks.
Russian Foreign Intelligence Service (SVR) chief Sergey Naryshkin denounced the ongoing coup as "treason,"branding it "the most terrible crime, which cannot be justified by any past merits." Meanwhile, he said that the attempt to spark a "civil war" in the country has already failed, with Russian society demonstrating "civic maturity."
The Attempted Coup a Gift to the Collective West
Russia's closest ally, Belarus, condemned the mutiny, with the country's security council stating that Minsk remains committed to standing with Russia and fully supports the ongoing military operation in Ukraine. The council also branded the attempted coup a "gift to the collective West."
Twitter has even opened a live stream called "coup Russia" but has garnered up to just over 20,000 followers worldwide.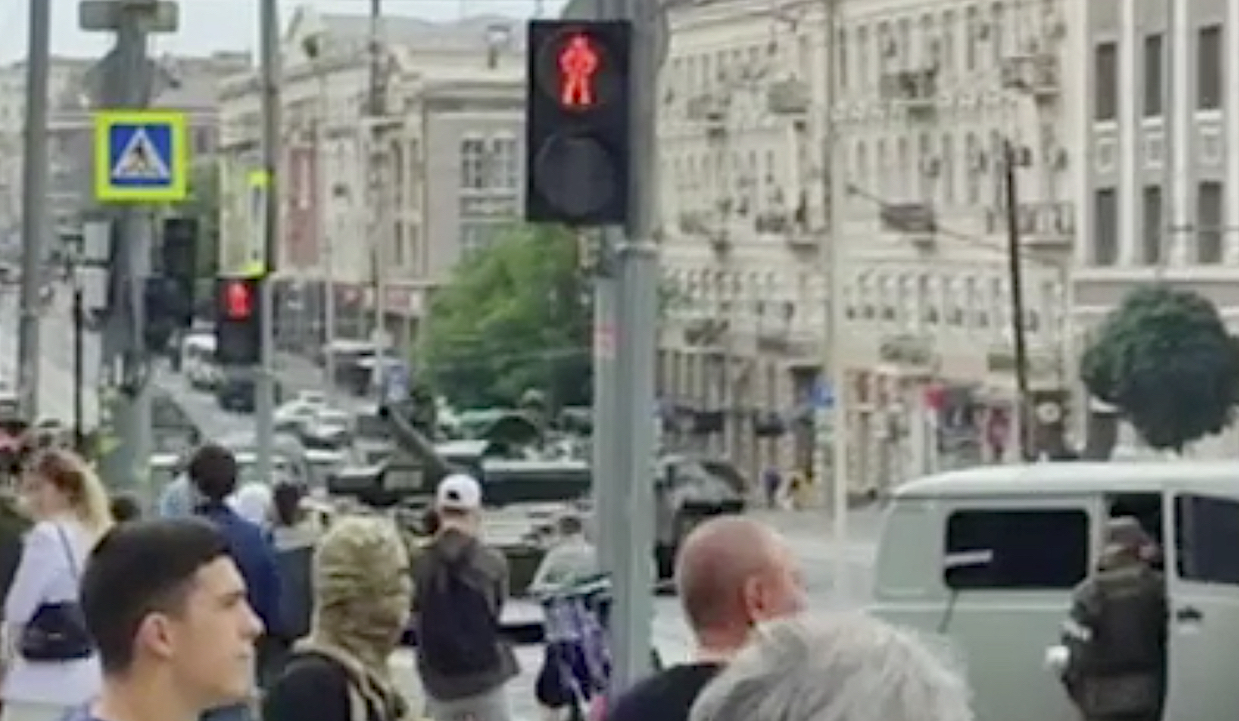 «A video shows the amazed and intrigued Russian inhabitants of the city of Rostov on Don: among them soldiers and armored vehicles of the Wagner brigades, who however did not fire a single bullet: the city is invaded by Prigozhin's mercenary militiamen, who however seem not having done any war action» wrote Italian TV network RAI News using the usual anti-Russia rhetoric.
Putin's address to nation over PMC Wagner coup attempt
Russian President Vladimir Putin has delivered an address to the nation amid a coup attempt by the private military company Wagner. He described the mutineers' actions as "backstabbing" and called for unity.
President Putin argued that "Russia is today waging a grueling fight for its future," facing off with the "neo-Nazis and their masters." He went on to stress that "essentially the entire might of the West's military, economic and information machine" is being directed against the country.
"This battle, when the fate of our people is being decided," calls for national unity and consolidation, Putin said in his address. According to the president, all internal conflicts and bickering must be put aside at present as "our external enemies can and use them to undermine us internally."
Another Infernal Day of War for Ukraine: Kiev's Forces have lost 20 Tanks and over 1,000 Soldiers
The Russian head of state emphasized that any actions driving a wedge between Russians are nothing short of "backstabbing of our country and our people."
The head of Russia's Chechen Republic, Ramzan Kadyrov, called the insurrection by Wagner's chief a "hideous betrayal" adding that it should be quelled in order to protect the nation's unity amid the conflict in Ukraine.
Chechen members of the Defense Ministry and the National Guard have already headed out to the regions where tensions are high. "The insurrection must be quelled, and if harsh measures are required, we are ready for them!" he stated in a post on Telegram.
At the moment the only real accident recorded would be a fire in a petrol station in the Russian region of Voronezh. Telegram channels and Kiev officials reported clashes between the Russian army and the rebel Wagner paramilitaries that have not yet found the slightest confirmation.
Prigozhin charged with armed mutiny, to face up to 20 years in prison
"Prigozhin's statements and actions effectively constitute calls for an armed civil conflict on Russian territory and a stab in the back of Russian servicemen fighting with pro-Nazi Ukrainian forces," the press office said.
Prosecutor General's Office said that the criminal case was initiated legitimately and was justified. The Office promised to provide legal assessment to Prigozhin's actions. The Wagner PMC founder may face between 12 and 20 years in prison.
Zelensky Servant of NATO and Satan! Not of Ukrainian People. Orthodox Bishop arrested before Easter. Another Esplosive Attack planned by Kiev
Prigozhin claimed to have ordered troops loyal to him to move towards Rostov-on-Don, a major city in southern Russia. Security measures were also reportedly beefed up in Moscow.
Twitter has even opened a live streaming called "coup Russia" but it has collected up to just over 20 thousand followers all over the world.
The Russian social network VK has blocked one of the statements released by Prigozhin's press service on the platform. The post now states that the message is not available in Russia, based on a decision by the Prosecutor General's office.
There are also claims that some news about Prigozhin's latest steps are being blocked by Yandex, the Russian tech giant that runs an eponymous web search engine.
MOD warns Wagner fighters against taking part in 'armed coup'
The Russian Ministry of Defense has urged Wagner Group private military company soldiers to cease their armed insurrection, urging them to return to their bases.
In a statement on Saturday, the ministry claimed that members of the PMC "have been tricked into taking part in [Wagner group chief Evgeny] Prigozhin's criminal gamble," adding that some Wagner fighters "have already understood their mistake" and have asked the authorities for help in safely returning to their permanent deployment areas.
Tanks and Armored vehicles in the City Center of Rostov
Russian security operatives have entered the PMC Wagner Center in St. Petersburg, indicative of imminent searches, local media reports. It added that two buses with riot police pulled over near the building. Earlier, TASS news agency reported that the situation in the area remained calm.
Vasily Golubev, the governor of Rostov region, has announced that all public mass events in the city scheduled for the weekend have been cancelled. He noted that public transport was operating, but downtown routes have been altered, adding that some restrictions have been put in place on roads leading to the city of Taganrog, west of Rostov-on-Don, and to the north of the city.
Vasily Golubev, the governor of Rostov region, urged residents to avoid downtown Rostov-on-Don and, if possible, not to leave their homes. The statement comes amid videos circulating on social media appearing to show tanks and armored vehicles on the move in the city center.
A military column is on the move on the M-4 highway connecting Voronezh and Rostov-on-Don, local authorities have announced on Telegram, asking local residents to temporarily refrain from using the road. The statement adds that law enforcement agencies in the region are "taking all necessary measures to ensure public safety."
Military checkpoints in Rostov-on-Don
Checkpoints have been established near the Southern Military District headquarters in Rostov-on-Don, with military and law enforcement upholding the public order.
Military checkpoints have been established on streets adjacent to the headquarters, with numerous police cars; an armored personnel carrier was spotted near the headquarters building.
Car traffic has been blocked on Russia's M-4 highway past Rostov-on-Don towards Aksay, according to TASS reported at the scene.
All cars moving from Rostov-on-Don towards Aksay are being redirected back in the city, and police checkpoints have been reinforced.
---
The previous Threats of Prigozhin
Introduction by Fabio Giuseppe Carlo Carisio
ARTICLE PUBLISHED ON JUNE, 24, 2023
Already during the bloody battle of Bakhmut, the leader of the Wagner Group paramilitary mercenaries had already sent signs of instability, complaining that he had not received enough weapons and ammunition from the Russian Defense Ministry to fight.
This led me to suspect that even among Russian mercenaries there was a thriving black market in smuggling weapons to be resold to the highest bidder.
"Western Weapons could end up in Criminals Hands". Interpol issues Ukrainian Warning
Today Yevgeny Prigozhin, hit by various arrest warrants from the American FBI for serious financial crimes and therefore likely tempted to make a clean life in the West, has probably decided to betray his country and sell himself to NATO at a time when the army Ukrainian backed by the Atlantic Alliance is suffering gigantic losses in a failed counter-offensive for which Kiev and Washington are sharing the blame.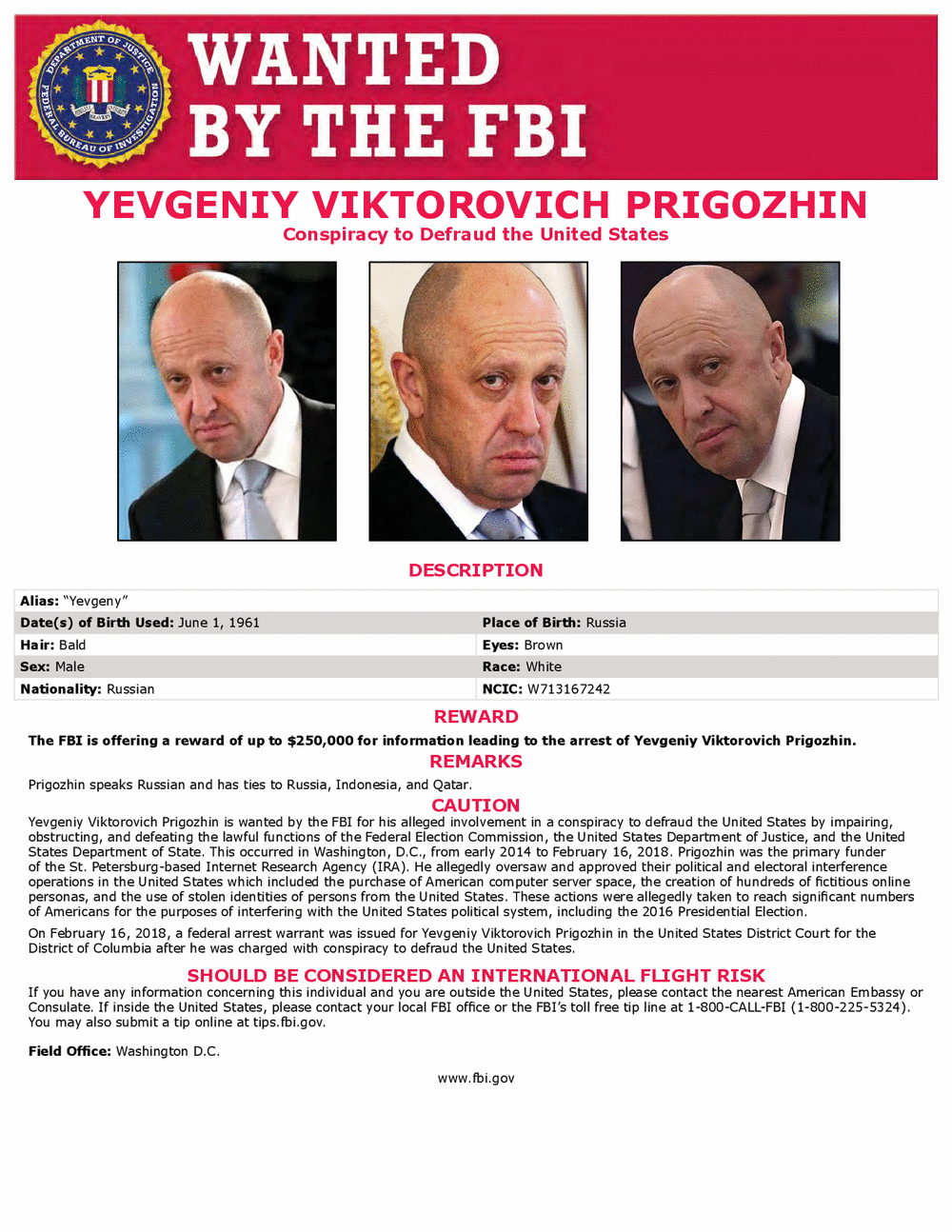 His gesture appears to be that of a traitor who has let himself be tempted by Western corruption. As he can be expected from the worst of mercenaries.
In fact, he even went so far as to deny the evidence how the multiple attacks with which the Kiev army, after the 2014 NATO coup, violated the truce of the Minsk agreements in Donbass forcing Russia to intervene to stop the genocide of the population pro-Russian by the neo-Nazis of the Azov Battalion.
An American Neo-Nazi who Fought within Azov Battalion Avowes the Crimes of his Ukrainian 'colleagues'
The gesture by Wagner's boss appears to be an act of high treason against Moscow and, therefore, could cost him dearly because some NATO countries such as Turkey are used to recruiting ISIS fighters and Al Qaeda jihadists as mercenaries by releasing them from prison but paying only 1,200 – 1,500 dollars a month and, therefore, Ukraine will hardly be able to afford to pay Wagner's paramilitaries 2,700 dollars (250,000 rubles) as Russia pays them.
That is why Prigozhin must now fear treason by his men more than Russian justice.
14 Thousand Jihadist Troops in Libya for Turkey Blitz alongside US Weapons' Lobby, NATO's Deep State & NWO
FSB opens criminal case after Wagner boss calls for 'armed rebellion'
Yevgeny Prigozhin, head of Wagner Group private military company, is under investigation for allegedly advocating a mutiny against the government, Russia's anti-terrorism committee said on Friday.
All of Prigozhin's claims are "entirely unfounded," the body said in a statement, adding that the Federal Security Service (FSB) has "opened a criminal investigation on account of calling for an armed rebellion."
"We demand the immediate end to all illegal activity," the anti-terrorism committee stated.
Earlier, the Russian Defense Ministry accused Prigozhin of spreading falsehoods over a video circulating on social media that claimed the Russian military had attacked a base of Wagner fighters.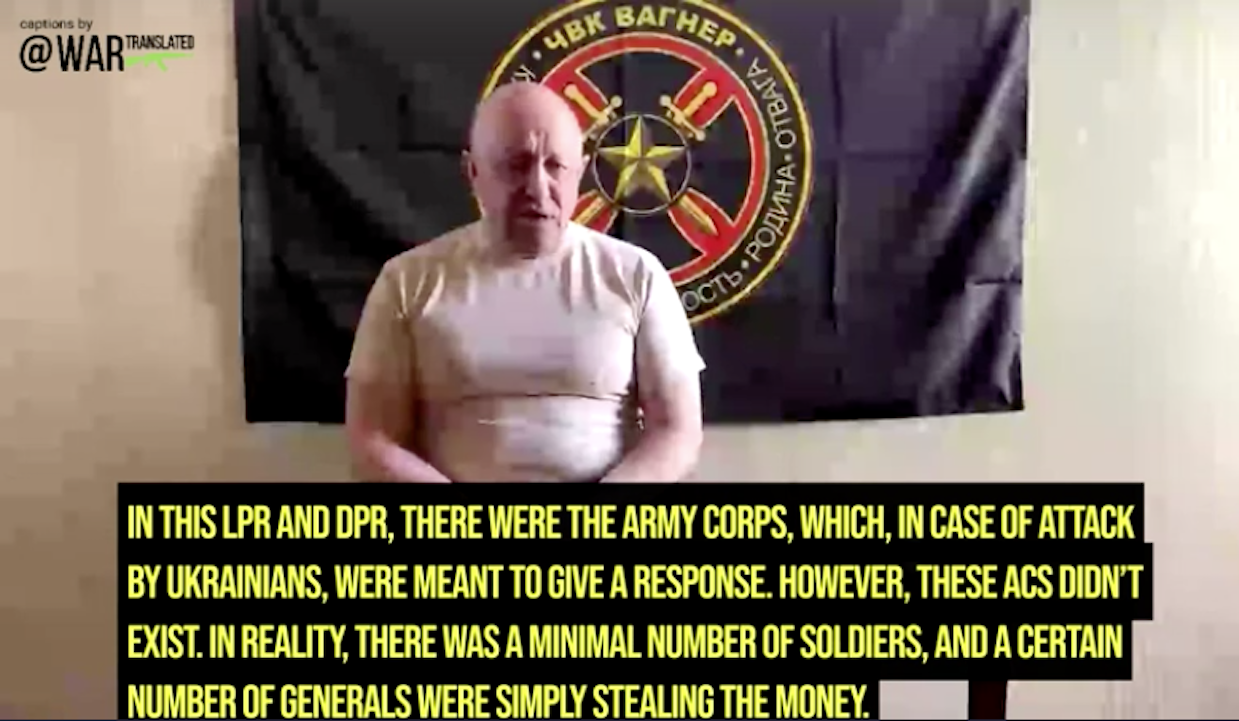 "A large number of our fighters died. We will decide how we will respond to this atrocity. The next step is ours," Prigozhin said in a statement commenting on the alleged attack. He then vowed to march on Moscow and hold those responsible to account, warning the military to stay out of his way.
The Defense Ministry described Prigozhin's claims as "an informational provocation" and said the Russian military was fighting on the frontlines against the Ukrainian troops.
The Prosecutor-General's Office said that "this crime is punishable by imprisonment for a term of 12 to 20 years."
Putin: "Kiev unleashed War in 2014 after a Bloody Coup, Russia had right to help Donbass under UN Charter"
According to Kremlin spokesman Dmitry Peskov, Russian President Vladimir Putin has been briefed about the situation involving Prigozhin and Wagner, and "all the necessary measures" are being taken to resolve the matter.
originally published by Russia Today
---
Wagner chief spreading misinformation – MOD
The Russian Defense Ministry has accused PMC Wagner head Yevgeny Prigozhin of spreading falsehoods, after a video made the rounds on social media on Friday purporting to show a rocket strike on one of the company's bases from Russian territory.
"All messages and video distributed on social networks on behalf of [Yevgeny] Prigozhin about the alleged strike by the [Russian military] on the camps of PMC Wagner in the rear areas do not correspond to reality and are an informational provocation," the ministry said in a statement.
Update – Russian Forces Wipe out 8 Ukrainian Artillery Ammo Depots in Kharkov, Zaporozhye and Kherson regions
"Armed Forces of the Russian Federation continue to carry out combat missions on the line of contact with the Armed Forces of Ukraine in the area of the special military operation," the ministry added.
The statement came in response to a video purporting to show the aftermath of a "missile attack" on a Wagner camp in a forest somewhere. "There are many dead. According to eyewitnesses, the strike came from behind, i.e. from the forces of the Russian Defense Ministry," according to the social media post.
"A large number of our fighters died. We will decide how we will respond to this atrocity. The next step is ours," Prigozhin said in a statement commenting on the alleged attack.
Originally published by Russia Today
---
Top Russian general sends message to 'mutinous' Wagner PMC
Deputy commander of the Russian Joint Forces, General Sergey Surovikin, asked on Friday the fighters of the private military company Wagner Group to stop their "rebellion" against Moscow.
In a short video message released on social media, Surovikin said he had just returned from the front, where Russian forces were standing their ground against the Ukrainian offensive.
Key Donbass city Bakhmut Completely Liberated by Russians. President Putin Congratulates Troops on Battefield Success
"I appeal to the fighters and commanders of the PMC Wagner," Surovikin said, still wearing his fatigues. "We have walked a difficult road together. We fought together, took risks together, suffered losses together, and won together. We are of the same blood. We are warriors. I urge you to stop. The enemy is just waiting for the internal political situation to worsen. We should not play into the enemy's hands in these difficult times for our country."
Ukraine attempts to retake Artyomovsk after Prigozhin 'provocation' – MOD
Kiev is concentrating troops in an attempt to retake the key Donbass city of Artyomovsk, known as Bakhmut in Ukraine, the Russian Ministry of Defense has announced.
According to the ministry, Ukrainian units are "taking advantage of [Wagner chief Evgeny] Prigozhin's provocation aimed at disorganizing the situation."
"Servicemen from the Southern group are suppressing the enemy with artillery and aviation strikes," the statement added.
Originally published by Russia Today
---
Another Infernal Day of War for Ukraine: Kiev's Forces have lost 20 Tanks and over 1,000 Soldiers
Seymour Hersh: "More than half of world's population supports Russia"
(Visited 1.159 times, 3 visits today)