Another Infernal Day of War for Ukraine: Kiev's Forces have lost 20 Tanks and over 1,000 Soldiers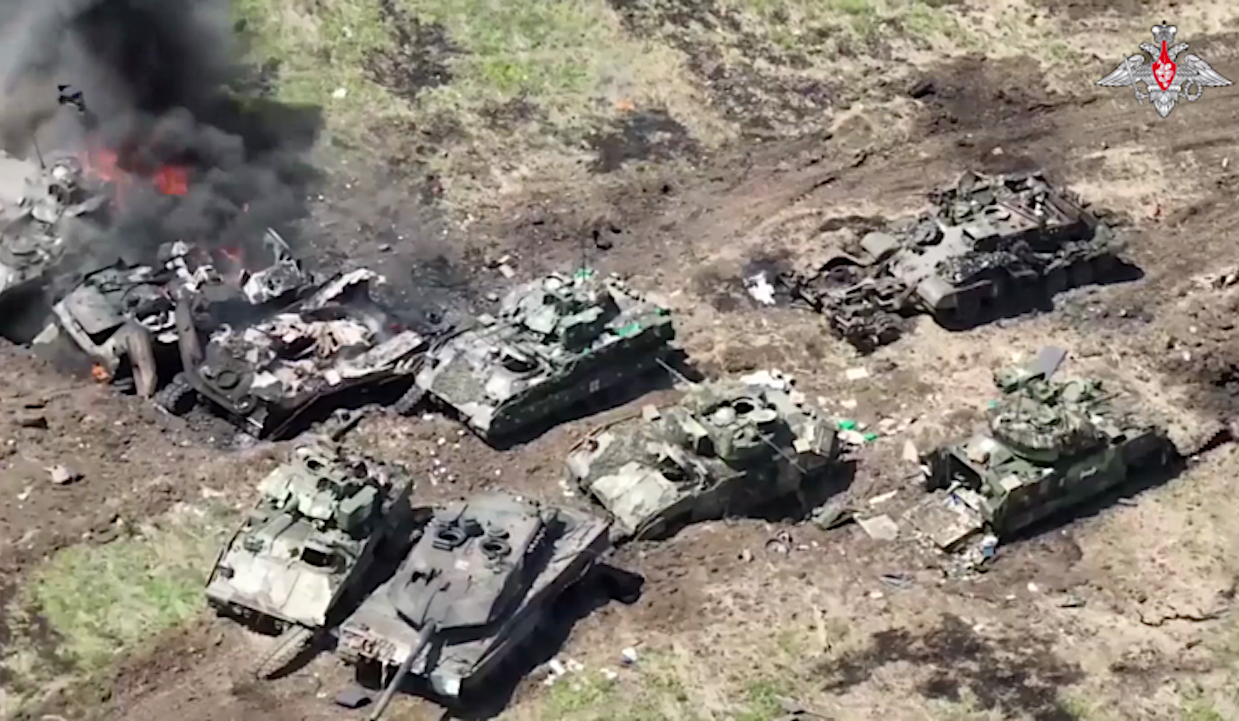 Ukrainian military forces have sustained heavy casualties across the frontlines during the last 24 hours, the Russian Defense Ministry has said. Russia's Zaporozhye and Donetsk regions have seen the most intense fighting, with Kiev losing more than 800 soldiers in those regions.
"Over the past day, enemy losses in the Southern Donetsk and Zaporozhye directions amounted to more than 800 Ukrainian servicemen, 20 tanks, four infantry fighting vehicles, [and] 15 armored fighting vehicles,"the military stated on Sunday during a daily media briefing. The ministry did not elaborate on whether its figures for casualties includes those killed and injured or fatalities exclusively.
Update – Russian Forces Wipe out 8 Ukrainian Artillery Ammo Depots in Kharkov, Zaporozhye and Kherson regions
As well as these setbacks in personnel and equipment, Ukrainian troops also lost two US-made M777 howitzers and several Soviet-made artillery systems, the military added.
The immediate vicinity of Donetsk city has also seen intense fighting, with Ukrainian forces losing over 200 soldiers on this axis, according to the ministry. The Russian military has destroyed multiple soft and armored vehicles on the outskirts of Donetsk, it also said, as well as two major ammunition stockpiles to the northwest of the city.
ANALYSIS OF A PLANNED CATASTROPHE. Too Many Clues Accuse Kiev on Dam Explosions. It had been Hit by Missiles US Himars or Ukraine Vilkha
The ongoing conflict between Russia and Ukraine has intensified after Kiev launched its long-heralded counteroffensive in early June. Thus far, the Ukrainian military has failed to make any major gains, sustaining heavy losses in the process and losing large amounts of Western-supplied hardware.
During Counteroffensive over 7,500 Ukrainian soldiers Killed or Wounded and almost 200 Tanks Destroyed
According to the estimates of Moscow's military, some 7,500 Ukrainian soldiers have been killed or wounded amid the counteroffensive effort.
Ukraine has already lost more than 600 armored vehicles, including 186 tanks, during its counteroffensive effort against Russian troops, President Vladimir Putin told the St. Petersburg International Economic Forum (SPIEF) on Friday.
Disastrous Ukraine Counter-Offensive! "3,715 Troops, 52 Tanks, 5 Air Fighters, 4 Ammo Depots Destroyed". Final Report by Russian MOD
"Their losses are very heavy – about more than one in ten compared to the Russian army. That is a fact. In terms of hardware, every day there is an increase in the loss of this materiel. To date, 186 tanks have been lost by the Ukrainian army and 418 armored vehicles,"Putin claimed, referring to the ongoing operation by Ukrainian forces.
originally published by Russia Today
---
Russian Defence Ministry report:
In total, 444 airplanes, 239 helicopters, 4,686 unmanned aerial vehicles, 426 air defence missile systems, 10,156 tanks and other armoured fighting vehicles, 1,125 fighting vehicles equipped with MLRS, 5,149 field artillery cannons and mortars, as well as 11,028 special military motor vehicles have been destroyed during the special military operation.
---
"Ukraine ready to pay West in People's Organs for Military Assistance". Russian diplomat said
Putin: "Kiev unleashed War in 2014 after a Bloody Coup, Russia had right to help Donbass under UN Charter"
How Russia is Winning the Conflict protracted by NATO's Weapons with EU-US Citizens' Money. Last Ukrainian Military Ship Destroyed (video), UK Cruise Missiles Intercepted
(Visited 557 times, 1 visits today)