Young US Christian Arrested while Preaching on Public Opposing Drag Queen event among Children (video)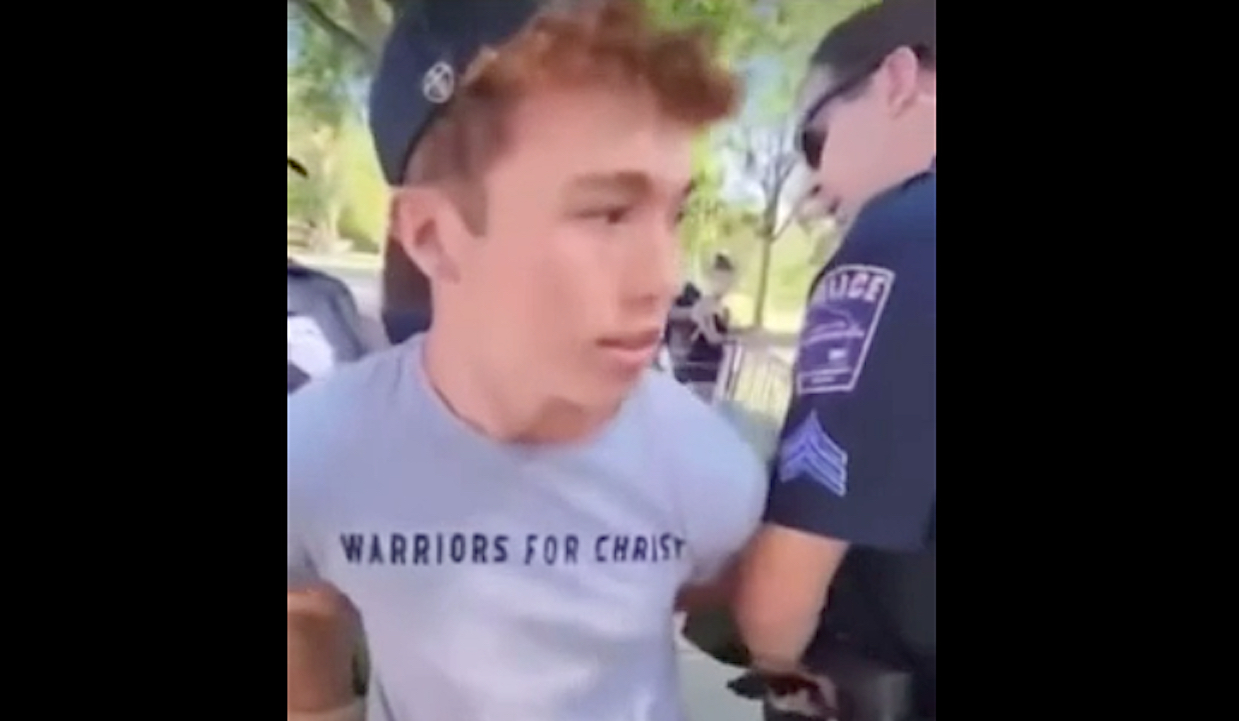 by Victor Nieves
All links to previous Gospa News articles have been added aftermath for relevance to the topics highlighted
As the Gateway Pundit reported (article below – ed), a young man was arrested on Saturday while preaching on the sidewalk.
The young man, identified as Marcus Schroeder, was part of a large protest against an all ages drag queen event in Watertown, Wisconsin. He is seen in the video wearing a bold T-shirt that says "Warriors for Christ" and preaching from the Bible.
The police showed up and arrested him, seemingly without warning, for preaching on a public sidewalk while using a speaker and microphone.
Bible Banned in the Schools into a US State. Cultural Freedom for Transgenderism and Satanism, not for Christianity!
Apparently grown men can show up to pride events butt naked in front of small children and that is totally fine, but when a young man wants to spread his faith he gets arrested.
What happened to this country?
by Victor Nieves – originally reported on Gateway Pundit
---
Victor Nieves is a unique voice in politics. As an experienced conservative content creator and commentator, he has built an audience of over 400 thousand followers on social media platforms. He is also the host of "The Victor Nieves Show" on the Real Talk Radio Network weekdays from 4-6pm. His content has been viewed by hundreds of millions worldwide and featured on cable news, and radio stations across the country. Victor is also a podcast host, and author of the book "Conservative Prudence".
You can email Victor Nieves here, and read more of Victor Nieves's articles here.
---
Outrageous! Wisconsin Man Arrested by Dirty Cops While Reading the Bible on Public Property
A young street preacher was arrested on Saturday after reading the Bible on a sidewalk according to a local report.
Marcus Schroeder, the young man in question, was protesting an all ages (meaning children were allowed) drag event in Watertown, Wisconsin with more than 200 individuals from various groups.
The Republic Sentinel reported the protest was organized by members of the Mercy Seat Christian Church in Brookfield, Wisconsin. Schroeder is a member of the church.
House Judiciary Subpoenas FBI Director Wray and AG Garland for Targeting Parents vs LGBT Propaganda at School
A Twitter user captured video showing Schroeder, who is wearing a t-shirt with the words "WARRIORS FOR CHRIST," being approached by overzealous cops while he was quoting scripture. One cop grabs Schroeder's microphone before he finishes speaking.
A confused Schroeder can be heard asking "what are you doing." A fellow protester follows up by saying they were not given any warning and said they could speak freely.
The cops proceed to place Schroeder in handcuffs anyway. One officer said Schroeder was being arrested for sharing his message with the use of a microphone and a speaker. Of course, the young man had every right to exercise his First Amendment rights.
"You guys are acting like thugs, man," Schroeder replied.
by Cullen Linebarger – originally published on Gateway Pundit
---
Pope Francis Warned that "Transgenderism" is one of the "most Dangerous Ideological Colonizations"
Pedophilia on Facebook: Denounced 146 Groups. Orcs in Chat due to Hypersexualization among Minors Permitted by Zuckerberg
Madonna Snubs Christian School Shooting Victims in upcoming Nashville concert for 'Trans Rights' after the Audrey's "Hate Crime"
To Understand Israeli LGBTQ Propaganda we have to Learn Difference between Masonic-Zionism and Judaism
Russia: the Last True Bulwark of Christianity. LGBT Propaganda Prohibited to Protect Children against Gender Theory and Pedophilia
(Visited 251 times, 1 visits today)