WEAPONS LOBBY – 11. Huge Profits by NATO's Firms thanks to the Ukraine Devastating War against Peace. US Approval to Supply F-16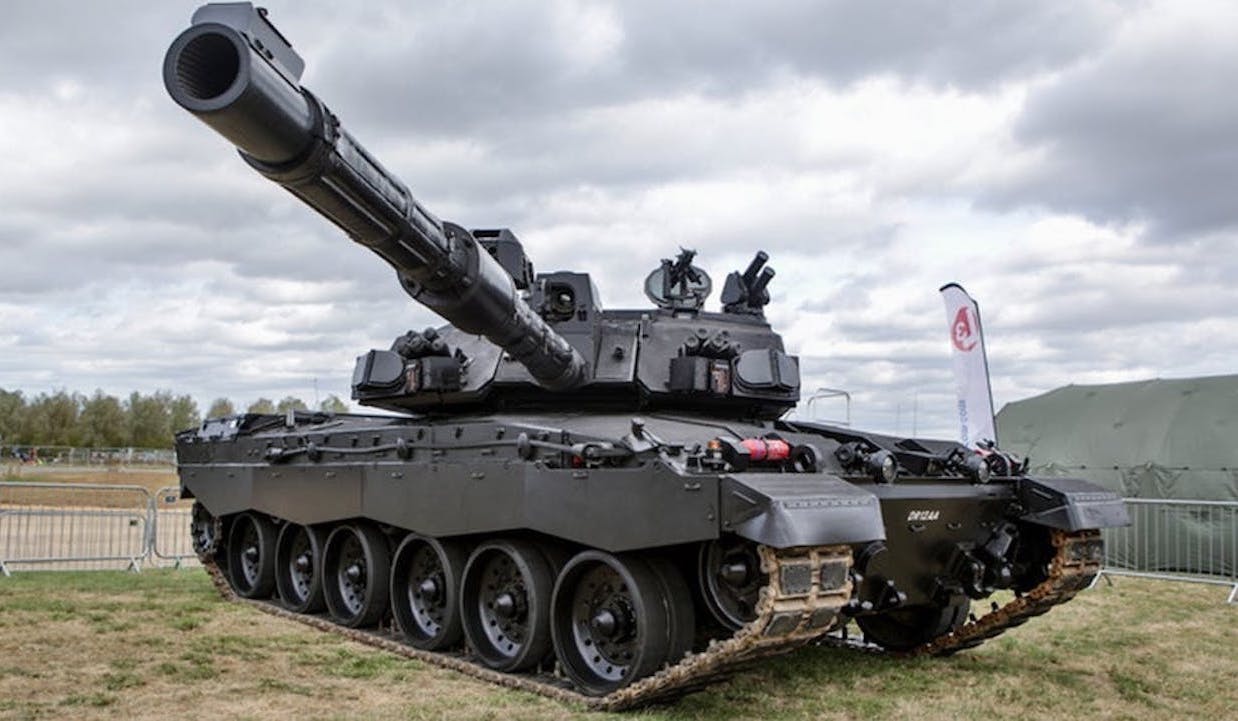 In the cover image a tank Challenger 2 (MBT, known as Black Night), produced by British BAE Systems and and similar to those supplied to Ukraine
Introduction by Fabio Giuseppe Carlo Carisio
In January 2023 it was confirmed that the United Kingdom would supplied Ukraine with 14 Challenger 2 main battle tanks along with support vehicles. On 29 January, the first Ukrainian troops arrived in the UK to begin training on British Challenger 2 tanks produced by BAE Systems. These troops completed their training on 27 March and returned to Ukraine, the first Challenger 2 tanks were delivered to Ukraine on the same date.
Now BAE Systems, the British manufacturer of those tanks controlled by Barclays partner of the Rothschilds and therefore indirectly by a Qatari sovereign wealth fund, is doing gold business.
Because the Russian forces have destroyed or disabled hundreds of Ukrainian heavy weapon systems, including many Western-made main battle tanks, in the start of Kiev's much-touted counteroffensive, according to Russia Defense Ministry daily report:
«In total, 459 airplanes and 246 helicopters, 5,805 unmanned aerial vehicles, 431 air defence missile systems, 11,349 tanks and other armoured fighting vehicles, 1,144 combat vehicles equipped with MLRS, 5,918 field artillery cannons and mortars, as well as 12,289 units of special military equipment have been destroyed during the special military operation»
The Scar of Zelensky & NWO on Peace. He Refuses the Pope's Mediation with Russia thanks to the Arms promised by the Italian President
These numbers confirm that the Ukrainian president Volodymyr Zelensky can continue to refuse any peace negotiation with Moscow, even the one proposed through the mediation of the Vatican, because it is fueling the gigantic business of the Weapons Lobby which conditions the military geopolitics of NATO and of the countries belonging to the Atlantic Alliance since the CEPA plan for the militarization of Eastern Europe.
NATO will keep arming Ukraine until Kiev decides the time is right to enter negotiations with Russia, Secretary General Jens Stoltenberg declared on Thursday. The statement came after Stoltenberg's top aide seemingly suggested a deal whereby Ukraine would abandon its territorial claims in exchange for membership in the US-led bloc.
The "Pathetic and Dangerous" NATO Summit's LIES. Warning on Nuclear Conflict Risk by Former Italian Ambassador
Speaking to Norwegian media, Stoltenberg said that NATO's priority is "to support Ukraine militarily," adding that "if you want a lasting, just peace, then military support for Ukraine is the way to get there. There is no doubt about that."
"It is Ukraine, and only Ukraine, that can decide when the prerequisites for negotiations are present. And who can decide, around a negotiating table, what is an acceptable solution," he continued. "Our task is to support them."
Stoltenberg's statement was not a radical departure from his previous rhetoric on Ukraine. The NATO chief has long insisted that Ukraine will fight until it defeats Russia or chooses to seek peace, but his latest affirmation of support came after his top aide cast doubt on the bloc's commitment to Kiev's aims.
WEAPONS LOBBY – 9. Norges Bank: Dirty Affairs of War among Stoltenberg, Gates, Nato & Italy. Oslo Business on Leopard Tanks for Ukraine
As in the pandemic triggered by a virus SARS-Cov-2 manmade in a laboratory and "intentionally released by the US" according by the patents expert David E. Martin one of the shady and notorious directors Atlantic Alliance policies is Bill Gates, who placed his "puppet" Stoltenberg at the top of NATO and has many ties with Western weapons corporations above all in the new projects on Artificial Intelligence aimed to military use.
Below there are all the details on the affairs of the warlords of the West thanks to the war in Ukraine reconstructed from some Russia Today reports, however, based on Western media sources.
Fabio Giuseppe Carlo Carisio
© COPYRIGHT GOSPA NEWS
prohibition of reproduction without authorization
follow Gospa News on Telegram
UKRAINE WAR: The NATO'S BLOODY SHOW must Go On! Cluster Bombs from US and €500 million from EU in Military Aid:
---
BAE Systems is expanding further into the US with the acquisition of the aerospace division of Ball Corporation, the FT has reporterd
by Russia Today
All links to previous Gospa News investigations have been added aftermath for the ties with the topics highlighted
British defense contractor BAE Systems has agreed to acquire the aerospace division of US Ball Corporation in a $5.55 billion cash deal, the Financial Times reported on Thursday.
According to the outlet, citing BAE, the acquisition would add more than $2 billion in annual revenues for the UK-based defense company. The deal is expected to be closed in the first half of 2024.
WEAPONS LOBBY – 4. UK and Italy in the hands of Qatar's Muslim Brotherhood: Rothschild partner and Jihadists' funder
Ball, which makes mission-critical space systems and defense technologies, has "strong growth potential in areas aligned with the US intelligence community and department of defense's highest priorities," BAE was quoted as saying.
The UK company's chief executive, Charles Woodburn, noted the acquisition had a compelling "strategic and financial rationale."
The deal reportedly comes less than a month after BAE raised its annual profit projection due to a record number of orders amid the conflict in Ukraine. The UK weapons manufacturer builds Eurofighter Typhoon jets, nuclear submarines, and combat vehicles and produces ammunition for the British military.
BAE revealed a record order book this month, saying it now expects to generate more than £1.8 billion ($2.2 billion) in free cash flow, nearly $765 million higher than previously forecast.
CIA-GATE'S X-FILE – 2. A Pretty Yoga-Coach at the top of US Counter-Intelligence which Leads an alleged Weapons Black-Market
A recent ranking by Defense News magazine showed that the revenues of the top Western defense contractors have been soaring, topping $200 billion in 2022. According to the report, US, EU, and UK arms makers have been major beneficiaries of weapons sales to Ukraine. Meanwhile, a report by the Pentagon inspector general has revealed that some of the military equipment supplied to Ukraine by the US and its allies has fallen into the hands of criminal groups.
Originally published by Russia Today
---
Profits of Western arms makers top $200 billion
The revenues of the top Western defense contractors have been soaring, with American weapons makers dominating the global arms industry, Defense News reported on Monday. According to the magazine's new ranking of the top 100 defense firms, in 2022, America's top five weapons contractors made $196 billion in military-related revenue.
WEAPONS LOBBY – 8. American Armaments Sales in Europe Booming thanks to the War in Ukraine: "US Colony after Nato Coup"
The ranking shows that four US-based companies were among the world's top five military contractors. The US has emerged as the main source of weapons for Ukraine amid its conflict with Russia, having committed around $37 billion in security assistance to Kiev.
In the first half of the year, the revenue of the top 25 Western defense contractors increased by 11% to $212 billion, corporate information cited by the Ravenstvo Media Telegram channel shows.
According to the calculations, the total arms sales for these companies for 2023 are expected to amount to $448 billion – a $47 billion increase on last year. By 2026, the amount could rise by more than 20% to $554 billion on the back of arms deliveries to Ukraine and rearmament in Europe, the report noted.
WEAPONS LOBBY – 10. German Arms-Making Giant Flourishing amid Ukraine Crisis. But Berlin refused Supply of Cruise-Missiles
It is estimated that Western defense contractors will increase revenues by $150 billion, or 37%, from 2021 to 2026. In contrast, economic growth in advanced countries will be half of that pace in the same period, Ravenstvo Media reported. It cited IMF projections that by 2026, the collective GDP for advanced nations will be $67.8 trillion, compared with $56.6 trillion in 2021.
US manufacturer Boeing is dominant among defense-focused companies, data shows, with supplies to Ukraine ranging from ScanEagle unmanned aerial vehicles and Avenger air defense systems, to Harpoon and Hellfire missiles, and Ground Launched Small Diameter Bombs.
Fellow US defense contractor RTX, formerly known as Raytheon Technologies, has also supplied an array of arms and systems, including Patriot long-range missiles, Javelin and TOW anti-tank systems, and Stinger MANPADS.
France has sent SCALP long-range missiles, which are manufactured by MBDA, a joint venture between BAE Systems, Airbus, and Leonardo.
UPDATE. Kramatorsk Restaurant's Massacre may be Caused by a Storm Shadow British Missile Intercepted by Russian Army
A recent report by the Pentagon inspector general revealed that some of the military equipment supplied to Ukraine by the US and its allies has fallen into the hands of criminal groups. Moscow, which strongly opposes the supply of Western weapons to Kiev, has frequently pointed to the danger of arms being smuggled out of Ukraine and sold on the black market.
Originally published by Russia Today
---
US calls on NATO states to send F-16s to Ukraine
Denmark and the Netherlands can send Ukraine F-16 fighters as soon as the pilot training is complete, US Secretary of State Antony Blinken said in a letter seen by Reuters on Thursday.
"I am writing to express the United States' full support for both the transfer of F-16 fighter aircraft to Ukraine and for the training of Ukrainian pilots by qualified F-16 instructors,"Blinken said in a letter to his counterparts in The Hague and Copenhagen.
According to the agency, Blinken pledged that the US will approve all the necessary third-party requests for the delivery of US-made jets, so that Ukraine can take "full advantage of its new capabilities as soon as the first set of pilots complete their training."
CIA-GATE – 4. Bulgarian Tea Party: How US Intelligence Supplies Ukraine with White Phosphorus
The letter comes just a day after Ukrainian Air Force spokesman Yury Ignat told reporters that Kiev had "high hopes" for receiving the jets this year, but "unfortunately, it is already clear that we will not be able to protect Ukraine with F-16s throughout the fall and this winter."
Denmark and the Netherlands are spearheading the "coalition" to train Ukrainian pilots on the US-made fighters, which also consists of Belgium, Canada, Luxembourg, Norway, Poland, Portugal, Romania, the UK and Sweden. About half of those countries do not actually have F-16s in their service. None of them have publicly committed to sending any of the jets to Kiev.
The US is not sending any jets itself, President Joe Biden's top adviser Jake Sullivan was adamant in early July, telling reporters they will "likely" come from "European countries that have excess F-16 supplies."
"Western Nations are Waging Undeclared War vs Moscow and Minsk". Russia deployed Nuclear Weapons on Belarus
The single-engine fighter was designed in the 1970s by General Dynamics, and is currently in limited production by Lockheed Martin, which also makes the notorious F-35.
Speaking in June, Russian President Vladimir Putin predicted that F-16s "will burn" just like the Western tanks supplied to Kiev, and said that Russia will find ways to strike at sites outside Ukraine if the jets end up being based there. Operating the F-16 requires pristine runways, which Ukraine does not possess.
Originally published by Russia Today
---
GOSPA NEWS – WEAPONS LOBBY DOSSIER
"US Intentionally released SARS-Cov-2 in Wuhan". Patents' American Researcher Martin told at EU International Covid Summit
WEAPONS LOBBY – 7. NATO-GATES International Military Intrigue in Turin. To Develop AI and Aerospace Technologies In DIANA Project
WEAPONS LOBBY – 5. NWO's Warfare Plan against Russia and Counter-Information. CEPA Project from Washington with NATO-EU & Defense Corporations
Another Infernal Day of War for Ukraine: Kiev's Forces have lost 20 Tanks and over 1,000 Soldiers
Turkish papers: 21 Erdogan's jihadist militias supported by Cia, Pentagon and armed with TOW missiles
(Visited 334 times, 10 visits today)