UKRAINE WAR: The NATO'S BLOODY SHOW must Go On! Cluster Bombs from US and €500 million from EU in Military Aid:
In the cover image the Ukrainian president Volodymyr Zelensky and a cluster bomb
Introduction by Fabio Giuseppe Carlo Carisio
The NATO war against Russia waged in the territory of Ukraine and with the blood of this tortured population today marks two more steps forward that will make it even more bloody.
After the United Kingdom has supplied the Storm Shadow cruise missiles, one of which would have been at the origin of the Kramatorsk restaurant massacre, and the anti-tank ammunition with depleted uranium which can cause very serious radioactive contamination as occurred after the bombing of a deposit in Khmelnitsky, the USA has decided to empty the arsenals of cluster bombs, unused because they are too dangerous for collateral damage to civilians, and the European Union has taken the first step towards a maxi-financing of 500 million euros in military aid, which however will have to overcome the Sword of Damocles and threats of blockade of Hungary during the approval needed to convert the proposed ASAP agreement into law.
UPDATE. Kramatorsk Restaurant's Massacre may be Caused by a Storm Shadow British Missile Intercepted by Russian Army
To the very dangerous American-made "cluster bombs", banned in 120 countries around the world, Russia could respond by deciding to use the 7,000 old-made rockets it keeps in reserve in its arsenals as they are too dangerous due to the poor accuracy and the collateral damage they can cause to civilian targets close to military ones.
US agrees to provide Ukraine with controversial Cluster bombs
The Biden administration has decided to provide cluster munitions to Ukraine and is expected to announce that the Pentagon will send thousands as part of a new military aid package worth up to $US800 million ($1.2 billion) for the war effort against Russia, according to people familiar with the decision.
The decision comes despite widespread concerns that the controversial bombs can cause civilian casualties. The Pentagon will provide munitions that have a reduced "dud rate," meaning there will be far fewer unexploded ones that can result in unintended civilian deaths.
Dirty Bombs might have been beside Depleted Uranium Ammo hit by Russian Missiles (New Footages).
US officials said they expect the military aid to Ukraine will be announced on Friday (local time). The weapons will come from Pentagon stocks and will also include Bradley and Stryker armoured vehicles and an array of ammunition, such as rounds for howitzers and the High Mobility Artillery Rocket System, known as HIMARS, officials said.
Long sought by Ukraine, cluster bombs are weapons that open in the air, releasing submunitions, or "bomblets," that are dispersed over a large area and are intended to wreak destruction on multiple targets at once.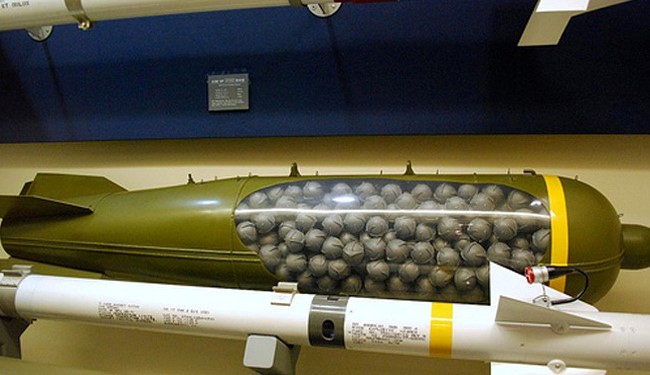 A convention banning the use of cluster bombs has been joined by more than 120 countries, including Australia who agreed not to use, produce, transfer or stockpile the weapons and to clear them after they've been used.
The United States, Russia and Ukraine are among the countries that have not signed on.
«Cluster munitions used by Russia and Ukraine are harming civilians now and will leave bomblets behind that will continue to do so for many years. Both sides should immediately stop using cluster munitions and not seek to obtain more of these indiscriminate weapons. The US should not transfer cluster munitions to Ukraine».
This was the appeal launched yesterday by Human Rights Watch (HRW) but ignored by Biden administration.
EU Council Presidency Agreement to €500 million Military aid to Ukraine
Today the Council presidency has today reached a provisional agreement with the European Parliament representatives on the Act in Support of Ammunition Production (ASAP).
The agreed regulation will urgently mobilise €500 million from the EU budget (in current prices) to support the ramp-up of the manufacturing capacities for the production of ground-to-ground and artillery ammunition as well as missiles. (here the PDF Act)
UK supplies long-range Missiles to Kiev. But Russia Increased 7-fold the Weapons production among which the "Unmatched" Hypersonic Rockets
The informal agreement now needs to be endorsed by both Parliament and Council in order to become law. It will be put to a vote in the Industry, Research and Energy Committee on Monday, 10 July, and in plenary session the same week.
But two days ago Hungary threatened to block all EU military aid to Ukraine…
Hungary threatened to block all EU military aid to Ukraine
by Russia Today
Hungary will not agree to any further EU financing of arms shipments to Ukraine unless Kiev removes the nation's largest lender from its list of "sponsors of war," Foreign Minister Peter Szijjarto told a press conference on Tuesday. The minister blasted Ukraine for putting Hungary's OTP bank on what he called a "list of shame," calling the move "outrageous" and "unacceptable."
"Our position is clear: until OTP [bank] is removed from this list, Hungary will not greenlight any additional EU funding for weapon shipments to Ukraine," the minister said. The decision will cover not just the €500 million ($546 million) tranche of arms Budapest vetoed earlier, but any further military assistance as well, he warned.
"It will be better if they [the EU] do not come up with any proposals to finance further arms deliveries," Szijjarto said.
Budapest is "doing everything to help the Ukrainian people," and Hungarians "are paying the price of a war they have nothing to do with," Szijjarto said following a meeting of the Hungarian-Jordanian joint economic committee. The official also called Kiev's attitude toward Hungary puzzling. "We really sometimes have a feeling that they [the Ukrainians] are making fun of us," he said.
Cracks in The EU! Mig Fighters from Slovakia to Ukraine. Hungary Rejects ICC Arrest Warrant for Putin
The minister also blasted the reasons for which Ukraine put OTP on its blacklist, saying: "we would like to laugh [at them] because these are ridiculous things that are brought up." At the same time, he called the situation around the Hungarian bank "serious," adding that Budapest is "rather horrified" over the development.
Hungary blocked an EU military aid tranche for Ukraine back in May, citing Kiev's "increasingly hostile" attitude toward the country.
The money blocked by Budapest was part of the so-called European Peace Facility (EPF). The €5.6 billion ($6.08 billion) fund is used by the bloc to finance foreign militaries and reimburse its own members who send arms to foreign conflicts. Before the hostilities in Ukraine, the 'Peace Facility' had been used to supply non-lethal equipment to Georgia, Mali, Moldova, Mozambique, and Ukraine, for a total of less than $125 million.
How Russia is Winning the Conflict protracted by NATO's Weapons with EU-US Citizens' Money. Last Ukrainian Military Ship Destroyed (video), UK Cruise Missiles Intercepted
Budapest has repeatedly called for a ceasefire and peace deal in Ukraine and criticized the EU for sending arms to Kiev. Hungary has also insisted that anti-Russia sanctions hurt Europe more than they hurt Russia. In June, Hungarian Prime Minister Viktor Orban told the German tabloid Bild that a Ukrainian victory on the battlefield was "impossible."
Original published by Russia Today
Hungary: "Ukraine must Explain how €70 billion was Spent"
Hungary will oppose the European Commission's plans to give Ukraine €50 billion in financial aid until Kiev explains what it did with the €70 billion already received from the EU, Prime Minister Viktor Orban said on Friday. Budapest and Brussels have repeatedly clashed over the supply of cash and arms to Ukraine.
According to the latest figures from Brussels, the EU has given Kiev €72 billion ($79 billion) in economic, military, and humanitarian aid since Russia's military operation began last February. Despite this unprecedented outflow draining its coffers, the European Commission announced earlier this month that it would offer Kiev an additional €50 billion in loans and grants.
The Scar of Zelensky & NWO on Peace. He Refuses the Pope's Mediation with Russia thanks to the Arms promised by the Italian President
"One thing is clear, we Hungarians… will not give more money to Ukraine until they say where the previous around 70 billion euros worth of funds has gone," Orban told Hungarian radio, according to a Reuters report.
"And we find it utterly ridiculous and absurd, that we should contribute more money to finance debt service costs of a loan, from which we have still not received the funds we are entitled to get," he continued, referring to the commission's recent announcement that interest costs on the bloc's external debts would double this year due to inflation.
The commission is currently denying Hungary and Poland access to billions in cohesion funds over differences with their governments on judicial reform, academic, LGBTQ issues and immigration. European Commission President Ursula von der Leyen admitted last year that the withholding of funds is one of several "tools" that Brussels can use to force member states to "work with us."
Hungarian PM Orban delighted by Erdogan's Victory in Turkey over "Soros' Man". Turkish President: "LGBT are Not Welcome"
Hungary blocked an €18 billion financial aid package for Ukraine last year until Brussels freed up a separate batch of funding withheld from Budapest. More recently, Hungarian Foreign Minister Peter Szijjarto stated on Monday that Hungary would extend for another month its veto on a €500 million arms package from the EU's common weapons fund for Ukraine.
WEAPONS LOBBY – 9. Norges Bank: Dirty Affairs of War among Stoltenberg, Gates, Nato & Italy. Oslo Business on Leopard Tanks for Ukraine
Orban and Szijjarto have both repeatedly called for an immediate ceasefire and peace talks in Ukraine. Earlier this week, Orban explained that a Ukrainian victory on the battlefield is "impossible" and that without an immediate ceasefire and an end to Western arms deliveries, Ukraine will "lose a huge amount of wealth and many lives, and unimaginable destruction will occur."
Original published by Russia Today
---
Zelensky clashes with Bulgarian president over weapons demands
Bulgarian President Rumen Radev found himself lectured to by his Ukrainian guest Vladimir Zelensky on Thursday, after telling him that Sofia had no weapons to spare for Kiev. As TV cameras documented their meeting, Zelensky attacked Radev for advocating a diplomatic solution to the conflict.
"I do not agree to provide ammunition, especially from the Bulgarian army reserves,"Radev told Zelensky, according to one of the translations. "I continue to maintain that this conflict has no military solution and more and more weapons will not solve it."
Zelensky objected to Radev's use of the term "conflict," insisting that "this is definitely a war."
"God forbid, some tragedy should befall you and you should be in my place," he added. "And if people with shared values do not help, what will you do? You would say: Putin, please grab Bulgarian territory?"

"I also want to tell you, whatever your army has in terms of munitions, it will not be enough to fight with the Russian Federation. You don't have a bad army, your people are good but it would not be enough to fight against 160 million people. That is why it is good to give the people to defend themselves, so that the war does not come to you, to the Poles, to the Romanians – war knows no distance, I can tell you," the Ukrainian leader told his host.
"You cannot support Russia and support a balancing position because Russia wants to destroy NATO, wants to destroy Europe and the European Union; these are their goals. Do you get me?" Zelensky told Radev.
CIA-GATE – 1. Bulgarian Network to Weaponize Ukraine Intelligence and Middle-East's Terrorists
According to Politico's description of the incident, Zelensky "savaged" Radev and "opened up with both barrels" to "maul" the Bulgarian president, delivering his words "with measured scorn" and "barbed irony" as Radev "took refuge" in the sheet of paper in his hands. The Bulgarian president eventually asked the cameras to leave the room.
NATO countries have sent billions of dollars worth of weapons, ammunition and equipment to Ukraine since February 2022, while insisting they were not directly involved in the conflict with Russia.
Earlier in the day, Zelensky met with the government of PM Nikolai Denkov, who has only been in office for a month. Denkov's cabinet supports selling weapons to Kiev. The Ukrainian delegation departed Sofia for Prague, on board a Czech air force transport.
Original published by Russia Today
---
WEAPONS LOBBY – 10. German Arms-Making Giant Flourishing amid Ukraine Crisis. But Berlin refused Supply of Cruise-Missiles
"Western Nations are Waging Undeclared War vs Moscow and Minsk". Russia deployed Nuclear Weapons on Belarus
With Hypersonic Missiles Russia can Win Ukraine Soon. That's why Putin doesn't Use them but ICC wants to Arrest him
(Visited 368 times, 1 visits today)