Hungarian PM Orban delighted by Erdogan's Victory in Turkey over "Soros' Man". Turkish President: "LGBT are Not Welcome"
Hungarian Prime Minister Viktor Orban described the election victory of Turkish President Recep Tayyip Erdogan over challenger Kemal Kilicdaroglu as a "huge relief" in a radio broadcast on Friday.
"If Erdogan had not won, Soros' man would have opened the borders to immigrants," Orban claimed, referring to Kilicdaroglu as an agent of billionaire currency speculator and funder of liberal causes George Soros. Had he won, up to 3 million of the 4 million refugees living in Türkiye would be flooding the Hungarian border by the end of the summer, Orban presumed.
"I didn't just root for him, I prayed specifically for President Erdogan's victory," Orban continued. "It would have been a tragedy if he had not won."
Nobel Peace Prize 2022 to Kiev NGO Created by Soros & US for Ukrainian Coup. Funded also by EU Commission which Bought Arms for Zelensky
The prime minister argued that unlike Erdogan, Kilicdaroglu would have been a pro-war leader who could have disrupted Russian gas supplies to Hungary and Serbia. Hungary receives the vast majority of its natural gas from Russia via the TurkStream pipeline, which carries gas from Russia to Southern Europe through Türkiye. Budapest has repeatedly blocked EU efforts to impose an embargo on Russian gas to punish Moscow for its military operation in Ukraine.
Cracks in The EU! Mig Fighters from Slovakia to Ukraine. Hungary Rejects ICC Arrest Warrant for Putin
Orban stressed the importance of convincing Ukraine and Russia "that a ceasefire is needed and that peace talks are necessary," lamenting that "the vast majority in the EU is against us, they are at our throats."
He predicted a "bloodbath" if Kiev were to go ahead with its planned counteroffensive, pointing out that the odds were not on the Ukrainians' side.
How Russia is Winning the Conflict protracted by NATO's Weapons with EU-US Citizens' Money. Last Ukrainian Military Ship Destroyed (video), UK Cruise Missiles Intercepted
Erdogan officially won reelection on Sunday following a runoff vote, entering his third term with support from 52.14% of the electorate, according to Türkiye's Supreme Election Council.
While Kilicdaroglu ran on a globalist platform of restarting EU accession talks, improving relations with the country's NATO allies, and rolling back many of Erdogan's domestic reforms, he took a more forceful stance against open borders during the runoff, promising to send refugees back to their home countries.
Erdogan consistently portrayed his opponent as hostile to traditional values, pro-terrorist, and pro-LGBT.
Originally published by Russia Today
---
Erdogan: "Gays not welcome in Turkey"
President Recep Tayyip Erdogan, who portrays himself as a defender of traditional Islamic values, has once again labeled the opposition as 'LGBT', and insisted that liberal Western ideology will never infiltrate his ruling party or its nationalist allies.
Türkiye's Supreme Election Council confirmed Erdogan's decisive victory over Kemal Kilicdaroglu on Sunday evening (May, 28, 2023) In the run-up to the election, Erdogan repeatedly accused Kilicdaroglu and his allies of being pro-LGBT, and voiced similar charges in his victory speech in front of a jubilant crowd in Istanbul.
Russia: the Last True Bulwark of Christianity. LGBT Propaganda Prohibited to Protect Children against Gender Theory and Pedophilia
Listing off the factions in his rival's six-party National Alliance bloc, and a pro-Kurdish political party, he asked supporters if they agreed that CHP, HDP, IYI, and "some little guys next to them" are all "LGBT," to the rousing cheers of the crowd.
"But can LGBT infiltrate the AK Party? Can it infiltrate the MHP? Can it infiltrate other members of the People's Alliance?" Erdogan asked rhetorically – proclaiming that his ruling coalition and its allies will always stand in defense of traditional Turkish values.
"Every election is a rebirth for us. Family is sacred to us. No one can speak out against the family. Violence against women is forbidden, it is haram," he said.
Originally published by Russia Today
---
Project Syndicate funded by Soros, Gates and McKinsey to Promote Ukraine War as Rockefeller Council on Foreign Relations
Orban saves the Patriarch of Moscow from the LGBT Lobby's Revenge. Hungary stops EU sanctions on Kirill who Blamed Kiev due to Gay Pride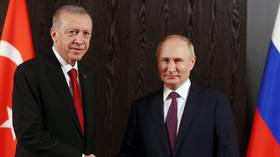 (Visited 311 times, 1 visits today)