Stroke Risks with Combination of Covid mRNA Vaccine and Flu One. FDA Study Confirmed Gospa News Scoop. Big Pharma Lies, Child Dies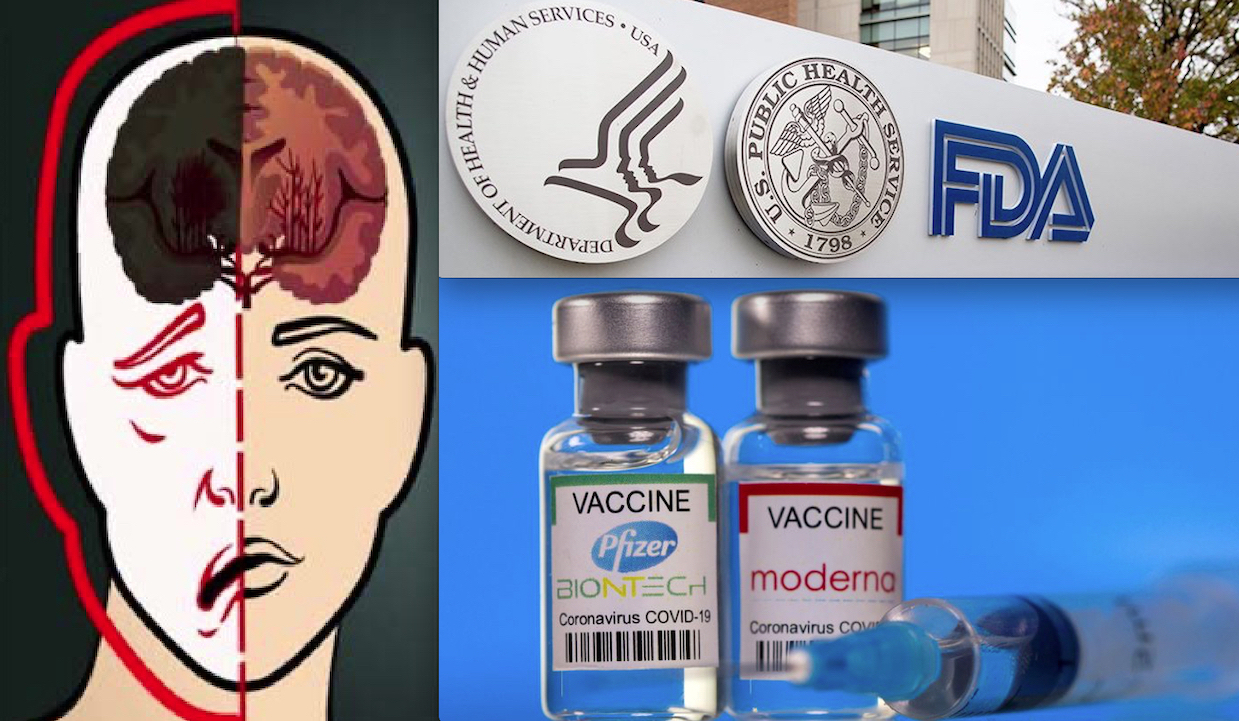 by Fabio Giuseppe Carlo Carisio
Subscribe to the Gospa News Newsletter to read the news as soon as it is published
The news about the risks of developing ischemic strokes for people over 65 years due to the combined administration of the Covid mRNA gene serum and the flu vaccine has gone viral after it was relaunched by the American mainstream media NBC and CNN on the basis of a study by the Food and Drug Administration.
But this pre-print document does nothing other than confirm the scoop made 12 days ago by Gospa News in relation to another research, also awaiting review, however conducted thanks to funding from the NIAID (National Institute of Infections and Allergies) from the National Institutes of Health (NHS) of the USA.
As we anticipated at the time, this study appears disruptive especially due to the fact that it was conducted by researchers in clear conflicts of interest with the main Big Pharma vaccines (Pfizer, Moderna and GSK).
Exclusive! "Stroke High Risk with Covid mRNA Vaccine alongside with the Flu One". Big Pharma Scientists in a NIH funded Study
Now the FDA also reiterates the same circumstance but there still seems to have been no reaction from the CDC (Centers for Diseases Control), from the Department of Health and Human Services (HHS) or even from the Ministry of Health in Italy which have recommended, in the same way , the combined administration of the two vaccines against which some general practitioners have already opposed.
The matter takes on enormous gravity also in light of the fact that the American online investigative newspaper The Gateway Pundit, way back in January 2023, had already reported the case of a 2-year-old child who died the day after the inoculation of the anti-Covid genetic serum and the drug anti-flu.
While the CDC itself had candidly admitted, as did Big Pharma Pfizer and Moderna, that there were no studies on the safety of combined administration.
The New Study on Stroke Risk after Double Vaccination
«In January 2023, the United States Food and Drug Administration and the Centers for Disease Control and Prevention noted a safety concern for ischemic stroke in adults ≥65 years receiving the BNT162b2; WT/OMI BA.4/BA.5 COVID-19 bivalent vaccine. This self-controlled case series analysis evaluated stroke risk among Medicare fee-for-service beneficiaries aged ≥65 years receiving: 1) a Pfizer-BioNTech (BNT162b2; WT/OMI BA.4/BA.5) or Moderna (mRNA-1273.222) COVID-19 bivalent vaccine, 2) high-dose/adjuvanted influenza vaccines, and 3) concomitant COVID-19 bivalent vaccines and influenza vaccines, from August 31 to November 6, 2022».
We can read in the study titled "Evaluation of Stroke Risk Following COVID-19 mRNA Bivalent Vaccines Among U.S. Adults Aged ≥65 Years" and published on October 15, 2023 in the medical journal MedRxiv.
CDC Recommends Everyone Getting Flu and COVID-19 Shots Together Despite No Safety Data
«The primary analysis did not find elevated stroke risk following COVID-19 bivalent vaccines. In the age subgroup analyses, only the ≥85 year age group had a risk of NHS (Incident Rate Ratio (IRR)=1.36, 95% CI 1.09 – 1.69 [1-21 days]) and NHS/TIA (IRR=1.28, 95% CI 1.08 – 1.52 [1-21 days]) with BNT162b2 Bivalent WT/OMI BA.4/BA.5. Among beneficiaries receiving a concomitant COVID-19 bivalent vaccine and a high-dose/adjuvanted influenza vaccine, an increased risk was observed for NHS (IRR=1.20, 95% CI 1.01 – 1.42 [22-42 days]) with BNT162b2 Bivalent WT/OMI BA.4/BA.5 and for TIA (IRR=1.35, 95% CI 1.06 – 1.74 [1-21 days]) with mRNA-1273.222».
This is what it adds the study signed by Yun Lu, Kathryn Matuska, Gita Nadimpalli, Yuxin Ma, Nathan Duma, Henry Zhang, Yiyun Chiang, Hai Lyu, Yoganand Chillarige, Jeffrey Kelman, Richard Forshee, Steven A. Anderson and funded by FDA as part of the SafeRx Project, a joint initiative of the Centers for Medicare & Medicaid Services and FDA.
«Results of the secondary analyses showed a small increased risk of NHS following high-dose or adjuvanted influenza vaccines (IRR=1.09, 95% CI 1.02 – 1.17 [22-42 days])» is the conclusions pointed out by the researchers of Acumen LLC, Burlingame, CA, USA, Center for Biologics Evaluation and Research, Food and Drug Administration, Silver Spring, MD, USA, Centers for Medicare & Medicaid Services, Washington, DC, USA.
Big Pharma Lies on Stroke Evidences
"Neither Pfizer and BioNTech nor the CDC or the U.S. Food and Drug Administration (FDA) have observed similar findings across numerous other monitoring systems in the U.S. and globally and there is no evidence to conclude that ischemic stroke is associated with the use of the companies' COVID-19 vaccines," Pfizer claimed, according to Reuters.
This recall The Gateway Pundit writing on the new issue.
But that it's a big lies as Gospa News can explain remembering the previous reports on Strokes alert published in many scientific studies as in the CDC-FDA warning.
Kaiser Permanente researchers Katie Sharff, Thomas K Tandy, Paul F Lewis and Eric S Johnson found as many as 100,000 cases of ischemic stroke among American patients over 65 from the North-West, vaccinated with Pfizer or Moderna mRNA gene sera.
Exclusive: 100 thousand STROKE's CASES AFTER COVID VACCINES! New Chilling Study from a US Health Organization
Gospa News raised the alarm in February 2023 on the boom in strokes among vaccinated people subsequently infected with alleged Covid-breakthrough infections by publishing the study conducted by Emory University in Atlanta in Georgia (USA): the reliability and the importance of the same research was confirmed trough the publication by Frontiers in Neurology only on June, 28.
"High Risks of Strokes after Covid Vaccines". Journal Frontiers in Neurology confirms Alarm launched 6 months ago by Gospa News
How is it possible that the site directed by a journalist who is a scholar of science but without specific skills or degrees has reported a problem that today the most important news agency in the world Reuters claims has never emerged?
VACCINI COVID: PURE COCA-COLA NELLA "GRANDE ABBUFFATA". In CdA PFIZER Manager di Gates, Schwab (WEF), Facebook, Reuters, Goldman e Adobe
Very simple! James C. Smith, president of the Thomson Reuters Foundation, sits on Pfizer's Board of Directors. But previously, from 2012 until his retirement in 2020, president, CEO and director of the same news agency.
The Child Killed by Double Vaccination
«A 2-year-old child died suddenly after receiving both the Covid vaccine and the annual flu vaccine, according to the Vaccine Adverse Event Reporting System (VAERS), a national early warning system to detect possible safety problems in US-licensed vaccines, which is co-managed by the CDC and FDA».
Thus began the article published in January 2023 by The Gateway Pundit.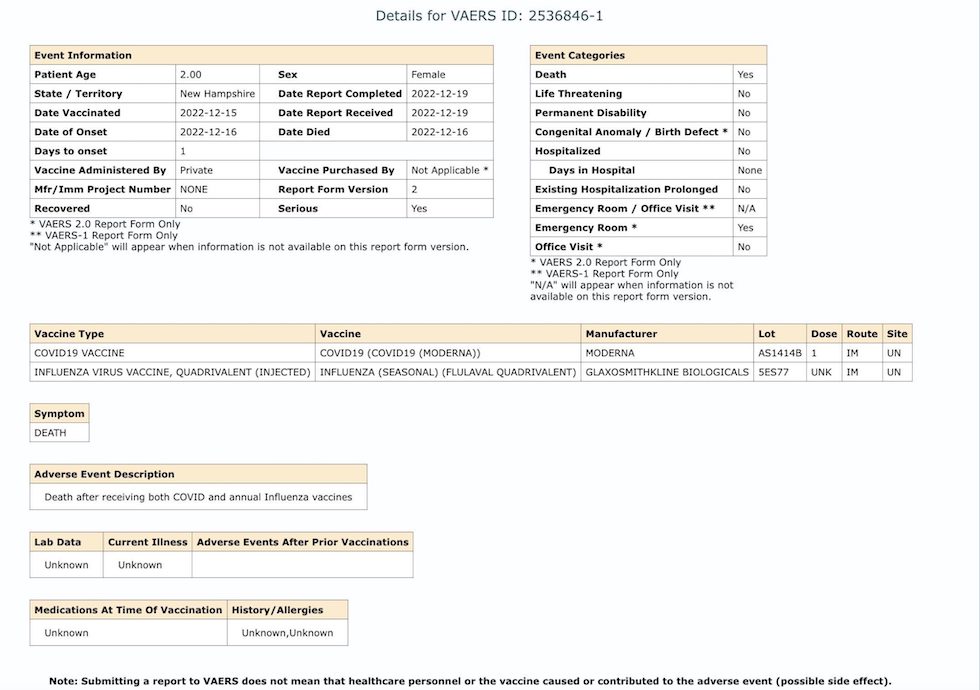 According to the data from the CDC's VAERS WONDER System, a two-year-old girl from New Hampshire died suddenly one day after receiving one dose of the Moderna vaccine and FluLaval Quadrivalent vaccine.
She died the next day, December 16, 2022. The young child was vaccinated on December 15 with the Covid and flu vaccines. The child was not hospitalized, as was shown in the report, suggesting that the event occurred suddenly.
After Covid Vaccines Even the Top-Gun Plummet! Pilots' Slaughter in Italy and US during Flight or due to a Sudden Death
An online obituary published by Brookside Chapel & Funeral Home in Plaistow, New Hampshire, matches the details posted on the VAERS website. The Gateway Pundit reached out to the parents earlier this month on their Facebook accounts, but they did not respond to our request for comments.
The two accounts are no longer searchable and can't be reached through Messenger. The death announcement that was previously published by Brookside Chapel & Funeral Home has also been taken down.
To respect the family's privacy, The Gateway Pundit has decided not to publish the child's name.
Subscribe to the Gospa News Newsletter to read the news as soon as it is published
Fabio Giuseppe Carlo Carisio
© COPYRIGHT GOSPA NEWS
prohibition of reproduction without authorization
follow Fabio Carisio Gospa News director on Twitter
follow Gospa News on Telegram
---
MAIN SOURCES
MEDRXIV – Evaluation of Stroke Risk Following COVID-19 mRNA Bivalent Vaccines Among U.S. Adults Aged ≥65 Years
"European Medicines Agency Knew Toxicity of Pfizer Covid Vaccine". Bombshell Study Published in US by an Italian BioChemist on Dangers mRNA-LNPs
Health Canada Confirms DNA Plasmid Contamination of COVID Vaccines: "An Admission of Epic Proportions"
(Visited 196 times, 1 visits today)