Putin: "Innocent Children Annihilated: Gaza Horror can't be Justified"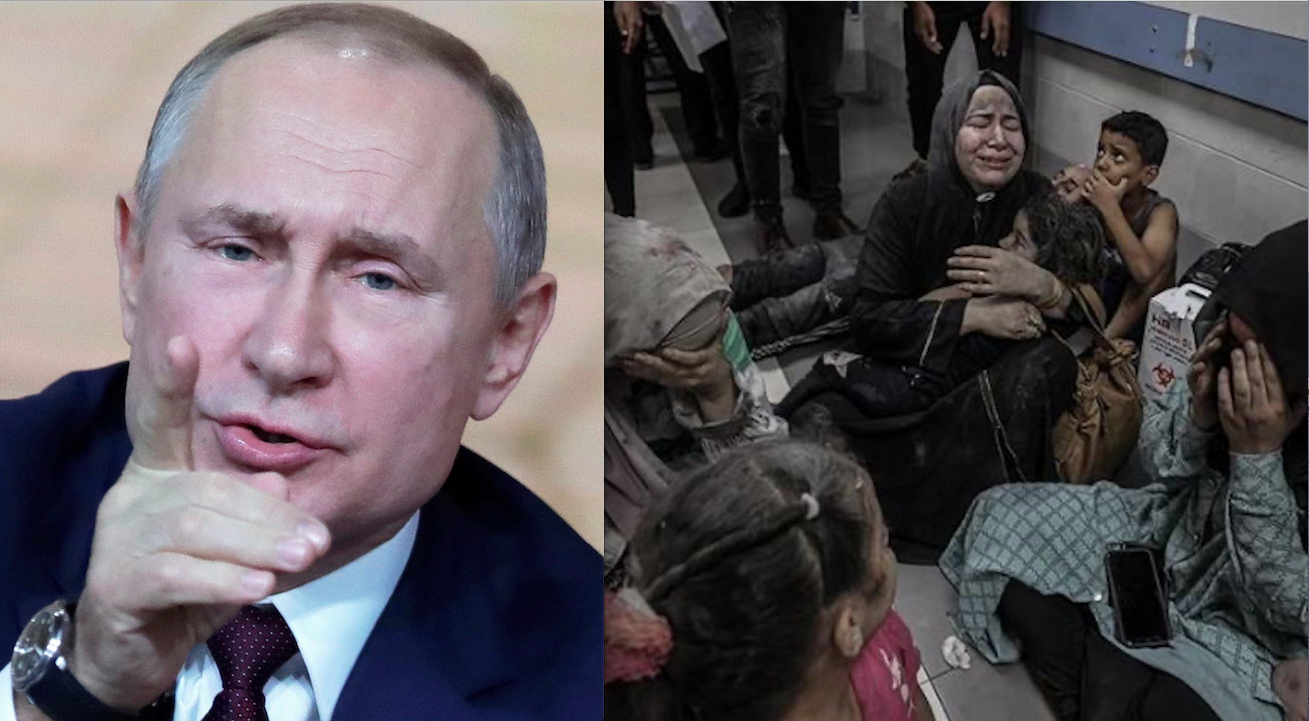 Subscribe to the Gospa News Newsletter to read the news as soon as it is published
Russian President Vladimir Putin has condemned the ongoing bombing campaign waged by Israel against the Palestinian enclave of Gaza, stating it cannot be justified by anything.
The president made the remarks on Monday as he delivered a speech ahead of a closed-doors meeting with members of the Russian Security Council and heads of law enforcement agencies.
"The horrible events currently unfolding in the Gaza Strip, when hundreds of thousands of innocent people are getting indiscriminately annihilated, have nowhere to run, nowhere to hide from bombardment, cannot be justified by anything," Putin stated.
Israel's actions in the Palestinian enclave only invoke rage, Putin argued, adding, however, that one should not be led by "emotions" in properly addressing the situation in the Middle East.
Gaza: SATAN'S HOLOCAUST. No More Words, Images are Enough! A Minute of Silence to Pray. WARNING! Chilling Video
"When you're watching bloodied children, dead children, suffering of the elderly, death of medics – fists are clenching and tears are welling up. Yet we should not, we cannot allow ourselves to be led by emotions," the president said.
The ongoing crisis in the Middle East started with a "terrorist attack" on Israeli civilians, Putin noted. However, instead of "punishing" those behind it, Israel"unfortunately" opted for "vengeance" and assigned "collective responsibility"for it, Putin added.
Netanyahu like King Erode in the Innocents Massacre. UNiCEF: 3342 Children Killed in Gaza. Israel: "NO Inquiry on Hospital Bombing"
The major escalation between Hamas and Israel began on October 7 with a surprise attack launched by the Palestinian militant group. Israel responded with massive aerial and artillery bombardment of Gaza, which has already resulted in widespread destruction and heavy civilian casualties in the enclave.
More than 8,000 Palestinians, including over 3,300 children, have been killed, according to local health authorities. In Israel, more than 1,400 have been killed during the conflict, according to the IDF.
Originally published by Russia Today
All links to previous Gospa News investigations have been added aftermath for the ties with the topics highlighted
Subscribe to the Gospa News Newsletter to read the news as soon as it is published
---
(Visited 406 times, 2 visits today)